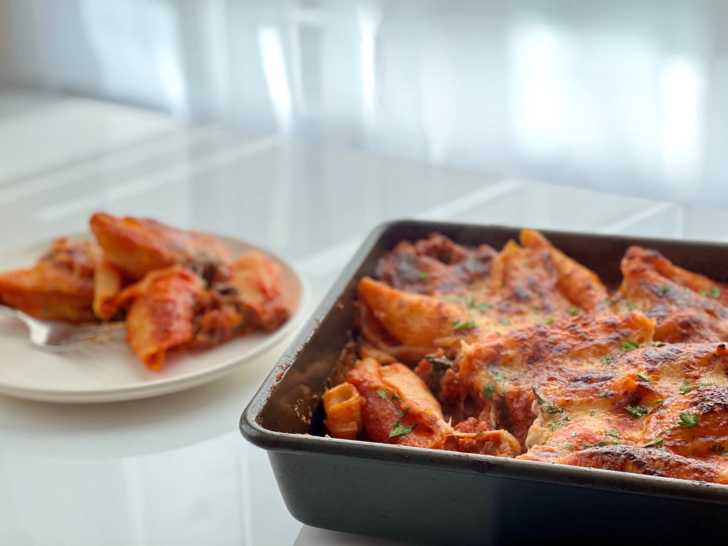 The warm, lingering heat of an oven is the unofficial kick-off to the latter half of autumn. To break through these darkening nights, a casserole — gooey, saucy, and cheesy — is an optimal way to combat the impeding chilling prelude of winter.
This Shells with Sausage and Spinach recipe is a relaxed spin-off of a classic Italian American dish. Spicy Italian sausage balances out a melty crust of mozzarella. Spinach cuts through the richness, and a smooth sauce will appeal to all palates.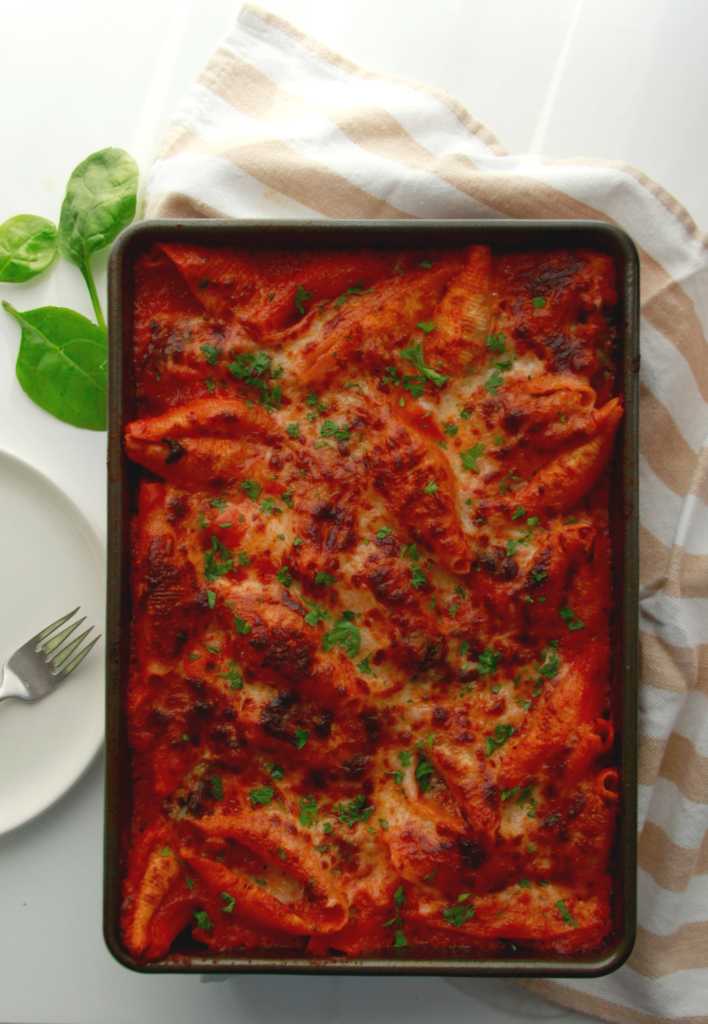 Stuffed shells are an arduous and multi-stepped dish, which means it usually gets sidelined to a weekend Sunday dinner. Here, rather than using a ricotta mixture, sausage is the workhorse of this casserole. Not only does sausage provide protein, but its complex flavor is the main character to the tomato sauce. This double duty takes out the torture of making a tomato sauce with a whole cast of ingredients. Yet here, Shells with Sausage and Spinach Casserole is an approachable meal for both weeknight prep and a weekend treat. These ingredients are sturdy, so you can even make the casserole ahead of time and bake it when you need it.
Additionally, the casserole is not for precise measurements. We're not balancing chemical equations here. Have four ounces of spinach instead of five? No problem. Sweet sausage instead of hot sausage? Don't sweat it. An ounce or two difference will not drastically alter the finished result. It's not like extra cheese ever ruined a casserole.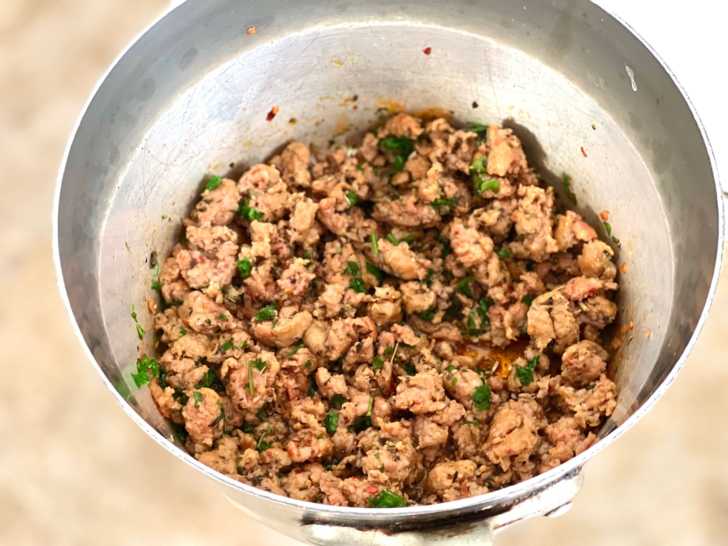 To start you're going to build layers of flavor by browning the sausage. If you can find a pack of ground sausage, you can easily use that. Yet, if you're like me, around stores with limited inventory, sausage links are perfectly fine. An even dispersal of ingredients makes for an evenly baked casserole. Plus, the flavors of the sausage penetrate the tomato sauce for a more deeply developed sauce. The easiest way to remove the sausage from the casing is to squeeze the sausage links from one end (think of squeezing a tube of toothpaste). Adding the dry spices into the hot oil and meat will bloom the spices' chemical compounds and create a more noticeable flavor.
Next, you'll mix the tomato sauce into the sautéed meat, cooking to begin the marriage of sauce and meat.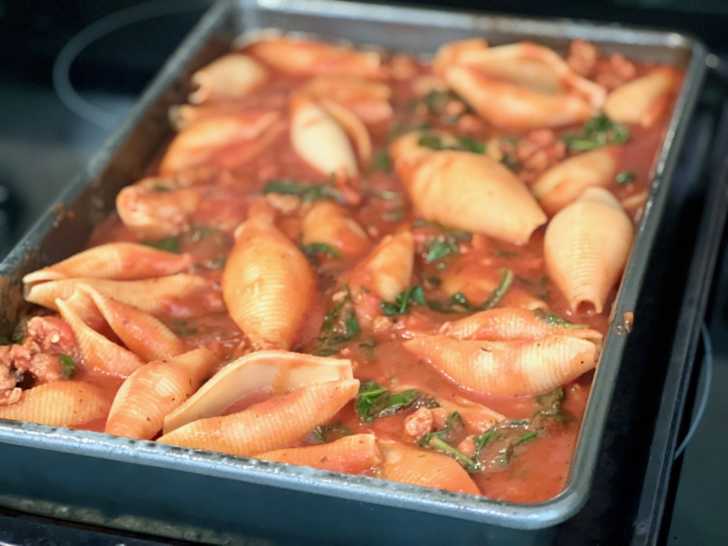 To prevent the cheese from sticking, make sure to use spray on the foil covering the casserole.
A final few moments with the foil removed and the broiler on results in a completely gooey but crispy cheese topping.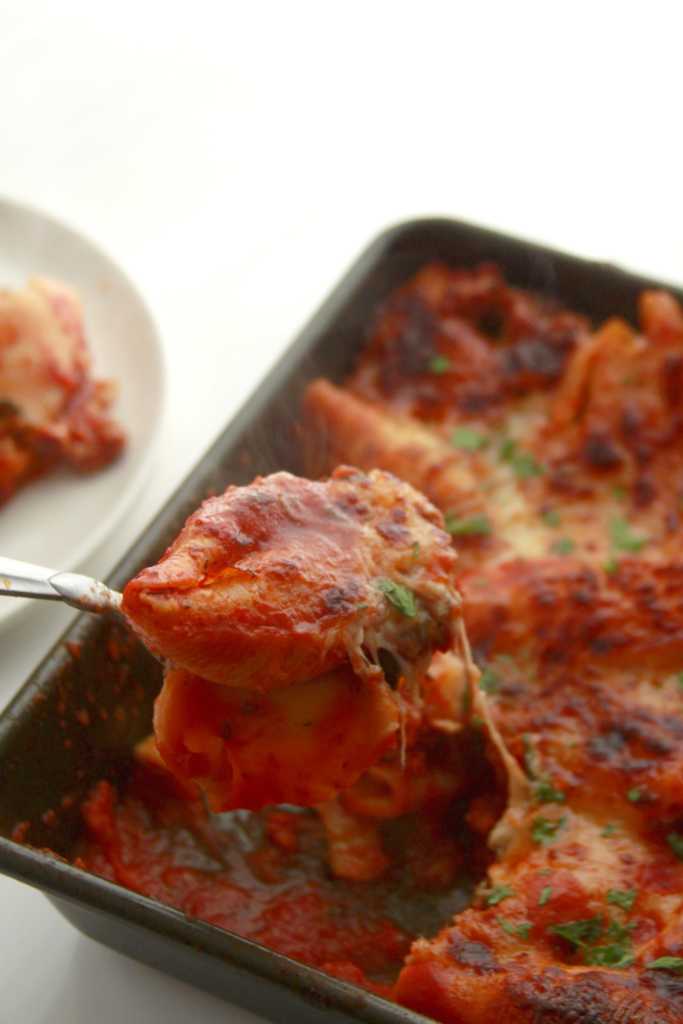 Don't lament over the approaching cold weather; embrace it with a soothing and approachable casserole. You'll certainly keep this casserole in your arsenal of go-to meals!
Shells with Sausage and Spinach
Ingredients
1 (12 oz) box of jumbo pasta shells
16 oz hot Italian sausage, casings removed
2 teaspoons dry Italian seasoning
2 (12 oz) cans tomato sauce
4 oz fresh spinach, washed and patted dry
8 oz shredded mozzarella cheese, preferably whole milk
2 tablespoons fresh parsley, finely chopped, plus a few leaves for garnish
Preparation
Preheat oven to 375 degrees F. Grease a 9-by-13 pan with baking spray, place on top of a baking tray, set aside.
In a pot of boiling salted water, cook the pasta, draining pasta right before it gets to Al dente. Reserve ½ cup to 1 cup of pasta water. Set pasta aside.
In the same pot, brown sausage with a drizzle of oil, breaking up the sausage with a spoon, cooking until no longer pink, about 5 to 6 minutes. Add the Italian seasoning, sautéing for another minute or two.
Stir in tomato sauce and bring to a simmer, about 8 minutes. Fold in spinach and parsley.
Gently incorporate the shells into the sauce mixture, being careful not to break the shells. Season with salt and pepper to taste. If the mixture is looking too thick, add a few pours of reserved pasta water to loosen it up.
Transfer to the prepared baking dish, covering evenly with cheese.
Spray foil with baking spray before covering dish. Bake covered for 25 minutes, removing the foil to baking for another 10 to 15 minutes. For a crispy cheese crust, broil on high for 1 to 2 minutes, make sure to stay by the oven when using the broiler, it burns fast. When done the casserole should be bubbling around the edges and crispy on top.
Garnish with parsley leaves, serve immediately.
To make ahead: When mixing the shells with the pasta, add ½ of reserved pasta water. Don't top with cheese until ready to bake. When baking add 5 to 8 extra minutes.
SKM: below-content placeholder
Whizzco for 12T