One batch of this goes a LONG way!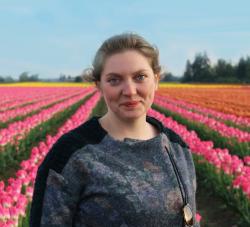 Decatur Macpherson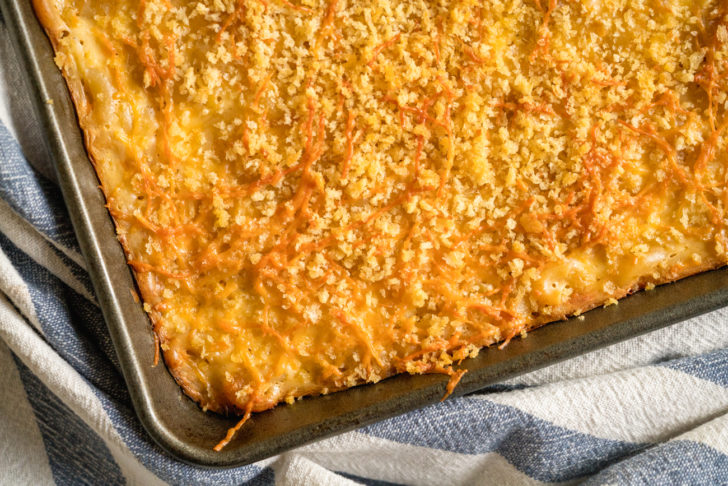 While some of you may still think that macaroni and cheese is a beloved childhood memory or something to make only for the kiddos in one's life, we've remained devoted to this creamy, cheesy classic for a long, long time. While we love the traditional version of this with the stovetop sauce and the boiled noodles and the 9×13 with all the cheese or breadcrumbs layered on top, we got a little tired of the drawn-out process and decided to try our hand at simplifying things. Let us break it down for you….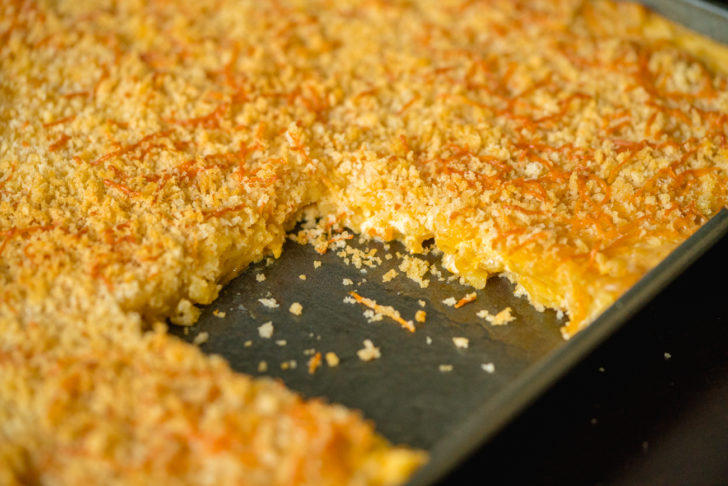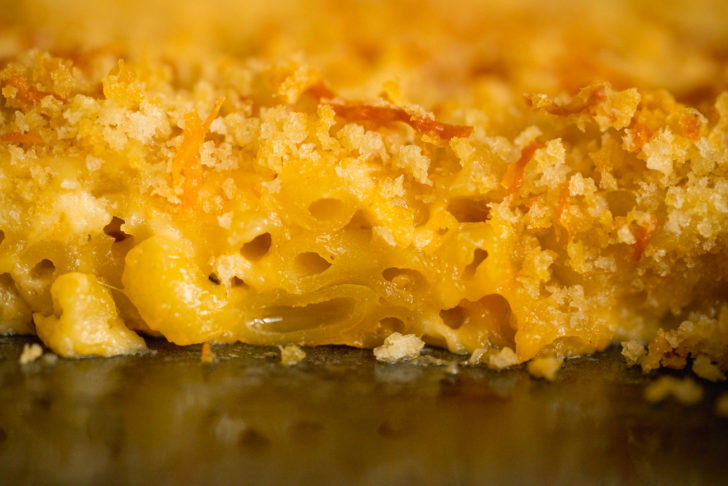 The sauce is still crucial here, in this streamlined recipe: you want a roux-based sauce so that it's nice and thick and able to perfectly coat the noodles, plus, you want it really, ridiculously cheesy. The sauce is what gives this mac and cheese its flavor and creaminess, but it's also what actually cooks the noodles, so you want to be sure that you have enough liquid that the noodles cook to be al dente, with just enough bite in them to offer some good texture. Also, we skipped the deep baking dish this time and instead went with a sheet pan, so not only do the noodles cook while the whole thing bakes, but you've also got just about the easiest dish that'll serve a big crowd. Win-win!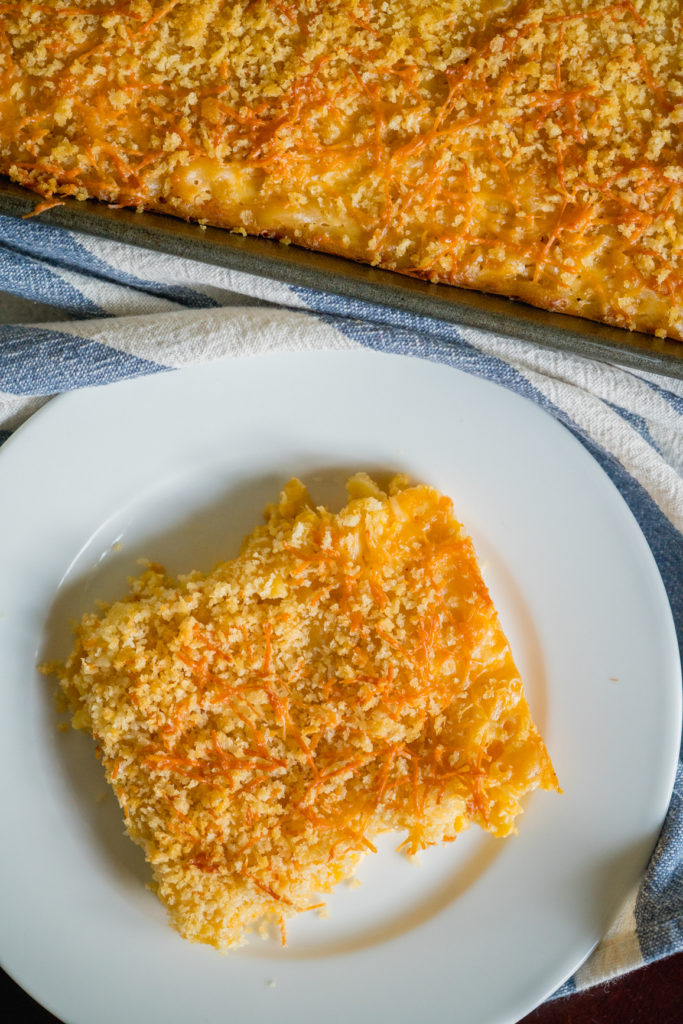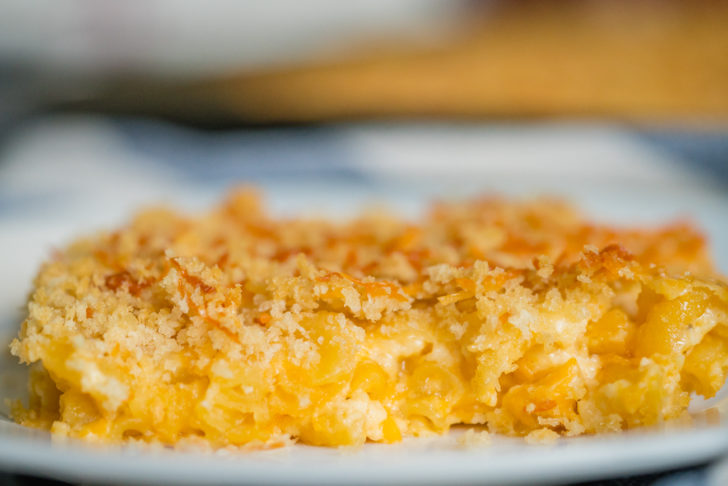 All right, so we talked about how important the sauce is, but let's go into what's actually in there. Butter and flour for the roux, plus whole milk, heavy cream and evaporated milk for the liquid base, and then plenty of spices – mustard powder, onion and garlic powders, and nutmeg – for tons of flavor, and then cheese. Four cups of cheese to be precise. Stir your noodles into that goodness, and then pour it into your sheet pan and cover it TIGHTLY with aluminum foil. You want as tight a seal as possible, so that the noodles are simultaneously steaming as they bake and absorbing all that amazing sauce. Then you'll whisk together some cheesy, seasoned breadcrumbs to sprinkle on top of the whole thing and you're in business! This stuff will completely change how you make mac and cheese – we're sure you'll love it as much as we do!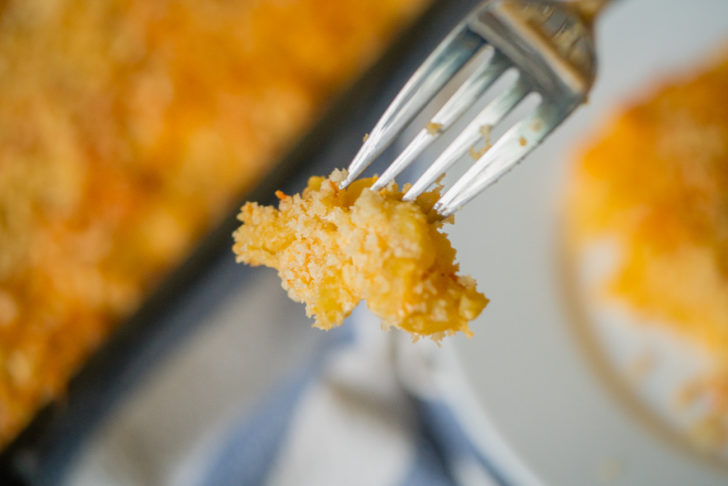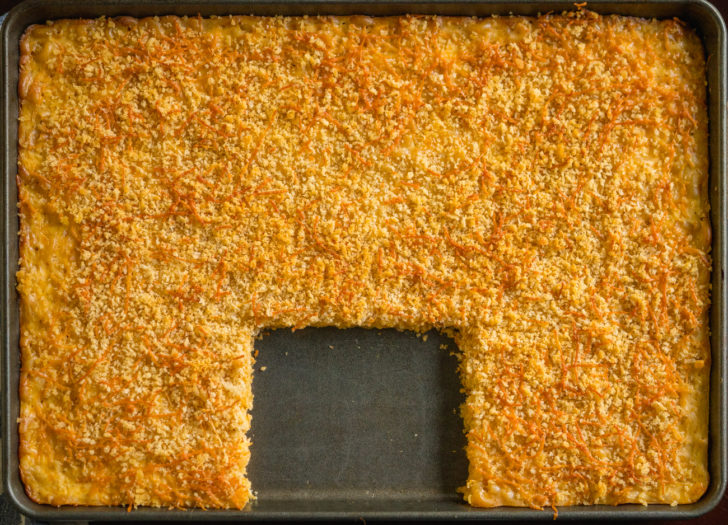 No-Boil Mac and Cheese
Ingredients
1 (16 oz.) package elbow macaroni or shell pasta
Sauce:
1/4 cup (1/2 stick) unsalted butter
1/4 cup all-purpose flour
2 cups whole milk
1 cup heavy cream
1 (15 oz.) can evaporated milk
1 teaspoon mustard powder
1 teaspoon onion powder
1/2 teaspoon garlic powder
1/4 teaspoon nutmeg
kosher salt and freshly ground pepper, to taste
2 cups sharp cheddar cheese, grated
2 cups fontina or gruyere cheese, grated
Topping:
2 cups panko breadcrumbs
2 tablespoons unsalted butter, melted
1 cup parmesan cheese, grated
2 teaspoons Italian seasoning
2 sprigs thyme, optional, stems removed
kosher salt and freshly ground pepper, to taste
Preparation
Preheat oven to 375º F and lightly grease a baking sheet with butter.
In a large saucepan over medium heat, melt butter and whisk in flour to create a roux.
Season with salt, pepper and nutmeg, then mix in mustard powder, onion powder and garlic powder.
While continuously whisking, gradually stir in whole milk, heavy cream and evaporated milk.
Once the liquid is fully incorporated and the mixture has thickened, stir in cheddar cheese and fontina or gruyere cheese until melted and smooth.
Stir dry pasta into cheese sauce and stir until all noodles are evenly coated, then transfer to greased baking dish and gently spread in an even layer.
Cover baking dish tightly with 1-2 sheets of aluminum foil, making sure to wrap the foil under the edges of baking sheet to create as tight a seal as possible.
Place in oven and bake for 25 minutes.
While pasta is baking, whisk together panko breadcrumbs and parmesan cheese and Italian seasoning, then stir in melted butter. If using, sprinkle in thyme.
Remove noodles from oven, stir noodles around so they're re-coated with remaining sauce, then top with breadcrumb mixture and return to oven.
Bake for another 20-25 minutes, then broil for a final 5-10 minutes, or until golden brown.
Remove from oven and let cool 10 minutes before serving. Enjoy!
Recipe adapted from Workman Publishing
SKM: below-content placeholder
Whizzco for 12T