This is a taste of Europe that's well worth the effort.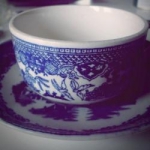 Rose Heichelbech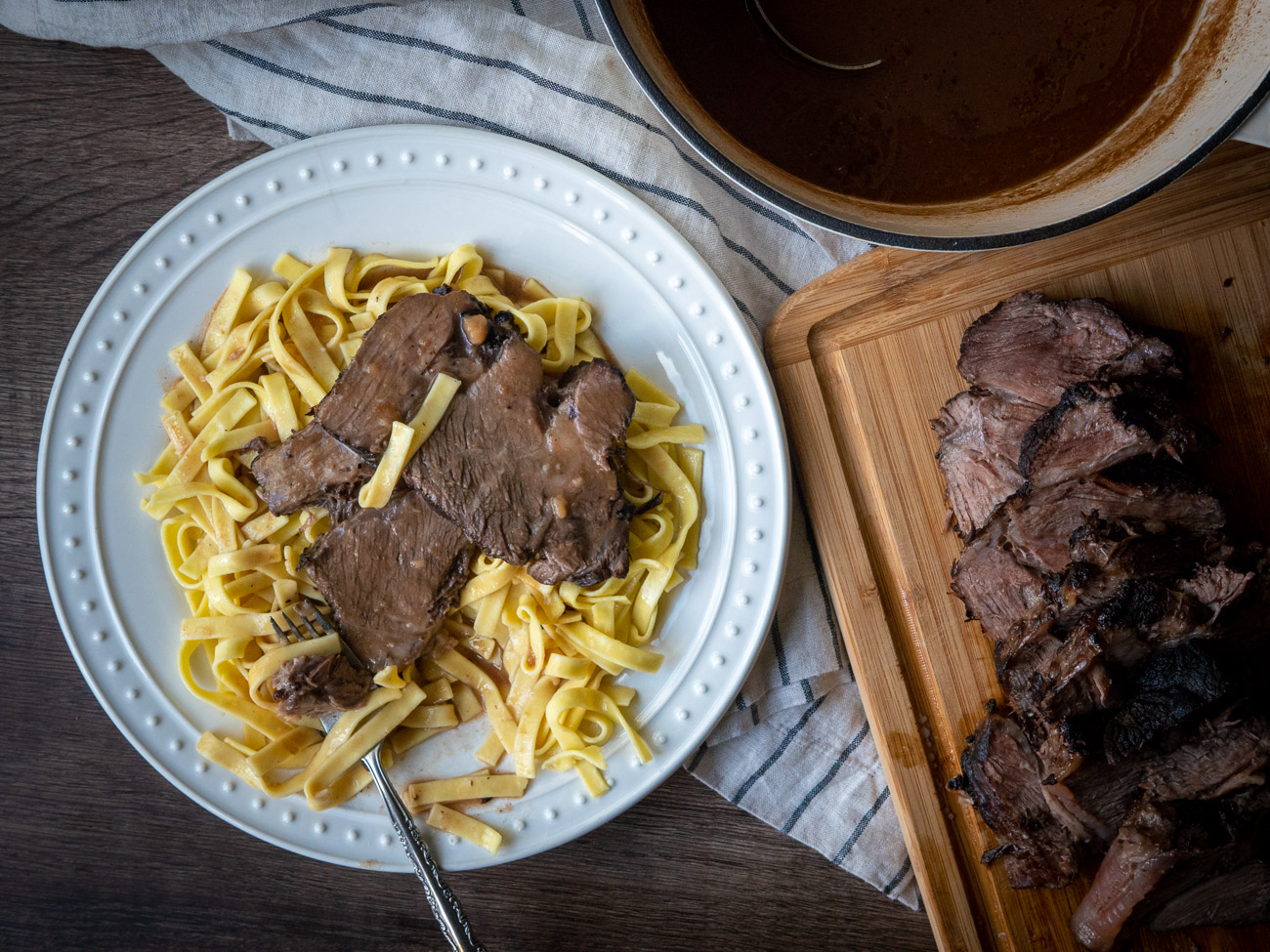 If you grew up in areas where there is a lot of German ancestry then you may already know just how delicious the food can be. But, for those who don't: sauerbraten is one of the most flavorful meat dishes in German cuisine. The marinated beef is a far cry from the pork schnitzel many people think of when you bring up German food, and this sauerbraten recipe has a lot of tasty ingredients (and one very unexpected one) that make it extra special.
To start this recipe off you'll need to sauté chopped onions and carrots. Add to that fresh herbs, red wine, red wine vinegar, sugar, and beef broth. Once this has cooked down you're left with a very red marinade.
Now here comes the waiting game: you'll need to marinate a chuck roast or rump roast in the cooled mixture for 8-24 hours. There are some who say up to three days (or more), but we've found that overnight is plenty long enough for the meat to take on the tangy, rich flavors of the spiced marinade.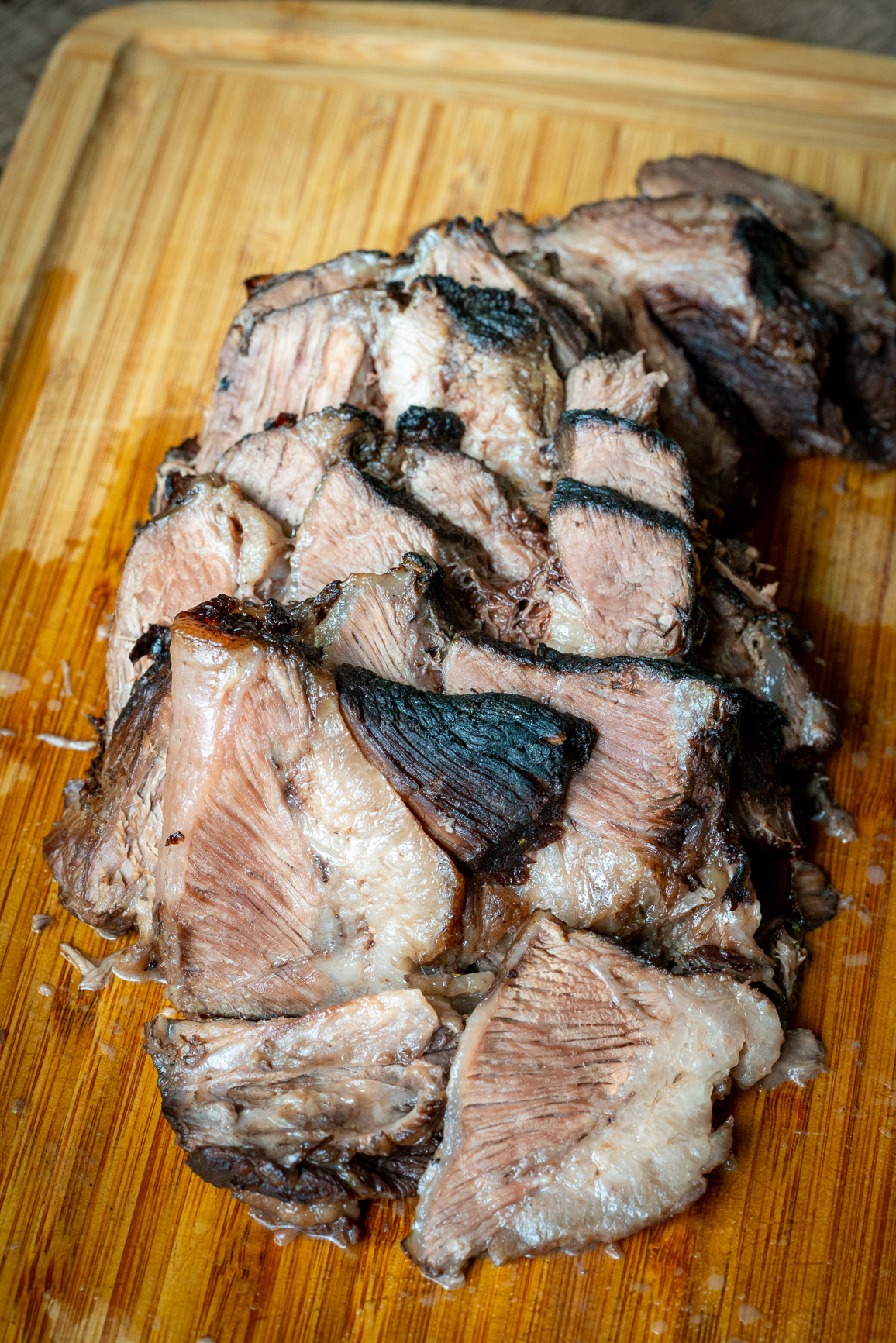 After this process the meat will take on a darker hue and this will intensify when you brown the beef on all sides. Don't worry: it's not burned, just colored from the marinade!
The next step is to cook the beef in the marinade for 2 to 2 1/2 hours or until the meat reaches an internal temperature of 145˚F. Remove the beef to rest on a cutting board and strain the solids from the mixture. Add the liquids back into the pan and simmer.
The next part is the best part: add in 10 crushed gingersnap cookies to the sauce. This adds a spicy kick to the overall flavor and also helps to thicken the sauce a little bit as well. If you enjoy a thicker style sauce you can add in some cornstarch to make it more like a gravy, but this is completely optional.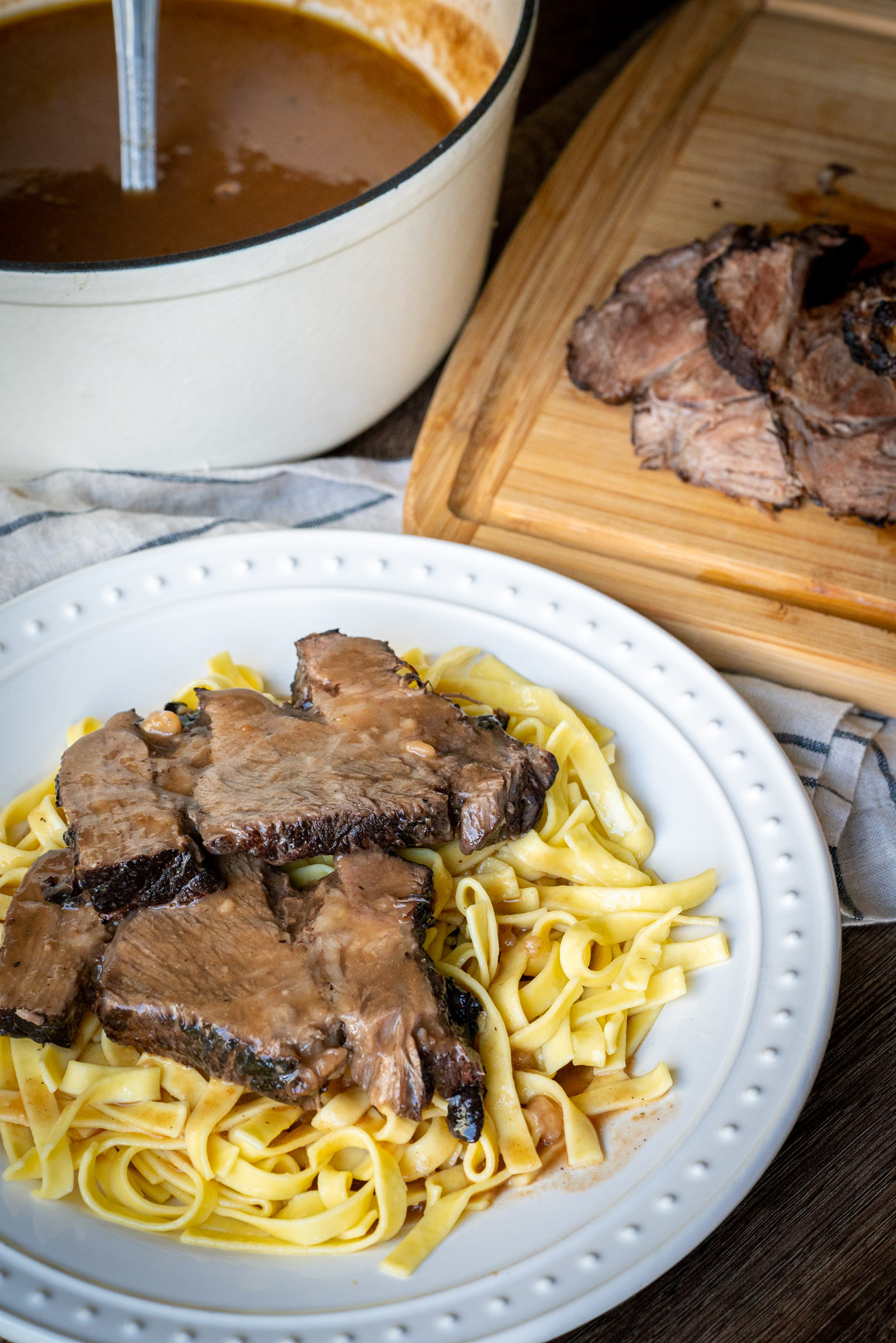 Slice the beef into strips and serve over cooked egg noodles. Or for a more authentically-German meal you can use spaetzle instead of egg noodles, which you can find ready-made in most groceries. Then pour the sauce on top and you've got a delectable meal with the slow-cooked flavors that Germans have been enjoying for centuries. This one is well worth the effort to marinate overnight!
Sauerbraten with Noodles
Serves 8
8h 20m prep time
2h 40m cook time
For the marinade:
2 large yellow onions, chopped
2 large carrots, chopped
3 cloves garlic, minced
2 sprigs thyme
2 sprigs rosemary
2 bay leaves
6 whole cloves
10 whole black peppercorns, cracked
2 1/2 teaspoons kosher salt
1 tablespoon sugar
2 cups red wine
1 1/2 cups red wine vinegar
1 cup beef broth
For the sauce and noodles:
3-4 pounds beef chuck roast or rump roast
4 Tbsp butter, divided
10 gingersnap cookies, crushed
Salt and pepper to taste
1 16-oz package egg noodles
Preparation
In a large saucepan or Dutch oven combine marinade ingredients and heat on medium-high until it comes to boil. Remove from heat and allow to cool completely.
Place the meat in the cooled marinade and make sure as much of it is covered as possible. Marinate beef in the refrigerator for 8 hours (and up to 24 hours) before cooking. The longer the meat marinates the more flavor it will have. Turn beef part through marinating.
Remove meat from marinade and pat dry. Reserve marinade. In large pan heat 2 tablespoons of butter over high heat. Add beef to pan and cook until browned on all sides, about 2 minutes per side.
Add marinade to pan with beef. Bring to a boil and then reduce heat to low. Simmer for 2 - 2 1/2 hours until meat is tender and has an internal temperature of 145˚F.
Strain solids from sauce and return to pan. Remove meat to cutting board and allow it to rest for 10 minutes. While waiting cook and drain egg noodles to package directions and then toss with remaining butter.
Add crushed gingersnaps to sauce and cook over medium-low for 10 minutes, stirring often until thickened. Cut beef into thin slices. Serve meat over noodles and topped with sauce.
Recipe adapted from House of Nash Eats.
SKM: below-content placeholder
Whizzco for 12T