Like your favorite plate of pasta… in soup form.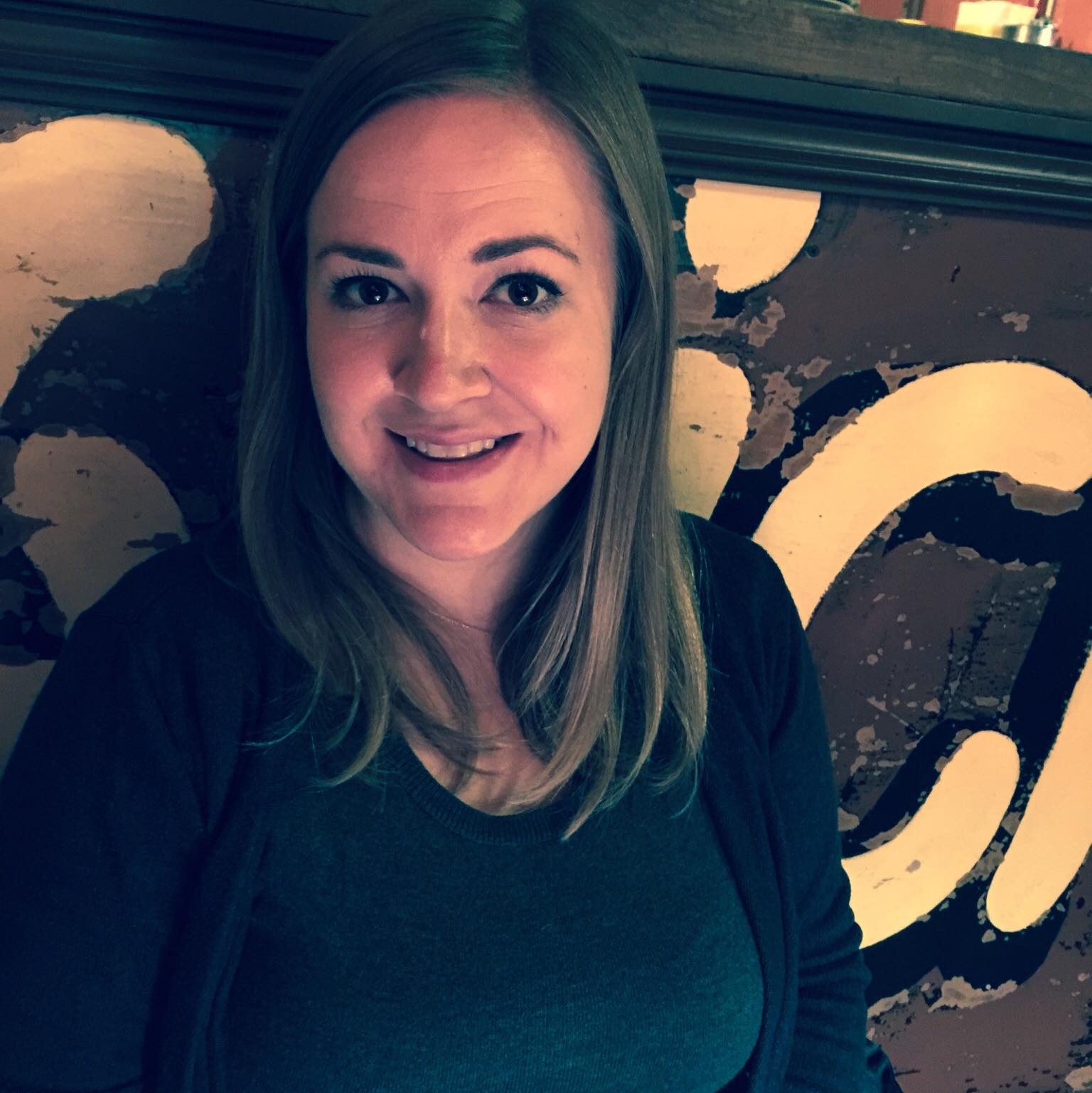 Kristy Norrell

When you share or print a 12 Tomatoes recipe,
you're making mealtime meaningful.
100%
of the Share to Care sponsor fees fund meals for families in need.
Learn More
CLICK ANY LINK BELOW TO JOIN OUR CAUSE!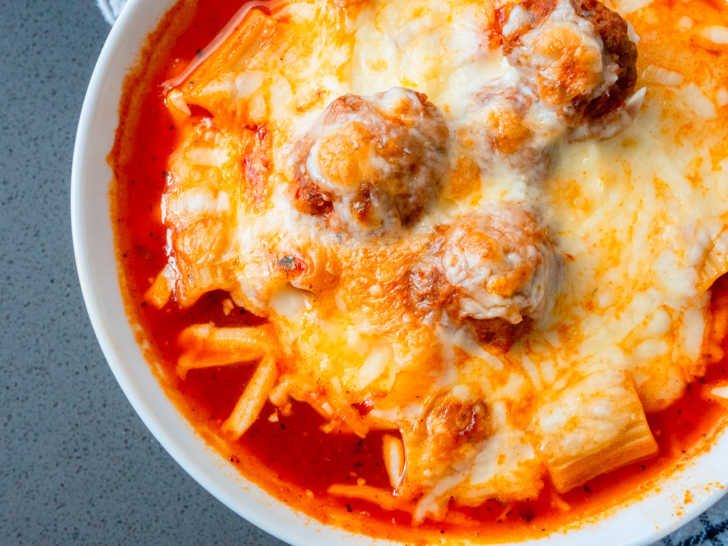 There's no denying that the combination of pasta, tomatoes, and meatballs is an absolute classic but that doesn't mean it has to be limited to being served solely as a pasta dish. In fact, its enduring deliciousness is all the more reason to find other ways to serve it… like in soup form! This Rigatoni Meatball Soup is just the way to go about getting your pasta and meatballs in in a different manner – it's cozy and hearty and so very tasty.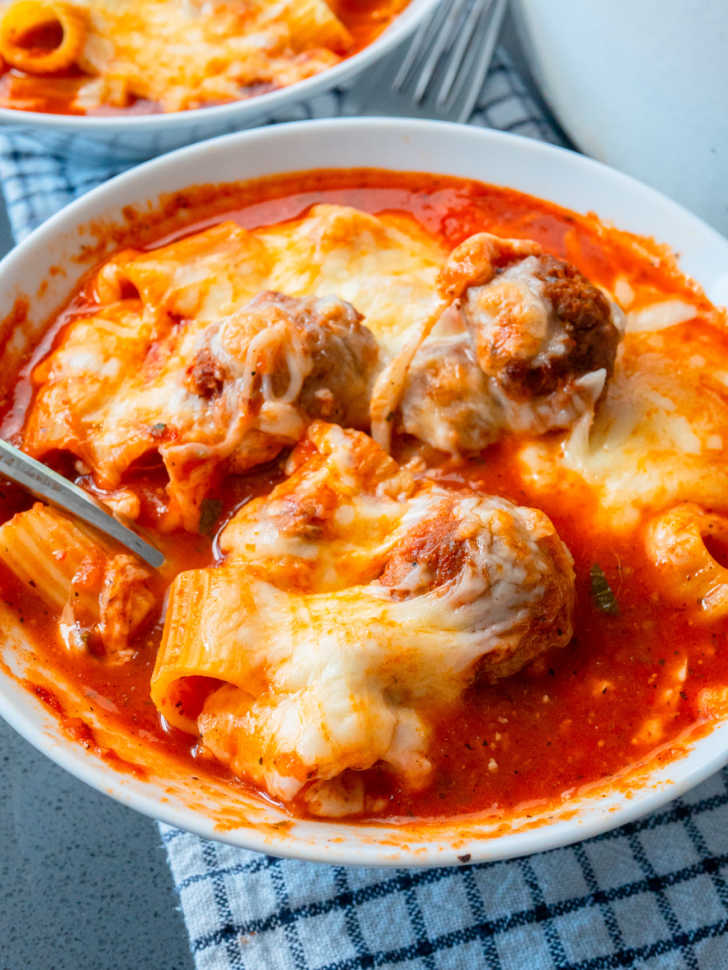 This soup is made up of tiny, beefy, bite-sized meatballs that are simmered in a savory tomato and red wine broth that you'll want to slurp right up like… well, soup. The meatballs are simple – ground beef, eggs, breadcrumbs, Italian seasoning, the usual – and get browned up quickly in the same pot that the soup takes form in later.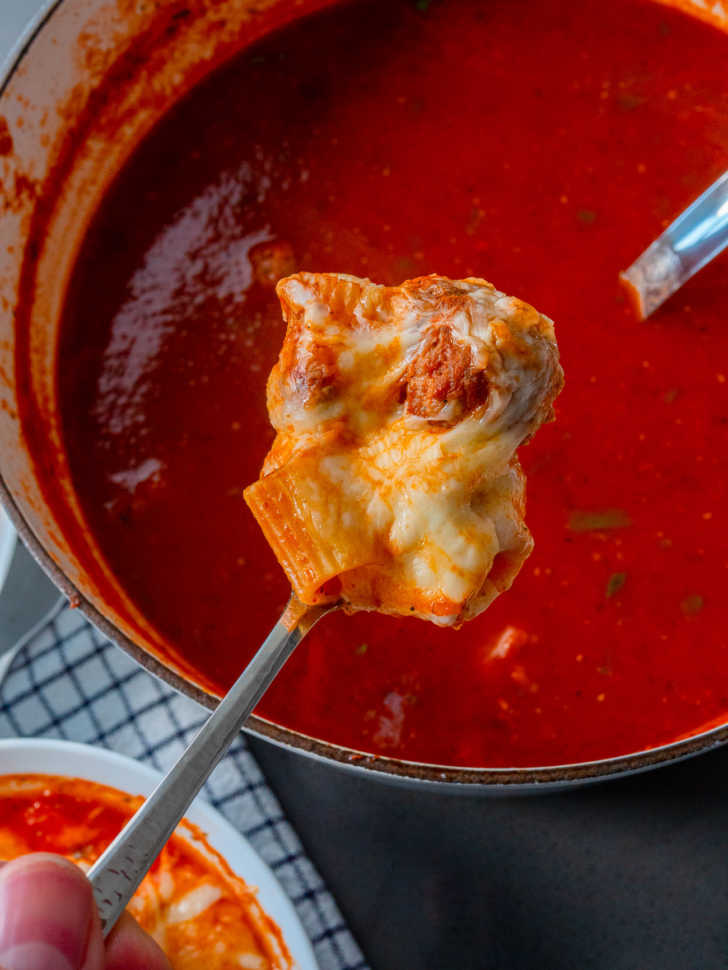 Once the meatballs are seared, their little browned bits that have stuck to the pot take part in flavoring the soup, and so does onion, garlic, red wine, crushed tomatoes, tomato paste, and some fresh parsley. The meatballs simmer in that mixture so they absorb some of the tomato flavor, but they also lend their beefiness to the bigger picture.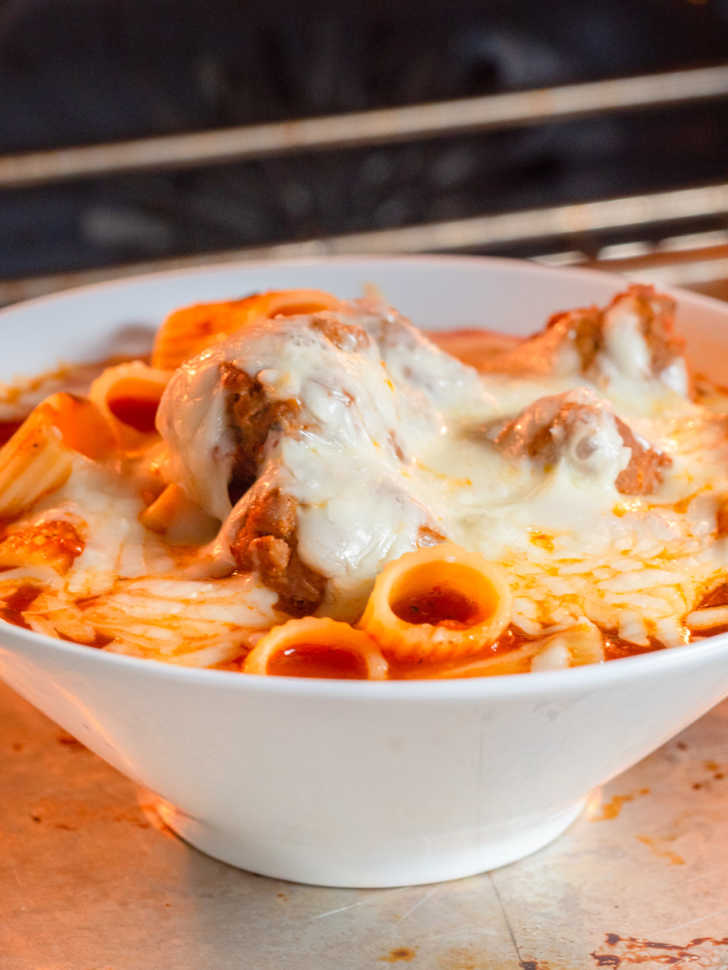 Unlike a lot of soups that feature grains or pasta, here it isn't actually incorporated into the soup, it's placed in the bowl as a base, and the soup and meatballs are ladled over the top. This ensures that the rigatoni isn't mushy or liquid-logged with tomatoey broth. So in a way, it's a little like a very soupy pasta dish. Or maybe it's just the best of both worlds.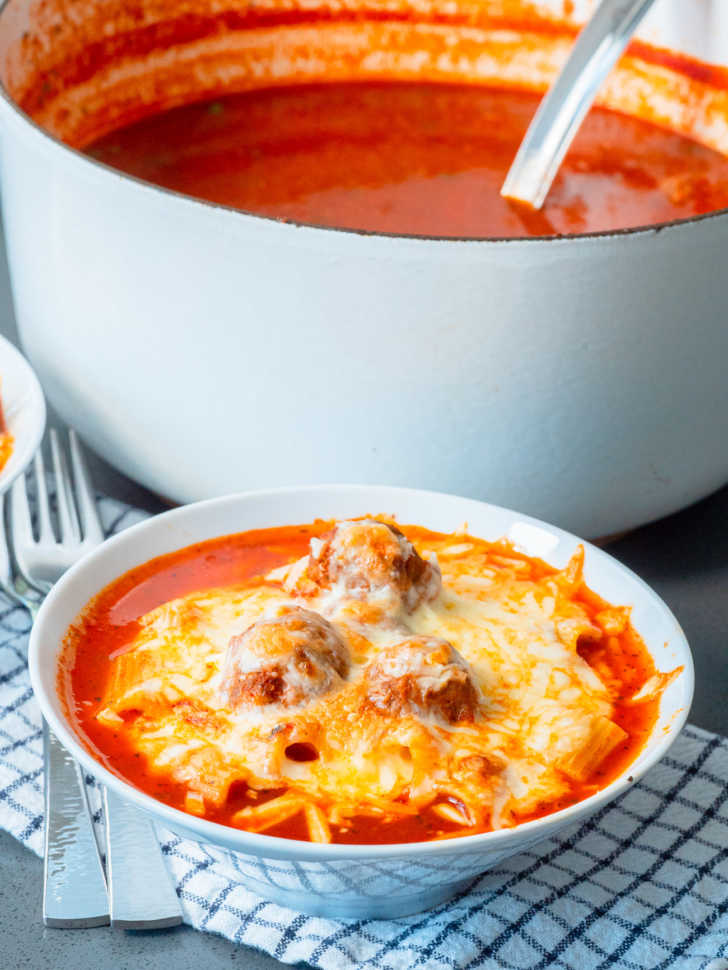 In any case, the final step in serving this up right is to broil a bit of mozzarella cheese over the top before you dive in. It rests on top – a blanket of ooey-gooey cheesy goodness that doesn't transform the saucy broth into something creamy or cheesy, but just caps it off in the best way possible.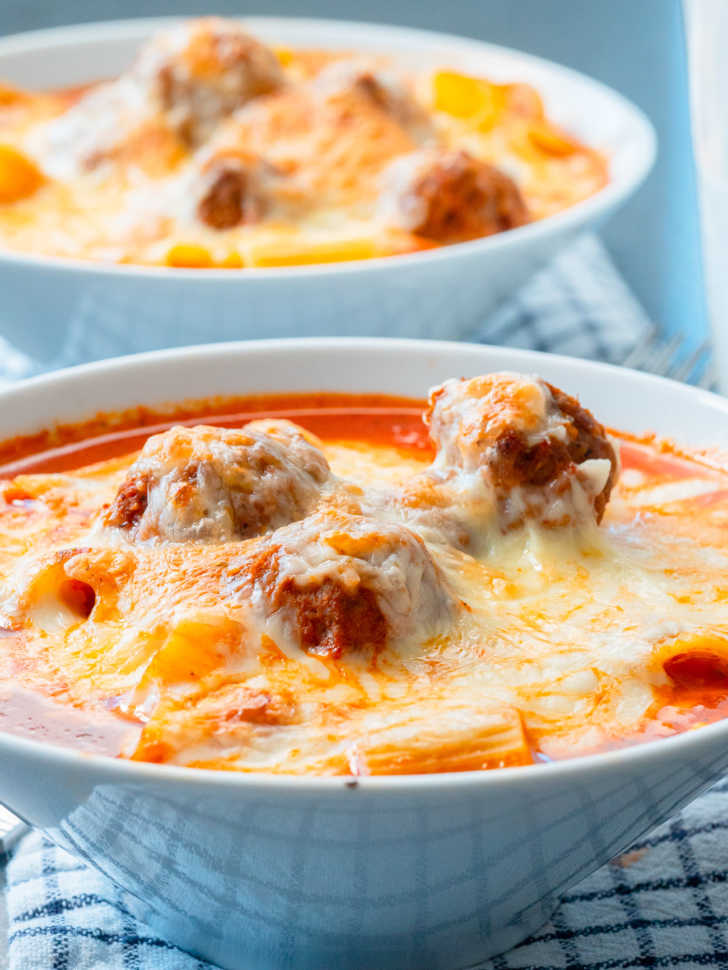 Rigatoni Meatball Soup
Serves 8
20m prep time
45m cook time

When you share or print a 12 Tomatoes recipe,
you're making mealtime meaningful.
100%
of the Share to Care sponsor fees fund meals for families in need.
Learn More
CLICK ANY LINK BELOW TO JOIN OUR CAUSE!
For the meatballs:
1 lb lean ground beef
1/2 cup breadcrumbs
1 egg, beaten
1 teaspoon salt
2 teaspoons Italian seasoning
1/2 teaspoon black pepper
3 cloves garlic, minced
1/4 cup Parmesan cheese, grated
2 tablespoons milk
For the soup:
Olive oil, as needed
1 white onion, chopped
2 teaspoons Italian seasoning
6 cloves garlic, thinly sliced
2 tablespoons tomato paste
1/4 cup red wine
1 (28 oz) can crushed tomatoes
6 cups chicken broth
1 tablespoon fresh parsley, chopped
8 oz rigatoni pasta
2 cups mozzarella cheese, grated
Kosher salt and freshly ground black pepper, to taste
Preparation
In a large pot of salted boiling water, cook the rigatoni according to package directions. Drain and set aside.
Meanwhile, make the meatballs:
In a medium bowl, mix together the ground beef, breadcrumbs, egg, salt, Italian seasoning, black pepper, minced garlic, Parmesan cheese, and milk. Using a tablespoon, scoop out into meatballs and roll between your hands to shape.
In a large heavy-bottomed pot, heat about 2 tablespoons of olive oil over medium-high heat. Once hot, add meatballs in batches and brown 2-3 minutes before turning and browning other side. Remove to a plate and set aside.
Add more oil to pot if needed, then add onion. Cook until starting to soften, scraping up any browed bits from the pan, 3-4 minutes. Add Italian seasoning and garlic and cook until fragrant, about 30 seconds.
Add tomato paste and cook 30 seconds more before stirring in red wine. Cook briefly, then stir in crushed tomatoes and chicken broth.
Simmer for about 15 minutes, then puree the soup until smooth using a blender or immersion blender.
Add soup back to pot, and add in the meatballs. Simmer gently, uncovered, until meatballs are tender, about 15 minutes.
Adjust seasoning as needed and stir in fresh parsley.
To serve, add about 1/2 cup of the cooked rigatoni to a bowl top with meatballs and soup (about 4 meatballs and 1 1/2 cups of soup), top with cheese, and enjoy! Can place under a broiler briefly to melt cheese further, if desired.
Recipe adapted from The Cozy Apron.
SKM: below-content placeholder
Whizzco for 12T