Lasagna always makes for a hearty and satisfying dinner, but there's no point in sticking to the same tired recipe when you can spice things up with new ingredients. Why not try a spinach-based lasagna with your own homemade walnut pesto? If you've got basil leaves in your garden, this pesto is the perfect way to utilize them and create a mouthwatering meal that your family and friends will be talking about for days. Bonus: it's vegetarian!
The type of spinach you use in this recipe can be adapted depending on what's most convenient for you! You can sub the 2lbs of fresh spinach for two, 10-ounce packages of baby spinach leaves or two, 10-ouncepackages of frozen, chopped spinach, defrosted. No matter what, this recipe is bound to become a favorite for you and anyone who tastes it!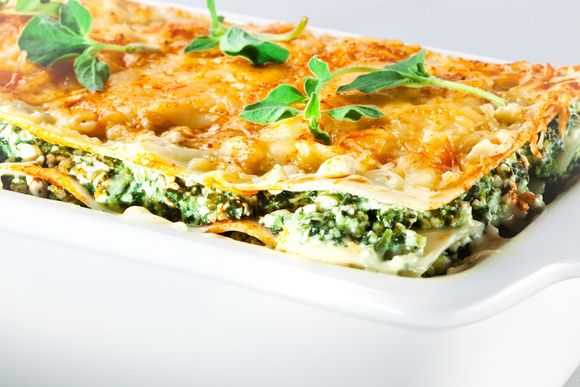 Spinach Lasagna with Walnut Pesto
(makes 8 servings)
Lasagna Ingredients:
A little olive oil for the pan
2 poundsfresh spinach, washed
2 poundsnonfat ricotta cheese or nonfat cottage cheese
Walnut Pesto (recipe follows)
4 large clovesgarlic, minced
1/2 teaspoonsalt
Freshly ground black pepper to taste
1/2 cupgrated Parmesan cheese
1/3 cupminced walnuts, lightly toasted
1 (24 ounce) jarlow-sugar tomato sauce (or your favorite sauce– or even better, homemade with your own tomatoes!)
16fresh, uncooked green (spinach) lasagna noodles or, if using dried, no-boil noodles
1/2 poundlow-fat mozzarella cheese, grated
Walnut Pesto Ingredients:
3 cupspacked fresh basil leaves
3 large clovesgarlic
1/3 cuplightly toasted walnuts
1/3 cupextra virgin olive oil
1/3 cupgrated Parmesan cheese
Salt and pepper to taste
Directions:
Preheat the oven to 350 degrees F. Lightly oil a 9 x 13-inch baking pan. If using fresh spinach, chop it fine. If using frozen, chopped spinach, make sure it is thoroughly defrosted and squeeze out all of the excess water.
Place the ricotta or cottage cheese in a large bowl. Stir in the spinach, pesto, garlic, salt, pepper, half the Parmesan, and the walnuts. Mix well. Spread half the tomato sauce in the bottom of the pan. Place a layer of uncooked noodles over the sauce. Spoon about 1/3 of the ricotta or cottage filling in dabs over the noodles (you can spread it a little, but not too much) and sprinkle with 1/3 of the grated mozzarella. Follow with another layer of sauce, then noodles, followed by another 1/3 of the filling, and another 1/3 of the mozzarella. Repeat one more time, and then finish up with a final layer of noodles. You will have some Parmesan left over.
If you are using fresh noodles, bake uncovered. If you are using dried noodles, cover the pan tightly with foil.
Bake for 50 minutes, uncovering the pan (if applicable) during the last 15 minutes, during which time you can sprinkle on the reserved Parmesan. (In the case of the uncovered pan, if the top of the lasagna becomes as brown as you like it before the full baking time is up, cover loosely with foil and continue baking, so it wont get too dark.) Remove from the oven and let cool for about 10 minutes before serving.
Walnut Pesto: Place the basil leaves and garlic in a food processor or blender, and mix well.
Add the walnuts, and continue to blend until the walnuts are finely ground.
Keep the machine running as you drizzle in the olive oil. When you have a smooth paste, transfer to a bowl, and stir in the Parmesan. Season to taste with salt and pepper.
If you are not going to use the pesto right away, place in a container that has a tight-fitting lid. Smooth out the top surface of the pesto, and pour on enough olive oil to cover it completely. This creates an air-proof seal that helps preserve it well. Cover tightly and store in the refrigerator.
Recipe adapted from allrecipes.com.
SKM: below-content placeholder
Whizzco for 12T