Recently we were in the mood for a pasta we hadn't really had in a long time: manicotti. It's a wonderful pasta that just begs to be stuffed with ricotta cheese and smothered in tomato sauce. The problem is, stuffing the shells with the cheese can be a bit of a pain. How can you be sure to get an even spread of filling in without having to break out the pastry bag?
One solution, it turns out, is to go ahead and rethink the noodle. Instead of purchasing manicotti noodles, we found some no-boil lasagna noodles to be a perfect solution. Just give a short soak in boiling water, then spread the filling out over them before rolling them up. It's a simple way to get the same effect as stuffed shells without the hassle. From there, we cooked a delicious tomato sauce and prepared the cheese filling separate. It was hard to resist adding a great sausage to the dish, but if you want a vegetarian dish, simply omit the sausage from the recipe. Keep reading below for our favorite baked manicotti…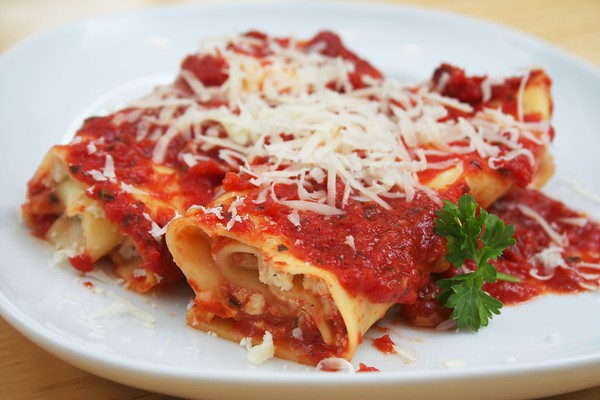 Baked Manicotti
(makes 6-8 servings)
Ingredients
TOMATO SAUCE
2 28oz cans diced tomatoes
2 tablespoons olive oil
1lb hot Italian sausage, casings removed
3 medium cloves garlic, minced
1/2 teaspoon red pepper flakes
salt
2 tablespoons fresh basil, chopped
CHEESE FILLING
3 cups ricotta cheese
2 cups grated Parmesan cheese
2 cups shredded mozzarella cheese (reserve extra for garnish)
2 large eggs lightly beaten
3/4 teaspoon salt
1/2 teaspoon black pepper
2 tablespoons fresh parsley
1/2 teaspoon nutmeg
2 tablespoons chopped fresh basil
16 no-boil lasagna noodles
Directions
Preheat the oven to 375F. In a blender or food processor, pulse the cans of tomatoes with their juice until coarsely chopped (you may have to do 1 can at a time). It should take 3-4 pulses. Transfer the tomatoes to a bowl.
In a large saucepan over high heat, cook the sausage, breaking apart into about 1/2″ pieces until no longer pink (about 6 minutes). Add the garlic and red pepper and cook until fragrant (1 to 2 minutes). Stir in the tomatoes, 1/2 teaspoon salt, and simmer until slightly thickened (about 15 minutes). Add the basil, then adjust the seasoning with salt as desired.
For the filling, combine the ricotta, 1 cup Parmesan cheese, mozzarella, eggs, salt, pepper, nutmeg, and herbs in a medium bowl and set aside.
Pour 1 inch of boiling water into a 13″x9″ broiler-safe baking dish. Add the noodles one at a time and let soak until pliable (about 5 minutes, separating the noodles to prevent sticking). Transfer the noodles from the water and place in a single layer on clean paper or kitchen towels. Discard the water, then dry out the baking dish.
Spread 1 1/2 cups of sauce evenly on the bottom of the baking dish, then spread 1 1/4 cup of the cheese mixture evenly onto 3/4 of each noodle, leaving one quarter of the noodle exposed. Roll the noodles into a tube shape and arrange in the baking dish seam side down.Top with remaining sauce, completely covering the pasta.
Cover the baking dish with aluminum boil and bake for about 40 minutes or until bubbling, then remove the foil. Sprinkle manicotti with remaining 1 cup Parmesan cheese, then broil the manicotti for an additional 4 to 7 minutes. Cool 15 minutes before serving. Garnish with extra shredded mozzarella cheese.
Enjoy!
Recipe adapted from Mel's Kitchen Cafe
SKM: below-content placeholder
Whizzco for 12T