You can't get this in the grocery store.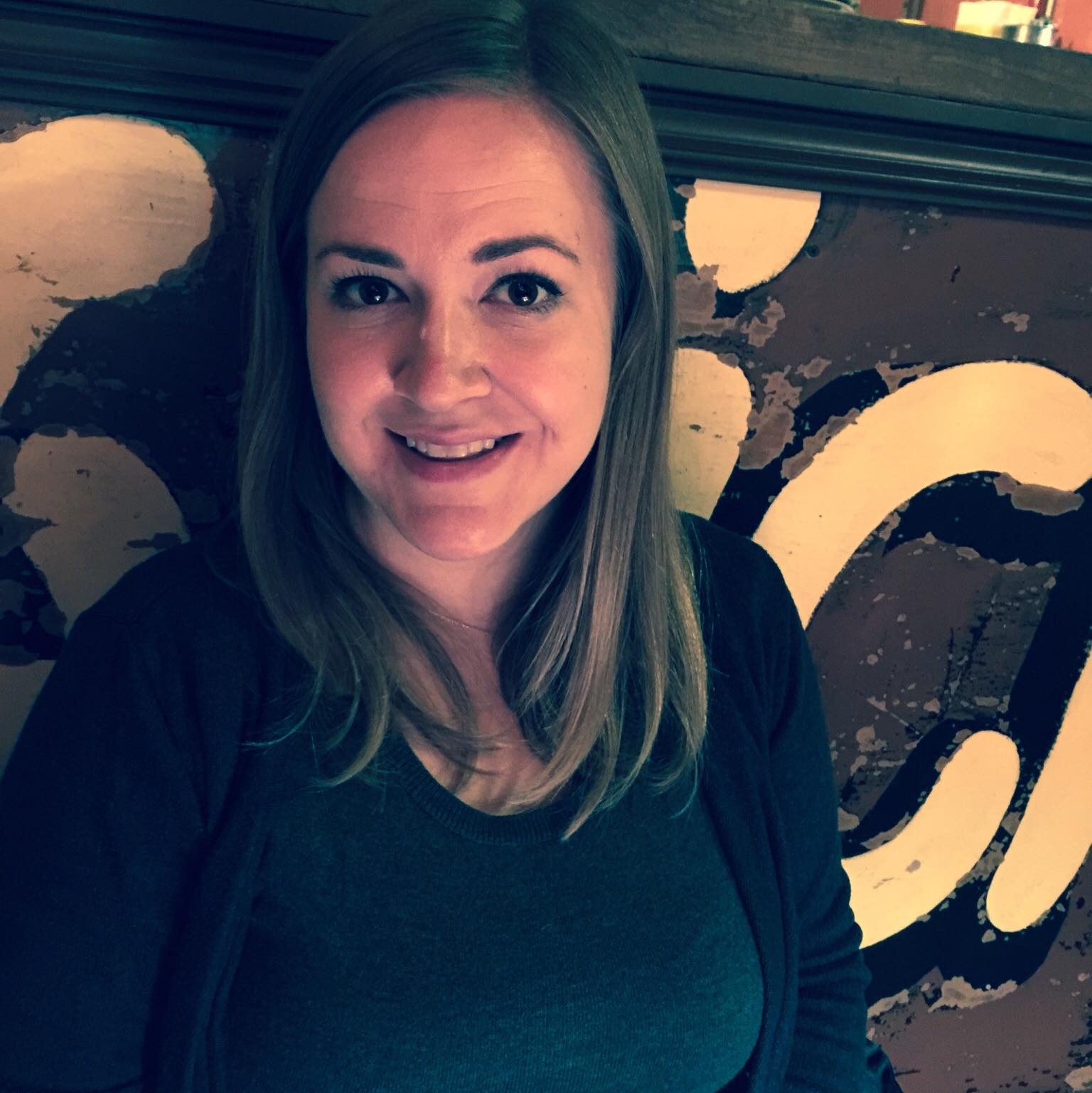 Kristy Norrell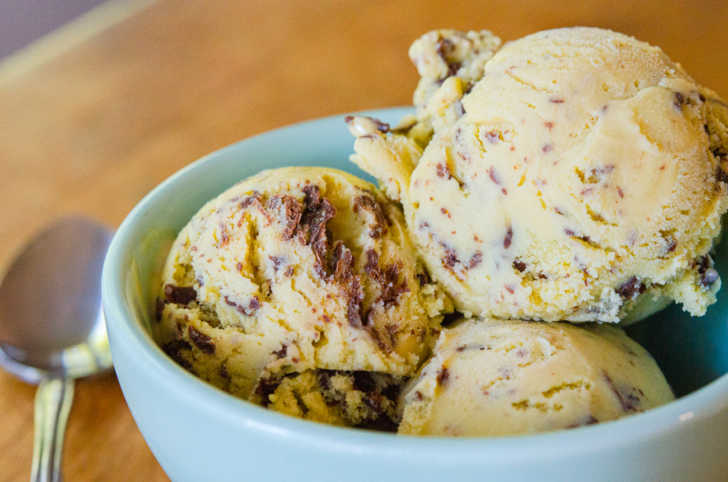 Mint Chocolate Chip Ice Cream shouldn't be green. There, I said it.
Most of us are used to it that way, I know. But if your ice cream is bordering on neon, you're probably looking at food dye and that's usually a pretty good sign that that batch of ice cream has never even seen a mint leaf. Now, there's nothing wrong with artificial extracts – they're a great help in bumping up flavor or adding flavors that are otherwise hard to capture – but mint extract just doesn't even come close to capturing the true cool, refreshing, green flavor of real mint.
If you've had true mint ice cream, you know exactly what I'm talking about. If you haven't dug into a bowl of it before, if you haven't spooned a cream-colored or nearly-yellow bite into your mouth and been gobsmacked by that pure mint flavor, then I implore you, I beg you, to go ahead and make some yourself. It's not hard, you don't need special skills, so grab some mint sprigs and get ready. You'll never go back.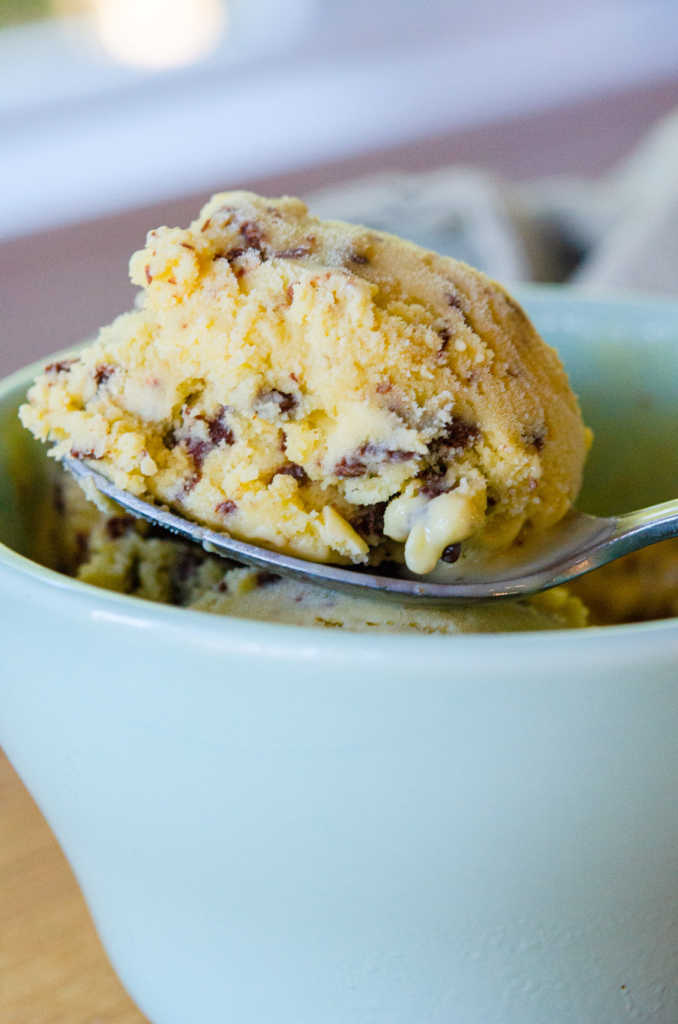 My first memory of real mint chip ice cream is of making it on the big front porch of my grandparents' ranch in a wooden bucket with a hand crank after we'd all spent some of the morning collecting armfuls of mint by the creek. So, pretty idyllic. But what I remember more is being wowed by the flavor. It was unlike anything I'd had before. Now when I make it myself, I use an electric ice cream maker, but here's how I do it: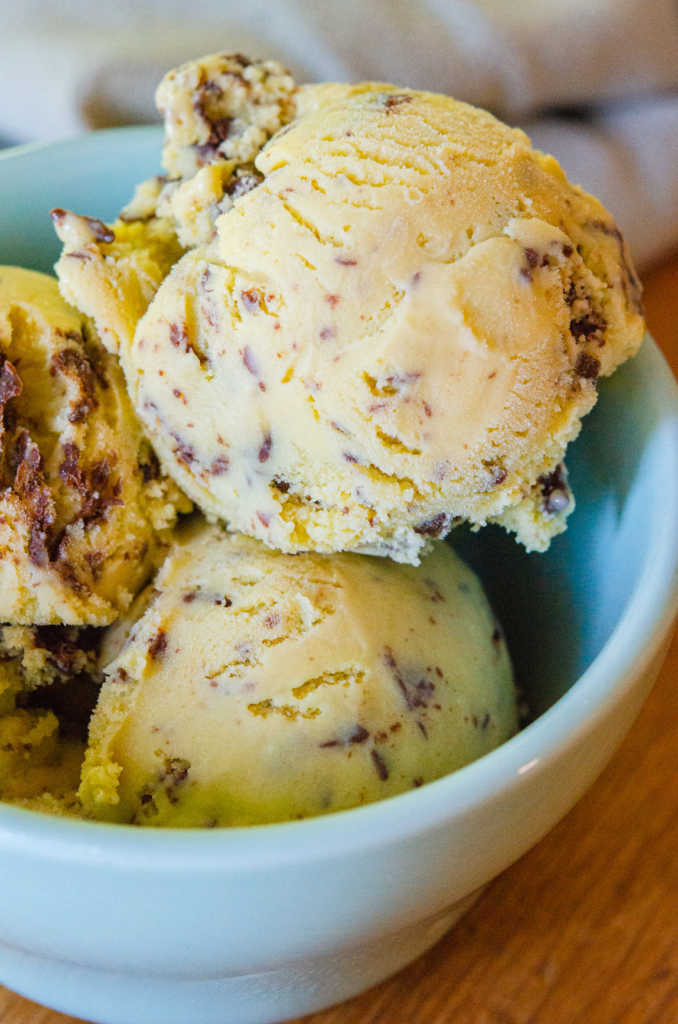 The first step is to gather or buy a bunch of mint. Like, a big bunch. Two small bunches from the store will do. Pluck off the leaves, give them a rinse, and add them to some milk and cream that you've just brought to a simmer. You don't want to scald the milk, just heat it enough to help with extracting the flavor.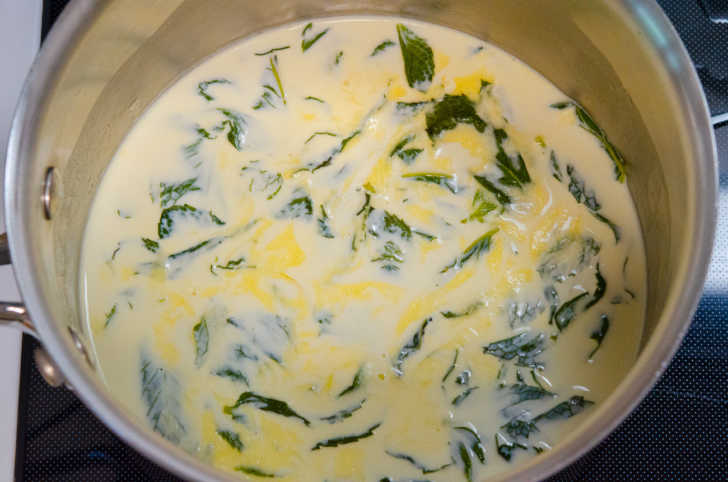 Cover your pot and let it sit (off the heat!) for about an hour. When you lift the lid, it will smell heavenly, creamy and minty and so very good. Strain out the mint leaves with a fine-mesh strainer, pressing against them to really extract all that flavor.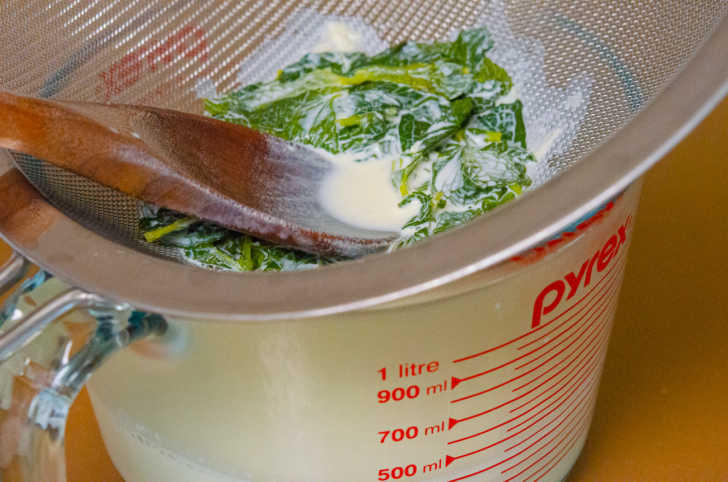 Then you start the custard. But don't be scared of custard. This is a very easy one.
Just combine some egg yolks and sugar in a saucepan…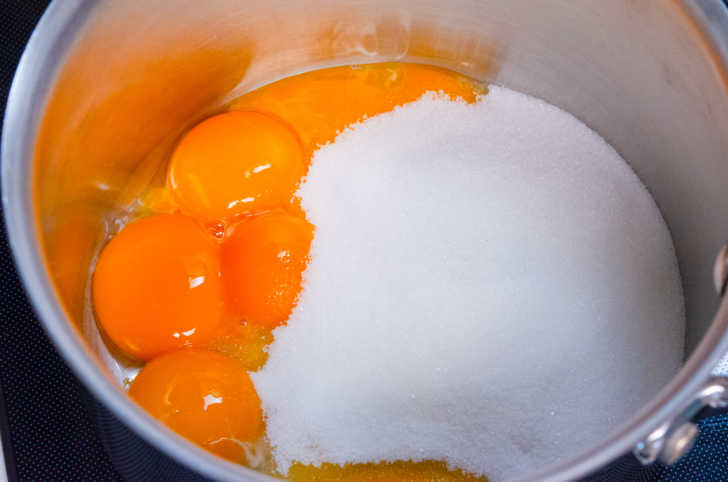 … and then whisk in the strained mint-infused milk and cream.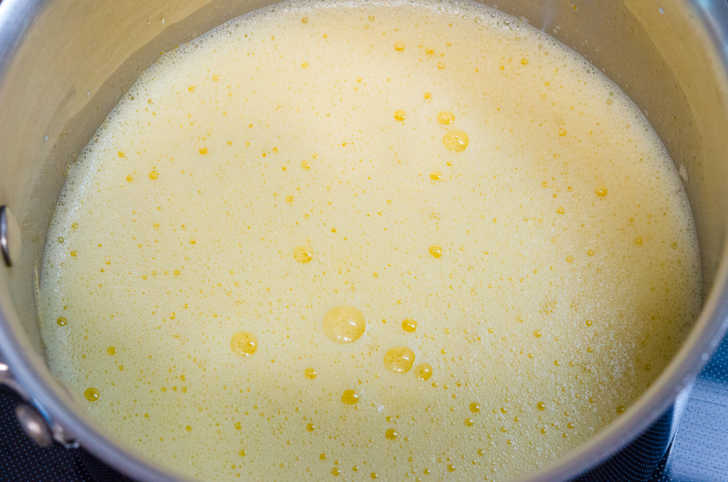 Over medium heat, cook the mixture until it starts to thicken. You'll want to whisk frequently but it doesn't need to be constant, so don't tire your arm out. You'll know you're at the right custard stage when you can swipe a clean line through the mixture on the back of a spoon and the edges don't run.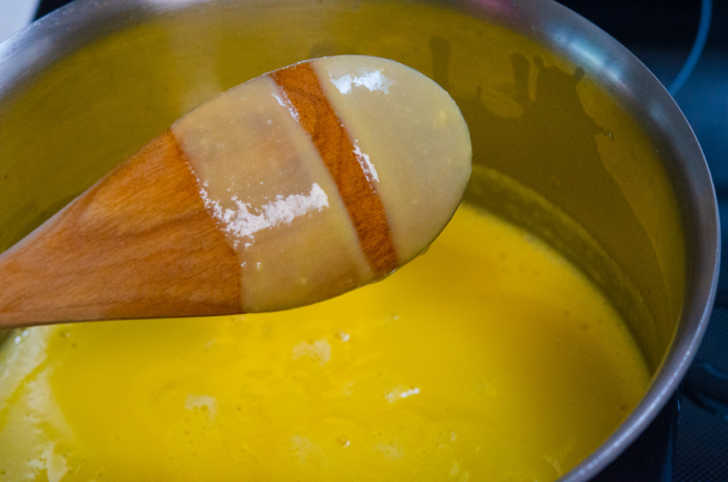 That is the majority of the work, but to see success you need to chill the mixture down to a temperature that doesn't melt the ice in the bowl of your ice cream maker. There are two ways to do this – an ice bath, which will take about four hours, or placing the mixture in the fridge overnight.
From there, you just pour the mixture into your ice cream maker and let it do its thing.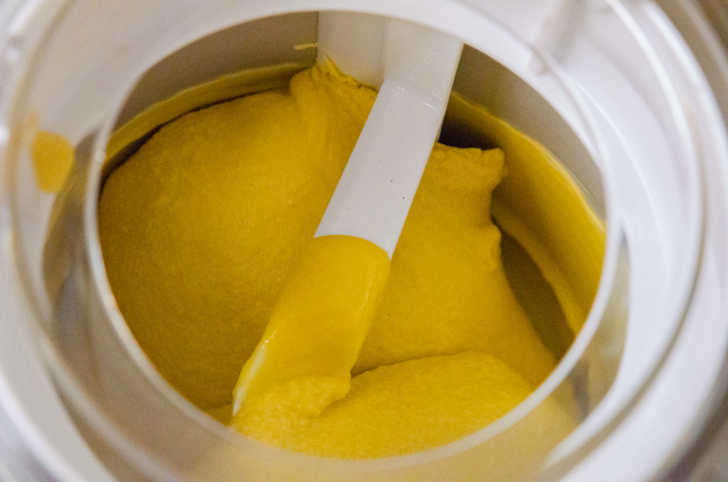 Now, you don't want monstrous clunky chips of chocolate in your ice cream, you want delicate sweet flakes that melt in your mouth right along with the ice cream. To get that, you simply melt chocolate chips in the microwave, mix in a bit of vegetable oil and then drizzle the mixture into the ice cream maker at the very end of the churning process. You'll get ribbons that break up in the machine, but you can use a spoon to break up any larger chunks.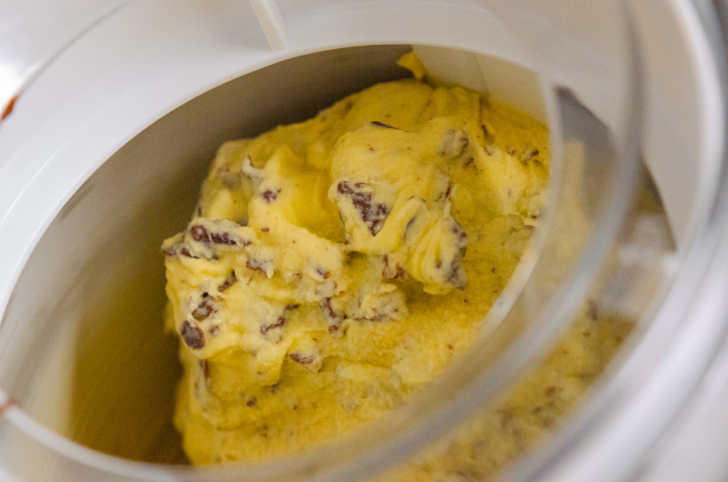 The end result will be some of the best ice cream you've ever had, or at least I certainly think so. It's cool (of course) and creamy with a flavor that tastes the way fresh mint smells plucked right out of the garden (or alongside a creek at your grandparents' ranch if you're so lucky) and the chocolate is a delicate accent that doesn't overpower that bright flavor.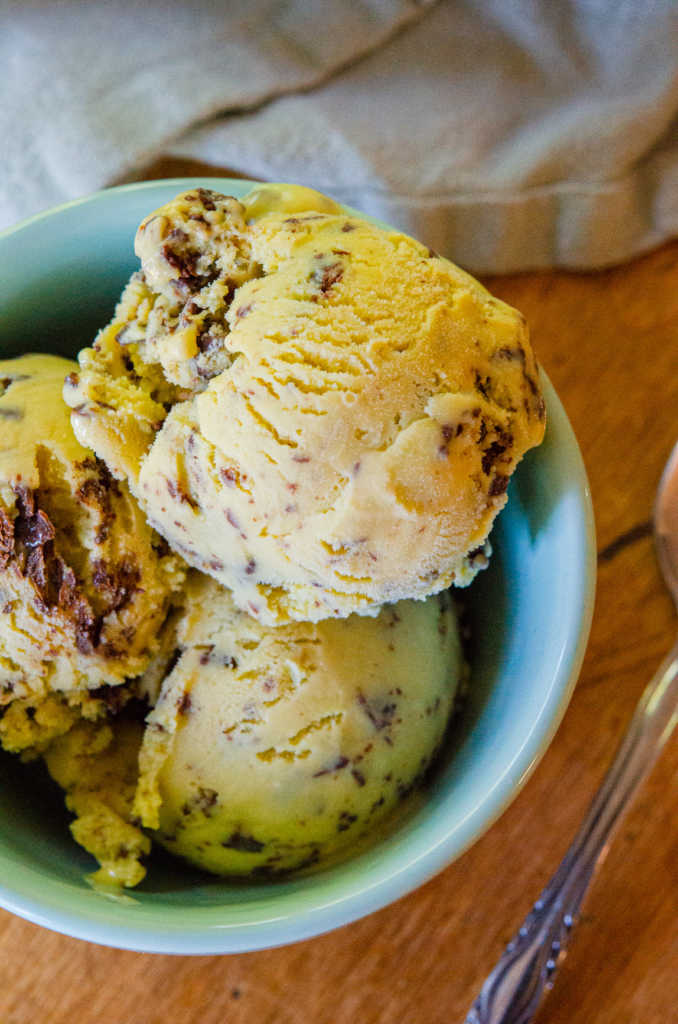 Real Mint Chocolate Chip Ice Cream
Yield 1 quart
20m prep time
15m cook time
3h 20m inactive
Ingredients
2 small bunches or 1 large bunch mint leaves, rinsed and drained
1 cup milk
2 cups heavy cream
2/3 cup granulated sugar
1/2 teaspoon salt
6 large egg yolks
4 oz dark or semi-sweet chocolate chips
2 tablespoons vegetable oil
Preparation
Combine milk and heavy cream in a saucepan. Bring just to a simmer, but not to a full boil. Add mint leaves, cover, remove from heat, and let sit 1 hour.

Once mint has finished steeping, strain out liquid into a bowl, pressing on mint to extract as much flavor as possible.

Whisk together egg yolks and sugar in a separate heavy-bottomed saucepan until well combined. Add strained dairy into the pot and whisk until combined.

Heat over medium, whisking frequently, until a custard begins to form. The mixture will coat the back of a spoon so that you can run a finger across it and a clean line will form.

Stir in salt, and pour custard through a fine-mesh strainer into an airtight container. Chill in the refrigerator or in an ice bath until temperature reaches 40°F. This will take about 4 hours in an ice bath and overnight in the refrigerator.
Pour ice cream into ice cream maker and churn according to maker's directions.

While ice cream is churning, melt chocolate in microwave in 30 second intervals, stirring in between. Stir in oil.
When ice cream is nearly done churning, slowly drizzle in chocolate to form thin lines, pausing the machine to break up larger chunks with a spoon if needed.

Transfer ice cream to a container and freeze to harden further before serving. Enjoy!
Recipe adapted from Simply Recipes.
SKM: below-content placeholder
Whizzco for 12T