You only need a wooden skewer to make this homemade pasta.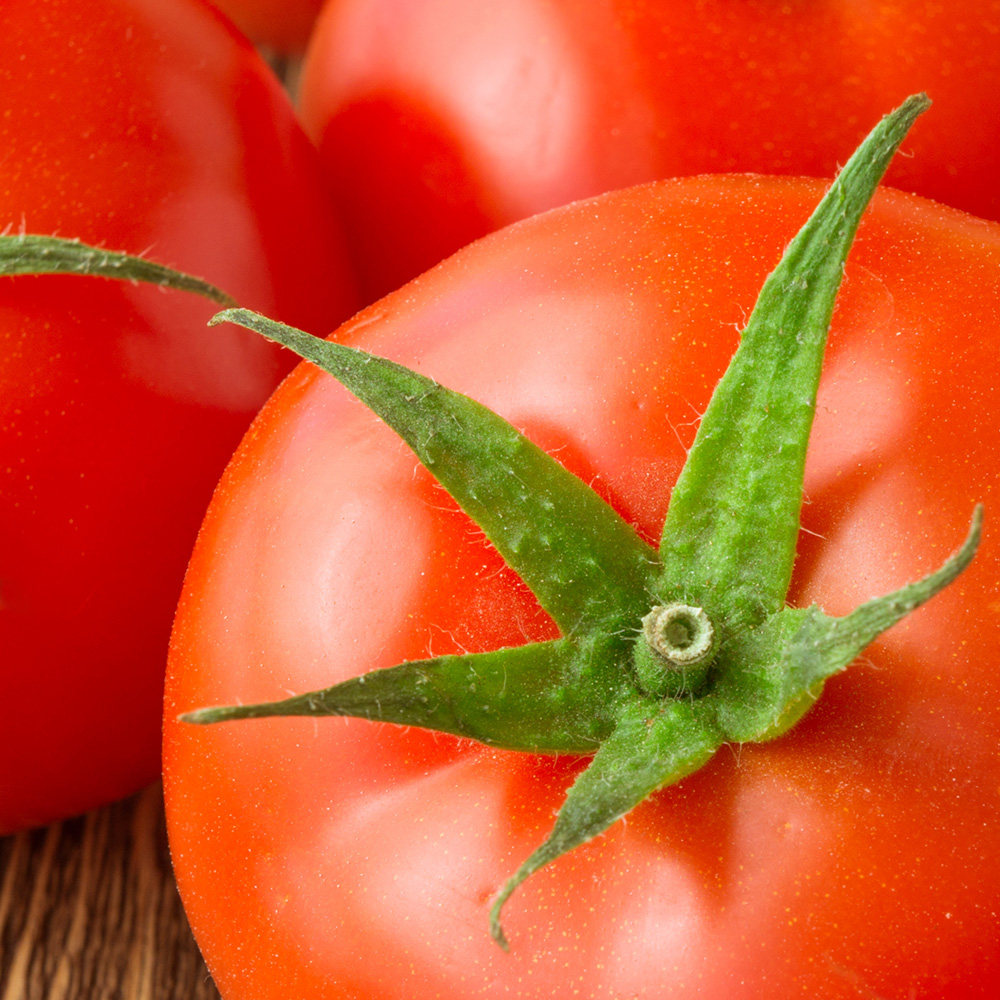 12 Tomatoes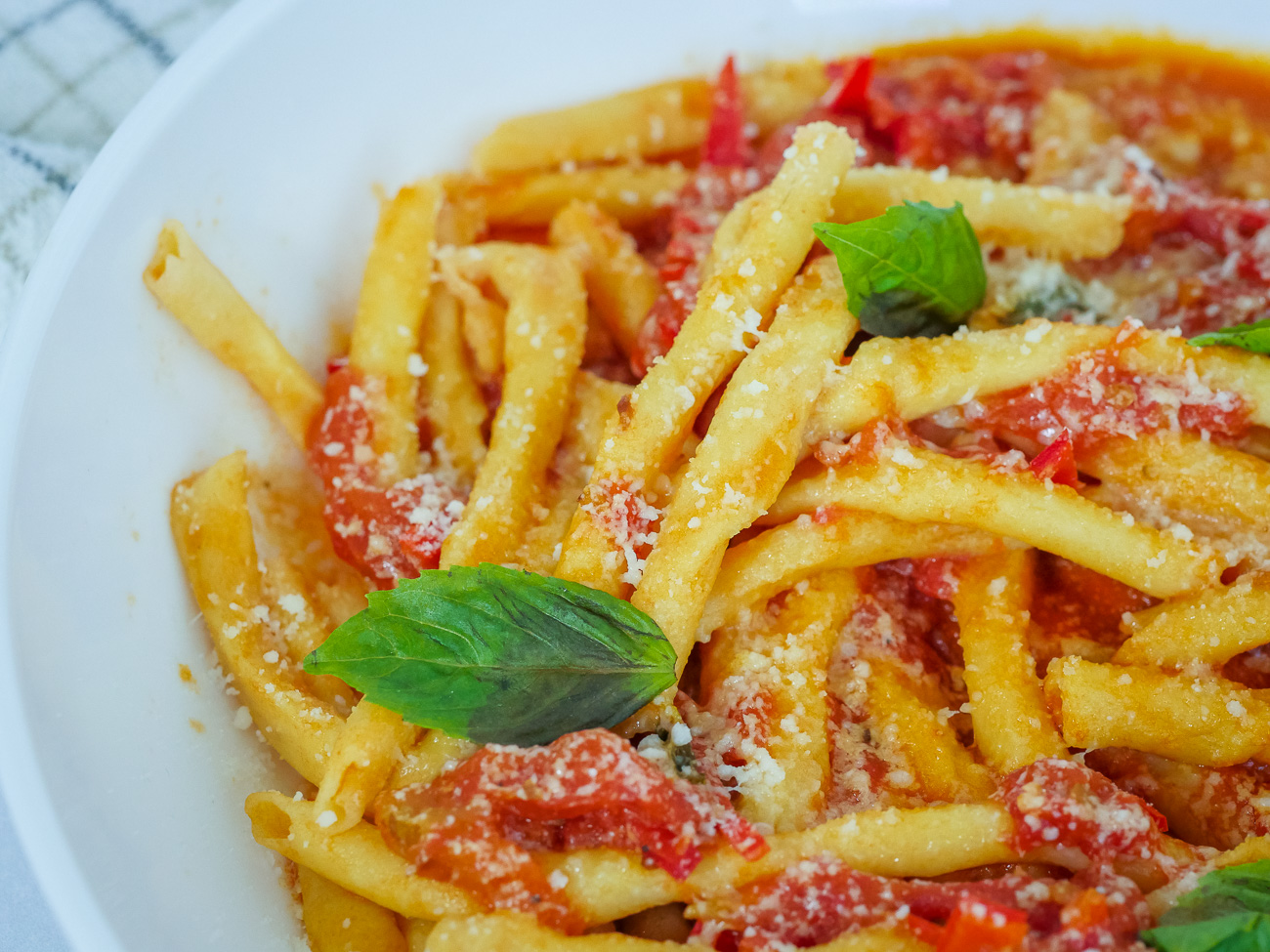 While homemade pasta can get pretty time-consuming and complicated, it doesn't have to be that way. Raschiatelli is a simple pasta with a fancy name that doesn't require any special equipment or ingredients and is easy enough that the whole family can join in on the hand-rolling. Paired with a quick and spicy arrabbiata sauce, this dish is not only delicious, it's also easy enough that even kitchen novices can handle it. The only special equipment you need is a wooden skewer! Chef Dom takes you through every step of the process in the video below. Give it a watch and you'll be making your own pasta in no time!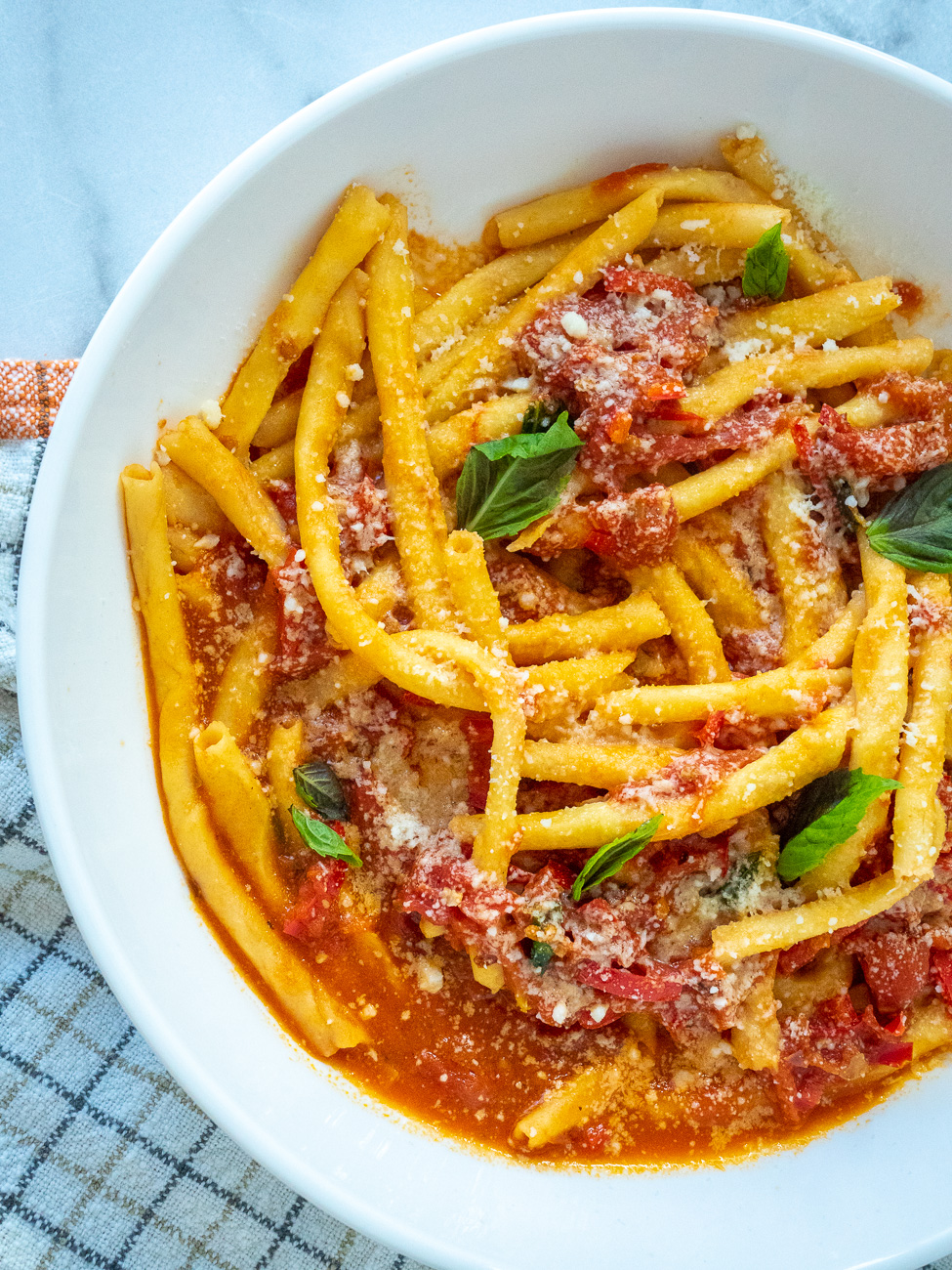 Raschiatelli pasta uses a Roman technique of rolling dough over a skewer to make noodles, so you don't need any special pasta rollers or machines. All you need for homemade pasta is a wooden skewer, some semolina, some salt, some water, and your hands. So easy!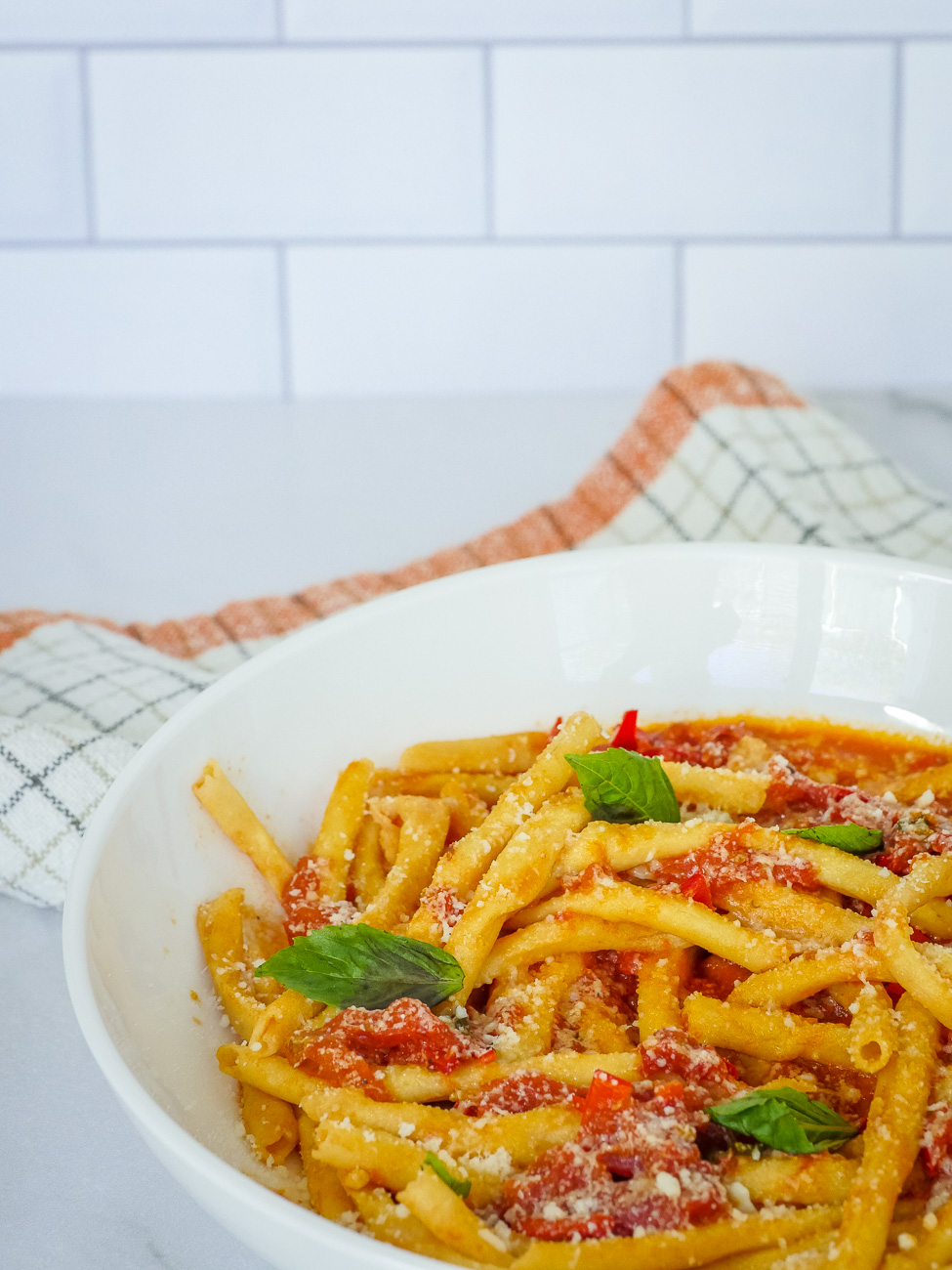 While it pairs well with plenty of different sauces, Arrabbiata is a great choice because it doesn't require a long simmering time. Arrabbiata means angry in Italian, which speaks to its spicy kick. Chef Dom starts with whole tomatoes, which he suggests "hulk crushing" before simmering them briefly to deepen the tomato flavor. His video above is full of helpful tips and tricks like that and more. Enjoy!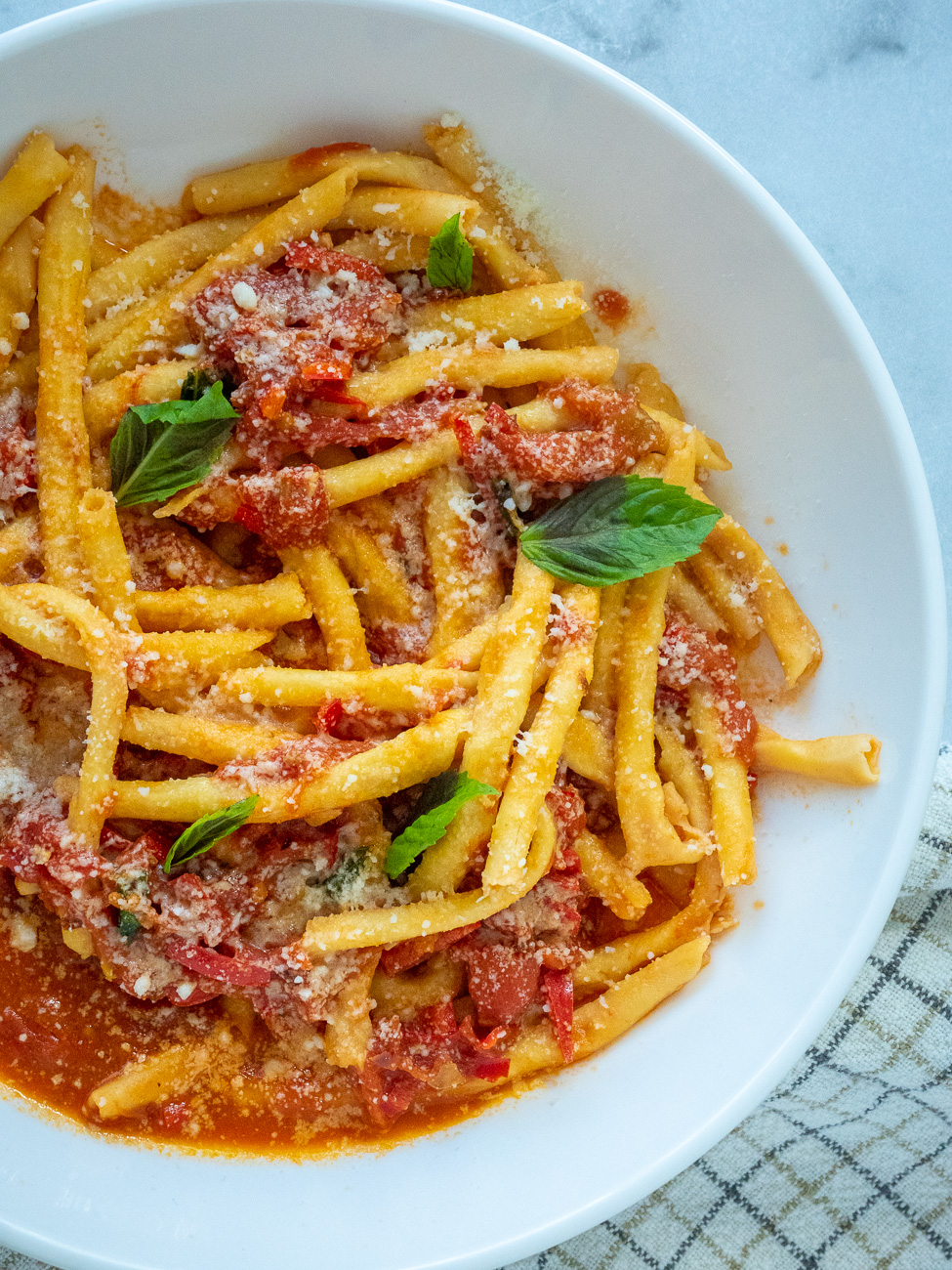 Hand-Rolled Raschiatelli Pasta Arrabiatta
Serves 2-4
30m prep time
20m cook time
For the pasta:
3 cups semolina flour
1 scant cup warm water
1/2 teaspoon salt
For the Arrabiatta:
2 teaspoons olive oil
2 garlic cloves, crushed
1/2 teaspoon crushed red pepper flakes
1 (28 oz) can whole tomatoes, crushed
3 Calabrian chiles or red chiles
1 stem basil, leaves chiffonade
Juice and zest of 1 lemon
3 tablespoons Pecorino Romano cheese, freshly grated
For the pasta:
Combine flour, salt, and water in a bowl and mix until dough comes together. On a clean work surface, knead dough 6-7 times, until dough forms a mass and becomes difficult to knead. Cover bowl with plastic wrap and let rest 30 minutes.
Once dough has rested, divide dough into 4 equal pieces. Using one piece at a time, use both hands to roll dough into a long even rope about 1-inch in diameter.
Cut 2-inch pieces from each rope, and using a wooden or metal skewer, roll each piece around the skewer until a long thin "beefaroni" noodle is formed. Place onto a sheet tray dusted with semolina and set aside to dry.
When ready to serve, bring a pot of salted water to the boil, add pasta to water, and cook until pasta floats.
For the sauce:
For the Arrabiatta, heat a medium-sized saucepot on medium heat with olive oil, garlic, and pepper flakes until garlic starts to brown. Add in crushed tomato, chiles, and basil stem to pot and simmer on medium-low for 30 – 45 minutes. Add lemon juice and zest to tomato sauce then season to taste with salt and pepper.
When ready to serve, add cooked pasta to another clean pan with just enough tomato sauce on medium-low. Add a splash of pasta water to pan and cook pasta with sauce until the sauce is thick and the pasta is cooked through.
Finish with Pecorino Romano and enjoy!
SKM: below-content placeholder
Whizzco for 12T