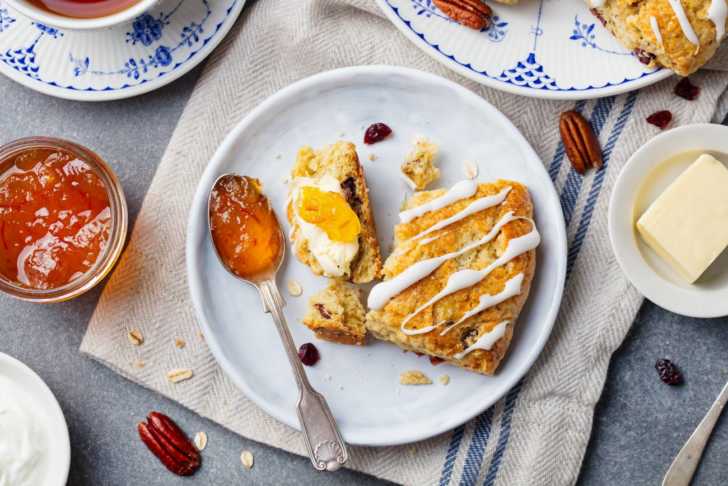 I like having a festive theme when it comes to seasonal cooking and of course, during the fall months, I'm thinking about all things pumpkin. Naturally, this means I need to whip up a batch of my pumpkin cranberry walnut scones with cream cheese frosting. These dangerously delicious scones are one of my favorite autumn recipes. Scones are super easy to make and don't require a trip to the bakery or coffee shop when you can have one fresh from your own kitchen.
The savory pumpkin pairs beautifully with the tart cranberry and gets a nutty richness from the walnuts (of course, if pecan is your preference, feel free to substitute). Canned pumpkin puree is a quick and easy way to incorporate that distinctively fall flavor. I also want to add warmth and that's where the pumpkin spice mixture comes in so handy. It's a combination of cinnamon, ginger, nutmeg, and cloves that enhance that pumpkin flavor.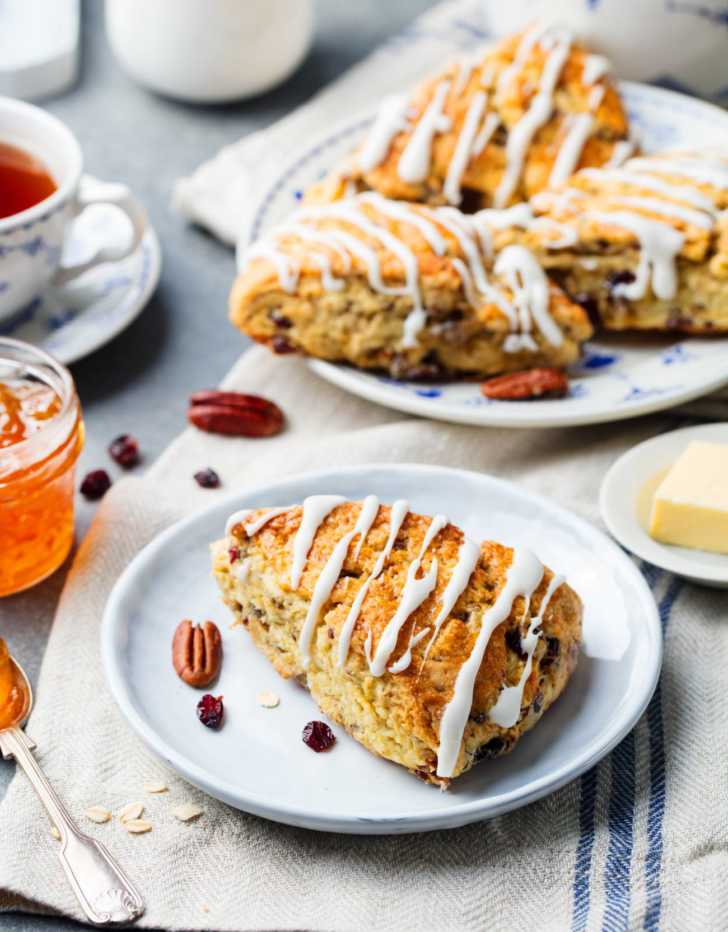 A pumpkin cranberry walnut scone is, on its own, well and good, but is made even more indulgent with a drizzle of cream cheese frosting. And why not when it's so easy to make! Just cream cheese, butter, and powdered sugar – maybe a little milk to thin the consistency – but a swirl and swizzle of this sweet sauce will add a sweet creaminess to the scone. Who can resist?!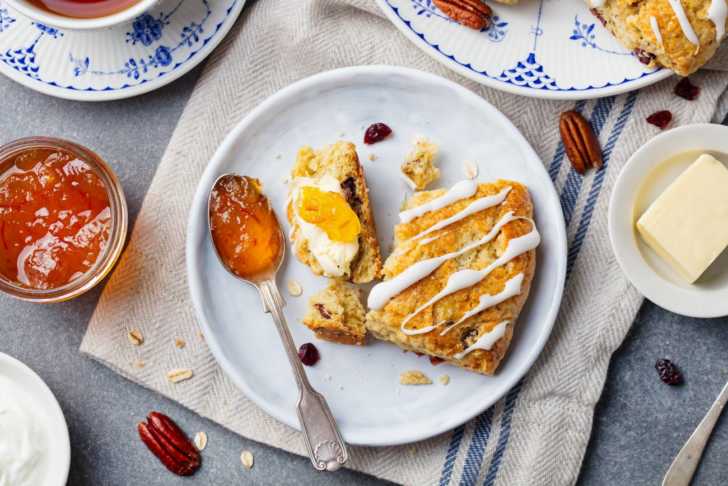 I try not to indulge too often, but when I do, I want it to be worth it! That's why I just love this pumpkin cranberry walnut scone with cream cheese frosting. Go big or go home! A delicious treat like this served alongside a cup of tea or coffee is ideal for a weekend brunch or delivered to friends and family in a care package. You could send this off to someone you love and then video chat to share the scones together! A scone this good is meant to be shared.
Pumpkin Spice Cranberry Walnut Scones
Serves 12
15m prep time
15m cook time
For the scones:
2 cups all-purpose flour
½ cup brown sugar
2 teaspoons baking powder
½ teaspoon baking soda
½ teaspoon kosher salt
1 teaspoon pumpkin spice
4 tablespoons unsalted butter, cold and cubed
¾ cup pumpkin puree
4 tablespoons milk
½ cup dried cranberries, coarsely chopped
½ cup walnuts, coarsely chopped
¼ cup turbinado sugar
Cream Cheese Frosting:
4 oz cream cheese
4 tablespoons unsalted butter, softened
1 cup powdered sugar
1 teaspoon vanilla
1-2 tablespoons milk
Preparation
Preheat oven to 425°F. Line a baking sheet with parchment paper and set it aside.
Mix flour, sugar, baking powder, baking soda, salt, and pumpkin spice blend together in a large bowl.
Cut in the cold cubes of butter with a pastry cutter or crumble with your hands.
Mix in the pumpkin puree, milk, cranberries, and walnuts. Fold the dough until all ingredients are evenly blended.
Divide the scone dough into two halves. Take each half of the dough and shape it into a circle, about ½-inch thick. Keep a bowl of cold water nearby to wet your fingers as the dough will be sticky. Cut the dough into 6 even pieces, and repeat with the second half of the dough. Place onto the prepared baking sheet.
Sprinkle the tops of the scones with the turbinado sugar. Bake the scones for 12-15 minutes or until the edges begin to turn a beautiful golden brown. Transfer to a cooling rack to cool completely before frosting.
For the frosting: beat the cream cheese, butter, powdered sugar, and vanilla until smooth. Add the milk to thin the frosting to your desired consistency. Use a spoon to drizzle the cream cheese frosting over the top of the cooled scones. Enjoy!
Recipe adapted from A Duck's Oven.
SKM: below-content placeholder
Whizzco for 12T