Shallots and white pepper transform this otherwise simple dish.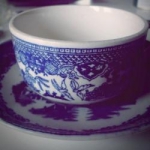 Rose Heichelbech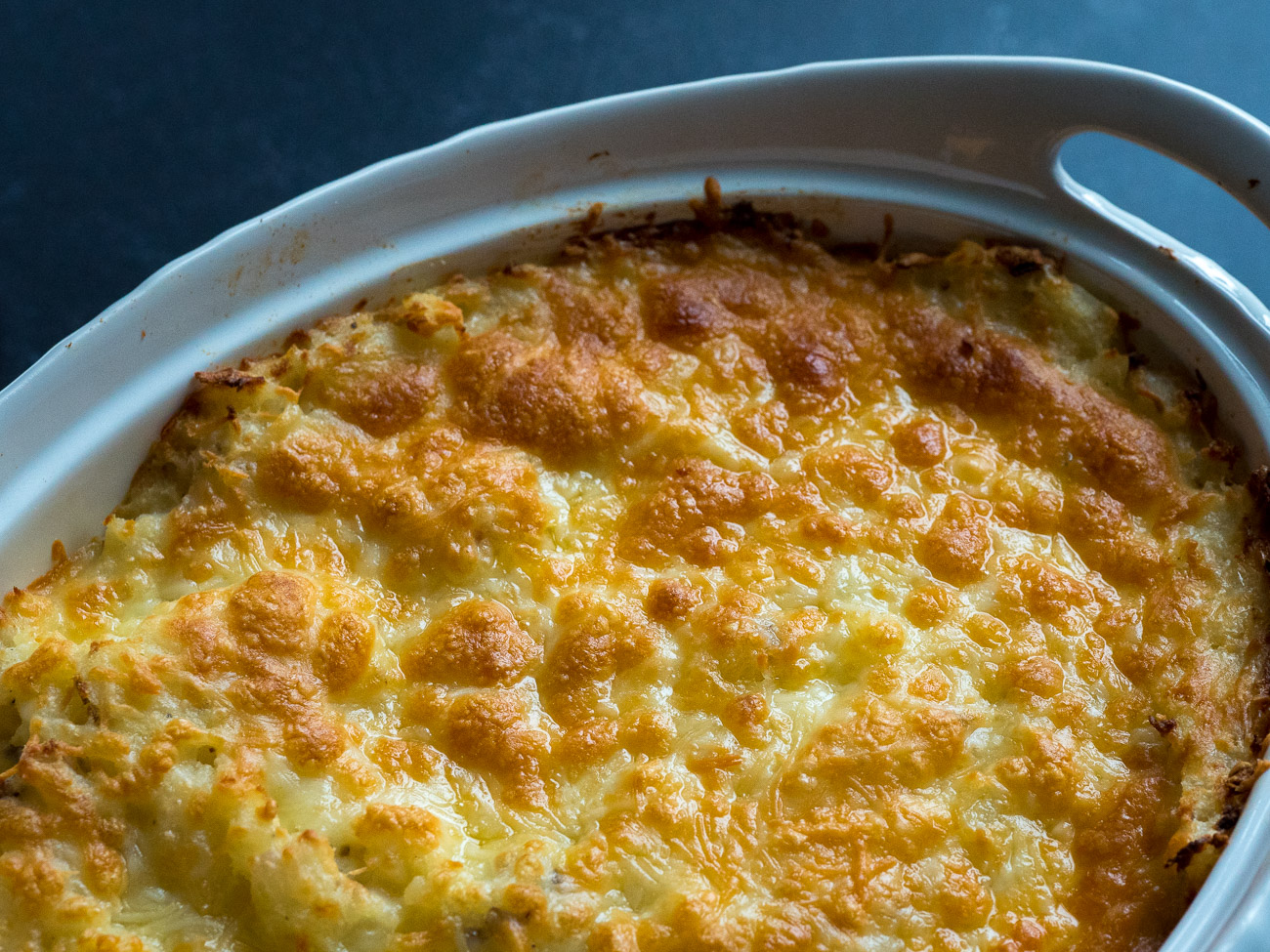 The origin of potatoes Romanoff can be traced back to the Strip House restaurants in New York and Las Vegas. Chef, John Schenk, created the dish based on the cheesy potato casseroles his mother made when he was growing up. The end result is a like if funeral potatoes got a bit of a makeover.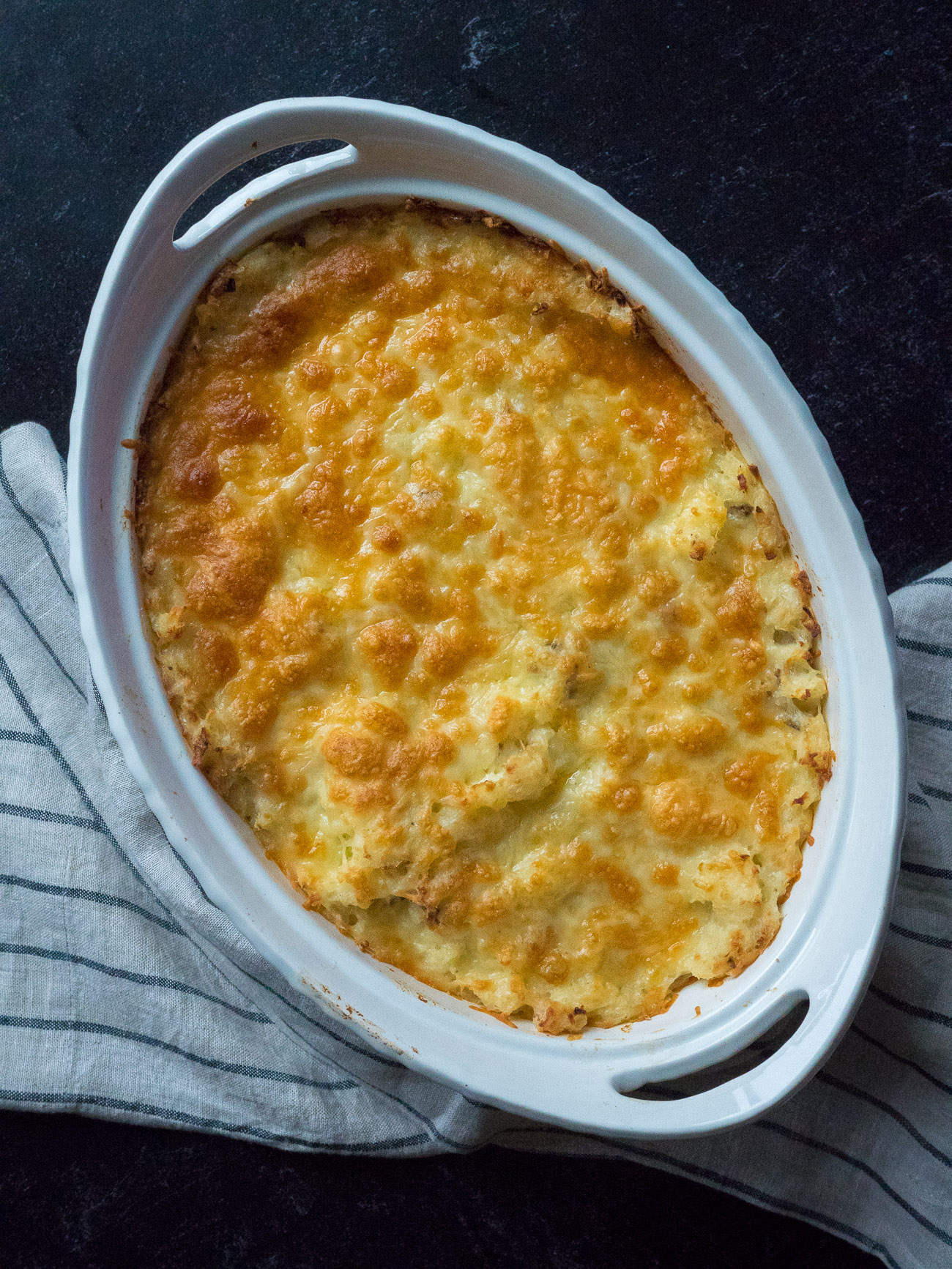 The basis for the recipe are shredded potatoes and generous portions of parmesan and white cheddar cheeses, held together with a rich sauce of sour cream. This certainly isn't diet food, but it is a wonderful addition to large family meals, especially at the holidays.
You can change up the cheese in this dish to varieties your family likes best. We could see a lovely combination of sharp cheddar and asiago or Swiss and romano. The combinations are limitless, which is nice because it means you can very simply edit this dish to suit what you like or what already have on hand.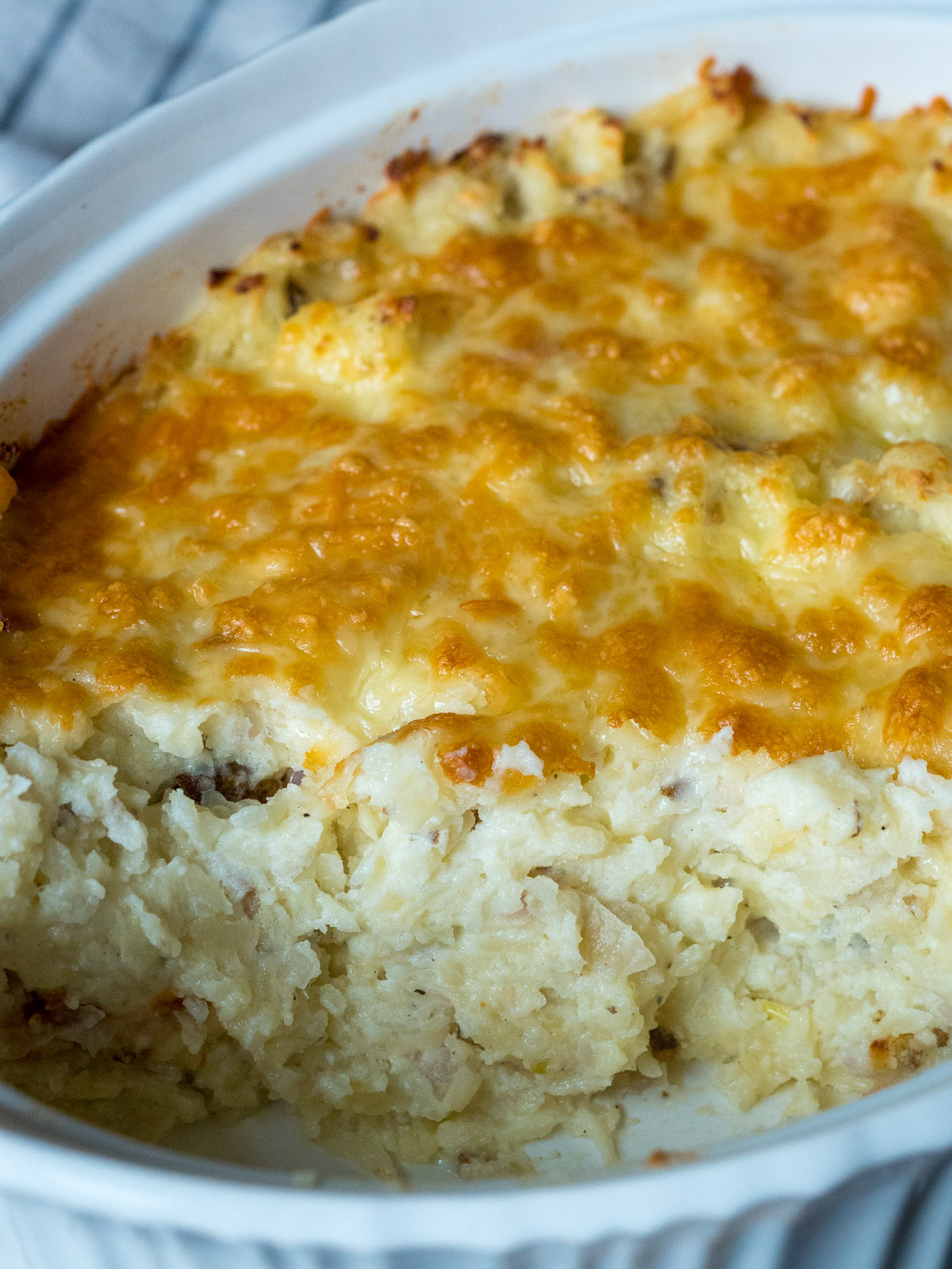 This recipe also calls for the addition of 3 minced shallots which elevates the dish into something a bit more complex. For those who wish to cut a little of the sharpness that shallots can bring to any dish you can reduce to 2 shallots, or you can sauté them for a few minutes before adding them to the potatoes so that there's no rawness to the finished recipe. Another trick I like to use is to rinse and then drain chopped onions or shallots to just bring down the intensity a little bit.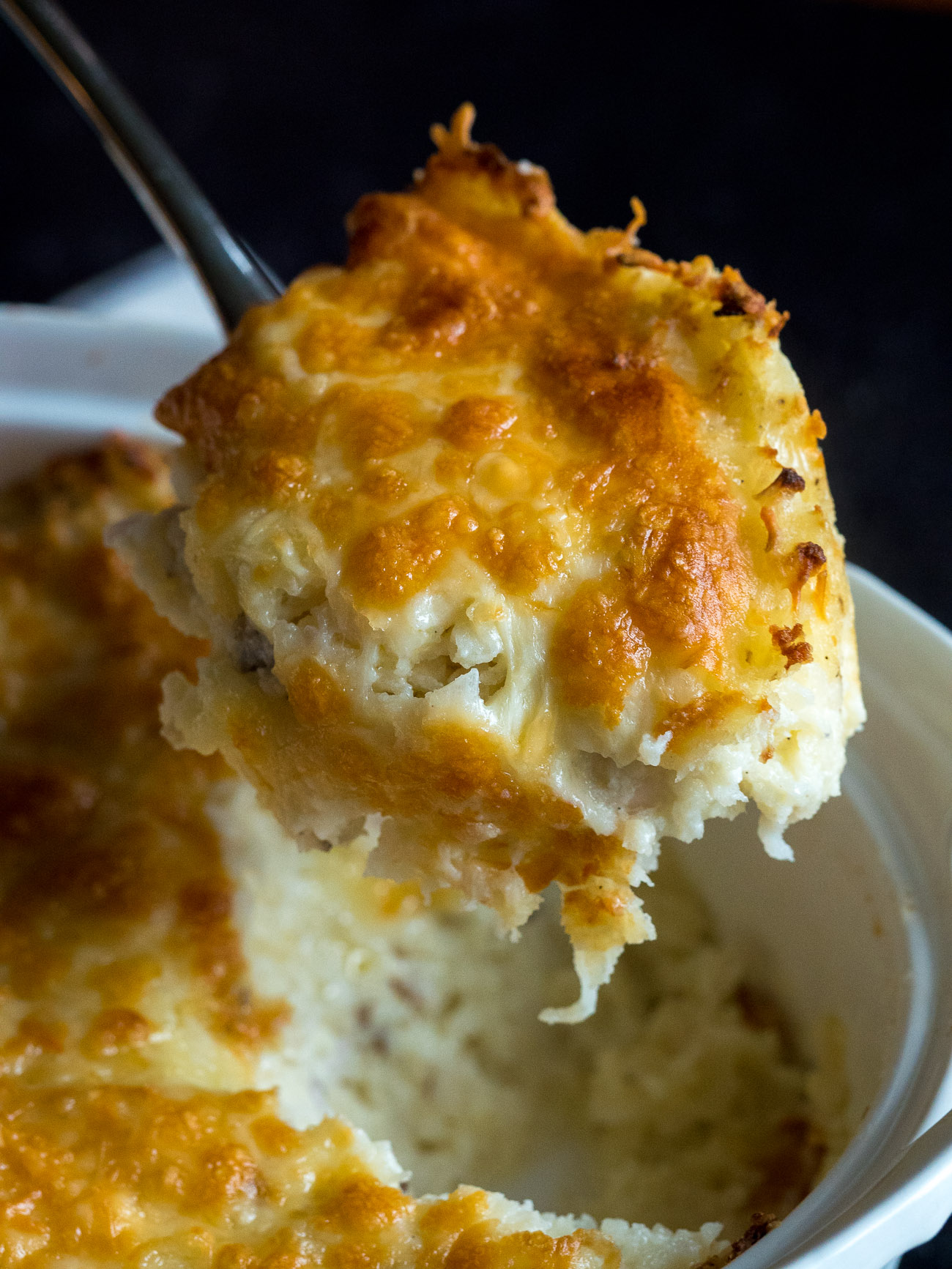 To start this dish you'll need to bake 3 large russet potatoes for an hour or until tender. Then allow them to cool in the fridge for 4 hours or overnight. This does take some forethought, but there is nothing easier than popping potatoes into the oven.
Once the spuds have cooled you'll need to grate them using a box grater. Then combine the potatoes, shallots, 1 3/4 cups cheddar cheese, salt, and pepper and then fold in the sour cream. For this recipe white pepper adds just the right level of spice for such a creamy dish.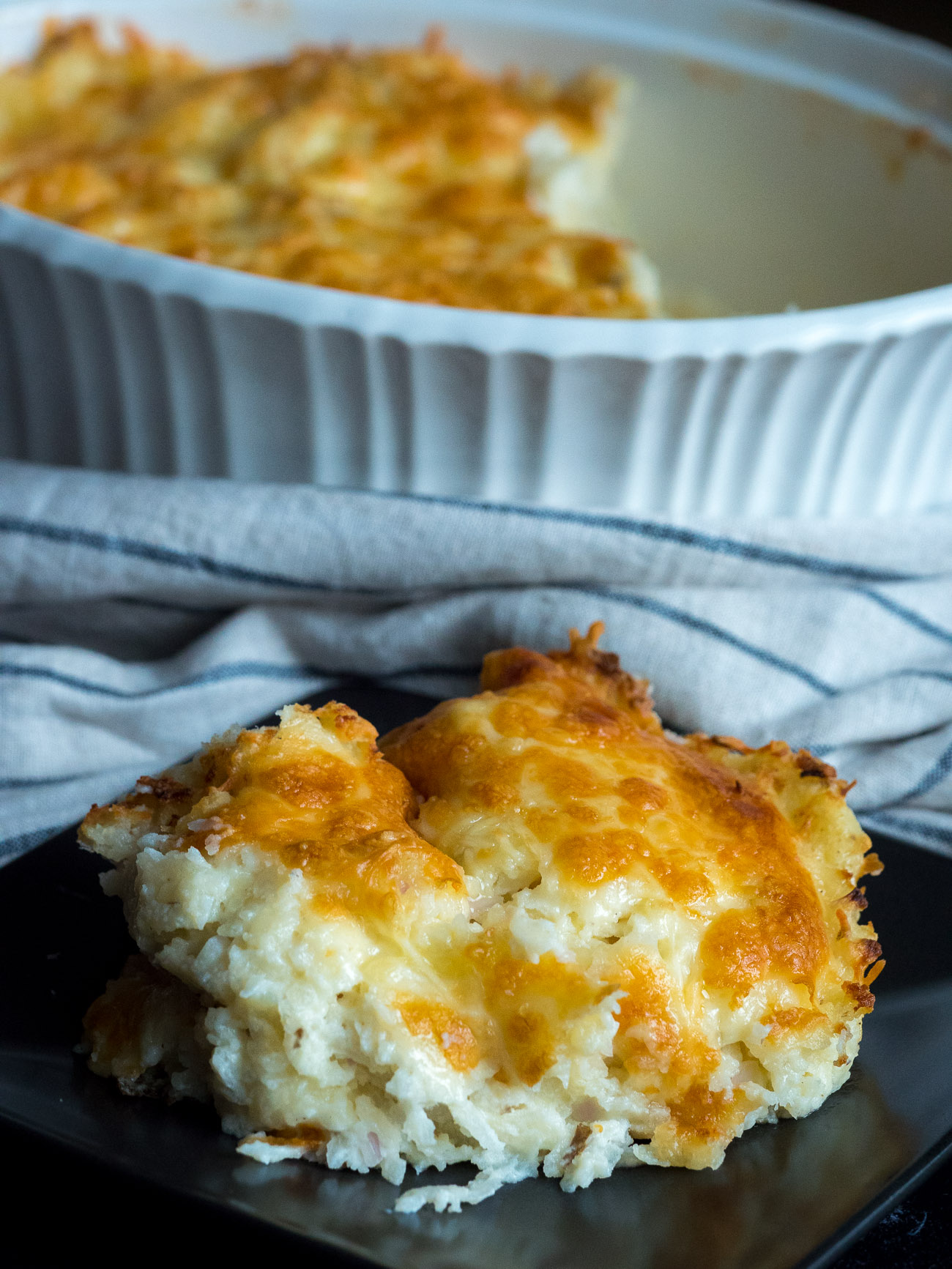 Once it's all mixed together spoon the potatoes into an 8″x8″ baking dish or 1 1/2-quart oval casserole dish. Top this with the remaining cheddar and the parmesan and bake (uncovered) for 30 or until the top is golden brown.
The original potatoes Romanoff was often served alongside steak. Add a salad and you could be done. But, we also love having lots of potato dishes for big gatherings since potatoes are usually the first thing we run out of. However you choose to serve this versatile dish you simply can't go wrong with potatoes and cheese baked up into a delightful casserole.
Potatoes Romanoff
Serves 6
4h 20m prep time
1h 30m cook time
Ingredients
3 large russet potatoes, about 2 lb. total, unpeeled and scrubbed
3 shallots, minced
2 1/2 cups grated white cheddar cheese, divided
2 teaspoons salt
1/4 teaspoon white pepper
1 1/2 cups sour cream
1/2 cup parmesan cheese
Preparation
Preheat oven to 425ºF. Poke holes in potatoes and wrap in foil. Bake for 1 hour or until fork tender. Remove foil and allow to cool. Once cool refrigerate for 4 hours or overnight.

Preheat the oven to 350ºF. Grate potatoes using large holes on box grater. Do not peel potatoes before grating.

In a large bowl combine potatoes, shallots, 1 3/4 cups cheddar cheese, salt, and pepper. Fold in sour cream.

Transfer to an 8"x8" baking dish or 1 1/2-quart oval casserole dish. Sprinkle remaining cheddar and all of the parmesan on top. Bake for 30 minutes or until lightly browned on top.
Recipe adapted from Williams Sonoma.
SKM: below-content placeholder
Whizzco for 12T