Why have a pickle on the side, when you can put it on the pie!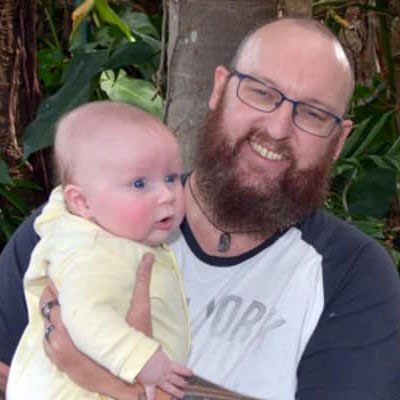 Jono Elderton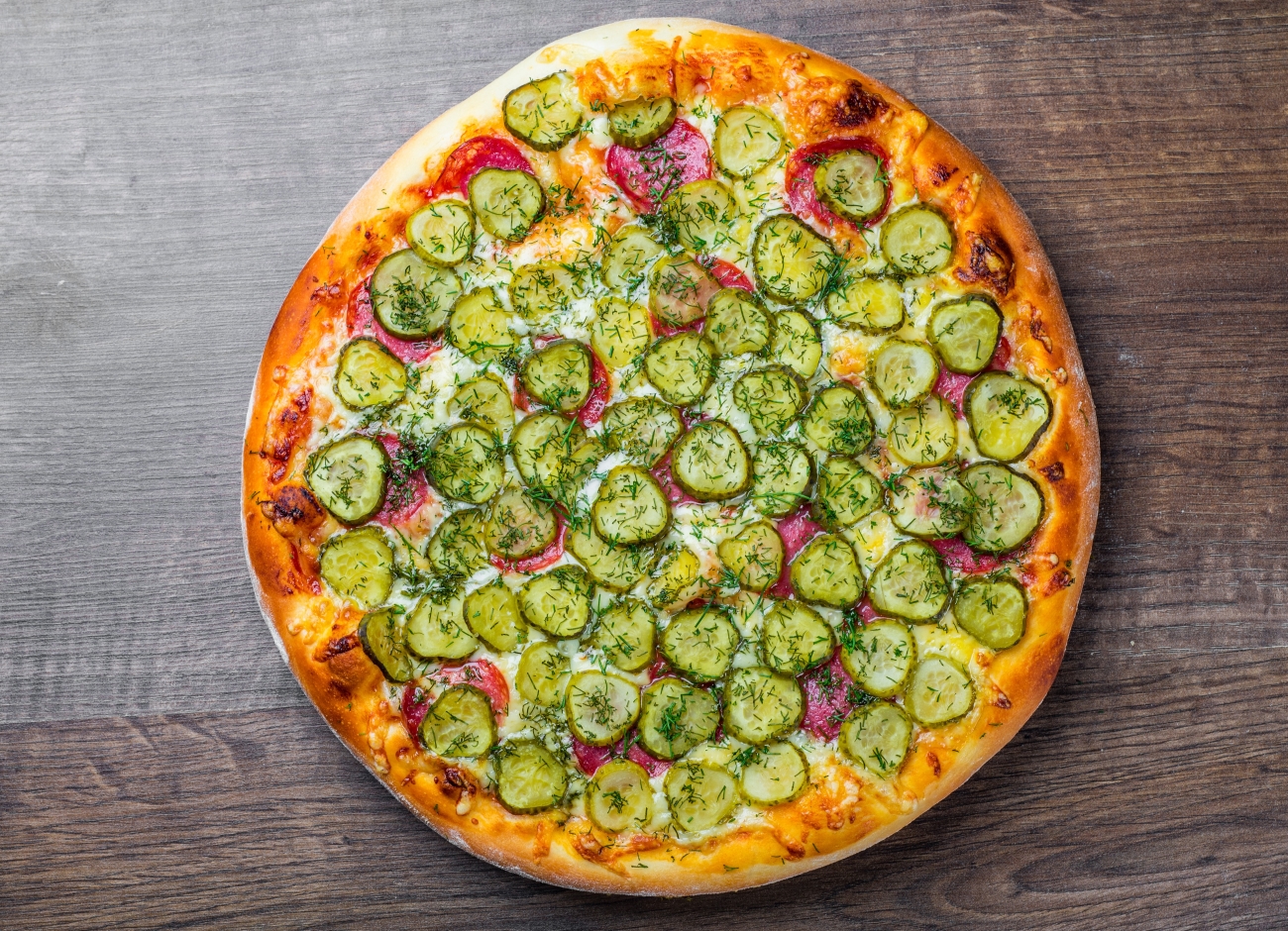 I was once a strictly non-pickle man, but a few trips to the US, (more than) a few burgers with pickle sides, and salty pickle morning afters (thanks Las Vegas), has taught me the value of a tremendously prepared dill cucumber. I'm now so pro-pickle that there is always a jar full in my fridge, and I can also make them myself in a pinch!
I've been sneaking pickles onto our home style pizzas recently, much to my wife's chagrin. My obsession has paid plenty of dividends though, because combining pickles and pepperoni is hard to beat. This Pickle and Pepperoni Pizza recipe works brilliantly because it's great at complementing similar salty flavors with rich melted cheesy and a simple but well made base. The briny, vinegar sharpness of the pickle works in concert with the sweeter hunks of pepperoni, whose saltiness quickly makes way for warmth and umami once it's cooked in the oven.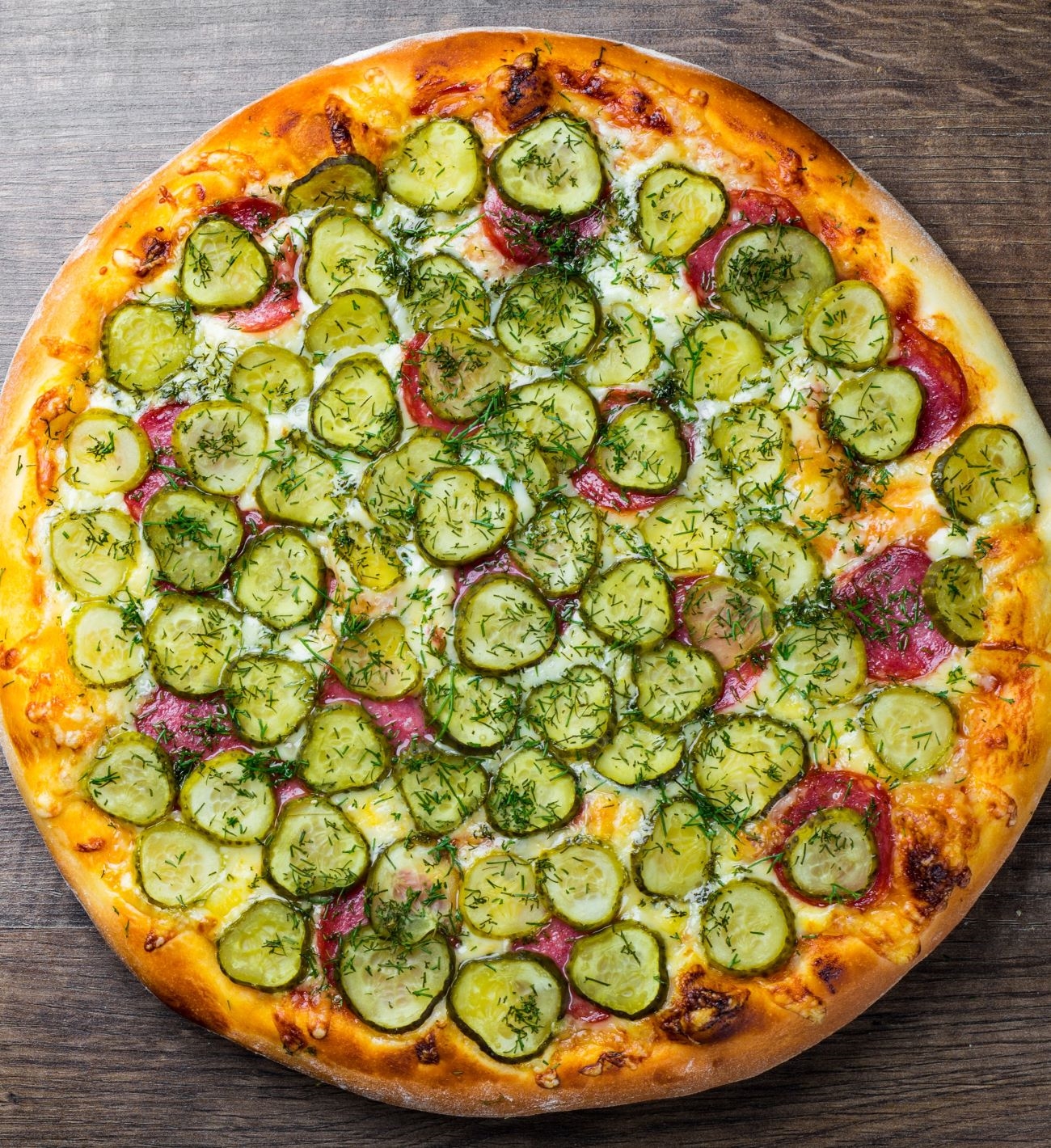 I've tried a variety of different ways to cook pizzas that match pickles with pepperoni, and most work really well, however I feel the most delicious version is a white pizza (no tomato), with a herb (garlic, onion and celery salt) and ranch based sauce. By using ranch you add a creamy element to the pizza that allows the complementary flavors to keep working. The fun of pickles and pepperoni can be subdued a bit when a tomato based sauce is employed.
This recipe calls for a pre-made pizza dough, however you can make your own, or even use a store bought base. After choosing your base, it's simple – build the pie with alternating layers of cured meat and preserved veg until you feel it's been loaded enough to still crisp nicely in the oven! The key is to make sure that the pizza is filled with toppings and flavor, but can still reach a solid middle ground between gooey goodness and crispness.
Pepperoni and pickles may not be on everyone's list of ultimate pizza combinations, but this pizza does taste delicious. It is a wonderful choice when you're hosting guests or for eating during the game. You may get a few funny looks, but once everyone grabs a slice and has a taste, then they will certainly go back for a second slice!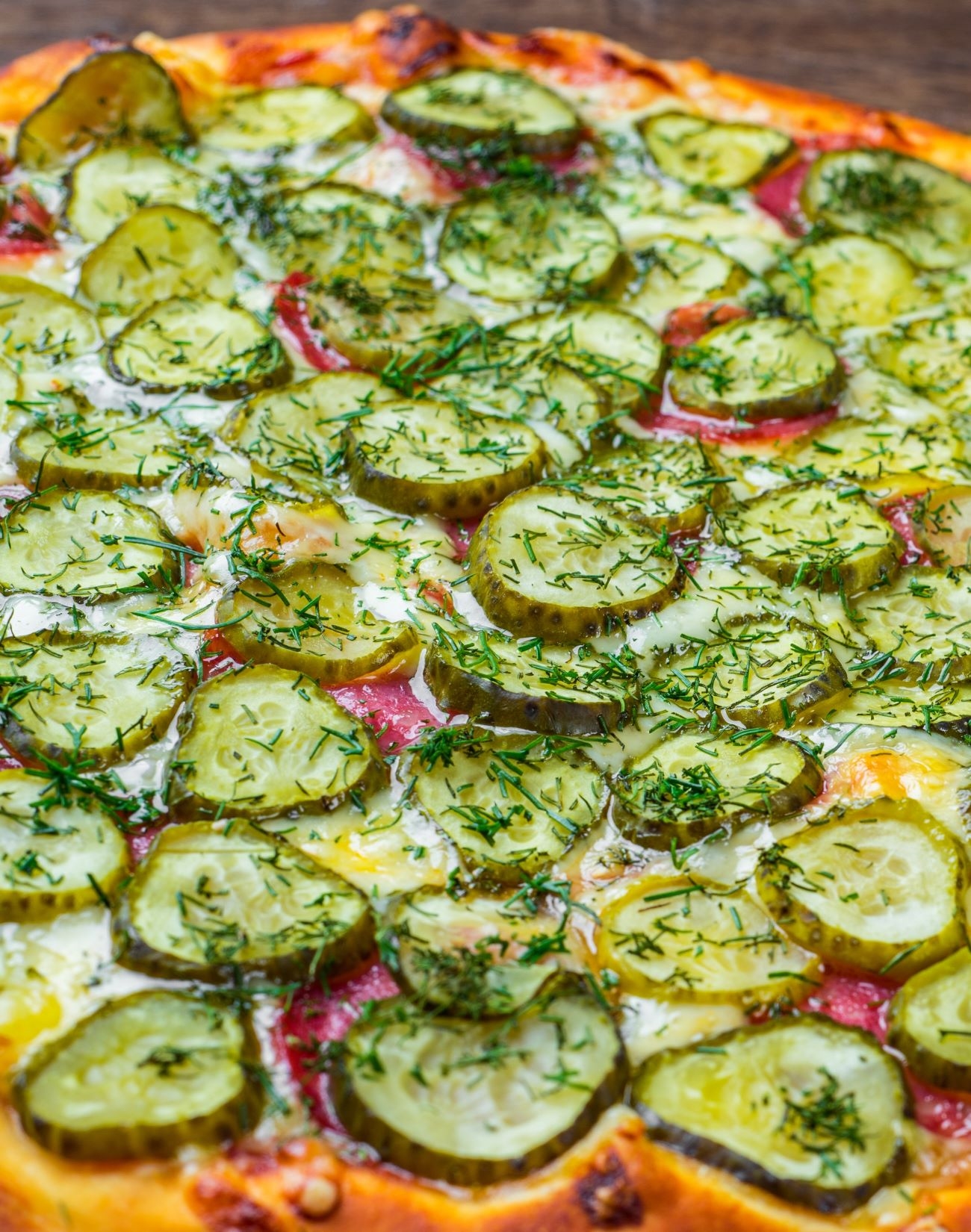 Pickle and Pepperoni Pizza
Serves 4
10m prep time
30m cook time
10m inactive
Ingredients
1 (20 oz) container pre-made pizza dough
3/4 cup ranch dressing
1 teaspoon garlic powder
1 teaspoon onion powder
1 teaspoon celery salt
1 cup shredded mozzarella cheese
4 oz sliced pepperoni
4 dill cucumbers, sliced thinly
3 teaspoons fresh dill, chopped finely
Kosher salt and black pepper, to taste
Preparation
Preheat the oven to 425°F. Roll out dough to 15" circle and place on pizza pan or baking sheet. Form a crust at the edges by pinching the dough. Bake for 10 minutes with no toppings.
Combine garlic powder, onion powder, celery salt and ranch dressing in a small mixing bowl. Cover the base with the white sauce mixture, leaving space at the edge for a healthy crust. Sprinkle the pizza with salt and pepper.
Add the shredded mozzarella to the pizza base, then add pepperoni slices evenly. Add sliced pickled cucumbers over the top, then sprinkle with fresh dill, salt, and pepper. If desired, add more mozzarella cheese over the top.
Place in the oven on the middle rack and cook for 15-20 minutes, or until the base is cooked and the cheese has melted and turned to a golden brown color. Remove from the pizza rack, slice and enjoy.
Recipe adapted from Punchfork
SKM: below-content placeholder
Whizzco for 12T