A rich and hearty stew you'll want to keep eating until the pot is empty!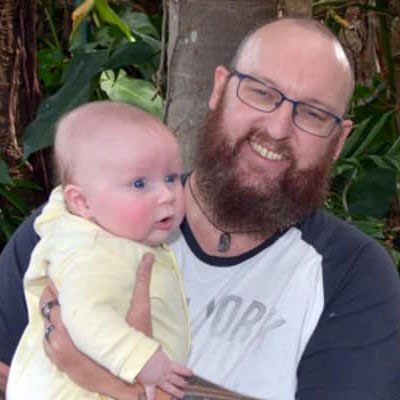 Jono Elderton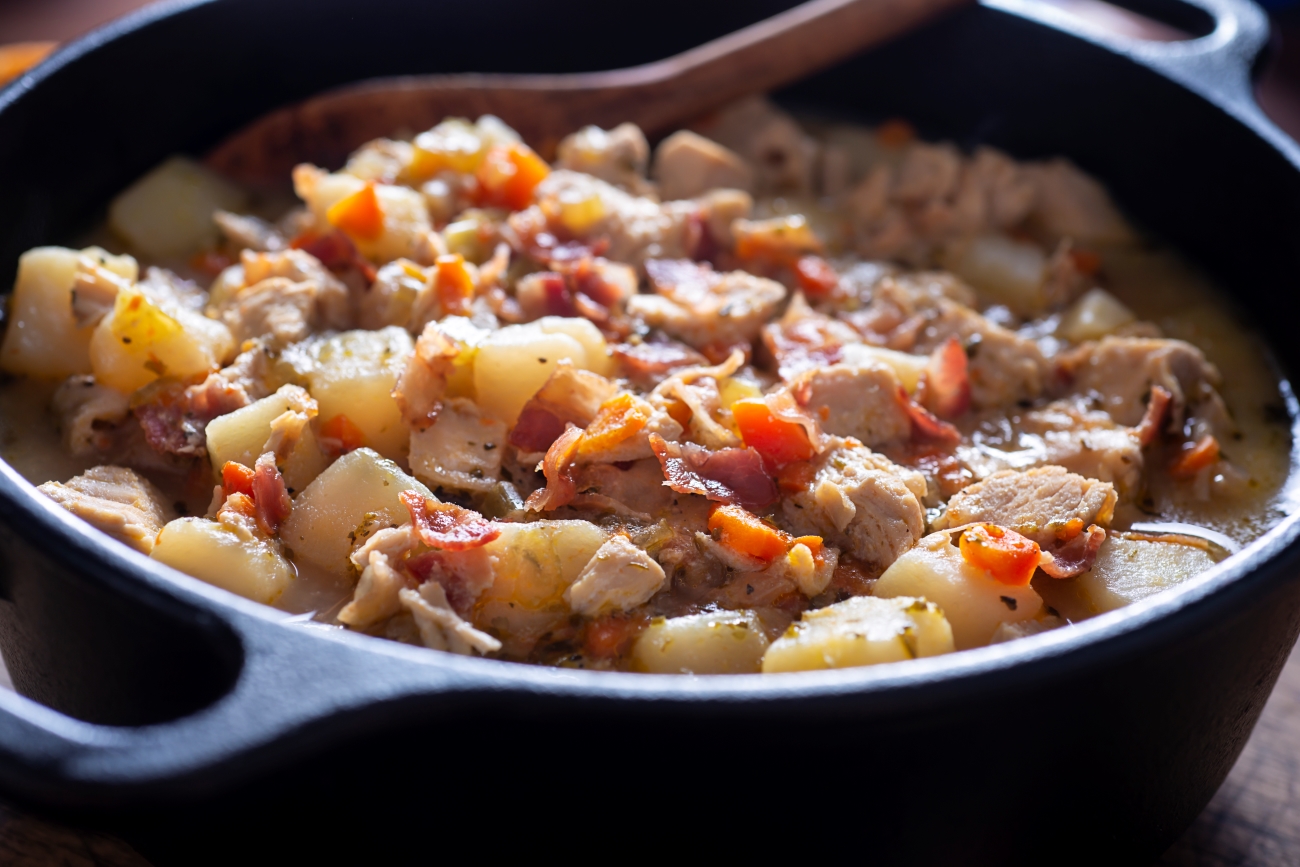 The best stews take the humblest of ingredients and make them into something so good that the delicious smell drifts through the whole house until everyone comes to look at what you're cooking. While I usually choose beef as the base meat for my stew, lately I've been making a one pot stew using chicken, potatoes, and bacon. The entire family loves it and there's often not much left for lunches or leftovers!
This one pot potato chicken stew derives flavor from a wide array of traditional herbs and spices, which soaks into the vegetables and hearty broth. All you need to get this stew going is plenty of time, a Dutch oven (or slow cooker), and some rice or crusty bread to accompany it when it's time to serve up.
The recipe below chooses to use a lot of comfort food favorites. Although bacon isn't used widely in stews of this kind, I find that well cooked pieces of streaky bacon add an element of salty flavor and added texture that works well alongside juicy pieces of chicken and veggies such as carrots, celery, and potatoes. You could also use lardons or back bacon if you want to ramp up this element.
I've found through trial and error that skinless, boneless thighs work best at holding their juiciness and creating flavor within the stew. Breast pieces certainly work, although you'll find that they aren't quite as tasty. If you're using breast pieces, I recommend adding a few extra rashes of bacon to make it a bit more lively.
Potato chicken stew is a great dish for when you are feeling stressed, under the weather, or when the family needs some ballast at dinner time. You can easily customize the stew recipe to suit whatever you have on hand, and it won't miss a beat. While I've put this together as a one pot meal, if you want to make it over longer or around your working schedule, it's almost as good prepared in a slow cooker, by moving the liquid and potatoes up the timeline.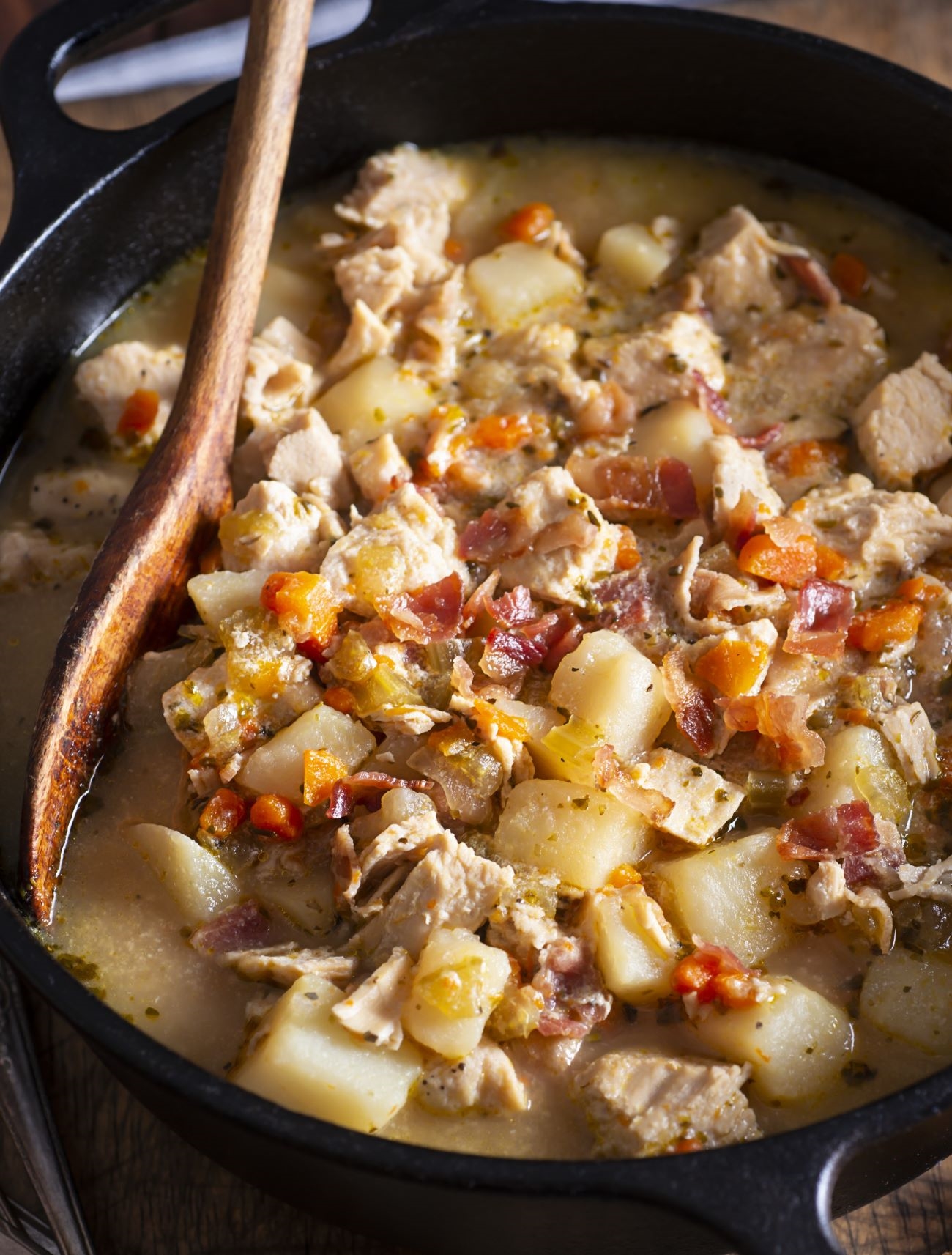 One Pot Potato, Bacon, and Chicken Stew
Serves 4-6
15m prep time
45m cook time
Ingredients
2 tablespoons olive oil
4-6 streaky bacon rashers, finely chopped and rind removed
1.5 lb skinless boneless chicken thighs, cut into chunks
1 yellow onion, finely chopped
2 tablespoons minced garlic
1 tablespoon rosemary
1 tablespoon thyme
2 dried bay leaves
2 medium carrots, cut into 1" pieces
2-3 ribs celery, cut into 1" pieces
2-3 tablespoons all-purpose flour
2 cups chicken stock
1 cup white wine (Chardonnay or Sauvignon Blanc)
3 Yukon gold potatoes, peeled and cut into 1-2" cubes
2 tablespoons fresh parsley, finely chopped
Kosher salt and black pepper, to taste
Preparation
Heat 1 tablespoon of oil in a Dutch oven or heavy-bottom soup pot over high heat. When oil is hot, add chopped bacon and cook for 2-3 minutes, stirring occasionally. Once browned, remove bacon from the heat and set aside.
Pat the chicken dry on a paper towel then season liberally with salt and pepper. Add to the pan and cook chicken until browned, stirring occasionally, for 5-6 minutes. Remove from heat, and set aside.
Reduce heat to a medium and add the remaining oil. Add carrots, onions, and celery. Cook for 4-5 minutes, or until the onions begin to turn golden.
Add garlic and cook until fragrant, while stirring continuously. Add 1/2 cup chicken broth, then make sure to scrape loose any browned bits from the bottom of the pan.
In a small bowl, whisk flour and 1/2 cup broth, then add to the pot. Stir in chicken and bacon, along with the remaining chicken broth, white wine, thyme, rosemary and bay leaves. Season with salt and pepper, simmer for 20 minutes, partially covered.
Add potatoes and cook uncovered for 15- 20 minutes at a simmer, or until potatoes are tender. Season with additional herbs, salt, and pepper, as required. Prior to serving, remove bay leaves and stir in fresh parsley. Serve alongside rice or with crusty bread.
Recipe adapted from Little Broken
SKM: below-content placeholder
Whizzco for 12T