There is an interesting phenomenon that takes place when you bring home food from McDonald's. Suddenly, your entire house smells like a fast-food restaurant!
Although some people may try to get rid of the smell of burgers and fries quickly, other people love it. If you happen to be a fan of the fast-food smell and are part of the Quarter Pounder Fan Club, then McDonald's has just the thing for you. An online merchandise shop is being launched that has plenty of goodies for those who love the Quarter Pounder. It includes clothing, jewelry, and, believe it or not, scented candles. They do more than make your home smell like beef, they include the other toppings that you will find on a quarter pounder with cheese.
McDonald's reports that the candles will burn for approximately 25 hours and they include soy wax, essential oil, and fragrance. Six of the candles can be purchased in minimalist glass containers in six scents: Bun, Ketchup, Pickle, Cheese, Onion, and 100% Fresh Beef.
If you are looking for the complete quarter pounder experience, light them all at once. You can also light them once in a while.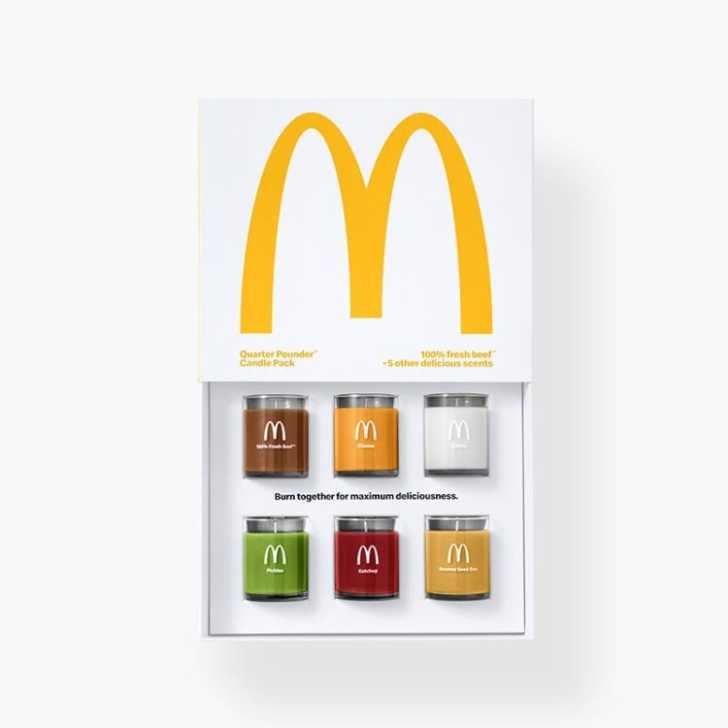 The Quarter Pounder collection from Golden Arches Unlimited (the official name for the merchandise shop at McDonald's) has other items as well. Those items include a T-shirt, calendar, pin, locket, mittens, and a sticker that says, "I'd Rather Be Eating A Quarter Pounder with Cheese."
Although I'm sure we would all love to have these scented candles in our home, quantities are limited. McDonald's is also limiting them further by only offering them on the weekends and at certain times of the week. You also won't have any idea how much you'll spend on these items until they are for sale.

Do you follow McDonald's on Instagram? It will show you the items as they become available, or you may want to head over to the official McDonald's website. When you see that something becomes available on the merchandise store, they tend to go quickly, so don't be shy and hit that buy button.
It appears as if the calendar and locket are already available and they list other items, but they are "Coming Soon."
The quarter pounder calendar is available for $25. It shows a quarter pounder in a variety of locations, such as enjoying some shade under an umbrella or floating around on a pool raft. Imagine how great one of those calendars would look on your wall!
You missed out on the heart-shaped locket, which was $35 and featured the quarter pounder, the Quarter Pounder Bacon, the Quarter Pounder Deluxe and the Double Quarter Pounder inside.
That 14 karat gold filled item included an 18-inch rope chain and was scratch resistant and waterproof. They even engraved the words "Quarter Pounder with Love" on the front.
Sounds like the ultimate romantic gift to me!
But the best news? Any sales from the website go to support the Ronald McDonald House charities.
SKM: below-content placeholder
Whizzco for 12T