Everything you love about grilled chicken and then some!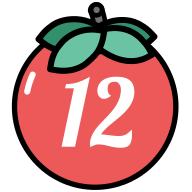 Dom Ruane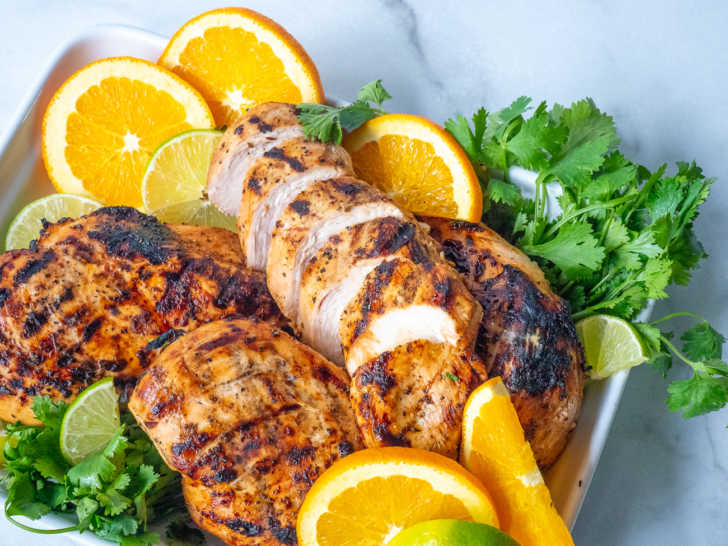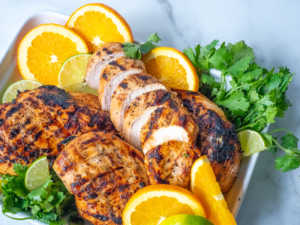 There's nothing like grilling and eating a piece of marinated chicken. You just know it's gonna come out good. When you marinade something, you want to make sure you create as much surface area as possible for the meat to penetrate. A common myth in marinating is that the marinade penetrates the meat, but the reality is it only flavors the exterior and helps the meat retain more moisture. That means it's important to really develop flavor and char on all surfaces of the chicken. Margarita chicken! We are marinating this in tequila, lime, and orange juice. These acids help break down the fibers in the meat to make it grill quicker, therefore keeping the chicken breast extra juicy. This is a delicious chicken for the grill or for your next taco Tuesday.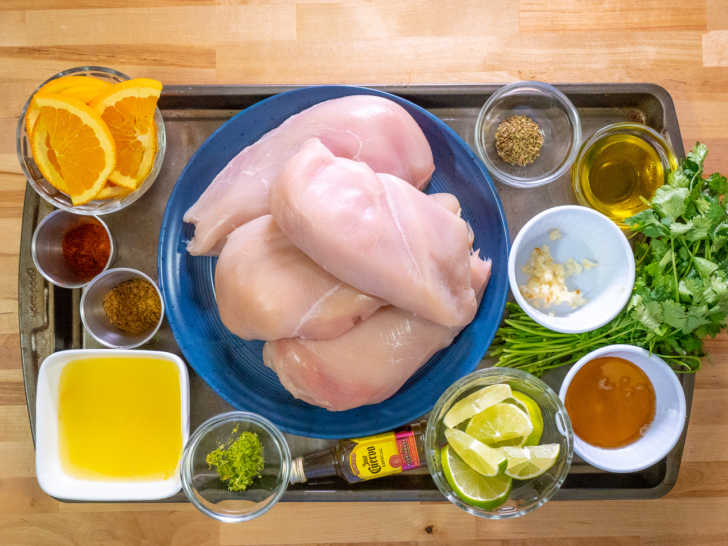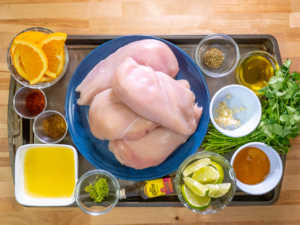 Let's keep talking marinade. When you marinate in acidity, it's a quick way to tenderize meat. Chicken breast is a lean cut with minimal fibers and proteins to break down. We only marinade for up to two hours. Olive oil in marinades simply helps flavor stick to the exterior of the meat. Let's call it flavor glue shield. The cumin, the oregano, and the lime zest all help season the chicken while shielding the juiciness interior of the chicken. What did we learn? Acidic marinades should only be for quick marinating and fat is the best way to help seal our flavors on the meat.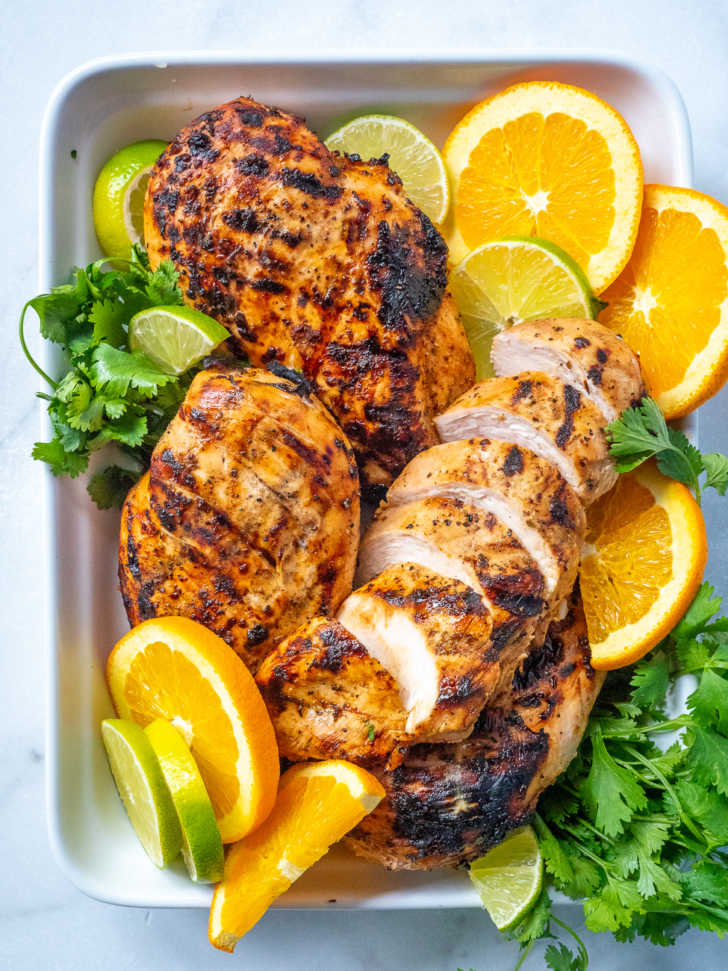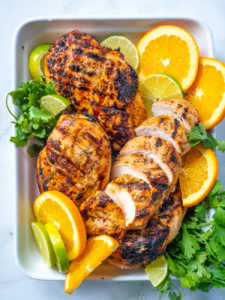 These flavors were not a mistake. You can totally marinade this chicken in an actual margarita, just don't forget the spices and oil. The sugar in the honey helps caramelize the chicken that chars the oregano which works with the spicy cumin. This chicken is a homerun. It's got everything you love about grilled chicken, with a little zing to it. This is that recipe you throw together in less than an hour because you forgot to plan dinner. Serve this over rice with your favorite salsa and margarita over ice. I hope you take with you more of an understanding of marinating and how it all works. Marinade away!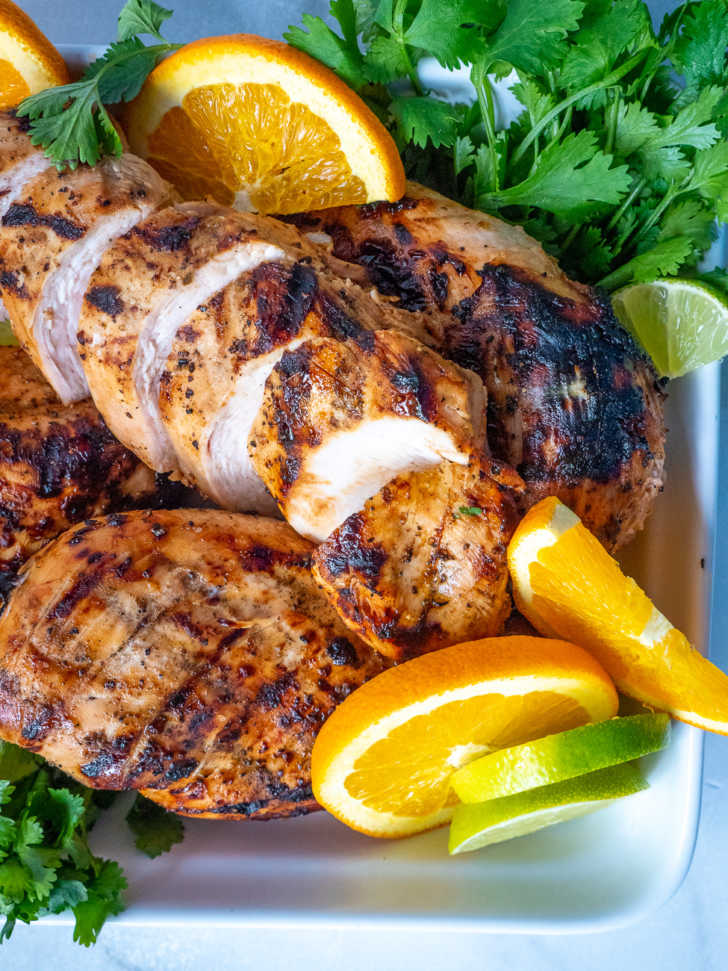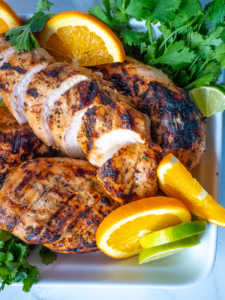 Margarita Chicken
Serves 4
10m prep time
10m cook time
2h inactive
Ingredients:
4 boneless skinless chicken breasts
3 tablespoons tequila
2 tablespoons olive oil
1 lime, juiced and zested
1 orange, juiced
2 tablespoons honey
2 garlic cloves, minced
2 teaspoons chili powder
2 teaspoons cumin
1/2 teaspoon oregano
Kosher salt and freshly cracked black pepper, to taste
Directions:
Combine all ingredients for marinade in a bowl using a whisk. Season with salt and pepper.
Marinate chicken in a Ziploc for at least 30 minutes, but to 2 hours . Remove chicken from marinade and season the top side with salt and pepper.
Preheat the grill to 350 °F and grill chicken seasoned side down for 4 - 5 minutes. Season the other side of the chicken, flip and cook for 2 - 3 minutes.
Garnish with cilantro and citrus slices.
Marination!
Recipe adapted from From Valeries Kitchen.
SKM: below-content placeholder
Whizzco for 12T