We all know that skincare is important. That is why we all have our own skincare routines that fit the needs of our skin. However, when it comes to makeup, we sometimes take shortcuts. There have been plenty of times when we've been tired and just wanted to go to bed, so rather than do a full routine, we'll reach for the makeup wipes. Or some people might just do the makeup wipes on the regular, as they seem to be a much quicker option than a full face-washing.
But Dr Tijion Esho, founder of the Esho Clinic, has posted to social media to show us exactly why we shouldn't be using makeup wipes to remove our foundation. Dr. Esho used an orange to demonstrate his point – and it was quite shocking. Dr. Esho coated the orange's skin in foundation and then used a makeup wipe to "clean" off the foundation, as the fruit's peel mimics our own skins' pores. As Dr. Esho highlighted, the makeup remover wipe was completely useless in removing all the makeup from the orange, showing that makeup wipes don't actually remove all dirt and grime from our skin.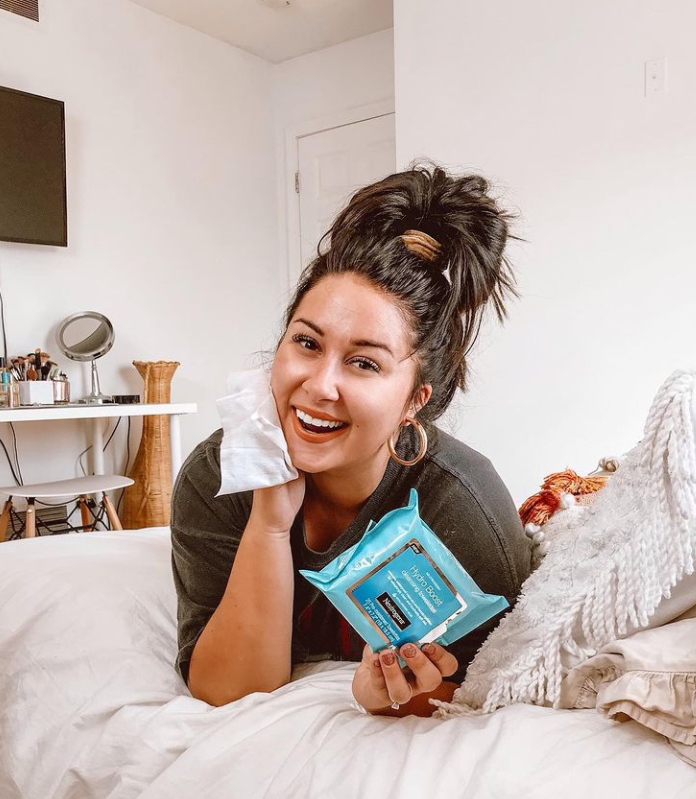 In his Instagram post, Dr. Esho reiterated that the makeup wipes end up leaving residue on your skin which clogs your pores. He encourages ditching the makeup wipes and "alternatively double cleanse using a cleanser or micellar water…for 60 seconds and try follow up makeup removal with moisture."
Of course, oranges and human skin are not exactly alike in texture, nor do they retain makeup the same, but it's still a very clear demonstration of the ineffectiveness of makeup wipes for removing makeup from your skin's surface – something that can lead to negative longterm effects. Dr. Esho is right, you can't skimp on the skincare.
Watch it below:
So many people were shocked by the video, and there were many who commented on it. One skincare expert said that the video reminded them of how much they despise hearing their clients admit to using makeup wipes saying that it "literally makes my toes curl."
Someone else shared how they were so surprised to learn that the makeup wipes are virtually useless and hope to see more educational videos. And a third commentator confessed that they, themselves, are quite particular about always oil cleansing their face followed by a gel cleaner, saying they'd take their products "to a desert island" with them if they had to.
Dr. Esho isn't the only skincare expert to believe that makeup wipes have no place in our homes. The author of the bestselling book, Skin Care, aesthetician Caroline Hirons, has also been an advocate for ditching the wipes. Hirons was quite adamant that their only use is for "fannies, festivals and flights," and have no business being on our faces as part of a skincare routine.
In an episode of This Morning, Hirons said that it's a misconception that they somehow work faster, pointing out that they do not work any faster than any other product. And they simply don't work well – period. Plus, they are actually quite bad for the environment. On her blog, Hirons has written, "To give you a sense of scale, if an average wet wipe is roughly a 6-inch (15cm) square, then one year's worth of wet wipes, from just that one company, would stretch to the moon and back more than 24 times." And if I'm honest, for an ineffective product that is just too much of an environmental impact to warrant using.
Hirons, like many other skin-care experts, advises that you double cleanse your face instead, taking off all makeup and SPF with a primary cleanser then follow it up with a secondary cleanser in order to make sure that all residual particles are washed away. When cleansing, you should opt for something like a wash cloth or a microfiber cloth.
What do you think of the video? What is your skincare routine? Let us know!
SKM: below-content placeholder
Whizzco for 12T