Biscotti are a type of almond cookie that originated in the Italian city of Prato and their name references the way in which they're made. The word "biscotto" literally means "twice baked," and it sheds light on the fact that before this dough is finished baking, you take it out, cut the cookies, and put them back in the oven to finish baking and to make them crisp.
This is a wonderful recipe because you get the hazelnut, chocolatey sweetness, but it's still healthy — under 100 calories a cookie! So no need to feel guilty if you have one or two of these at breakfast or with your coffee after dinner…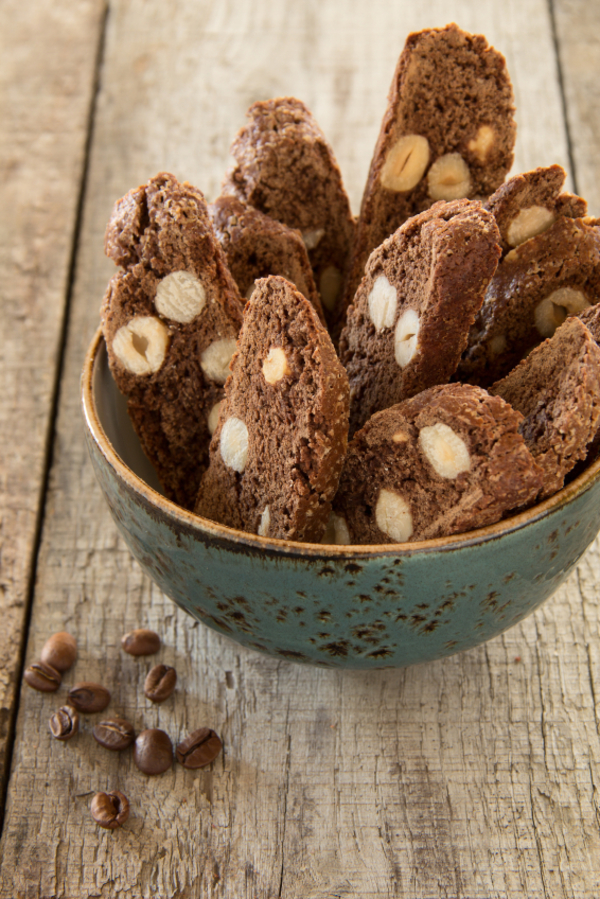 Chocolate Hazelnut Biscotti
Yields 2-3 dozen
Ingredients
2 cups whole-wheat flour
3/4 cup hazelnuts, chopped
1/2 cup unsweetened cocoa powder
2/3 cup sugar
2 egg whites
1 large egg
2 tablespoons flaxseed
1/2 teaspoon instant coffee grounds
1/2 teaspoon baking soda
1/4 teaspoon salt
1 teaspoon vanilla extract
Directions
Preheat oven to 350º F and line a baking sheet with parchment paper or non-stick spray.
In a bowl, sift together flour, flaxseed, cocoa powder, coffee grounds, baking soda and salt.
In a mixing bowl, beat the sugar, vanilla and egg(white)s together, on high speed, for 2-3 minutes.
Slowly add flour mixture to the egg mixture, 1/3 cup at a time. When all of dry ingredients are incorporated, fold in the hazelnuts.
Take your dough and divide it into 3 equal sections. Form or roll each portion into a log and flatten gently to 1-inch thickness.
Place logs on baking sheet and bake for 25-30 minutes, or until firm.
Remove tray from oven and transfer rolls to a wire rack. Lower oven heat to 325º F. Cut cookies on the diagonal, 1/2-inch thick, and return to baking sheet, cut side down.
Bake biscotti for 6 minutes, then flip them onto the other side and bake for another 6-7 minutes.
Recipe adapted from Shove It In Your Face
SKM: below-content placeholder
Whizzco for 12T