You'll want to eat this every day!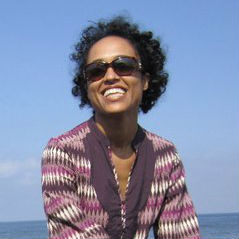 Sarah Cool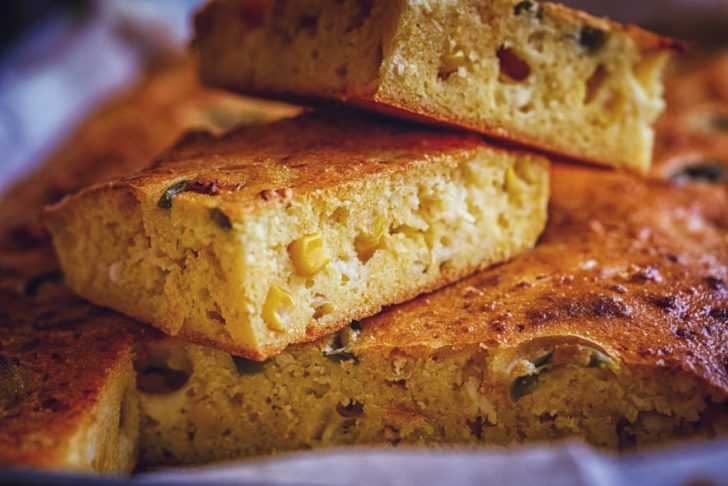 If we had to make a list of our favorite foods, then cornbread must absolutely be on the list. As much as we love the convenience of a box variety, there's something so special about our homemade cornbread, and we don't need a themed night or special occasion to whip up a batch. When we really want to do something special with our cornbread we like to add a little sweet and a little heat. We can hardly resist cutting a big slice, warm from the oven and with a pat of butter deliciously melting over the top. Yum!
Today we're spicing up our cornbread recipe with some extra special "guest stars" mixed in. As we typically do in our baking, we first mix the dry ingredients together, flour, cornmeal, and salt. The goal is to have the dry ingredients well blended so we get a nice even consistency in the batter. To the dry ingredients, we add eggs, honey, buttermilk, and butter. On its own, this batter is ready to go. But we're not finished yet. Now we can fold in three amazing ingredients that will make all the difference in this cornbread recipe: cheese, fresh corn, and jalapeños.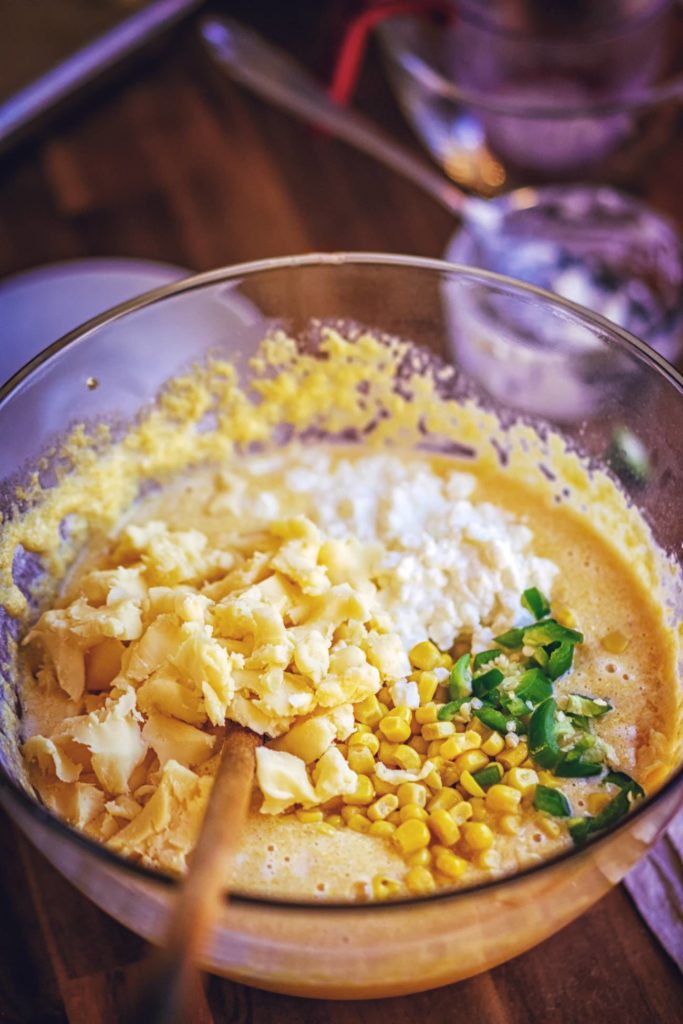 Fresh corn is always wonderful, but when it's not in season then our backup plan is frozen corn and if we're really in a pinch, canned corn will do. We love how the kernels bring a nice texture to the cornbread as well as a subtle sweetness. Jalapeño peppers are a great way to bring heat and a nice pop of bright color to your cornbread. If you're not into heat, be sure to remove all the seeds, as this is where the spiciness comes from. Last but certainly not least is cheese and we've used two kinds of cheese in this recipe, queso fresco, and queso panela. If you can't find queso panela then a white cheddar cheese will work as well. The cheeses add creaminess to contrast with the spicy pepper.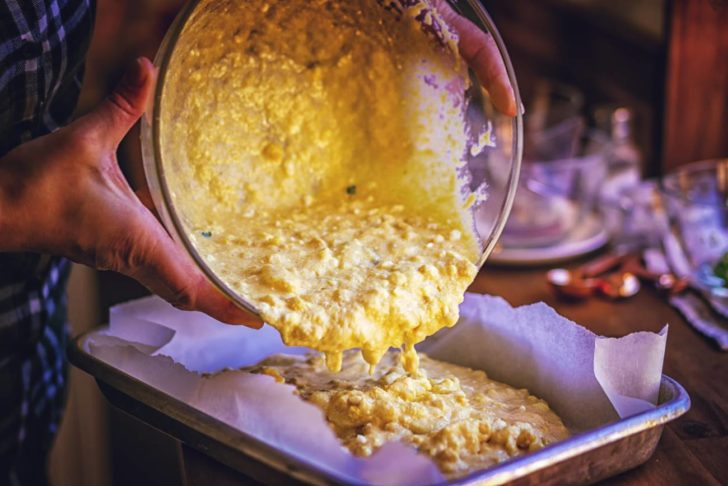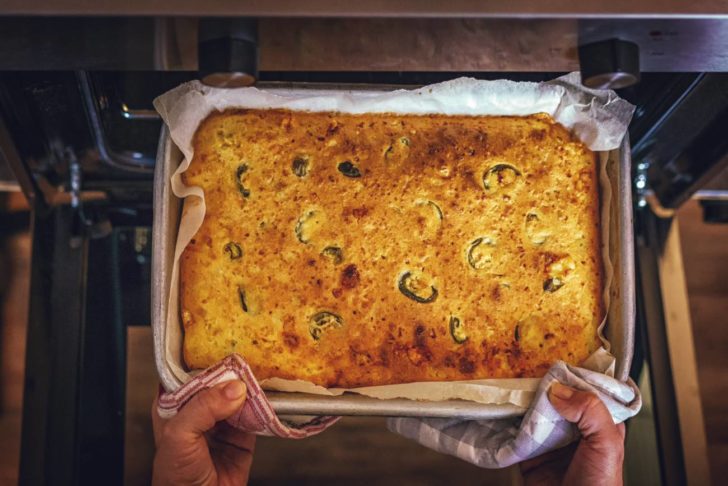 Look at how beautiful this is fresh from the oven! And the aroma that fills up our kitchen is beyond amazing. There's so much going on here in each bite of the cornbread. Of course, we get that grainy texture from the cornmeal that we always expect in a good cornbread. Each bite is punctuated with sweet kernels of corn that are flecked throughout each square, and not to be ignored is the slightly spicy kick that comes from fresh jalapeños and, of course, the cheese. Our jalapeño and corn-stuffed cornbread (and cheese!) is a side dish that stands alone in its greatness!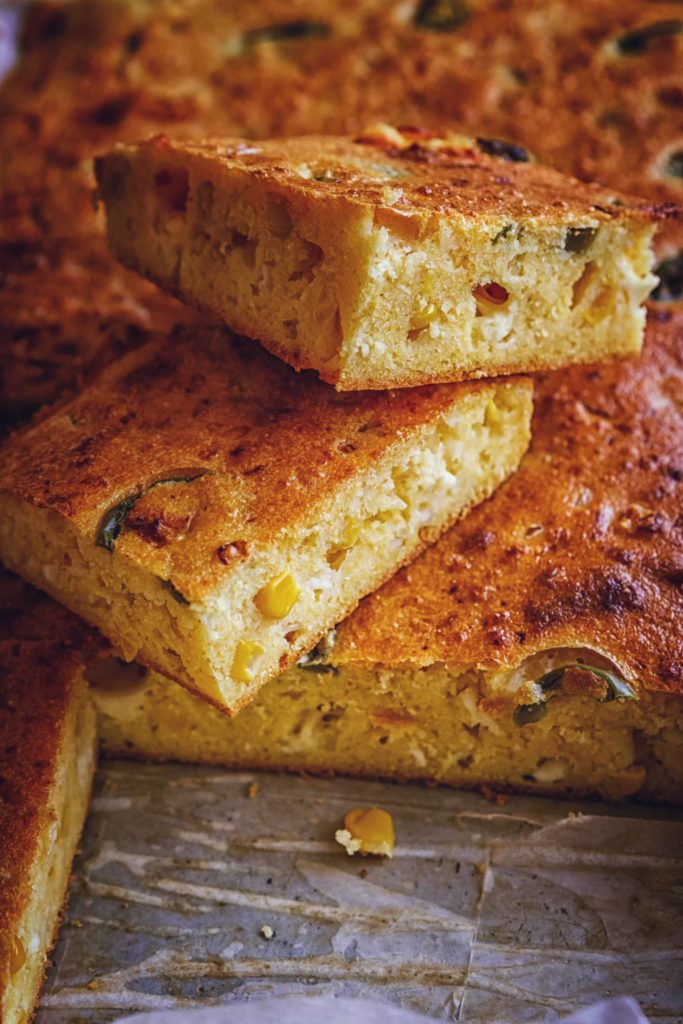 Jalapeño and Corn-Stuffed Cornbread
Ingredients
¼ cup honey
2 large eggs
1 ½ cups buttermilk
½ stick unsalted butter, melted
1 ½ cups all-purpose flour
1 ½ cups cornmeal
1 ¼ teaspoon baking soda
1 teaspoon salt
½ cup queso fresco cheese, crumbled
½ cup queso panela (or a white cheddar cheese) crumbled
1 cup fresh corn
2 jalapeños, seeded and sliced
Preparation
Preheat oven to 400°F. Coat a 9x13-inch baking dish with cooking spray and line with parchment paper.
Mix flour, cornmeal, baking soda, and salt in a large bowl until well combined.
Add eggs, buttermilk, and honey to flour mixture. Stir to combine.
Add melted butter and stir until batter is smooth.
Fold in jalapeño slices, fresh corn, and both of the cheeses. Pour batter into prepared baking dish and bake for 20 minutes or until cooked through the center.
Recipe adapted from House of Yumm.
SKM: below-content placeholder
Whizzco for 12T