This rustic and delicious soup is the perfect way to fight off winter's chill.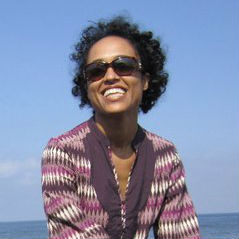 Sarah Cool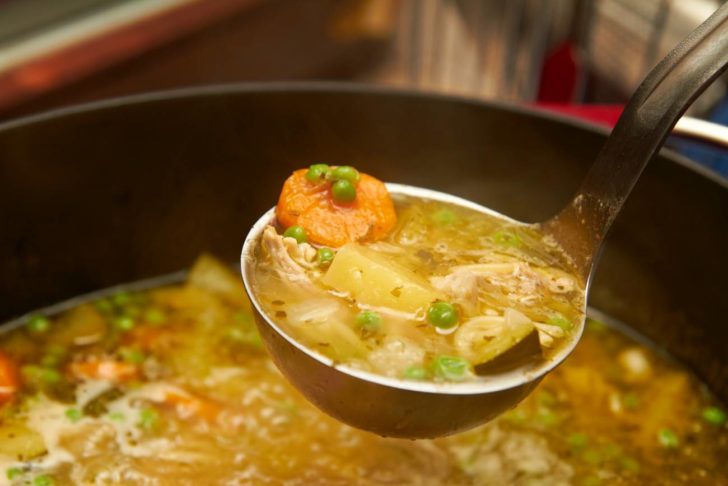 A warm cup of soup on a cold winter's day is just what we need to fend off winter's chill. This soup would be easy to make with a store-bought broth, but when the snow has us trapped inside, we can conquer our cabin fever by making a homemade broth, and it makes all the difference. We stumbled upon this recipe a few years back and it quickly became one of our family favorites. It's the soup we love the make when we're feeling under the weather, or when we just want a meal that will fill our bellies with goodness.
It all starts with our homemade chicken broth. If you've never made your own broth, we can tell you that there's truly nothing like it that can be found in the store. It's just so fresh and full of beautiful flavor, you'll practically want to drink it on its own! Now, we know everyone has their own family recipe when it comes to a scratch-made broth, but fundamentally speaking you need the same ingredients: chicken meat, carrots, celery, onion, garlic, and fresh herbs.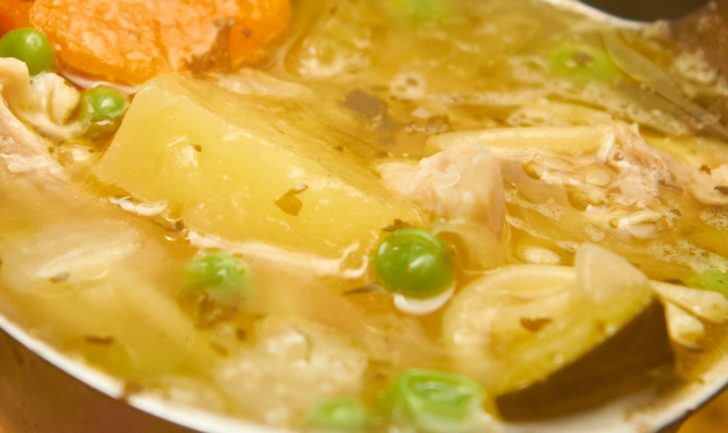 We put all of these into a large stock pot then top it with water and let the magic happen over the next hour or so. If you're lucky enough to have had some extra broth left over after making this soup, store it in an airtight container and either refrigerate (and use within a few days) or freeze it and it will keep for up to three months.
Once the stock is strained and the chicken meat has been shredded, we're ready to put the soup together. Of course, we need more carrots, onions, and celery, but now we can add Russet potatoes and of course the shredded chicken. The end result is truly something special. A rich and flavorful broth that is filled with tender chicken, al dente (and slightly sweet) carrots, and creamy chunks of potato. Our rustic and flavorful Irish Farmhouse soup is going to be one of those soups that you'll dream about – it's just that good! We can't think of a better way to get through the winter season than with beautiful soup recipes, like this one for an Irish Chicken Farmhouse Soup.
Irish Chicken Farmhouse Soup
Ingredients
For the stock:
1 (3-4 pound) chicken, giblets removed
3 carrots, peeled and halved
2 celery stalks, halved
1 head garlic, halved horizontally
2 yellow onions, quartered
2 bay leaves
2-3 sprigs fresh thyme
2-3 sprigs fresh rosemary
2 teaspoons kosher salt
1 teaspoon peppercorns
12 cups water
For the soup:
1 tablespoon unsalted butter
2 large Russett potatoes, peeled and chopped
2 carrots, cut into ½ inch rounds
2 celery stalks, diced
1 yellow onion, diced
1 cup frozen peas
2-3 cups shredded chicken
8 cups chicken broth
Preparation
Place 1 whole chicken, giblets removed into a large stockpot.
Add carrots, celery, garlic, onions, bay leaves, thyme, rosemary, salt, and peppercorns to the stockpot.
Cover chicken with water, approximately 12 cups. Bring to a boil.
Reduce heat to low and simmer for 60-90 minutes.
Remove chicken from stockpot. Set aside to cool. Once cooled, shred 2-3 cups of the chicken then discard the rest.
Strain vegetables and herbs from the stock and discard any chicken skin and bones. Reserve 8 cups of broth for the soup. Store remaining broth in the refrigerator or freeze.
In the same stock pot, melt 1 tablespoon unsalted butter over medium-high heat. Sauté onion, carrots, and celery until just softened. Add diced potatoes.
Pour 8 cups of homemade chicken stock into pot. Bring to a low boil then reduce heat to a simmer. Cook for 20 minutes before adding 1 cup frozen peas and the shredded chicken. Soup is ready to eat once peas have warmed through.
Recipe adapted from Fleur de Lolly.
SKM: below-content placeholder
Whizzco for 12T