Let your refrigerator do all the baking as it whips up a classic treat.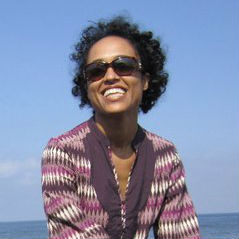 Sarah Cool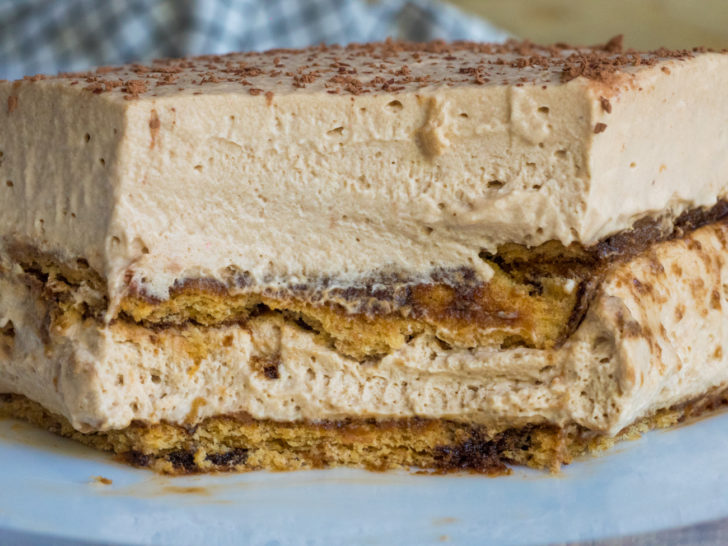 Baking in the summertime seems like an exercise in craziness – why turn on an oven when the temperature outside is set to "roasting"?! This is when we turn to another trusted source for "baking" – our refrigerator. And there's nothing better than an icebox cake to pull out of the fridge and serve to our friends. When it's too hot to whip up a coffee cake, we turn to our icebox coffee cake as a cool, creamy, and delicious alternative.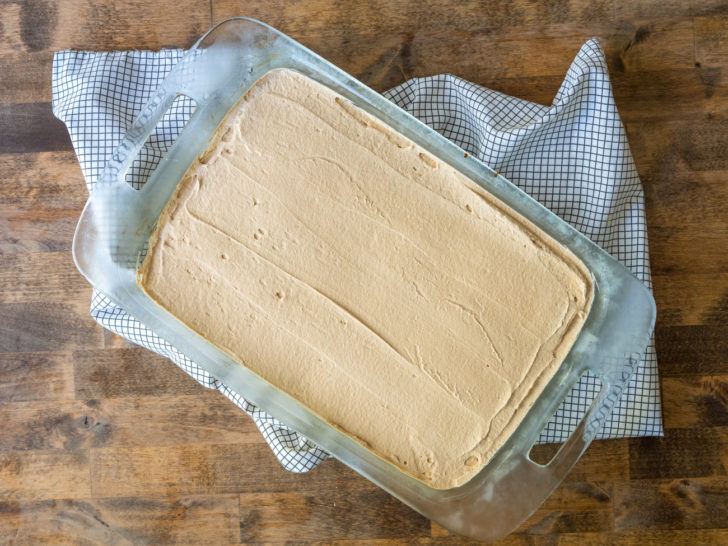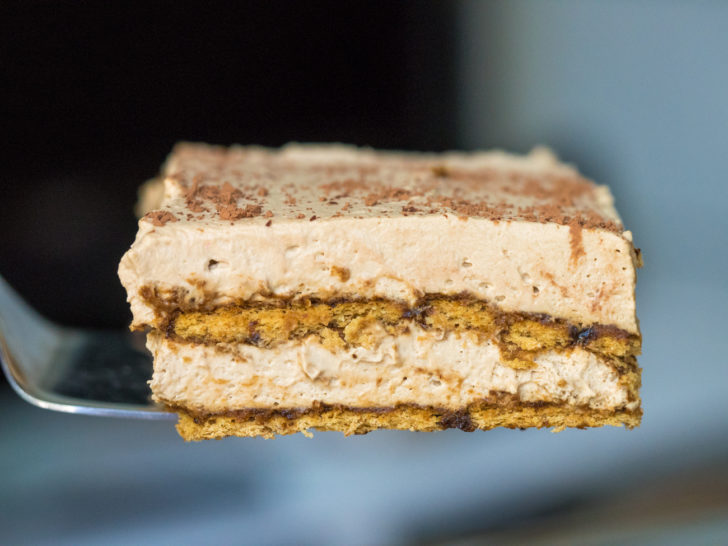 We love the look and taste of this cake: layers of whipped cream and graham crackers soaked in espresso result in a sweet treat with a kick of caffeine. It reminds everyone of a tiramisu – where espresso-soaked ladyfingers are layered with cream and liqueur. The magic behind this cake is how simple it is, how easily it sets, and definitely how delicious it tastes. We really enjoy the combination of textures and flavors; the chocolaty cream is met with the sweet slightly honey crunch from the graham crackers. Chocolate and coffee are a delightful pairing and the combination here works beautifully.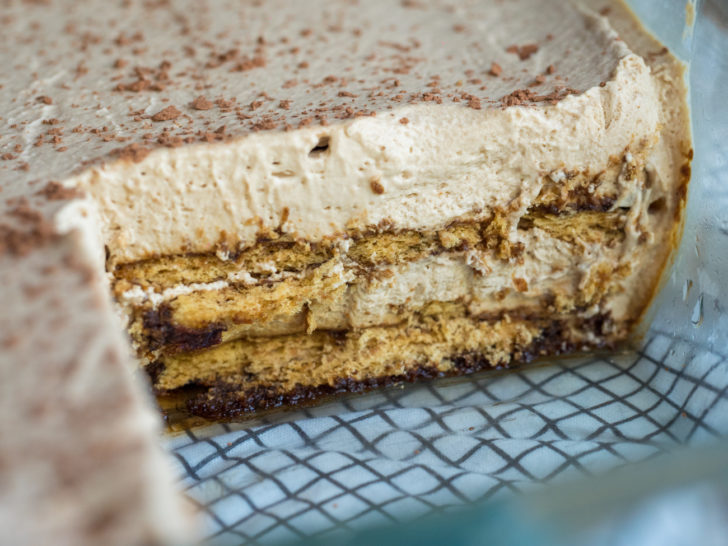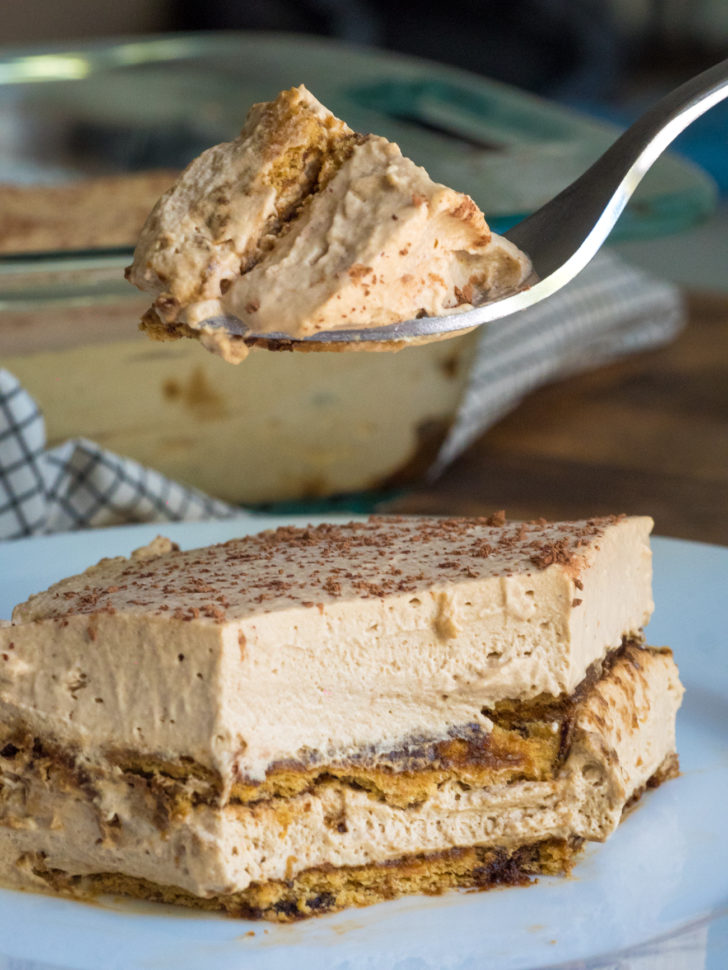 Why turn on an oven when the refrigerator can do all the hard work? Icebox cakes are classic recipes, just whipped cream and cookies, and that layered look gives this simple cake a touch of elegance. Everything sets in the refrigerator and we are left to enjoy each cool and creamy bite. There's just something about layers that makes a dessert (or a dip) look and taste extra special. So, skip the oven and whip up an icebox cake for dessert tonight; it's the perfect cool treat to end a warm summer day.
Coffee Icebox Cake
Serves 8-10
3 hours inactive, 15 minutes active
Ingredients
20-25 graham crackers
4 cups heavy whipping cream, chilled
1/2 cup powdered sugar
1/4 cup milk
8 tablespoons instant espresso mix, divided
2 tablespoons cocoa powder
2 teaspoons vanilla extract
Preparation
In a large bowl, combine 3 tablespoons of the instant espresso mix with the heavy whipping cream. Once dissolved, add powdered sugar and vanilla and beat with an electric mixer on medium until stiff peaks form.
In a shallow dish, mix together milk and 5 tablespoons of instant espresso mix. Place a graham cracker in this mixture to soak for a few seconds before placing it in the bottom of a 9x13 inch baking dish. Repeat until there is a single layer of soaked graham crackers covering the bottom of the dish. (Some crackers might need to be broken to form a complete layer.)
Spoon 1/3 of the cream mixture over the crackers and spread to cover.
Arrange another layer of soaked graham crackers over the cream. Follow with another 1/3 of the cream mixture, then another layer of crackers, then the remaining 1/3 of the cream.
Cover tightly with plastic film and refrigerate at least three hours, preferably overnight. Freeze for 1 hour before serving for a firmer texture. Once chilled, dust top with cocoa powder. Enjoy!
Recipe adapted from Kitchen Nostalgia
SKM: below-content placeholder
Whizzco for 12T