This story originally appeared at American Web Media by Wendy Michaels.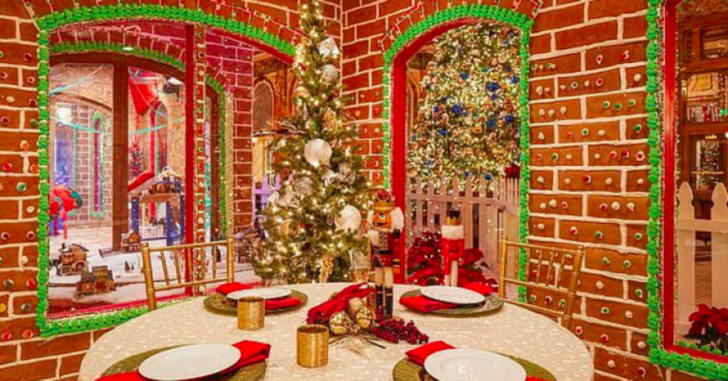 Hotels that offer unique holiday experiences and excellent holiday dining will undoubtedly book up quickly. One of the more popular flavors of the season is gingerbread, either as a cookie or in a decorated gingerbread house. Guests and visitors to the Fairmont San Francisco are fortunate enough to enjoy this gingerbread experience in a unique way: a restaurant made entirely of gingerbread and it's built in the hotel's grand lobby.
The display is available through January 1, and it's truly a one-of-a-kind experience. The giant cookie house measures 25 feet tall, 35 feet wide, and 10 feet deep. It's big enough inside to fit a table of 10 people, so it's easy to say space is limited.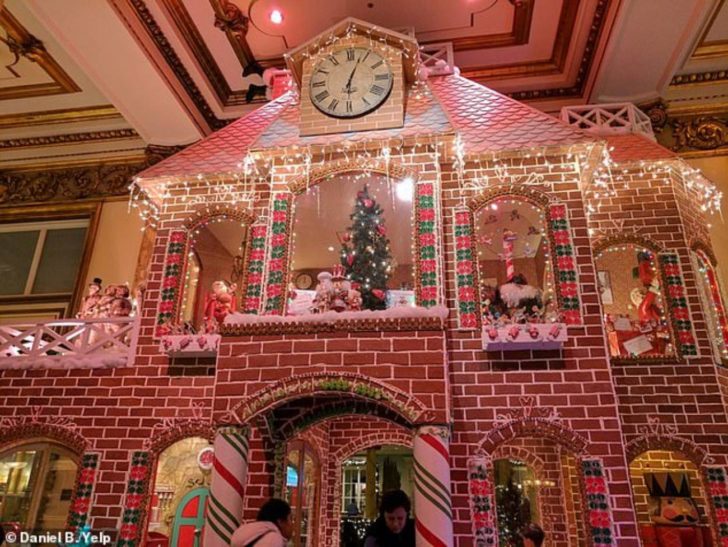 The hotel's website details the experience: "Fairmont's elves are once again working overtime to create a dazzling, unparalleled winter display." This has become a yearly tradition and a popular part of the hotel's holiday display, which also includes a 23-foot tall Christmas tree and a railroad track.
This year's gingerbread house was unveiled to the public on November 24th and it's quite an impressive display. Built in a Victorian style, it has several rooms inside. It was created with more than 10,250 gingerbread bricks, 1,650 pounds of candy, and 3,300 pounds of royal icing.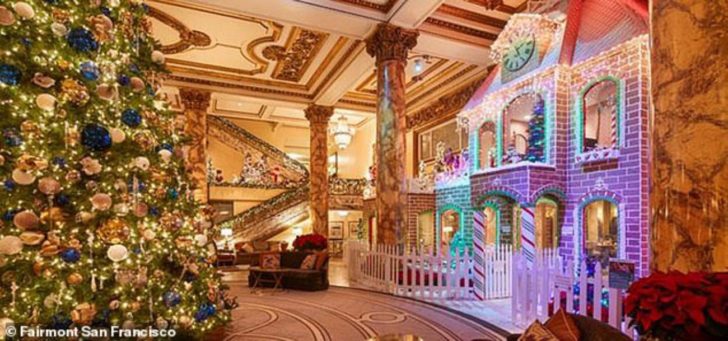 While the hotel has had a large gingerbread house on display in years past, this is the first year they've offered the opportunity to dine inside the holiday display. For a special engagement proposal, there's a $500 package that includes one hour of private access in the house, complete with sparkling wine, red roses, and a cookie adorned with the couple's names.
Other hotels across the nation have gigantic gingerbread houses on display, including the 2.5-ton Gingerbread Sweet Shop at Hilton Americas-Houston in Texas. It's made with an impressive 800 pounds of chocolate, 800 pounds of sugar, and 300 pounds of candy.
At Disney World in Orlando, Florida, a number of large gingerbread houses are on display during the holiday season, including a massive 14-foot tall display at Disney's Grand Floridian Resort. It is made with 1,050 pounds of honey, 800 pounds of flour, 600 pounds of chocolate, 600 pounds of powdered sugar, 140 pints of egg whites, and 35 pounds of spices. Wow!
According to the Disney Food blog, the home is covered in 5,089 gingerbread shingles and "takes the Grand Floridian pastry team – led by Victoria and Albert's Master Pastry Chef, Kristine Farmer – more than two months and 840 hours to mix, cut, bake, and construct the house and its components."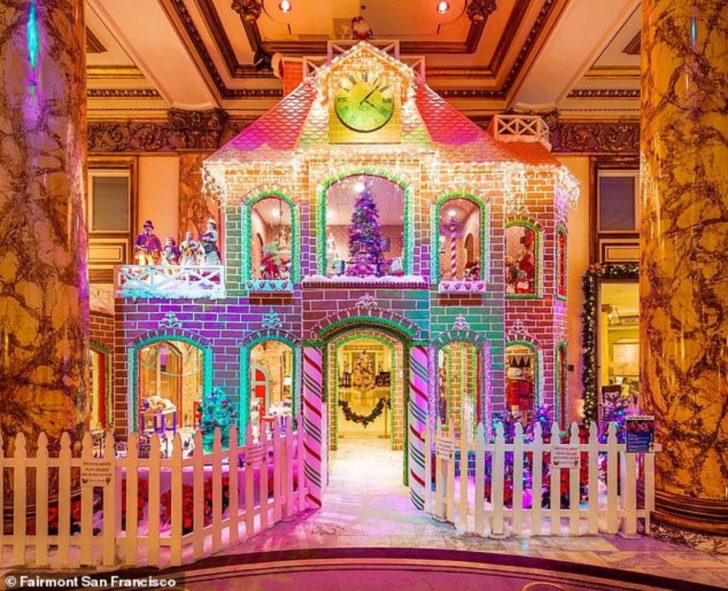 Social media is filled with comments on the experience of visiting the unique display at the Fairmont San Francisco. One person remarked that the hotel's holiday setup is a favorite, year after year, sharing: "Our favorite place. My grandma and I have been doing the holiday high tea for over 18 years and 15 have been here. Tradition and my daughter started to join us at only 9 months old."
Others, however, find the oversized gingerbread house wasteful, "I love Christmas and the Fairmont is iconic and glorious. But San Francisco has a homeless population that could have received a couple of meals, if not more, with what it must cost in terms of just materials to make that gingerbread house. When you factor in all the labor, the figure goes higher."
While certainly cost and supplies are something to consider, the grand and majestic feat of these magically festive holiday sights is truly fantastic to see.
SKM: below-content placeholder
Whizzco for 12T