A bowl of this hearty, comforting soup is made with simple and fresh ingredients.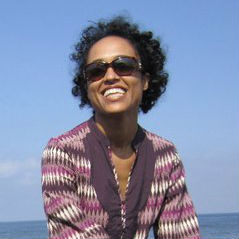 Sarah Cool

When you share or print a 12 Tomatoes recipe,
you're making mealtime meaningful.
100%
of the Share to Care sponsor fees fund meals for families in need.
Learn More
CLICK ANY LINK BELOW TO JOIN OUR CAUSE!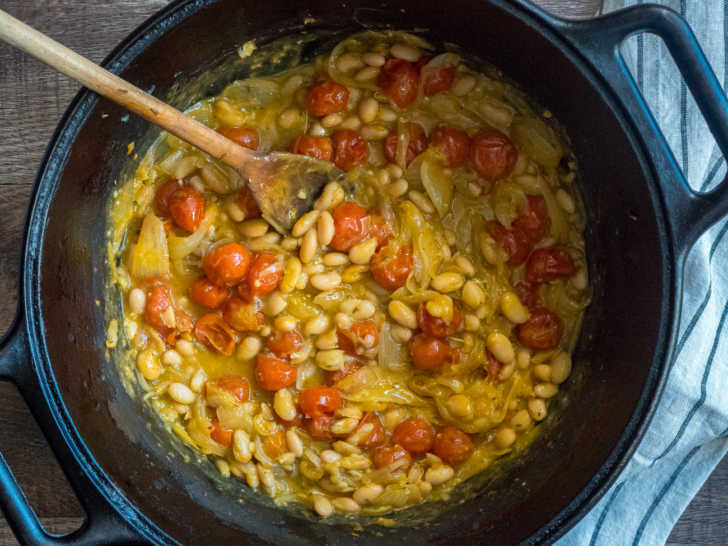 Stews are a rich and hearty way to feed my family, and this veggie stew is going to make a huge hit. It's full of flavor and made with really simple, fresh ingredients. Roasting veggies brings out so much natural flavor, and these tomatoes are a great example of how roasting can bring out a smoky sweetness in a humble vegetable. With the arrival of fall, I'm in search of any and every way to enjoy the season with fresh food and delicious flavors. This roasted tomato and white bean stew is just what I'm looking for (and the slice of crusty french bread on the side is helping me along the way!).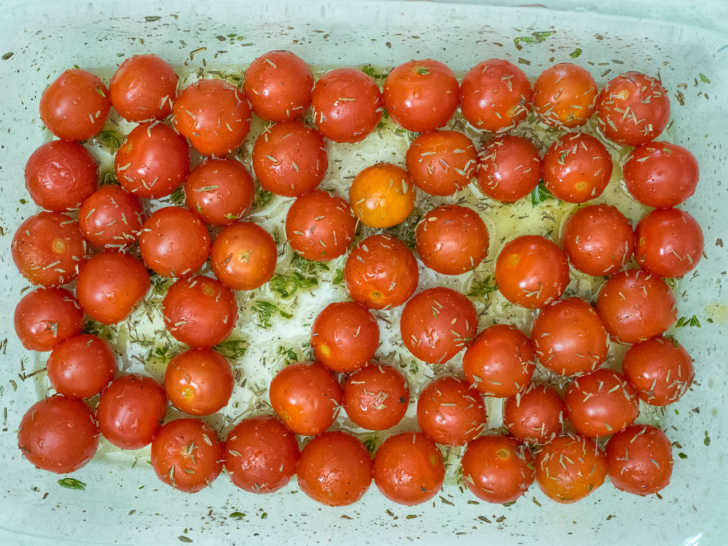 I love to snack on cherry tomatoes. I also love to roast them. Roasting tomatoes in the oven with olive oil and fresh thyme brings out a savory sweetness that adds richness to this delicious meal. The stew is vegetable-based, but that doesn't mean it lacks substance, and that's where the beans make their grand entrance. I'm sure you've noticed that there's no meat in the recipe so to give the soup some umph, I'm using the next best thing: beans. Cannellini beans are preferred because they offer a nice creaminess as well as substance, but any white bean will do the trick.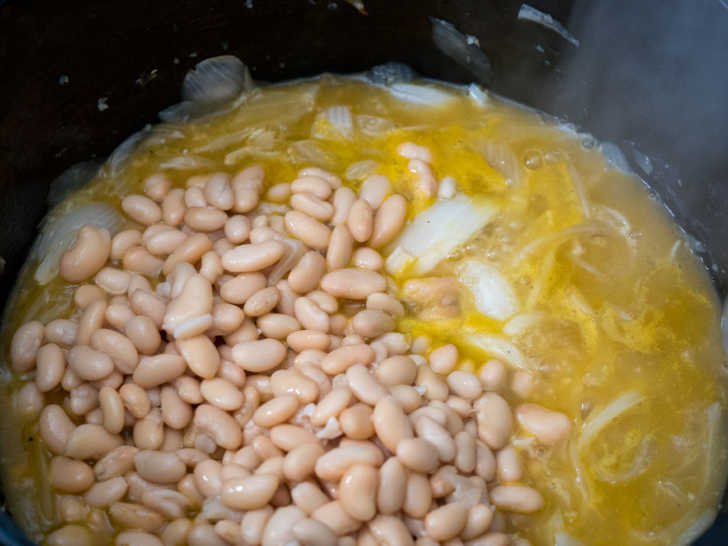 There are all kinds of freshness in this dish, from the herbs to the garlic and onion. Fresh herbs and a dash of citrus make a big difference, taking the flavor profile to new heights of deliciousness. These all come together in my dutch oven (or a large pot) and melt together into a beautiful stew. I make sure to include the juices that were released by the tomatoes during the roasting process. This is like liquid gold to the stew!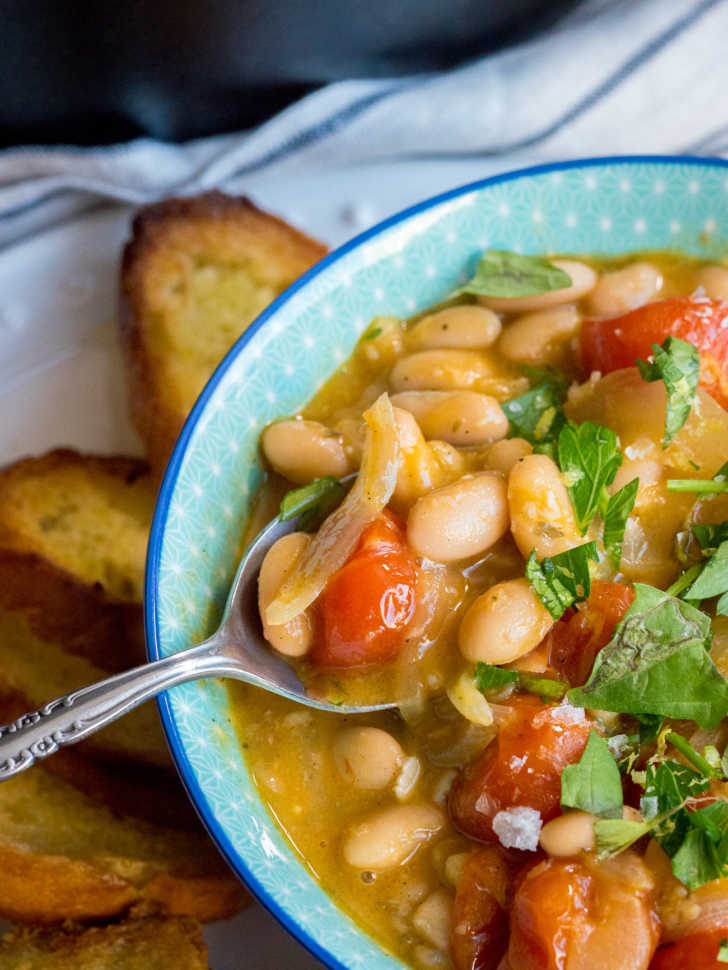 A stew like this fundamentally requires a toasty piece of bread on the side. I've picked up a fresh baguette to help sop up every last drop of this stew. Look at how beautiful this is! A big bowl of roasted tomato and white bean stew, with a side of toasty bread and a dash of fresh green basil on top is the perfect lunch or simple dinner to serve to my family. I'm practically drooling just thinking about this amazing meal. Enjoy!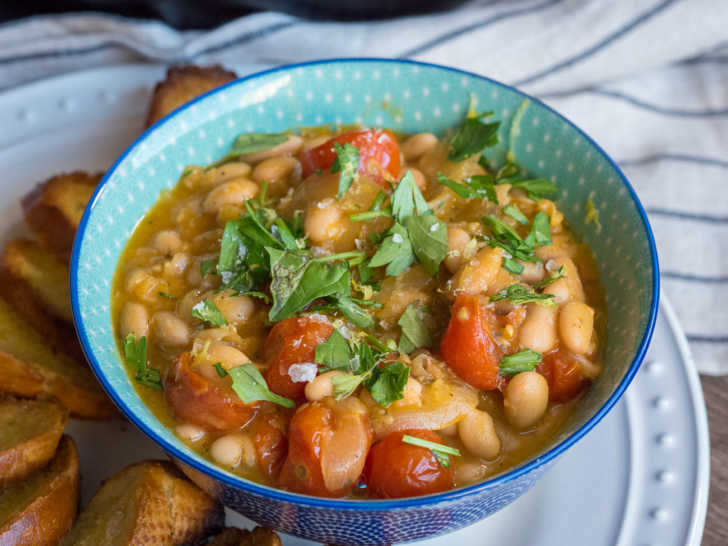 Roasted Tomato and White Bean Stew
Serves 4
15m prep time
1h cook time

When you share or print a 12 Tomatoes recipe,
you're making mealtime meaningful.
100%
of the Share to Care sponsor fees fund meals for families in need.
Learn More
CLICK ANY LINK BELOW TO JOIN OUR CAUSE!
Ingredients
1/2 cup rough chopped flat leaf parsley
4 teaspoons lemon zest
10oz (2 containers) of cherry or grape tomatoes
1/2 cup extra virgin olive oil, plus more for drizzling
3 sprigs of fresh thyme, leaves removed from stem
salt and pepper to taste
1 medium yellow onion thinly sliced
5 cloves of garlic thinly sliced
1 teaspoon red pepper flakes
2 (15oz) cans of white beans drained and rinsed. Ex: cannellini or butter. Butter beans preferred or a mix of both
3 cups vegetable broth
flaky salt for garnish
sprigs of fresh basil for garnish or shredded parmesan
thinly sliced baguette (1/2inch) toasted for dipping
Preparation
Heat the oven to 425°F. In a small bowl, gently mix the parsley and lemon zest. When mixing, lightly massage the parsley and lemon zest to help release the oils. Set aside.
In a large baking dish, toss the tomatoes with ¼ of the extra virgin olive oil and all of the thyme. Season generously with salt and pepper. Roast on the middle rack for about 20-25 minutes or until very soft and the edges begin to become golden. Try not to let the tomatoes get too dark in order to avoid introducing bitterness from the char.
Once the tomatoes are done, heat the remaining extra virgin olive oil in a soup pot or dutch oven over medium heat. Add the onion, garlic, and red pepper flakes. Cook until the onion is slightly translucent and the garlic becomes fragrant; 4-5 minutes. Make sure to stir the mixture periodically to avoid the garlic browning.
Stir in the beans and broth. Bring to boil. Smash about a half cup of the beans to slightly thicken the broth. Smash until desired thickness. Season with salt and pepper.
Once the tomatoes are done, add them directly to the stew along with any juices produced. Simmer for 5-10 minutes. Season with salt to taste.
Ladle stew into bowls. Top with the lemon parsley mixture and drizzle with more extra virgin olive oil. Season with flakey sea salt, top with fresh basil or cheese and serve with toasted bread.
Recipe adapted from New York Times Cooking.
SKM: below-content placeholder
Whizzco for 12T