This savory side dish looks fancy but is actually really simple to make (and so good to eat!).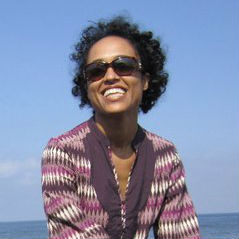 Sarah Cool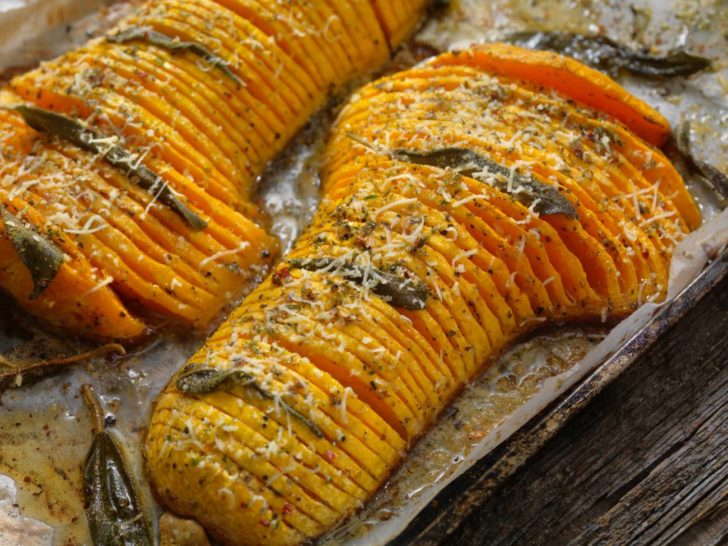 Side dishes are an important part of any holiday meal. We love conventional side dishes, like green beans, mashed potatoes, and the like, but one of our absolute favorites is this hasselback butternut squash. It looks fancy but is actually quite simple to do, and tastes utterly amazing. This is a side dish that should be a centerpiece on your dinner table, it looks that good! The squash is a blank canvas for either sweet or savory toppings, and for this particular recipe, we've gone with a savory herb: sage.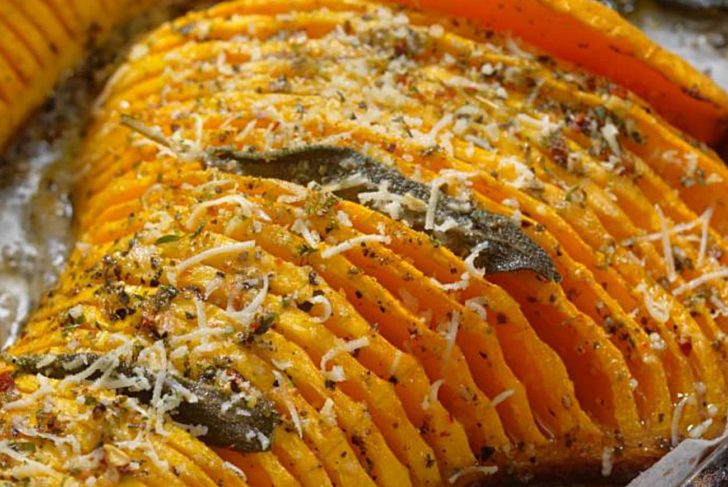 You're bound to impress your guests with this simple yet stunning recipe. If you're not familiar, hasselback is a technique where thin cuts are made horizontally across the length of, in this case, a squash, but can also be done with meat or other vegetables. It's visually appealing and it's also a great way to insert more flavor into the dish. These slivers are the perfect pockets for all kinds of seasonings. Melted butter along with sage and a little red pepper flakes are all we really need to pull off amazing flavor.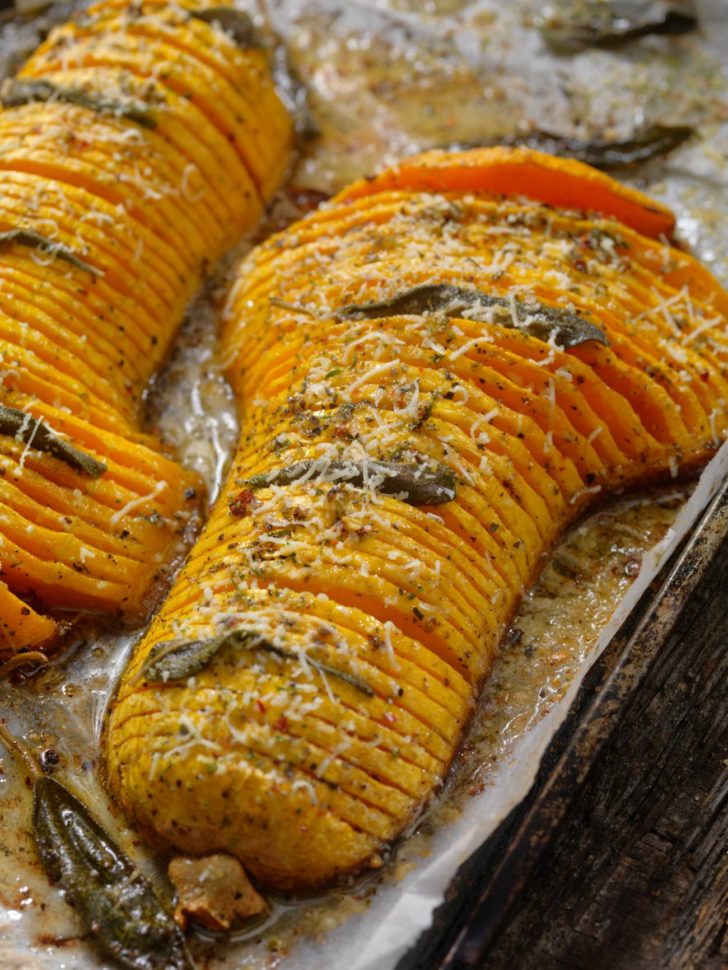 Sage and butter are a wonderful combination and couldn't be more perfect here in this recipe. The sage is aromatic and earthy, and pairs really well with that slightly sweet flavor of the squash. It comes out of the oven beautifully roasted and it smells mouthwateringly good! The hardest part of this will be to transfer it to a serving tray, so grab a spatula and use a steady hand to gently lift the squash onto a platter. A hasselback butternut squash is a simple but elegant way to serve up an amazing side dish, and one that will surely bring some oohs and aahs from our friends and family!
Hasselback Butternut Squash
Ingredients
1 butternut squash, halved lengthwise, peeled, and seeded
2 tablespoons olive oil
½ cup butter
8-10 sage leaves
4 cloves garlic, minced
½ teaspoon ground sage
¼ cup parmesan cheese, shredded or shaved
1 teaspoon red pepper flakes
Kosher salt and black pepper
Preparation
Preheat oven to 400°F. Line a baking sheet with aluminum foil and coat with cooking spray.
Place squash halves cut-side down onto baking sheet. Drizzle both halves with olive oil, then dried sage, 2 teaspoons salt and 1 teaspoon black pepper. Brush or rub oil and seasonings to both sides of squash.
Roast for 10-15 minutes or until squash has softened enough to cut.
Remove from oven and, with a sharp knife, cut thin horizontal slices down the length of the squash, about ¼ inch apart, stopping ¼ inch from base of squash.
Melt ½ cup butter in a pan on medium heat. Stir frequently, 2-3 minutes, until butter begins to brown and leave brown bits in the pan. Remove from heat and stir in minced garlic, red pepper flakes, and 4-5 sage leaves.
Pour melted butter mixture over top of squash. Intersperse remaining sage leaves into squash sections.
Bake for 40 minutes. Sprinkle over parmesan cheese and finish baking for 5 more minutes or until melted.
Recipe adapted from Cave Girl Cuisine.
SKM: below-content placeholder
Whizzco for 12T