It sounds crazy, but it's so good!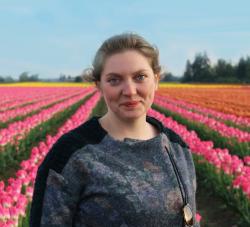 Decatur Macpherson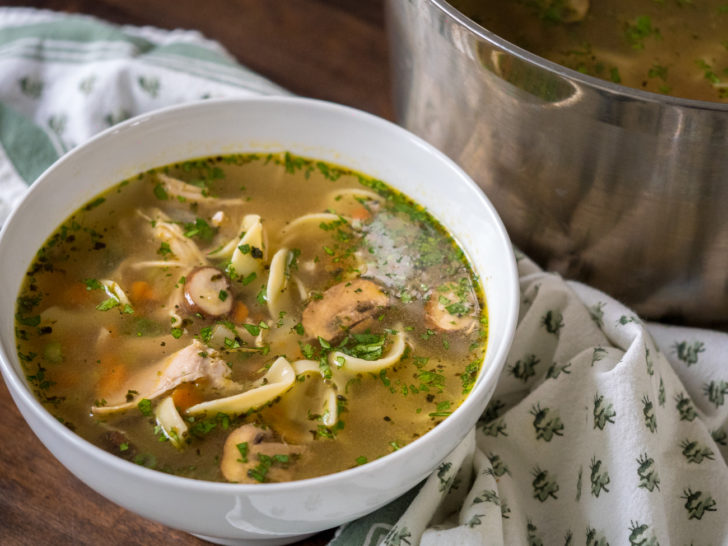 People love chicken soup for its amazing flavor and restorative, healing qualities. Whether it's the cause of people being nursed back to health, or it just causes a powerful placebo that helps people get better, chicken noodle soup is a dish we turn to again and again – we never get tired of it! Given that people do typically turn to it when a friend of family member is sick, we thought we might make a couple tweaks here and there to make it that much better. We give you: detox green tea chicken noodle soup.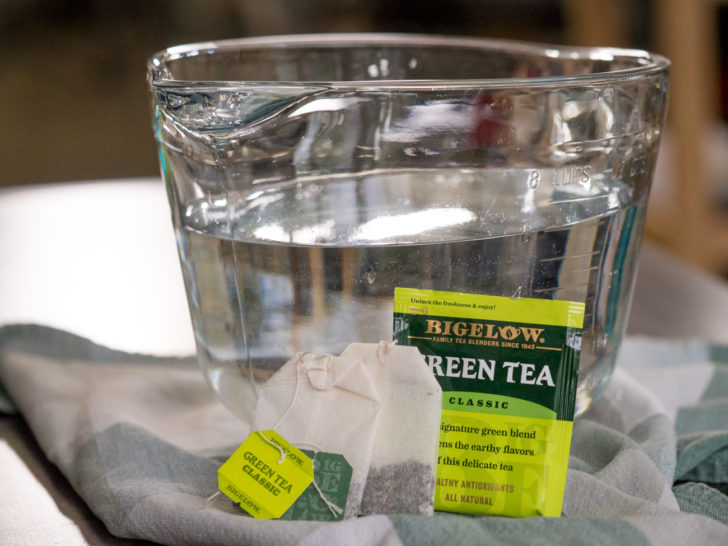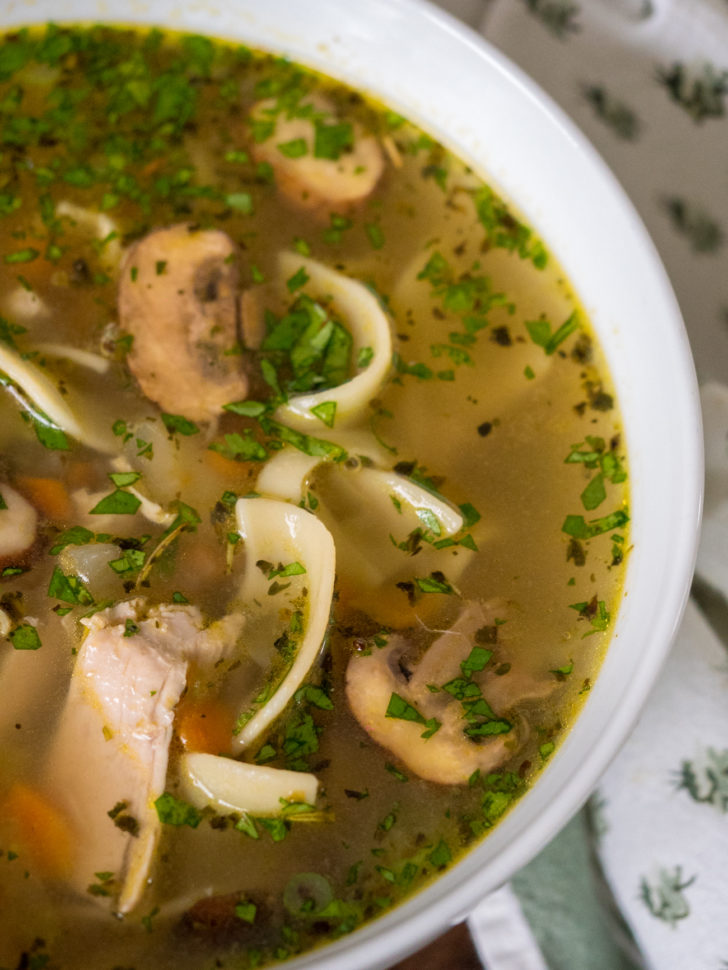 If we're going to have this classic when we're sick, it makes sense to add some ingredients that are actually helpful, right?? That's where the green tea comes in. Before you think, "weird!" and move along to the next recipe, hear us out: the amount and strength of green tea is totally up to you, but we like using just enough to get some of the flavor and benefits of the tea, without making the soup taste like an herbal remedy. What are those benefits, you ask? Well, green tea is packed with antioxidants (that get rid of potentially harmful, oxidizing substances in your body) and polyphenols (which work to fight against inflammation), so not only are you getting great flavor with the tea, but you're also getting very tangible health benefits that you could add into your daily routine.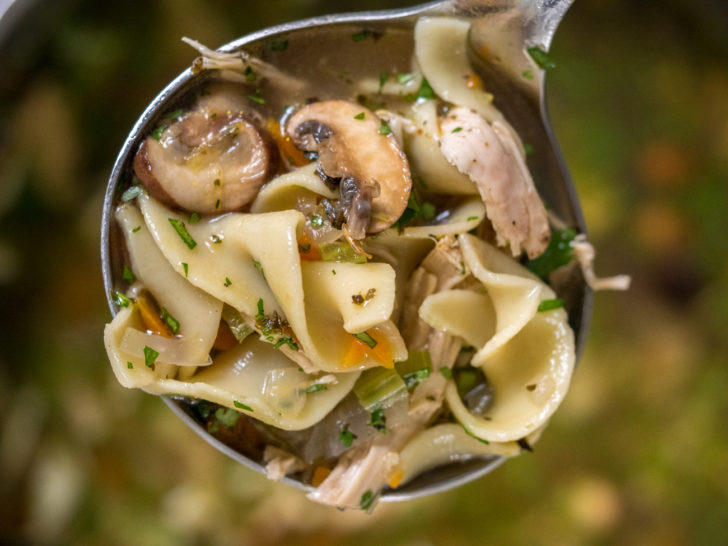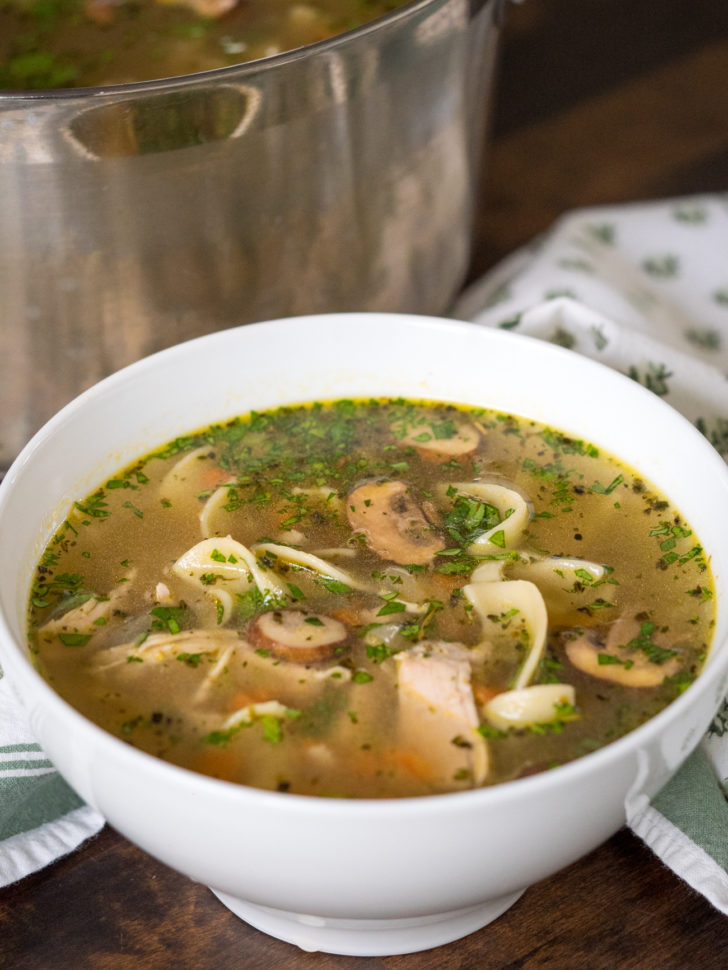 Don't get us wrong, despite the presence of the tea, this really isn't a 180 departure from the traditional chicken noodle soup we all know and love. Yes, we added mushrooms, ginger and some fresh herbs to round out the flavor, but the chicken and veggies are still the stars of the show, just backed up with some fresh, but subtle flavors to tie everything together. You have to give it a shot – it's so good and good FOR you!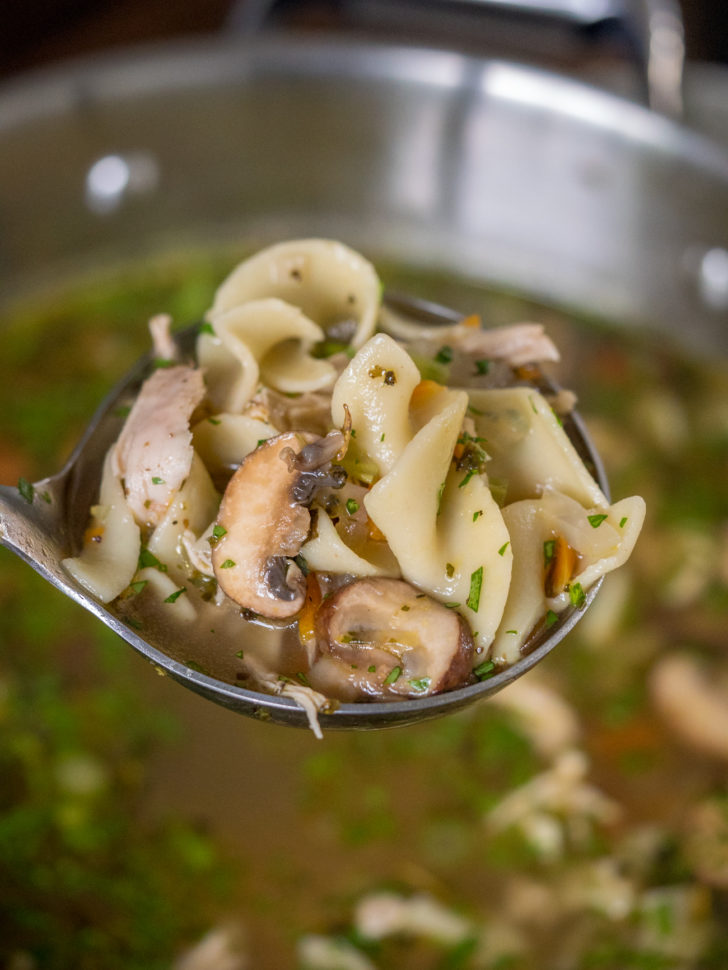 Green Tea Chicken Noodle Soup
Ingredients
6 cups water
1 (32 oz.) package low-sodium chicken broth
3 bags or 6 teaspoons green tea, depending on whether using loose-leaf tea or not
2 chicken breasts, cooked and shredded
2 cups dry egg noodles
2 tablespoons extra-virgin olive oil
1 pint mushrooms, washed and sliced
1 yellow onion, finely chopped
2 carrots, peeled and diced
2 stalks celery, diced
3 cloves garlic, minced
1-inch piece fresh ginger, peeled and grated
3 tablespoons green onions, finely chopped
3 tablespoons fresh cilantro, finely chopped
1 teaspoon dried basil
hot sauce, optional
kosher salt and freshly ground pepper, to taste
Preparation
Brew green tea according to package directions and set aside.
Heat olive oil in a large stock pot or Dutch oven over medium-high heat and sauté onion, celery and carrot until softened. Season generously with salt and pepper.
Add mushrooms and cook for another 5 minute, or until softened, then add garlic and ginger and cook until fragrant. About 1 minute.
Pour in chicken broth and green tea, then add egg noodles and basil (and hot sauce, if using).
Bring mixture to a boil, then reduce to a simmer and cook for 15-20 minutes, or until noodles are al dente.
Stir in shredded chicken and cook for another 5 minutes, or until warmed through, then garnish with cilantro and green onions.
Serve hot and enjoy!
Recipe adapted from About A Mom
SKM: below-content placeholder
Whizzco for 12T