Pita bread is a Greek staple that is basically a gift from the gods. Light and fluffy bread that goes excellently with hummus and tastes amazing on its own, it 's the perfect recipe to tackle when you're in the mood for something a little different. You can make this for yourself or as an appetizer for a cocktail/dinner party that will really impress people; there 's no wrong occasion for pita bread! You could even use it as a vessel for other delicious ingredients and make a flatbread pizza out of it. Sweet or savory; drizzled with honey and ricotta, or with pesto, spinach and mozzarella, pita should be at the top of your to-do list .you won 't regret it!
We shudder thinking back to the dark ages before we tried real pita, fresh out of the oven .thinking that pita is basically the same as the pockets you find in the grocery store is no way to live! Making your pita from scratch is like a whole new world and you 'll be so glad you tried it!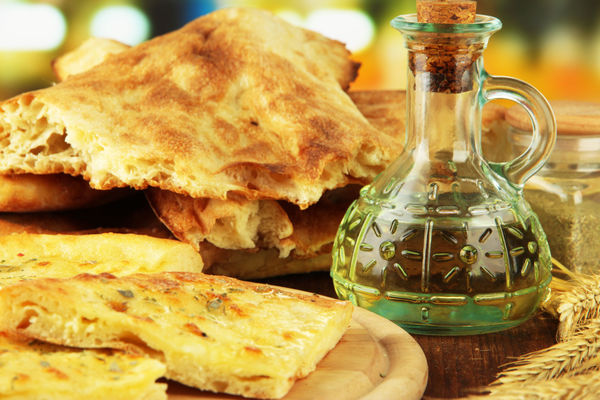 Pita Bread
Makes 8 pitas
Ingredients
2.5-3 cups all-purpose flour
1 packet (2 1/4 teaspoons) active dry yeast
1 1/2 cups warm water, divided
2 tablespoons olive oil
1 1/2 teaspoons kosher salt
1/2 teaspoon sugar
Directions
In a small bowl or glass, mix active yeast into 1/2 cup warm water. Let rest 5-10 minutes. If mixture doesn 't bubble or froth, discard and start again.
In a large bowl or mixer, mix together 1 1/2 cups flour, salt, sugar and olive oil.
Add remaining 1 cup water to yeast mixture and combine with flour mixture, using the dough hook attachment, for 8 minutes, gradually adding more flour, until smooth dough begins to come together.
Knead dough, on low speed or by hand, for another 5-10 minutes until it is smooth and elastic.
Note: if dough is still too sticky, add a little more flour. If flour isn 't incorporating add another splash of hot water and continuing kneading.
Turn dough out into a lightly oiled bowl, cover with a clean towel and let rise for 1 hour, or until doubled in size.
Lightly punch down the dough and turn it out onto a lightly floured surface.
Divide dough into 8 equal pieces, cover and let rest 20-30 minutes.
Preheat oven to 400 F and place a baking stone or upside down baking sheet in oven to warm. Drizzle with olive oil and wipe off excess with paper towel.
Gently roll them out to 1/4-inch thickness, about 8-9 inches wide. If they 're still springing back to their original shape, let them rest for a few more minutes.
Once pitas are rolled out, place on baking surface and cook for 2-3, or until you see air bubbles forming.
Flip pitas and cook for another 2 minutes.

Optional: use a cast-iron skillet on the stove, over medium-high heat, and cook for 30-45 seconds, before flipping over and cooking for 1-2 minutes, or until brown spots appear. Flip again and cook for another 1-2 minutes.

Serve immediately or store, refrigerated or frozen, in an airtight container.
Recipe adapted from Half-Baked Harvest
SKM: below-content placeholder
Whizzco for 12T