The side dish your dinner table was missing.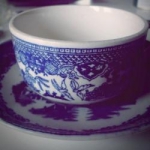 Rose Heichelbech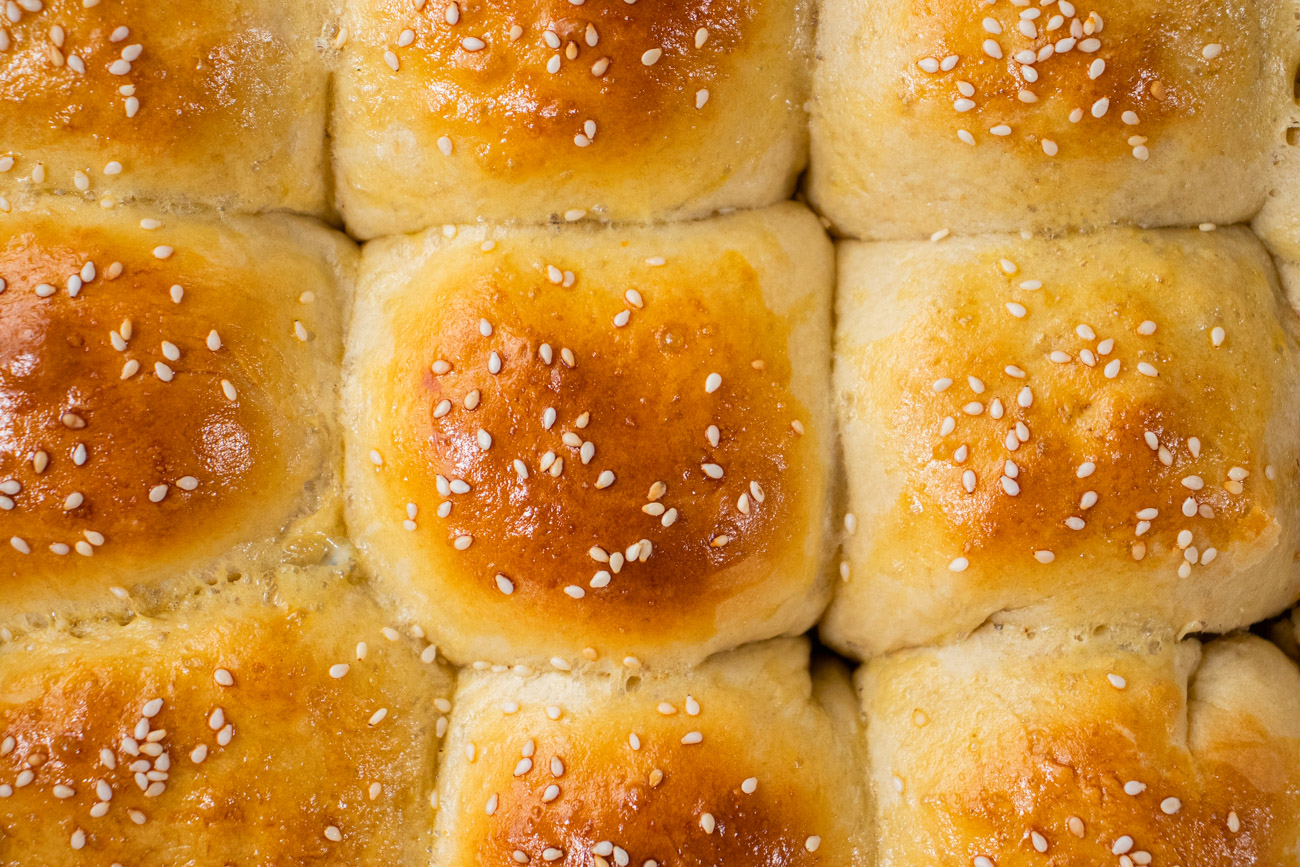 Ginger is an amazing ingredient for marinades as it lends its warm, sharp flavor to meat so well. It's also a great addition to many fillings and is found in Asian dumplings of various kinds. And, it goes perfectly with chicken inside of these ginger chicken buns! Topped with sesame seeds and browned to a deep golden color in the oven, these steaming hot buns will make a welcome addition to any table.
To begin this recipe you'll need to create a yeasted dough, not unlike sweet rolls or making your own bread. However, this simple recipe only requires 1 rise, which means you don't have to spend so much time waiting on the dough to reach a certain size.
The onions and ground chicken are cooked in a skillet (along with plenty of spices like paprika and turmeric) before being added to the dough as the filling. This means the baking is really about getting the ideal pillowy texture on the rolls, not cooking the filling.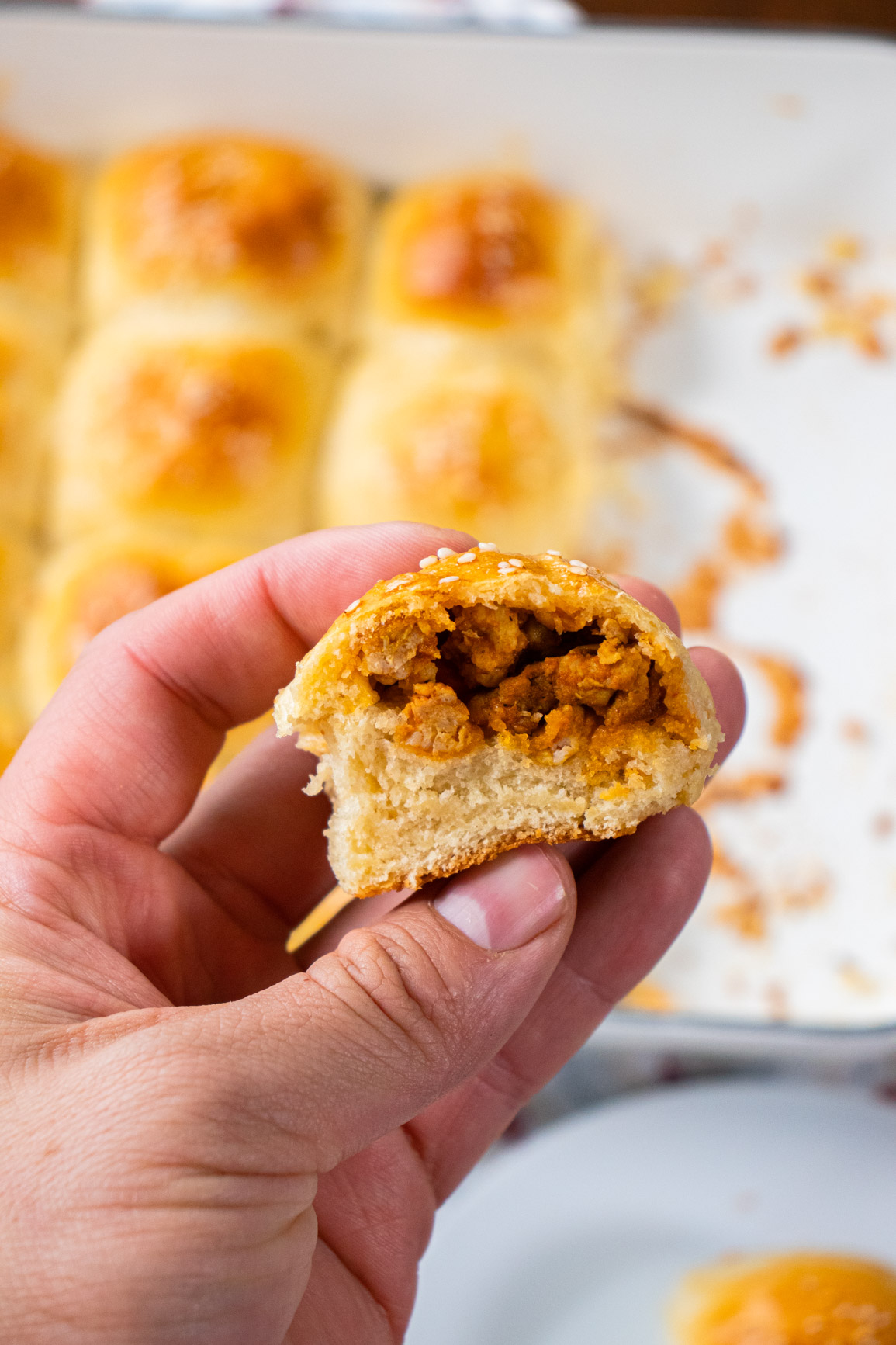 As a side note, you could adapt this recipe to use ground turkey, too.
A brush of egg wash on the tops of the buns means the color comes out beautifully rich! And, the filling inside is balanced and flavorful. The nice thing about the baking method is that there's no steaming or pan frying of the buns. This means that your stovetop can be largely reserved for making the rest of the meal.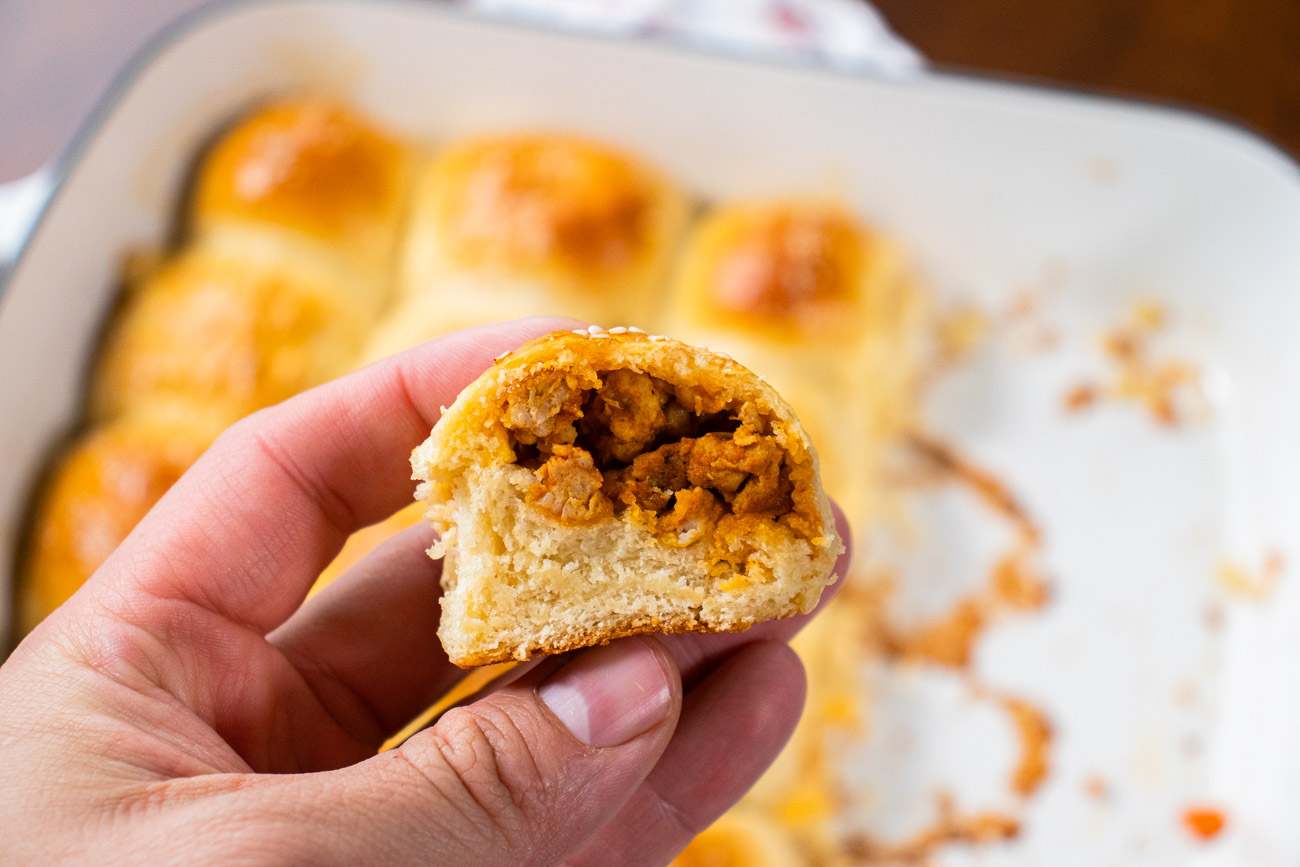 It's hard to describe the taste of these soft and savory rolls, but they are a wonderful blend of flavors packed into a little bun- well worth waiting for the dough to rise!
Ginger Chicken Buns
Makes 12 buns
1h prep time
44m cook time
316 calories
For the dough:
1 cup warm water
1/3 cup vegetable oil
3 tablespoons granulated sugar
2 tablespoons dry active yeast
1 egg, beaten
1 tablespoon unsalted butter, softened
1/2 teaspoon salt
3-4 cups all-purpose flour
1/8 cup milk, room temperature
For the filling:
3 tablespoons vegetable oil
1 onion, finely diced
4 cloves garlic, minced
1 teaspoon ginger paste or grated ginger
1 lb ground chicken
1 teaspoon smoked paprika
1 teaspoon ground coriander
1/4 teaspoon turmeric
1/4 teaspoon cumin
3 tablespoons tomato paste
1/2 teaspoon salt
1/4 teaspoon pepper
1/8 teaspoon cayenne pepper (optional)
1/2 cup diced frozen carrots
1 egg, beaten
1 teaspoon sesame seeds
For the dough:
Combine water, oil, sugar, and yeast in large bowl. Allow to sit until bubbles form, about 7-9 minutes, then stir in egg, butter, and salt. Add flour 1 cup at a time, stirring in between additions using an electric mixer with dough hook attachment. If dough is bouncy stop adding flour, but if it is too wet add another 1/2 cup flour until it becomes springy. Knead for an additional 5-10 minutes. Cover with plastic wrap and allow to rise for at least 30 minutes.
For the filling and assembly:
In medium skillet heat oil over medium heat. Add onion and cook for 10 minutes before adding garlic and ginger. Cook for 2 minutes.
Add chicken, paprika, coriander, turmeric, and cumin to skillet. Cook for 5 minutes then add tomato paste, salt, and peppers. Cook for 2 minutes. Stir in carrots and cook another 2 minutes. Remove from heat and allow to cool for 10 minutes.
Preheat oven to 375˚F. Divide dough into 2 and keep one half in the bowl under plastic. Roll out dough and cut 6 circles from it. Place about 2 tablespoons of filling in dough and crimp at bottom to close. Place seam-side down in deep baking dish. Repeat with remaining dough until you have 12 buns. Brush each bun with egg and sprinkle with sesame seeds.
Bake for 20-22 minutes or until buns are golden brown on top.
Recipe adapted from Savory Spin.
SKM: below-content placeholder
Whizzco for 12T