Adam Bavario likely would have died from a heart attack if not for the help of his rescue dog, Roxy. Now he's sharing his story to let the world know that without the quick actions of his doctors and his dog, he wouldn't be here today.
Bavario worked as a Los Angeles police officer for 27 years. He also spent some time working as a medic. His career was stressful most days, and it took a huge toll on his mental health as well as his physical health.
Still, he enjoyed his job and the impact he made on people's lives.
When Bavario started experiencing chest pains in his 30s, he went to the doctor's office about them. He underwent a series of standard tests, but nothing came back as concerning.
The fact that his issues went undiagnosed nearly killed him.
At the young age of 46, Bavario experienced a heart attack, and not just any heart attack. The one he experienced is known for its intensity and high rates of fatality.
It's called the "widow maker."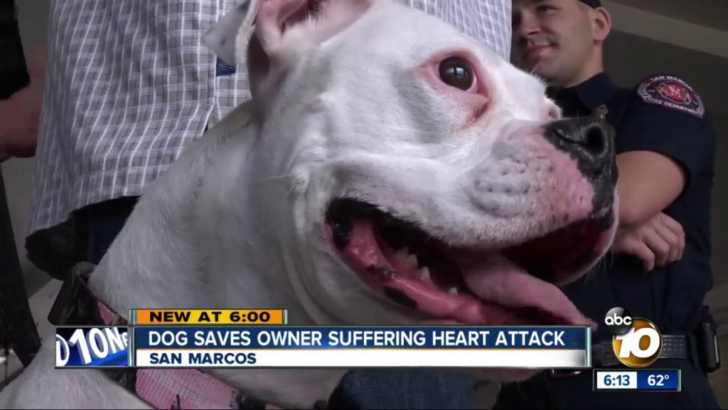 One of his arteries became 100% blocked, and it's incredibly difficult to survive that unless action is taken very quickly. And even then, there are no guarantees.
Bavario knew he was having a heart attack and tried to reach for his phone, but the trauma of the heart attack caused him to pass out.
Roxy, who's deaf, was asleep in another room, and Bavario didn't think she even knew that he had come home. But somehow Roxy sensed Bavario was in distress, and came to find him. Seeing him on the ground, she licked and nudged him over and over again until he regained conciousness enough to dial 911.
If she hadn't revived him, Bavario may very well not have survived the attack. That she was able to sense that he was in danger in the first place is incredible.
She was so in tune with her owner, that she just knew something was wrong, even if she couldn't hear him.
Bavario is so thankful to her, and to his medical team. He is now raising awareness about cardiac check-ups so that others are aware of the danger of letting his kind of thing go unnoticed. It's a routine that can save lives.
Roxy is an incredible dog. Her quick thinking saved her owner's life, and she's a hero in our book!
Please stay on top of your health and get your symptoms checked out if they're concerning.
And hey, get a rescue dog, too. They're life-savers!
This story originally appeared at Goodfullness.
SKM: below-content placeholder
Whizzco for 12T