These chops have so. much. flavor!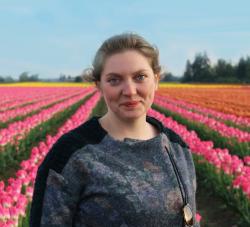 Decatur Macpherson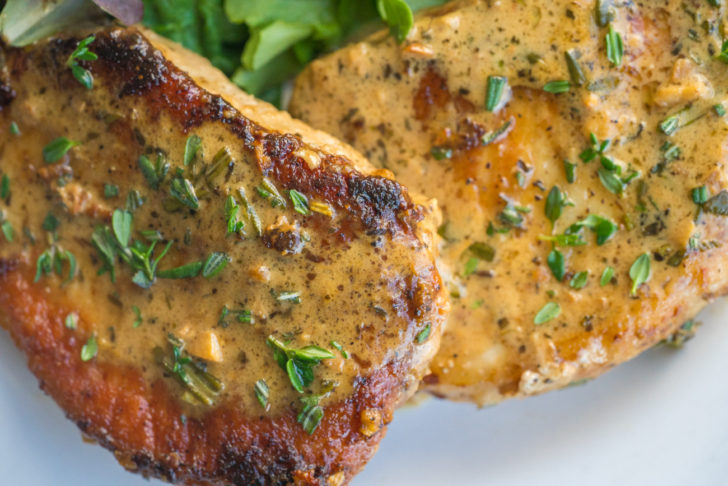 You know those dishes that you think of, knowing they'll be good, but when you see and taste the finished result you're actually shocked by just how good they are? These garlic and herbed white wine sauce pork chops are like that. We thought the flavors would go well together, figured the sauce would go really nicely over the flour-dredged, crispy pork chops and knew the whole thing would come together…but we had no idea just how good this was going to be!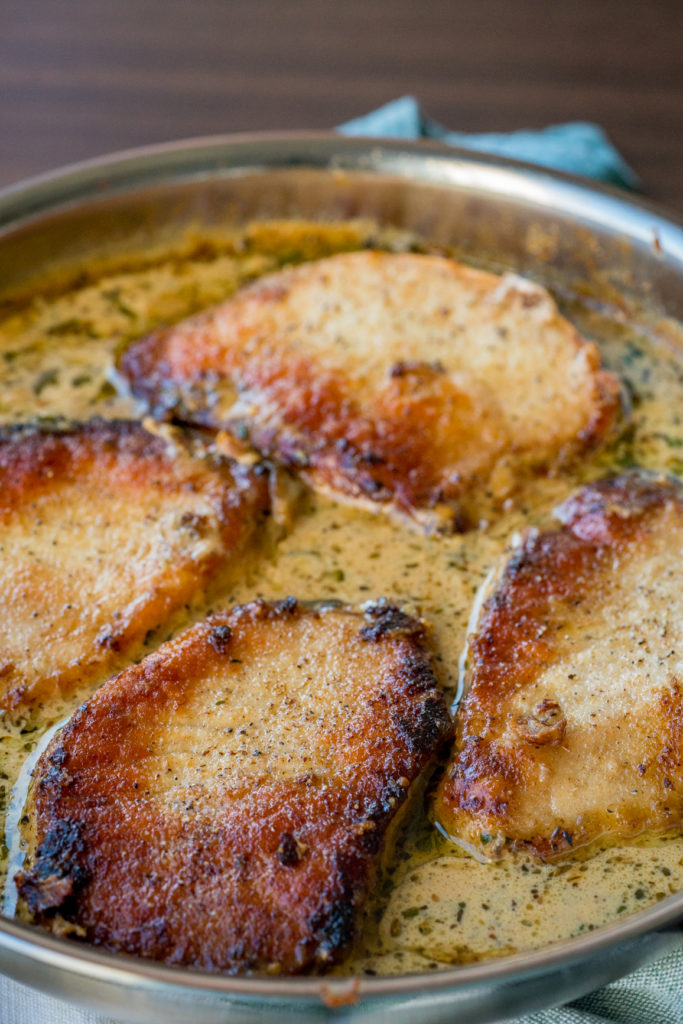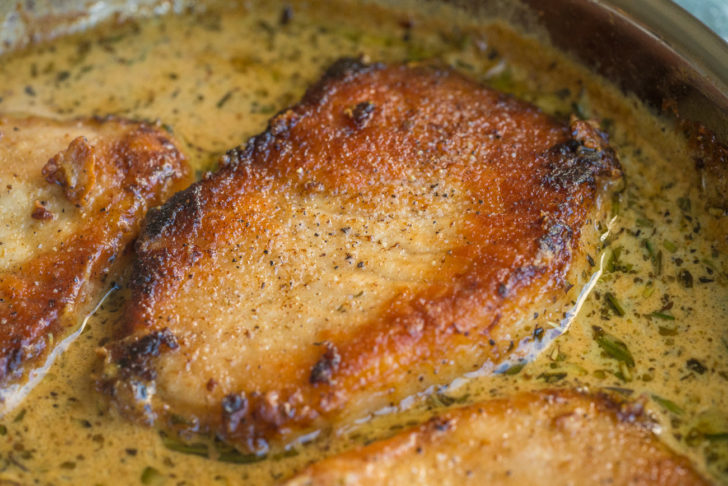 Seriously, the stars aligned for our dinner, making this an amazing choice for a weeknight, family meal, or for a fancier occasion when you want to impress people. Plus, there's no fancy technique or equipment needed, so you get an elegant, delicious meal that people will think required more effort than it really did and you can eat like a queen and feel like a gourmand. Win-win-win! Now, this dish does require a little bit of forethought, since there are two main stages to make the pork chops; you need to bread and fry them, then you need to make the creamy garlic wine sauce.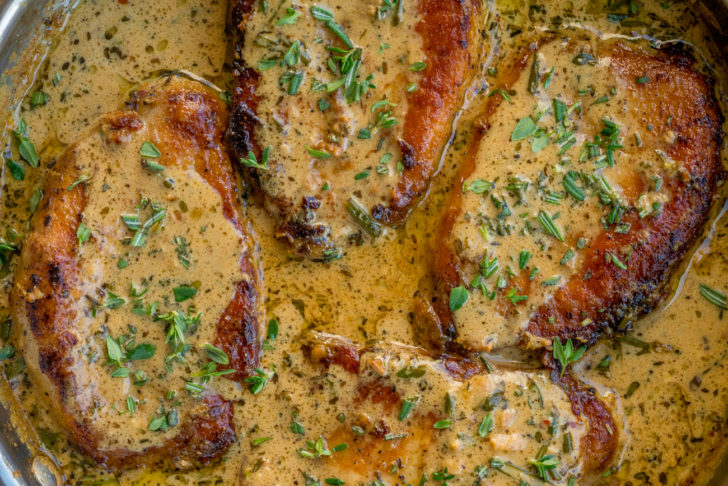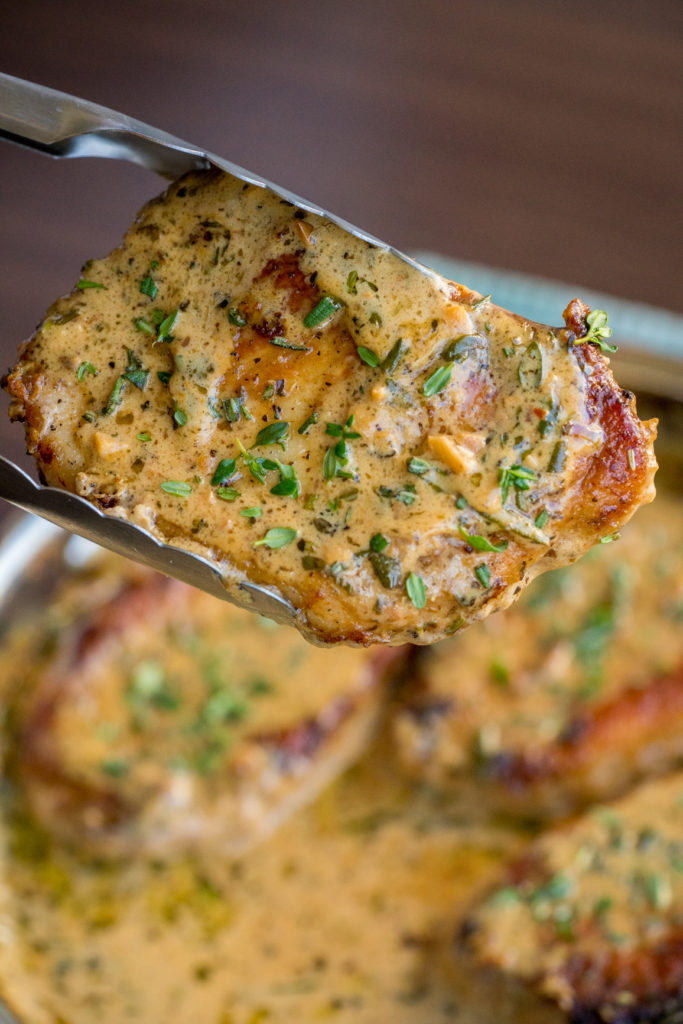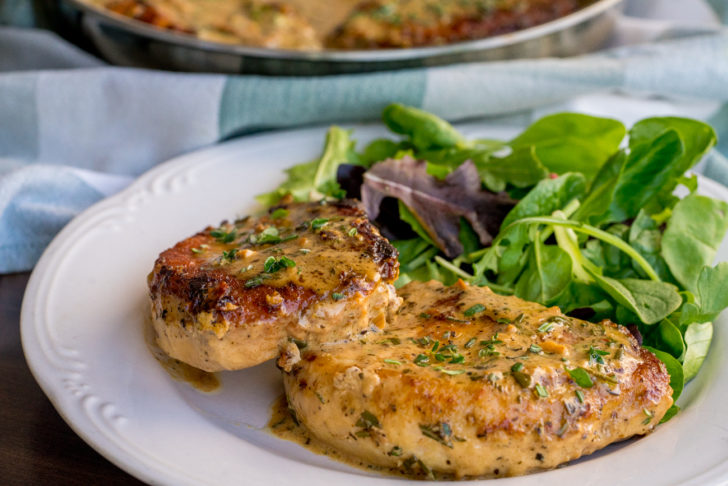 Thankfully, we skipped the need for an egg wash before the flour dredging, so that gets the sticky, messy bit out of the way – just coat your chops in flour and then sear them to get some good color. Then it's onto that amazing, flavorful sauce! White wine, lemon and garlic make up the heartiest flavors of this sauce, aided by Italian seasoning and fresh rosemary and thyme. This creamy sauce is herbaceous and delicious and you're going to want to put it on everything! All-in-all, this dish is a total winner, sure to impress everyone and make its way into your recipe box. Enjoy!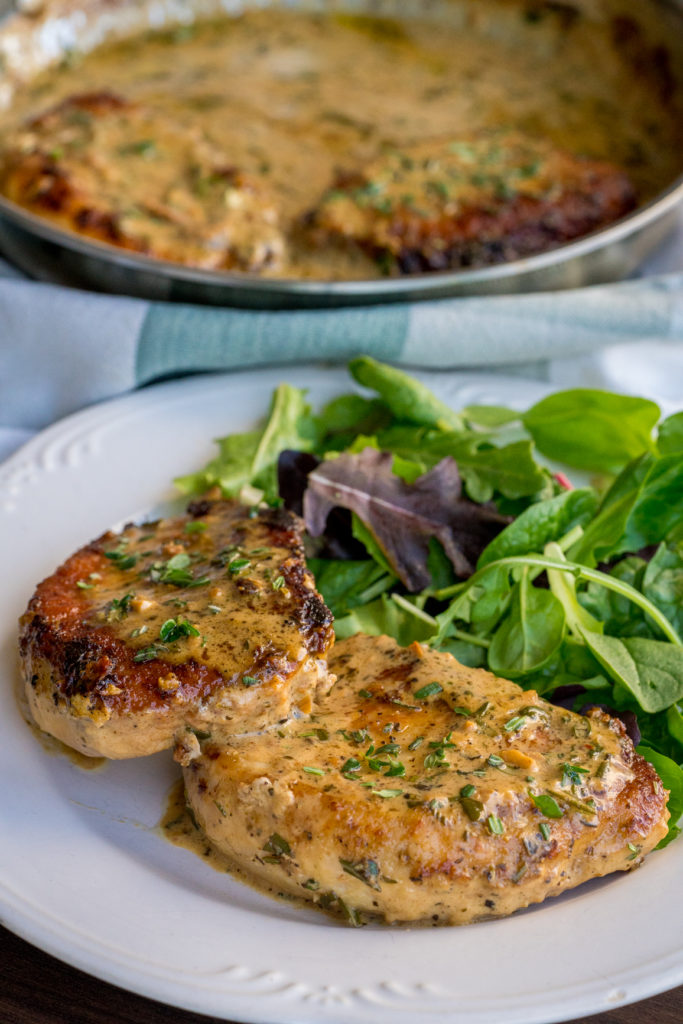 Garlic Wine Sauce Pork Chops
Ingredients
Pork:
4 boneless pork chops
2 tablespoons butter
1 tablespoons extra-virgin olive oil
kosher salt and freshly ground pepper, to taste
Breading:
1/3 cup all-purpose flour
1 teaspoon Italian seasoning
1/2 teaspoon garlic powder
1/2 teaspoon onion powder
1 teaspoon salt
1/4 teaspoon black or white pepper
Sauce:
2 tablespoons unsalted butter
3 cloves garlic, minced
1 tablespoon dredging flour
1/2 cup dry white wine
1/2 cup low-sodium chicken stock or broth
1/2 lemon, juiced
1/2 cup heavy cream
1 1/2 teaspoons Italian seasoning
1/4 teaspoon red pepper flakes, optional
4 sprigs fresh thyme, stems removed
2 sprigs rosemary, stems removed, minced
Preparation
Start by assembling dredging mixture by whisking flour, Italian seasoning, garlic and onion powders, salt and pepper together in a large, shallow dish.
Heat butter and olive oil in a large pan or skillet over medium-high heat.
Dredge pork chops in flour mixture, making sure to coat both sides, then shake off excess.
Once butter is hot, add pork chops to skillet and sear for 3-4 minutes, or until browned on one side.
Turn pork over and reduce heat to medium, then cook for another 3-4 minutes, or until browned. Remove pork chops from heat and set aside.
Begin making sauce by melting 2 tablespoons butter in same skillet over medium heat.
Add minced garlic and sauté for 1-2 minutes, or until fragrant, then sprinkle in flour and whisk continuously until smooth and golden brown. 2-3 minutes.
Slowly pour in wine, stirring until fully incorporated in roux, then pour in lemon juice and chicken stock.
Pour in heavy cream, then season with thyme, rosemary, Italian seasoning and red pepper flakes, if using. Cook for another 1-3 minutes, then taste and adjust seasoning, if necessary.
Return pork chops to skillet and further reduce heat to low. Cook for 2-3 minutes or until chops are cooked through, then drizzle sauce over them and serve immediately.
Enjoy!
Recipe adapted from What's In The Pan
SKM: below-content placeholder
Whizzco for 12T