It's seriously sooo good!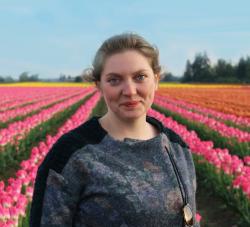 Decatur Macpherson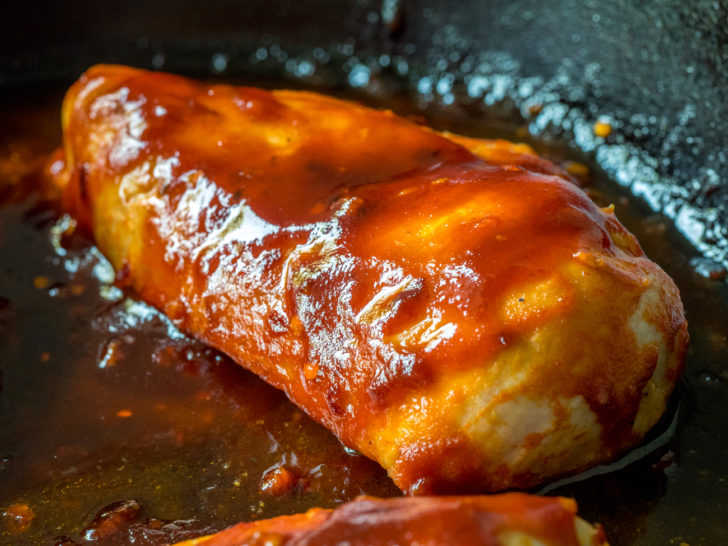 When it comes to dinnertime, you know we like to have a sizable stash of easy, delicious dinner ideas on hand. Always having options to choose from when it comes to cooking for the family is a huge help, since it prevents us from cooking the same thing over and over again, and means that we don't have to come home after a long day and rack our brains thinking about what to make. Here, we've got a flavorful chicken dinner that we just keep coming back to. Chicken gets such a bad rap sometimes for being bland, but let us clarify one thing: it all depends how you season and cook it. If it's bland, it's just because it isn't seasoned properly – which is why we're giving you this dish. With a name like "Firecracker Chicken" you know it's going to be awesome and anything but bland.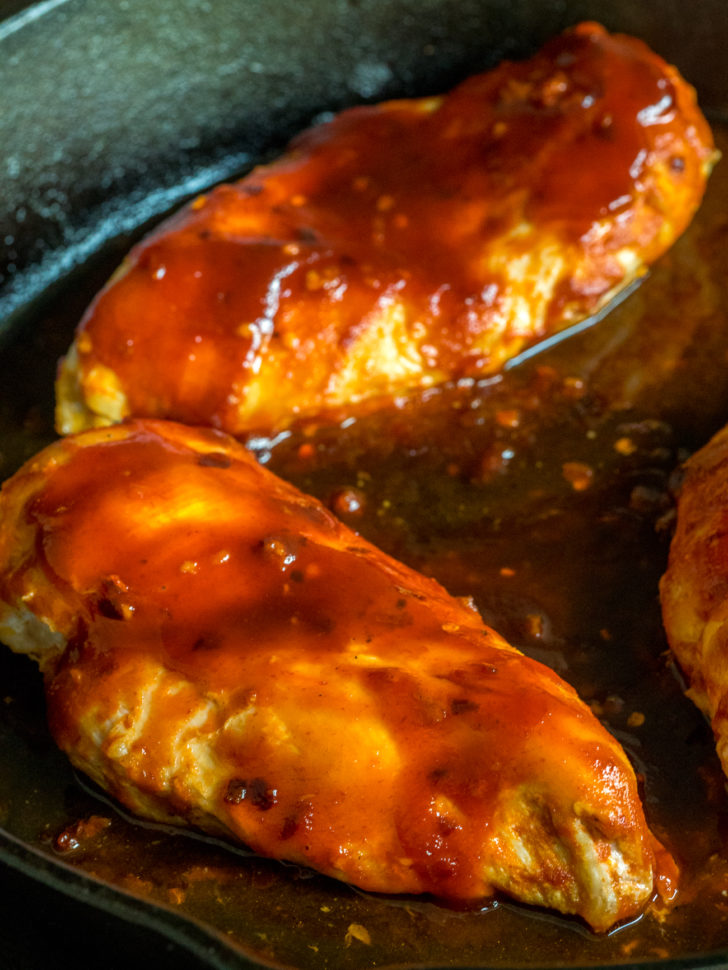 Now that we've gotten that out of the way, we're ready to talk chicken dinners. This one is a three-step process, but don't let that slow you down…each step is super easy. Start out by mixing up your sauce on the stove and letting it thicken up a bit, then (generously) season and cook your chicken. Brush it with sauce and throw it in the oven for 10 minutes and dinner is served! While you could continue to cook your chicken on the stovetop, we found that baking it brings out more flavor in both the chicken and the sauce, and more flavor is always a good thing.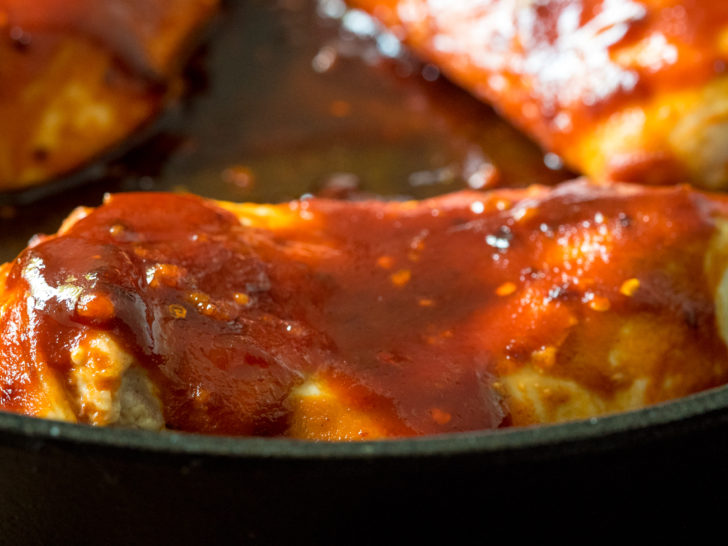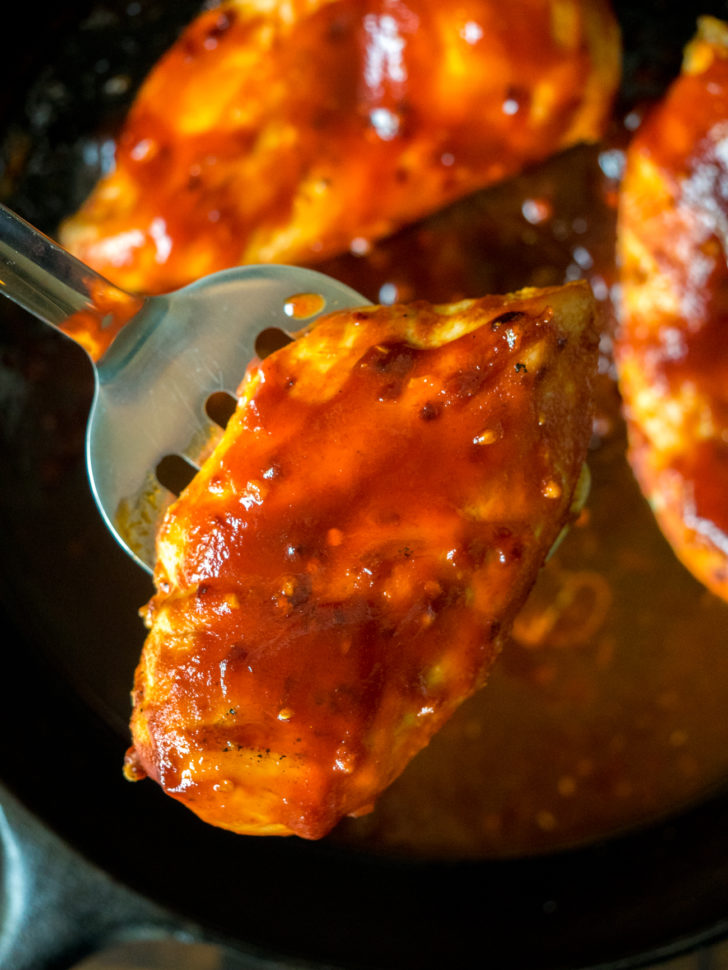 So, not only does this dish come together in just under half an hour, but it's also comprised almost entirely of pantry staples; not having to make another trip to the store is a huge win in our book! So, if you're looking for a recipe to add to your weeknight arsenal, this is the one for you. Pantry staples all the way and tons of flavor…win-win!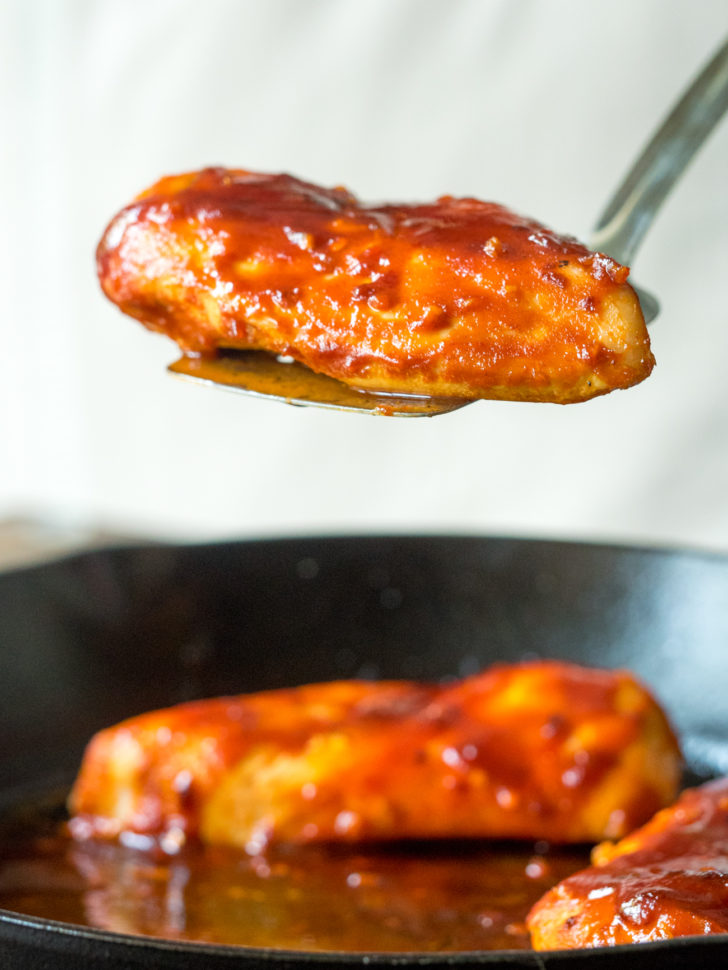 Firecracker Chicken
Ingredients
1 pound boneless, skinless chicken breasts
1/2 cup Sriracha hot sauce
2/3 cup brown sugar, packed
1 tablespoon soy sauce
1 tablespoon apple cider vinegar
1 tablespoon olive oil
1 clove garlic, minced
1-2 teaspoons red pepper flakes
Kosher salt and freshly ground pepper, to taste
Preparation
Preheat oven to 400°F.
In a small saucepan, combine the hot sauce, sugar, soy sauce, vinegar, garlic, and pepper flakes, and cook over medium heat until the sugar has dissolved.
Meanwhile, in a medium cast iron skillet (or other oven-safe skillet), heat oil over medium-high heat. Season chicken breasts generously with salt and pepper, and cook until browned, 3-5 minutes per side.
Brush some of the sauce over the chicken, and transfer skillet to oven.
Bake until chicken is cooked through, 10-15 minutes, basting chicken with sauce every 5 minutes.
Remove chicken from oven and serve with leftover sauce. Enjoy!
Recipe adapted from Closet Cooking
SKM: below-content placeholder
Whizzco for 12T