This classic just got even better…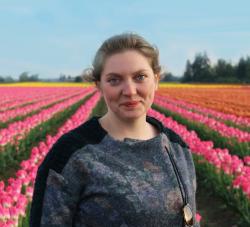 Decatur Macpherson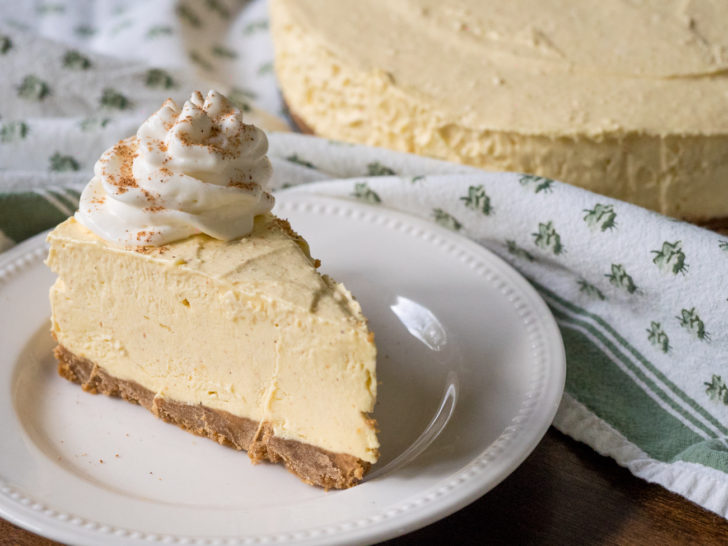 All right, so we can all agree on the fact that cheesecake is one of the best desserts out there, right? Anyone shaking their head no, we respect your opinion, but we'll have to agree to disagree on this fact of life. Now what's better than just a plain ol' delicious cheesecake? A no-bake cheesecake! While you normally have to bake cheesecake for at least an hour, then let it cool fully in the oven (to prevent cracks!) and then put it in the fridge to chill, this recipe is different and amazing. Oh, and we forgot to mention, it's also the perfect thing to make for the holidays, since this bad boy's got eggnog in it!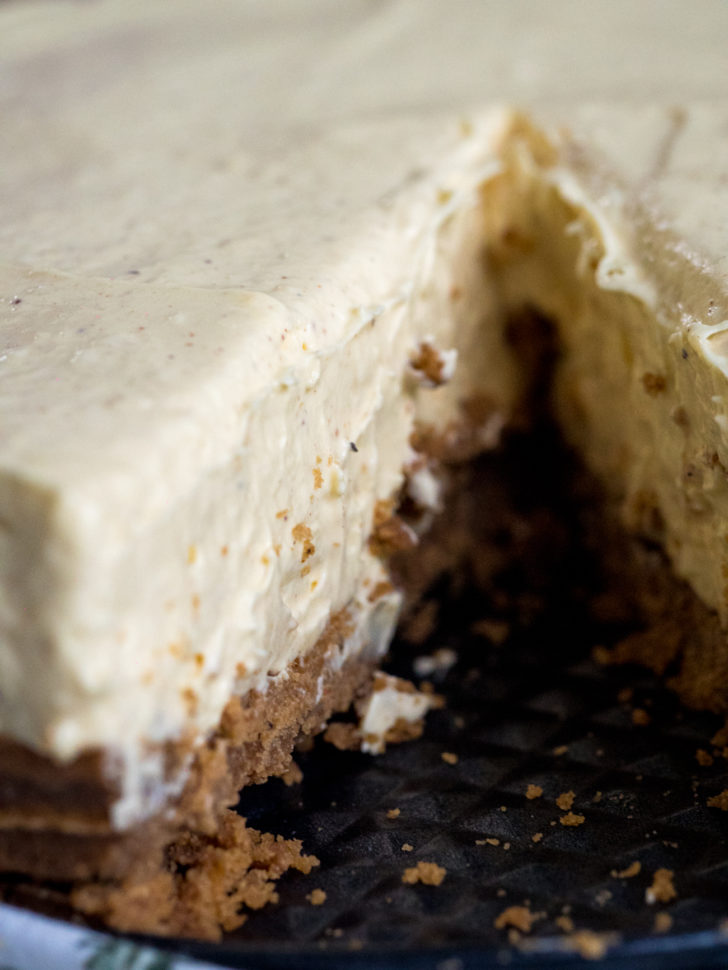 Oh yeah. A no-bake eggnog cheesecake that saves oven space during a time when your whole family's clamoring to put stuff in to bake? That's a sure-fire winner in our book. So, we've got a perfectly creamy eggnog filling, but what about the base of this cheesecake? Well it's not a graham cracker or shortbread crust, if that's what you were wondering. Instead, we used gingersnaps!! This crisp cookie makes for a super yummy crust that goes swimmingly with the creamy eggnog cheesecake filling. It doesn't get better than this, you guys. You're more than welcome to make a graham cracker crust or use a store-bought crust if that's easier and what you prefer, but if you love gingersnaps as much as we do, then we can't say enough good things about making this crust as the foundation of this dessert – you will not regret it.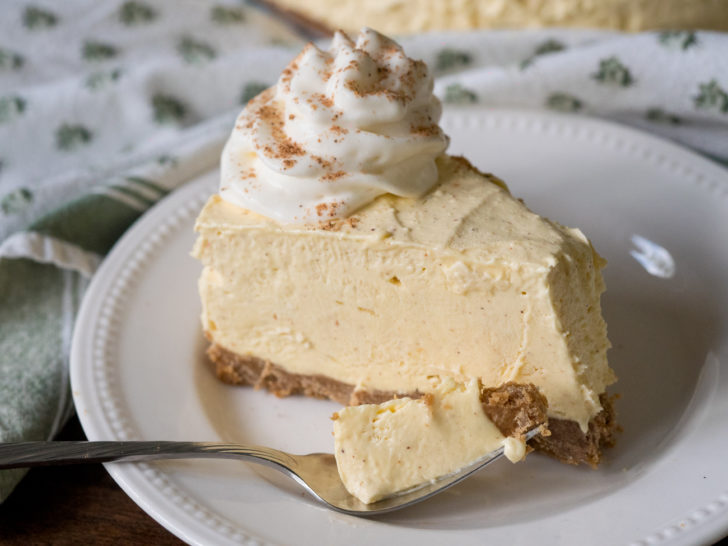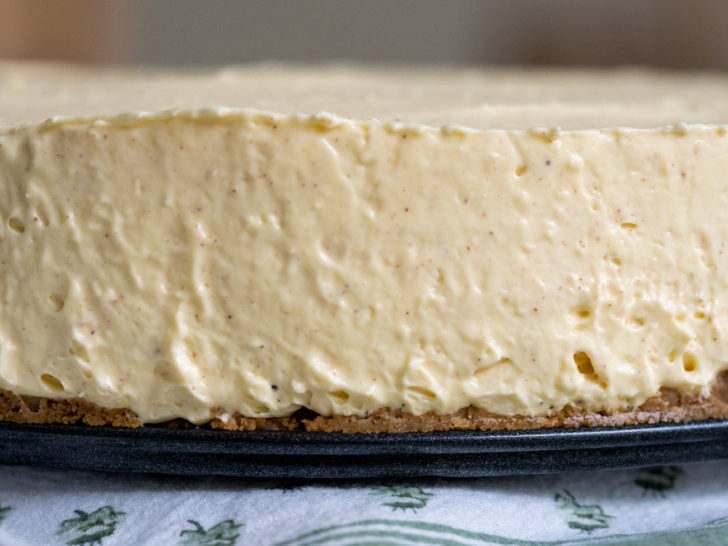 If it weren't clear already, we love this recipe and everyone else who's tried it does too! It's a time and space-saver, since, yes, you need to wait for it to chill, but it doesn't need to bake or cool back down to room temperature, and it frees up the oven so you can use that to cook other delicious things – win-win! If you were planning on making pumpkin cheesecake or pecan pie for the holidays, consider this one instead…it's too good to be beat!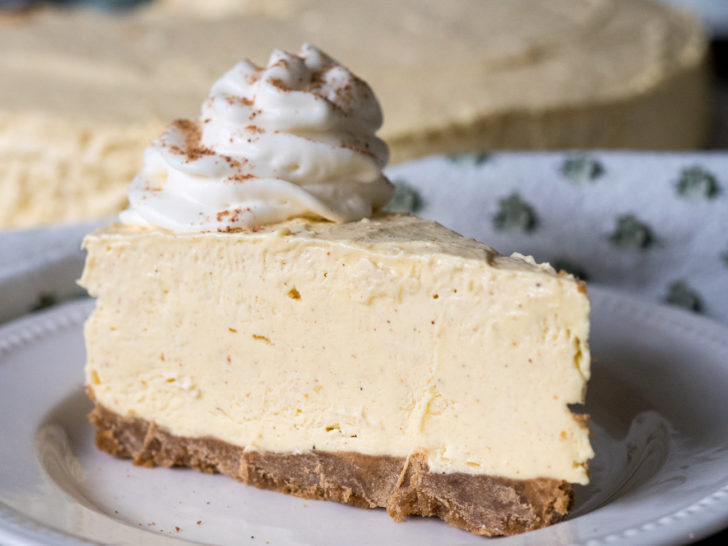 Eggnog Cheesecake
Serves 8
20 minutes active; 2+ hours inactive
Ingredients
Crust:
1 (12 oz.) package gingersnap cookies, crushed OR 2-3 sleeves graham crackers, crushed
2 tablespoons brown sugar
6 tablespoons unsalted butter, melted
Filling:
1 (8 oz.) packed cream cheese, room temperature
1 (8 oz.) container frozen whipped topping
2 (3.4 oz.) packages instant vanilla pudding
2 1/2 cups eggnog
1/2 cup powdered sugar
1 teaspoon vanilla extract
1/2 teaspoon cinnamon
1/2 teaspoon nutmeg, plus extra for garnish
whipped cream, garnish
Preparation
Whisk together cookie crumbs, brown sugar and butter in a large bowl until combined.
Transfer mixture to a springform pan and use a measuring cup or your hand to press down to form a smooth surface. Keep in refrigerator until ready to use.
In a large bowl or mixer, beat cream cheese together with frozen whipped topping for 2-3 minutes, or until smooth.
In a separate bowl, combine pudding mix with eggnog and vanilla extract, whisking until it begins to thicken. About 1 minute.
Pour pudding mixture into bowl with cream cheese, along with powdered sugar, cinnamon and nutmeg, and beat until fully incorporated.
Pour mixture into springform pan, then refrigerate for at least 1-2 hours, or overnight, until set.
Top with whipped cream and sprinkle with nutmeg, then slice, serve and enjoy!
Recipe adapted from The Gold Lining Girl
SKM: below-content placeholder
Whizzco for 12T