No special pan needed! This paella comes together on a single sheet pan in your oven.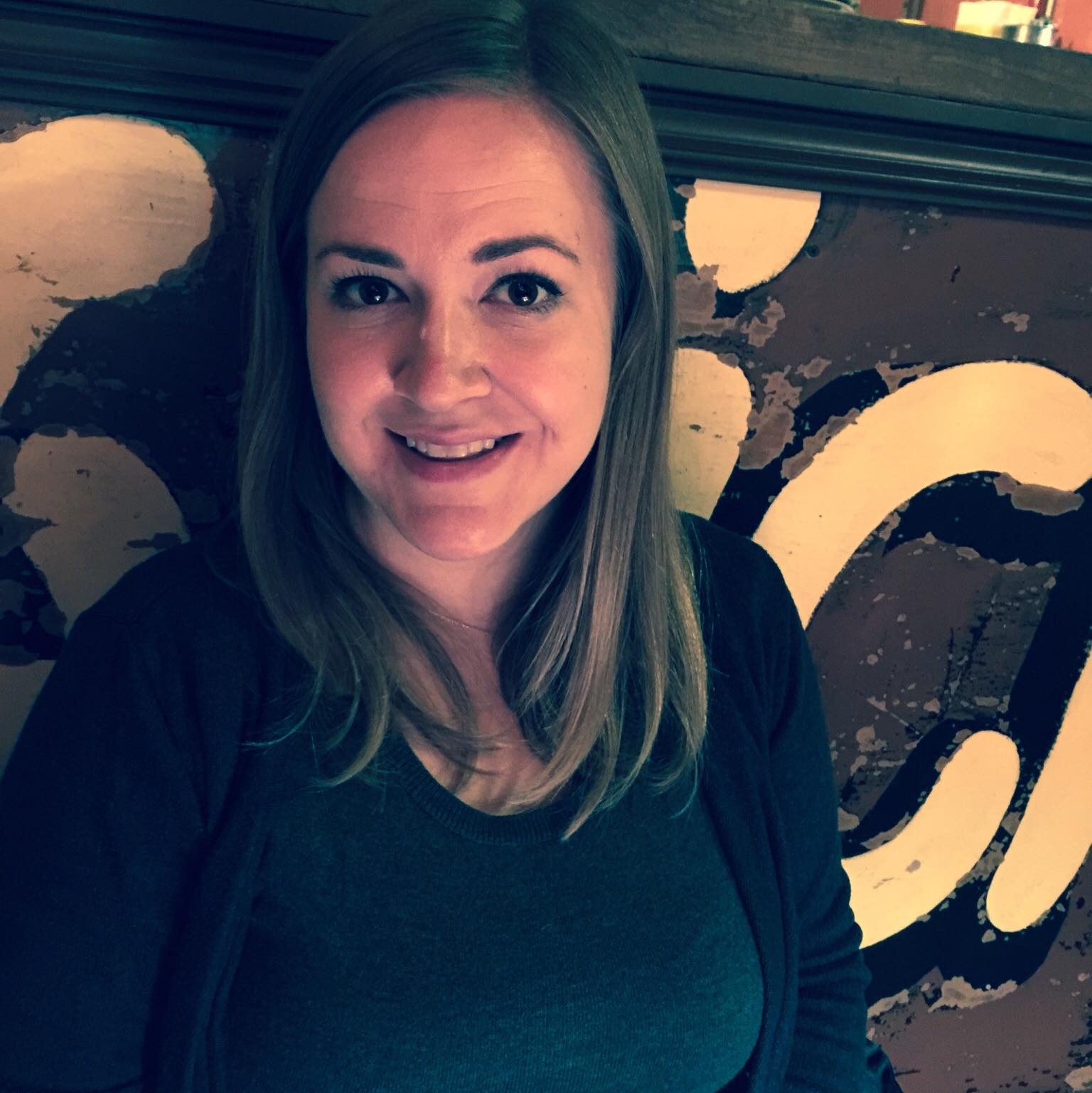 Kristy Norrell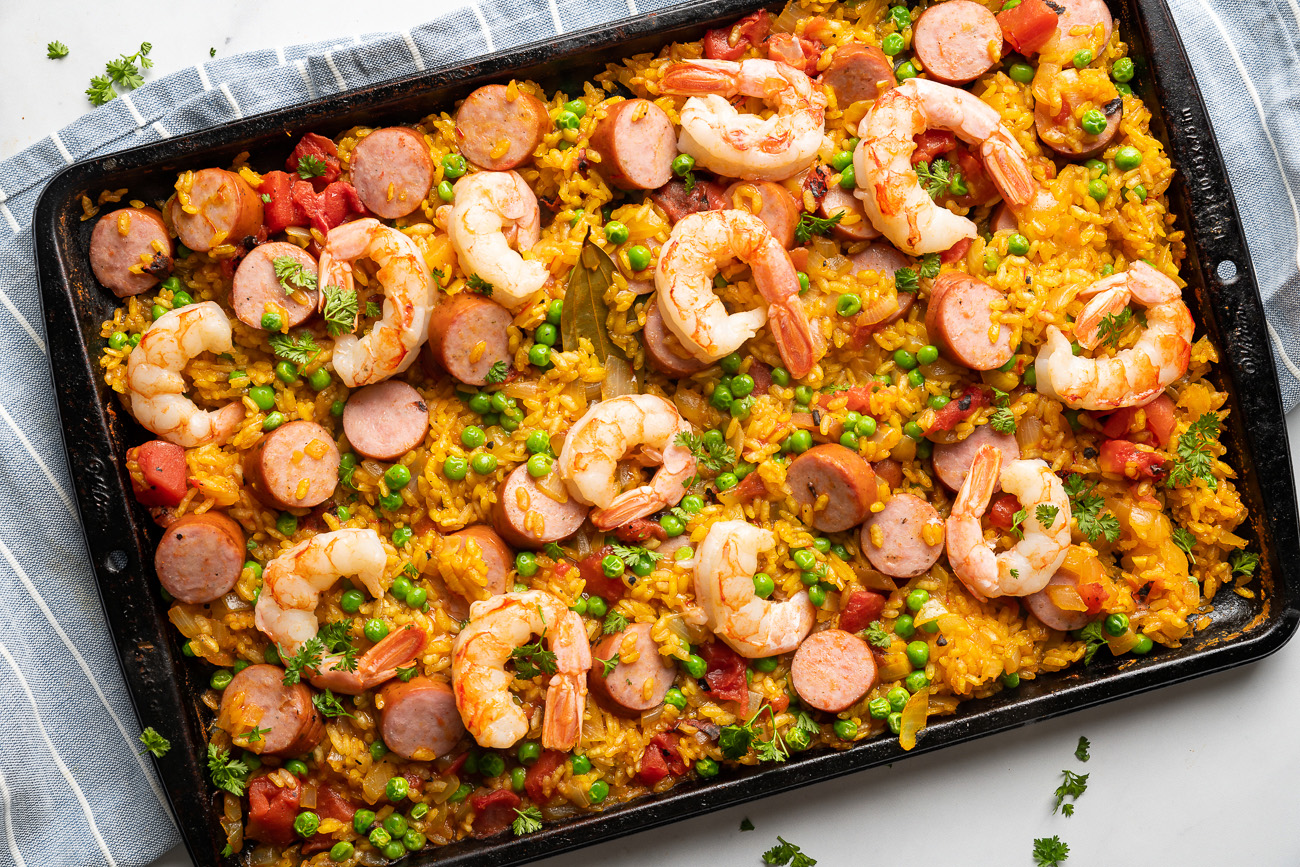 Paella is Spain's answer to the one-pan meal and thanks to its amazing savory flavor, it's an enduring classic all over the globe, but if you've ever stopped yourself from making it because you don't have a special paella pan, I've got great news for you — You can make the entire dish right on a sheet pan in your oven. You know I love a sheet pan meal and paella is no exception. This easy method turns out perfectly cooked, flavorful paella every time, complete with saffron-scented rice, spicy sausage, and succulent shrimp. It's a winner of a dinner!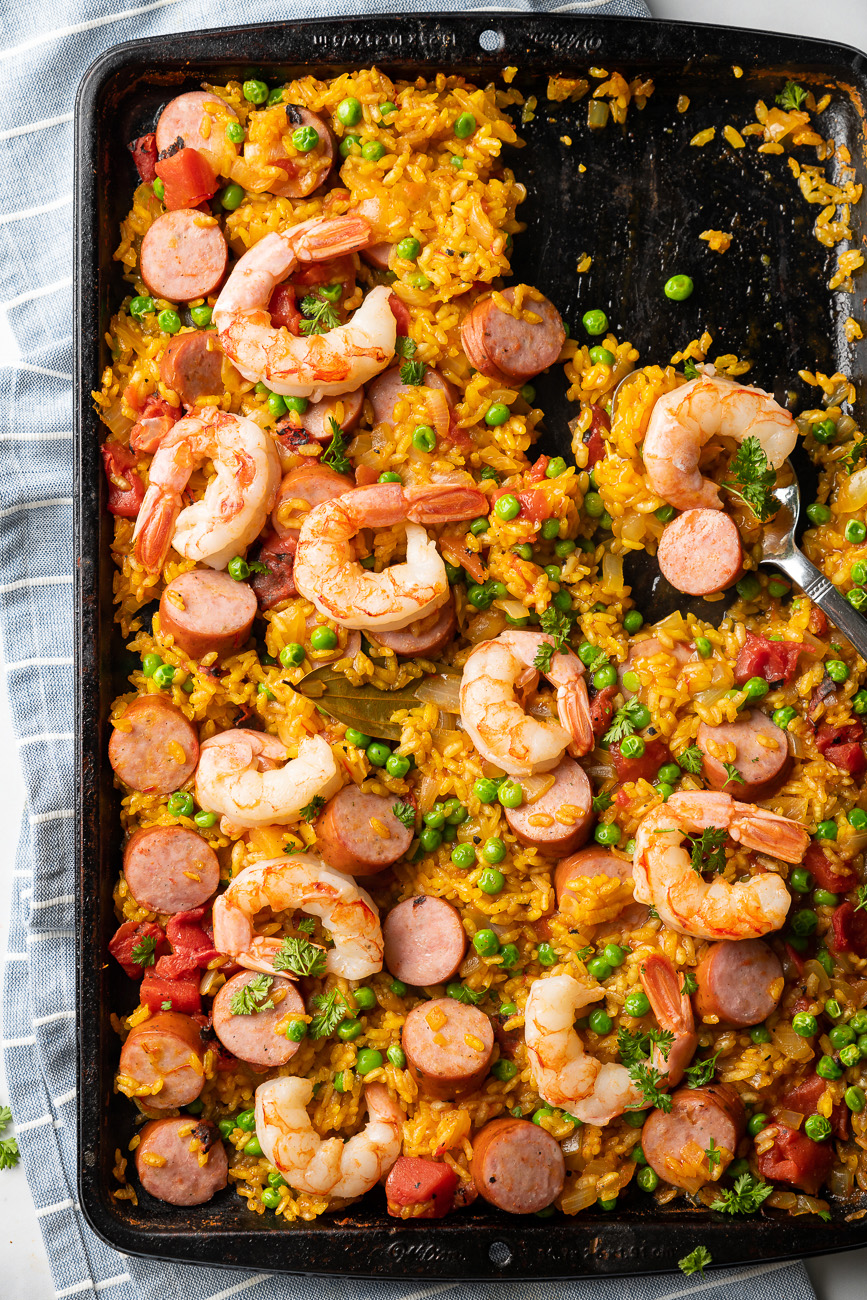 To start, you'll spread your rice out on a baking sheet and give it about five minutes in the oven to get toasty. This adds a layer of nutty flavor but also helps prevent sticky rice. We want a nice fluffy texture here! Bomba rice is the grain that's traditionally used in paella but it's hard to find outside of Spain, so arborio is your best bet. It's a short grain that absorbs a ton of liquid and it works very well for paella. (Not just risotto!)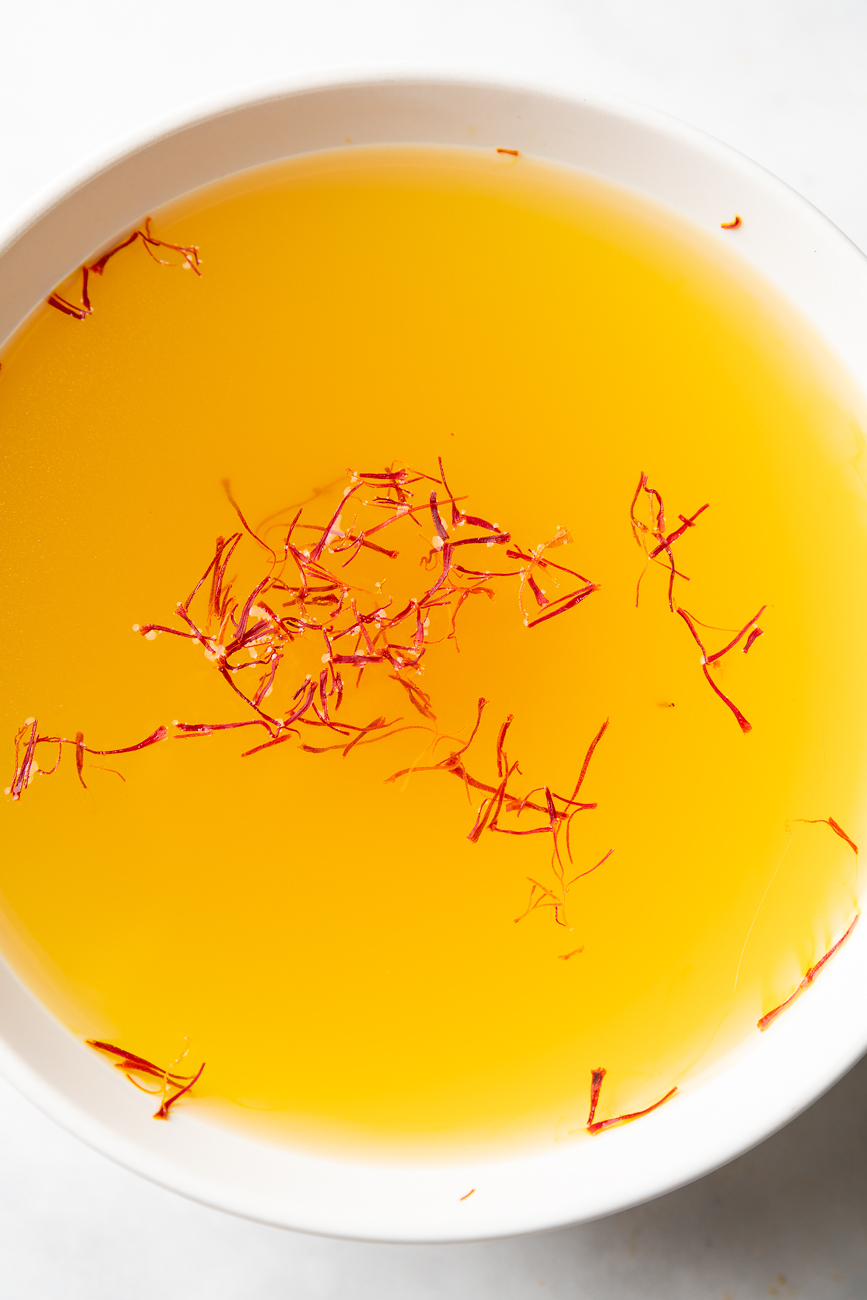 While your rice toasts, you'll mix some saffron, bay leaves, and paprika into chicken broth that you'll then mix with the rice on the sheet pan. Saffron is pricey, I know, but it's really not paella without it and a little goes a long way. Cover the sheet pan with foil or even another inverted sheet pan and return it to the oven for fifteen minutes to get a head start.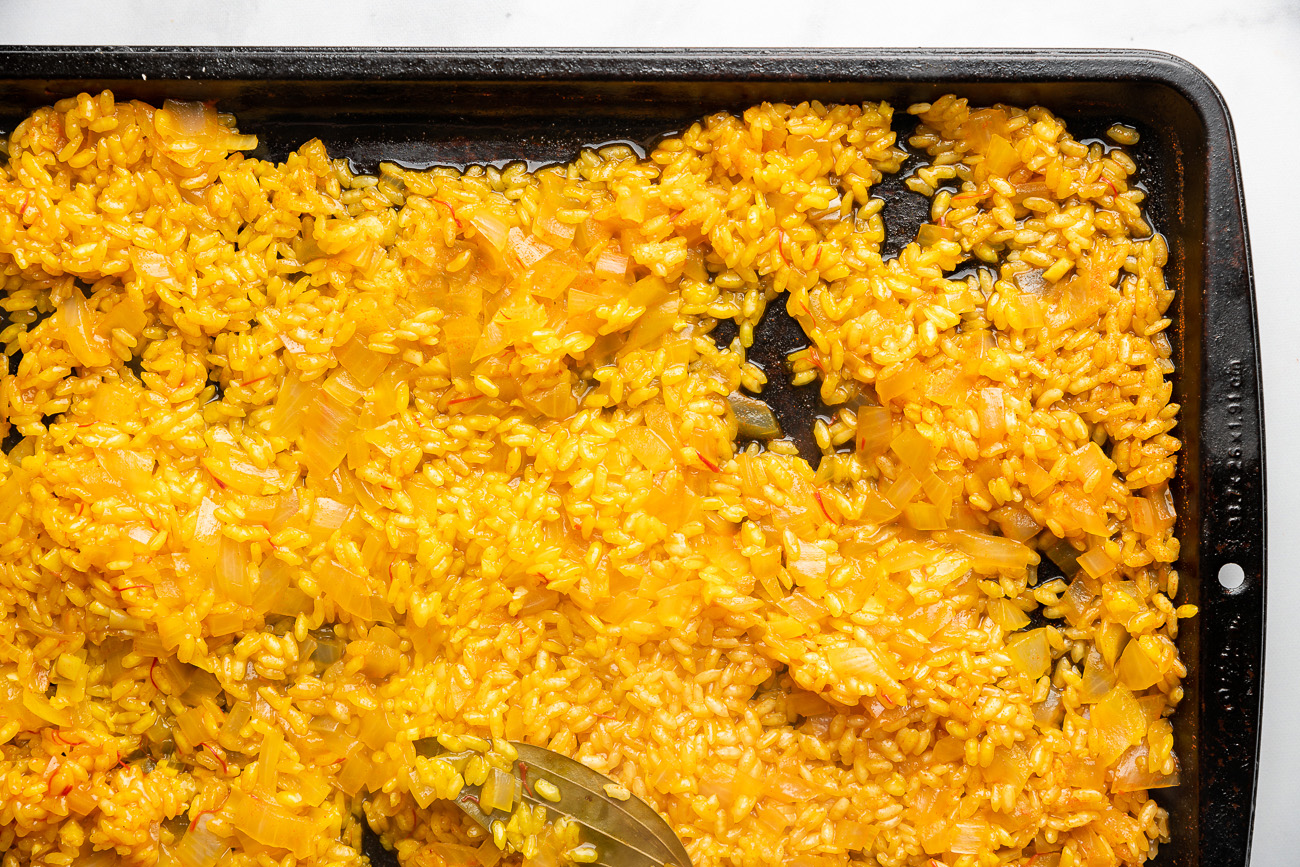 In that time, the rice will start to get tender and when you uncover it, you'll stir in some fire-roasted tomatoes, peas, and spicy chorizo. Now, some will say that peas and onions don't belong in paella, but this is Sheet Pan Paella and I think that gives you a little wiggle room in traditionalism.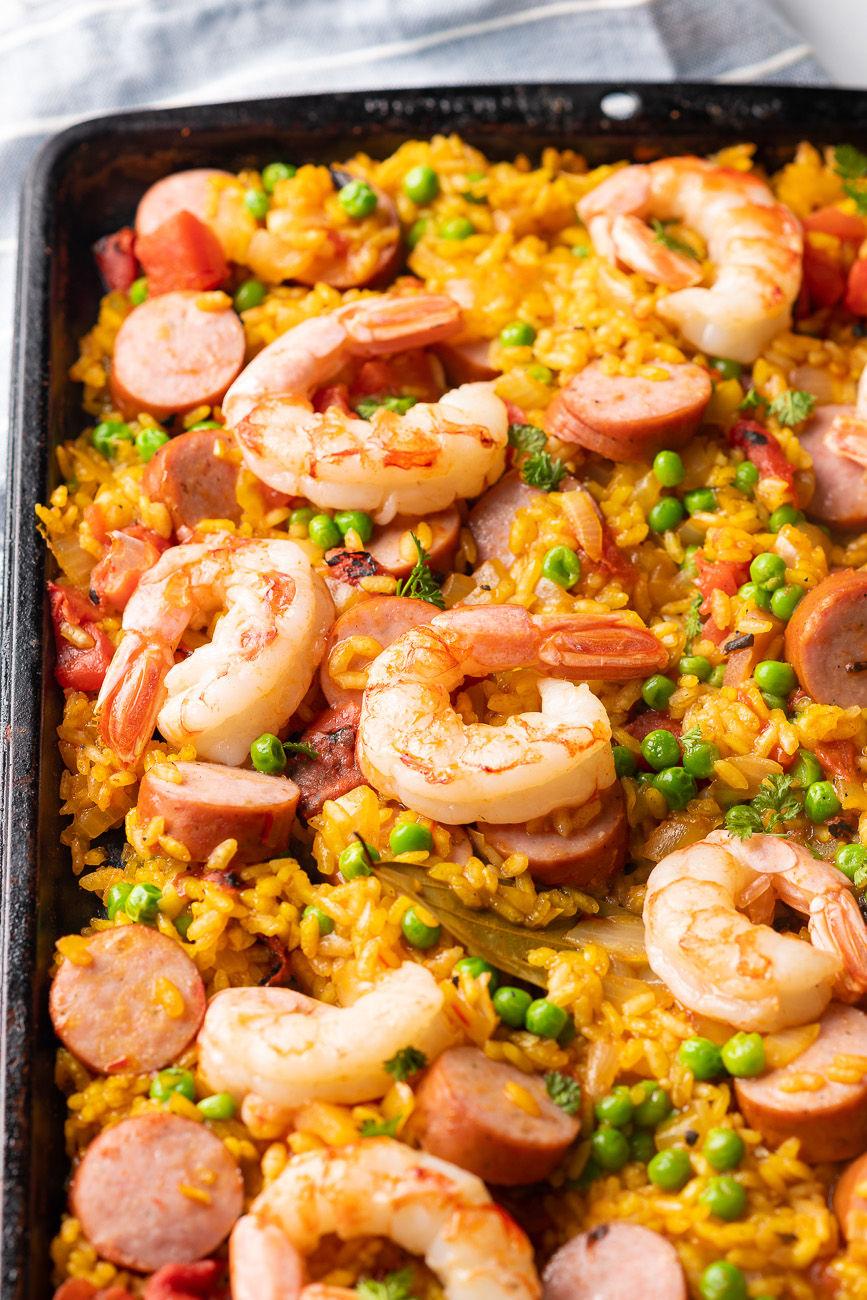 You'll need about a pound of shrimp to round this dish out. Toss them in olive oil, salt, and pepper, and scatter them across the top of the rice. In about ten minutes they should be perfectly cooked through and the rice should be too.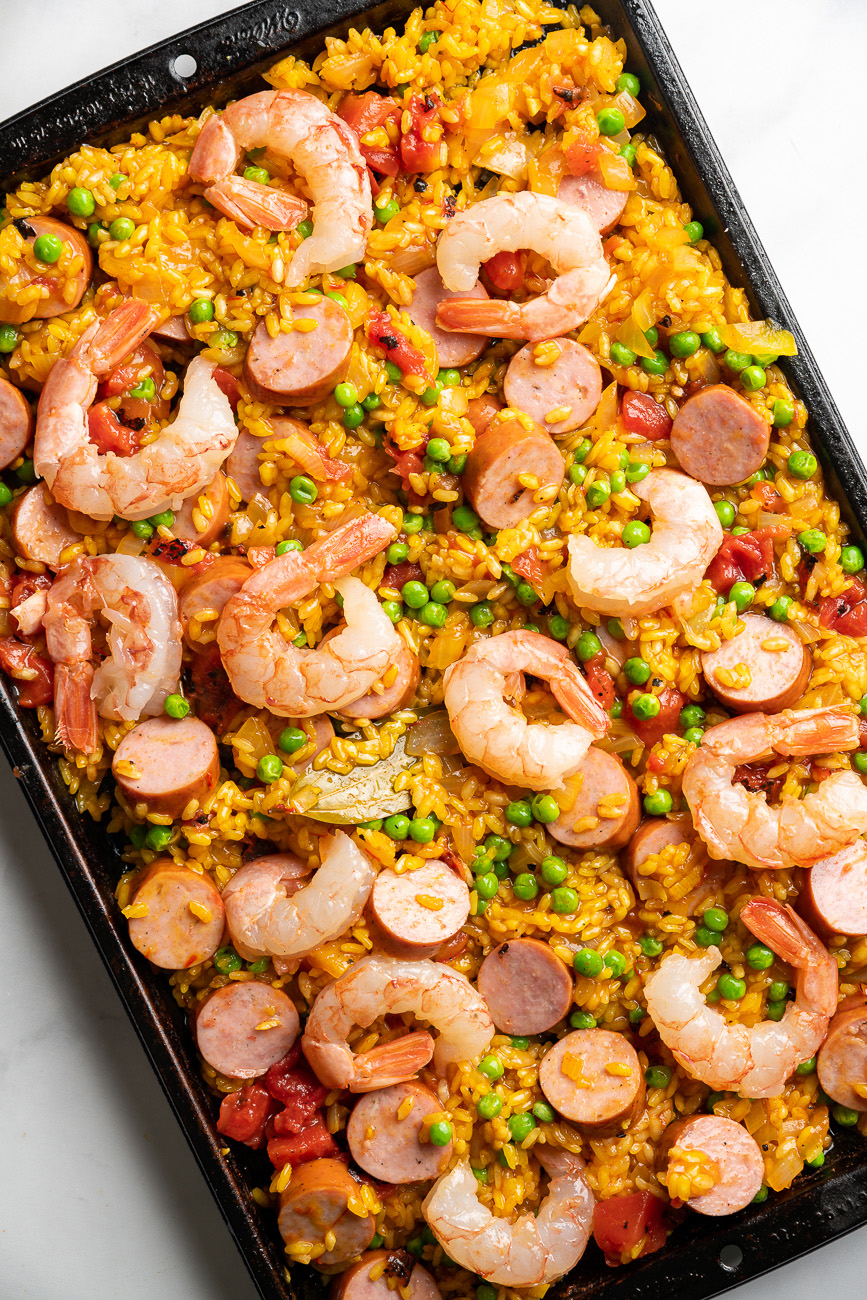 And that's it! You have paella! No fancy pan needed, just a trusty rimmed baking sheet and your oven. As easy as this is, it's a dish that feels special enough for company or a date night-in. It's delicious, for sure, but so simple to make.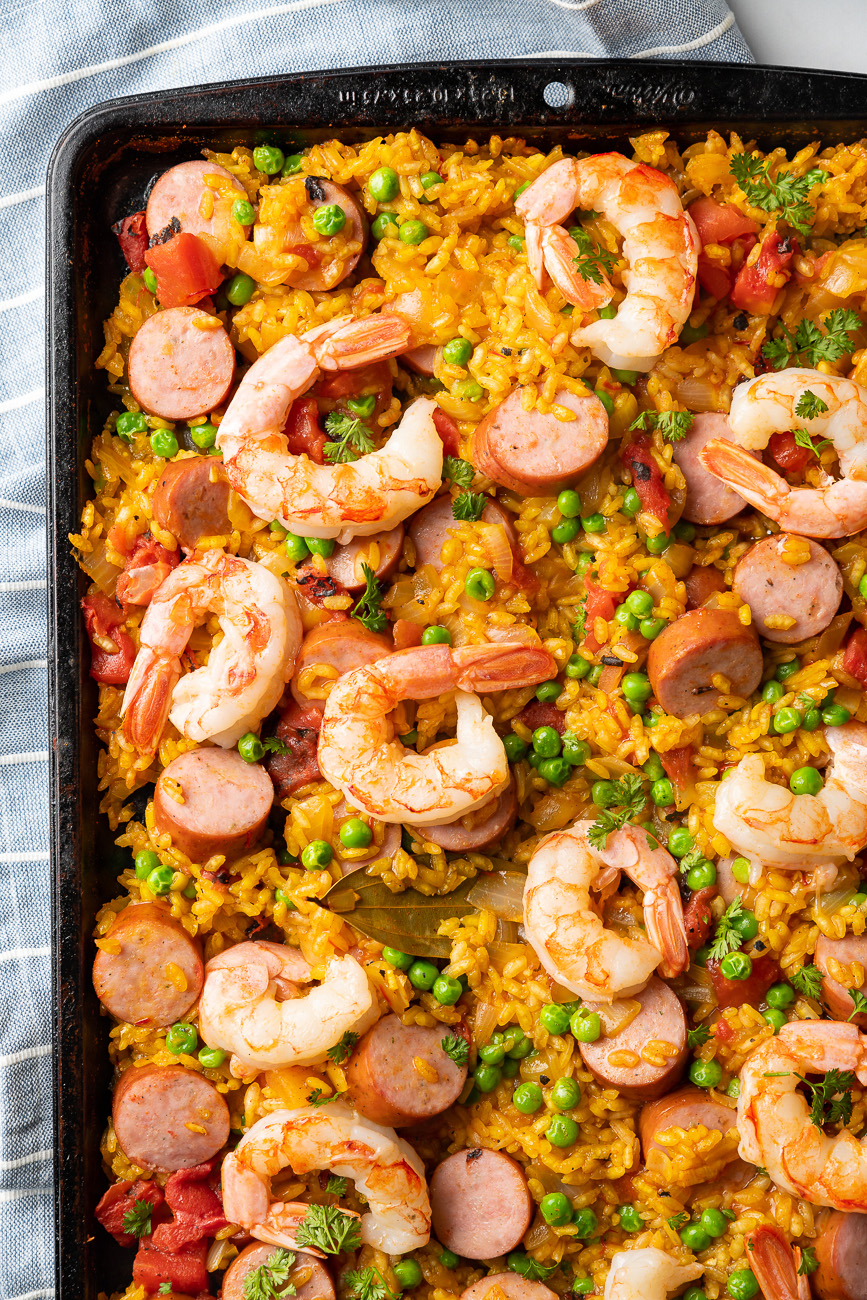 Easy Sheet Pan Paella
Serves 4
10m prep time
40m cook time
Ingredients
1 cup arborio rice
2 1/2 cups chicken broth
1 teaspoon saffron, crumbled
1 bay leaf
1 teaspoon paprika
3 garlic cloves, minced
1/2 Spanish yellow onion, diced
1 cup canned chopped fire-roasted tomatoes, drained
1 cup frozen peas
2 links Spanish cured chorizo, chopped
1 lb medium shrimp, peeled and deveined, but tails left on
1 tablespoon olive oil
2 tablespoons fresh parsley, finely chopped, for serving
Kosher salt and freshly ground black pepper, to taste
Preparation
Preheat oven to 350°F and spray a rimmed baking sheet with nonstick spray.
Arrange rice in a single layer on baking sheet and place in oven to toast for 5 minutes.
Meanwhile, stir together the chicken broth, saffron, bay leaf, paprika, garlic, onion, and some salt and pepper. Pour over rice and stir to combine. Cover loosely with aluminum foil or an inverted sheet pan and return to oven for 15 minutes.
Remove pan and uncover.
Stir in tomatoes, chorizo, and peas and spread rice out into an even layer. Season with salt and pepper.
In a medium bowl, toss shrimp with olive oil and salt and pepper, then arrange over the rice.
Bake until the shrimp are opaque and cooked through, 10-12 minutes.
Serve garnished with fresh parsley, if desired, and drizzle with more olive oil. Enjoy!
SKM: below-content placeholder
Whizzco for 12T