Coconut shrimp feels like such a special, tropical recipe, that we never think of trying to make it at home. Turns out, the homemade version is really easy and just as tasty! Now we've done a lot of research on this and it seems as though coconut shrimp is the dish that bridges the gap between seafood lovers and haters; there's something about the sweet and crispy coating, with the sweet and spicy dipping sauce that renders the shrimp palatable to everyone! Even if you don't think you'll like it, if you've never tried coconut shrimp before, you should now, it could be the dish that changes your mind!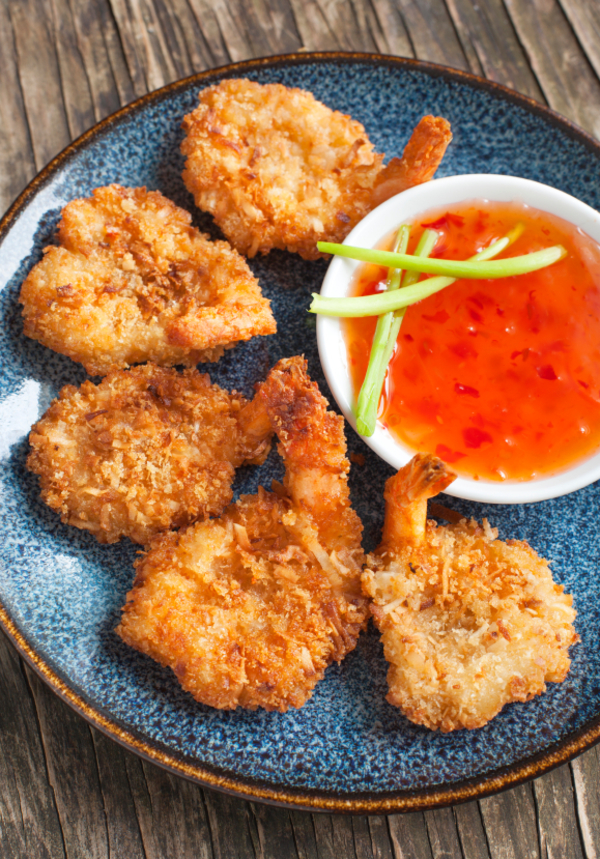 Coconut Shrimp with Sweet Chili Sauce
Serves 4
Ingredients
Shrimp:
1 pound medium shrimp, tails attached, peeled and deveined
1 cup Panko breadcrumbs
1/2 cup unsweetened shredded coconut (optional: use only 1 cup unsweetened coconut)
1/2 cup sweetened shredded coconut (optional: use only 1 cup sweetened coconut)
2/3 cup all-purpose flour
2 large eggs, beaten
salt and freshly ground pepper, to taste
vegetable or coconut oil, as needed
Sauce:
1 cup sugar
2/3 cup white vinegar
1/2 cup water, plus 1 tablespoon, divided
1 1/2 tablespoons chili paste (Sambal Oelek)
3 cloves garlic, whole, crushed
3/4 tablespoon cornstarch
1/4 teaspoon crushed red pepper flakes
Directions
Place flour, salt and pepper in one bowl, and beaten eggs in a second bowl. Set aside.
In a third bowl, combine breadcrumbs with shredded coconut and set aside.
Rinse your peeled and deveined shrimp, and pat dry with paper towels.
Butterfly cut your shrimp, cutting almost entirely through the middle of them, but leaving them attached on one side. (Like an open book.) Flatten them out, and season with salt and pepper.
In a Dutch oven or a deep pot, heat 2-3-inches of vegetable oil over medium-high heat.
In assembly line-fashion, dip your shrimp first in the flour mixture, then in the beaten eggs.
Shake off any excess and dredge shrimp in coconut and breadcrumbs. Press shrimp firmly into mixture to make sure coating sticks.
Depending on the size of your Dutch oven, work in small batches and carefully fry shrimp until golden brown on both sides. 2-3 minutes per side.
Use a slotted spoon to remove shrimp from oil and set on a paper towel to drain.

To Make Sauce:

Combine all sauce ingredients (except cornstarch and 1 tablespoon water) in a medium saucepan and bring to a boil.
Cook for 2-3 minutes before slowly stirring in cornstarch and 1 tablespoon water.
Continue to boil for 2 more minutes. Taste and adjust chili paste if needed. Remove garlic and allow to cool fully before serving.
Recipe adapted from Damn Delicious
SKM: below-content placeholder
Whizzco for 12T