Cheesecake is a great dessert because it's not too sweet, providing a nice departure from the norm. Similarly, Key Lime pie is a delicious treat because it's tart with just a hint of sweetness. Together, the two are magical.
This recipe takes some time, only because you have to wait for it to cool completely before you take it out of the oven (to avoid cracking), and then it's best if you wait several hours before serving; like a fine wine, the cheese gets better after it sits for a while. However, this dessert is well worth the time and we won't tell if you sneak a bite here or there. Try it and see if you don't become a total key lime cheesecake convert!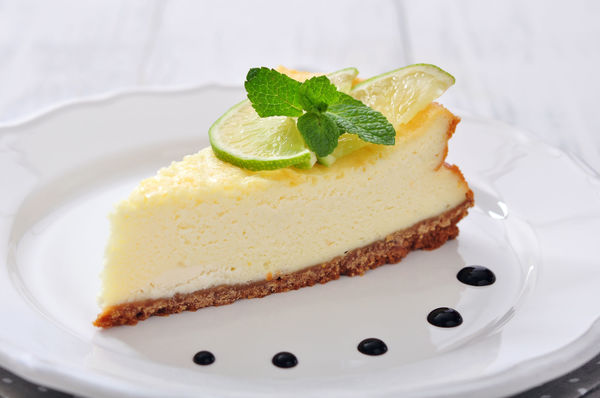 Key Lime Cheesecake
(Yields 10-12 servings)
Ingredients
Cheesecake:
1 pound (2, 8 oz. packages) cream cheese
2/3 cup sugar
1 cup sour cream
1/4 cup freshly squeezed (key) lime juice (or bottled)
2 tablespoons flour
3 eggs, room temperature
2 (key) limes, zested
1/4 teaspoon vanilla extract
water
Crust:
1 1/2 cups graham crackers, crumbled
1 stick unsalted butter, melted
1/8 teaspoon salt
Directions
Preheat oven to 350º F and wrap the bottom of a 9-inch springform pan securely in several layers of aluminum foil (so water doesn't leak into it while baking).
Place graham crackers and salt in food processor and pulse while drizzling in melted butter. When mixture is fine and crumbly, take it out and press it firmly into the bottom of pie pan. Place in refrigerator to chill.
Boil water for eventual water bath.
Using a mixer, beat cream cheese and sugar until smooth, then add in sour cream, lime juice, zest and vanilla extract. Scrape down sides of bowl, add flour and mix until smooth.
One at a time, mix in eggs, waiting until each is fully incorporated before adding the next one. Scrape down sides.
When everything is well mixed, pour batter into springform pan and place in a large roasting pan.
Put roasting pan in oven and carefully pour boiling water around springform pan, being careful not to go over the edge of your wrapped aluminum foil.
Bake for 55 minutes, or until cheesecake is just set, but still slightly jiggly in the center.
Turn heat off and leave cheesecake in oven for 45 minutes to an hour to cool completely.
Cover and refrigerate for 4-8 hours, or overnight.
Garnish with lime and mint and serve with whipped cream.
Recipe adapted from Crazy For Crust
SKM: below-content placeholder
Whizzco for 12T