Chocolate is a decadent treat that always hits the spot, comes in a plethora of varieties and is easy to make desserts out of. There's nothing better than knowing there's a recipe out there that is perfectly delicious and basically impossible to screw up! This chocolate drizzle almond bark is one of those recipes that you 'll find yourself having a mean hankering for and, we 're sorry to say, will probably distract you from other important things until you've satiated that craving. We know, we've created a monster–but it 's so good and easy, and it 's really not hard to whip up a batch and then continue going about your daily routine!
This bark is truly scrumptious and, although it does require serious patience while you wait for it to set, it comes together in a matter of minutes, without any hassle, so your prep is quick and you can get to eating it sooner! We love the addition of nuts and sea salt in our chocolate bark, but you could also add an assortment of dried fruit or white chocolate or mint to your bark if you want to switch it up. It's okay to go crazy with this one, so let your stomachs be your guide and get started!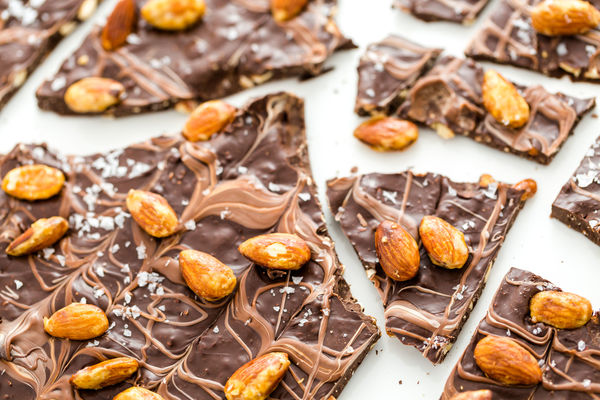 Chocolate Almond Bark
Yields 1 3/4 lbs.
Ingredients
1 pound good quality dark chocolate (62-70% cacao), finely chopped
4 oz. milk chocolate, finely chopped
1 1/2 cups toasted almonds
1 tablespoon butter
1/2 teaspoon vanilla extract
coarse sea salt or fleur de sel
Directions
Line a rimmed baking tray with parchment paper or a baking mat.
Arrange a double boiler by setting a small saucepan, 1-inch full of water, to simmer over low heat.
Place a heat-proof bowl over the water and pour in chopped dark chocolate. Stir until melted and smooth.
Place milk chocolate and butter in a microwaveable bowl and microwave for 30 seconds. Stir and microwave for another 30 seconds until melted.
Pour dark chocolate onto baking sheet and drizzle melted milk chocolate over the top.
Lightly drag a knife across the top to achieve marbled swirl pattern.
Drop toasted almonds down onto the chocolate and sprinkle with a light layer of sea salt.
Refrigerate at least 2 hours, or until set.
Once chilled, break into pieces and store between layers of parchment paper.
Recipe adapted from Epicurious
SKM: below-content placeholder
Whizzco for 12T