The modern day one – pan steak and potatoes!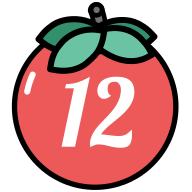 Dom Ruane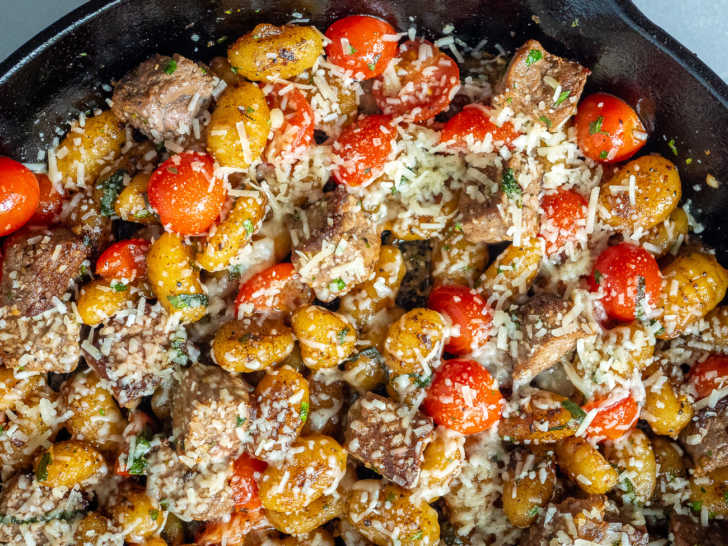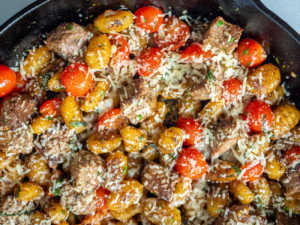 The modern-day steak and potatoes. Who knew gnocchi and steak would be such a match made in heaven? A one-pan juicy seared steak and seared gnocchi tossed with fresh basil, lemon, and parmesan cheese. I'm surprised this combination isn't in all steakhouses across the US. A full dinner in less than 15 minutes. This cheesy recipe is gonna have you cheering for the store-bought gnocchi. Did yall know we have good store-bought gnocchi now? It's 2022, the store even has fresh pasta on hand. Gnocchi from the store may not taste homemade, but the texture keeps the pasta from falling apart and helps it crisp in the pan. Homemade gnocchi could NEVER!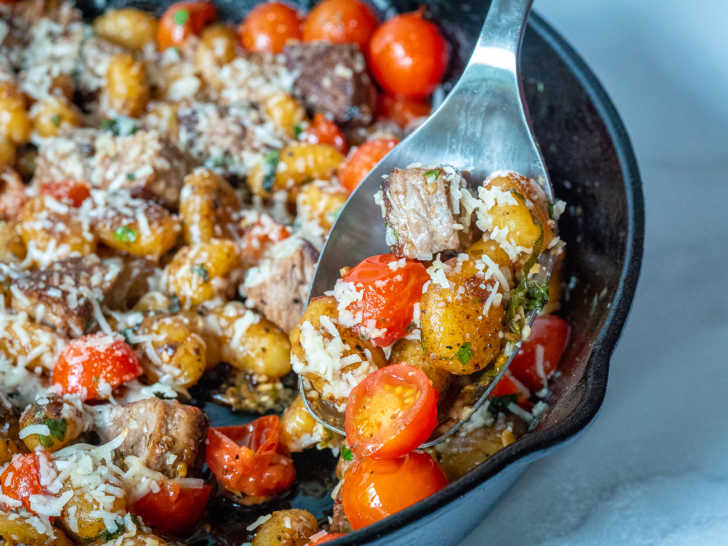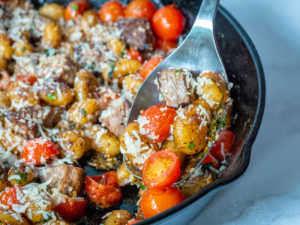 One time I cooked gluten-free gnocchi primavera for a private dinner party this lovely couple in Chicago hired me for. I spent hours making this gnocchi, then I boiled it and it turned to back mashed potatoes. That's not supposed to happen. Point is, always buy store-bought… no totally kidding. Homemade pasta has a time and place. Make life easier and start experimenting with the store-bought stuff. It exists for our convenience. Gnocchi is a potato-centric pasta made using mashed potatoes, a little egg, and flour. The flour dulls the taste of the potato, but when you crisp the gnocchi, those potato flavors shine through. It cooks faster than cut potatoes and is just plain cuter than potatoes. You got to try this.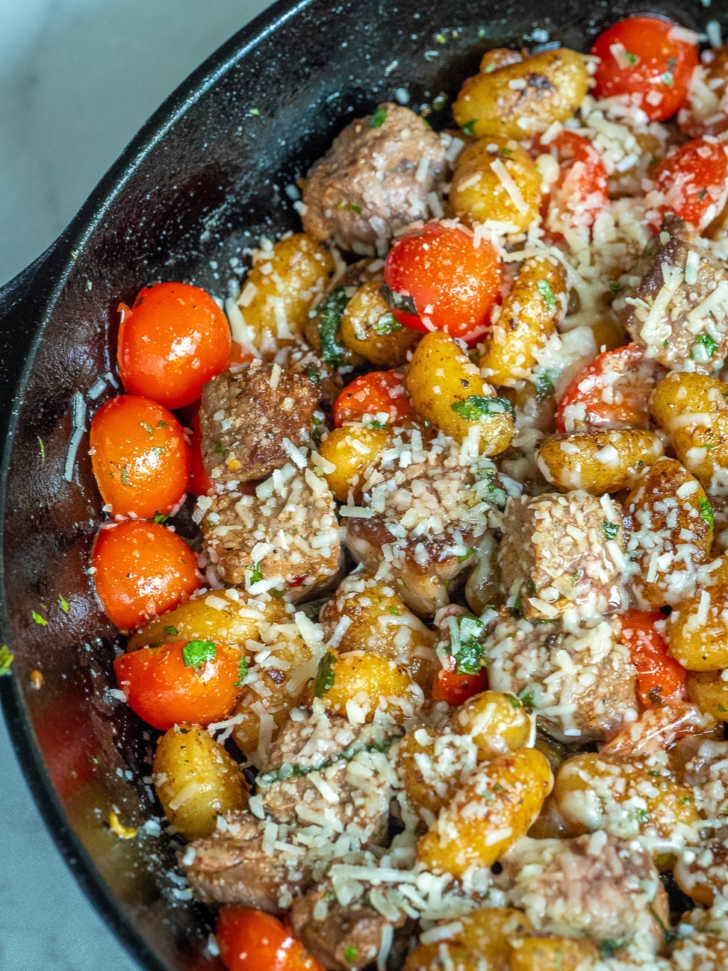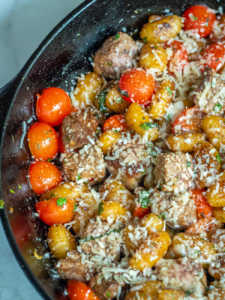 What kind of cut of steak should I use? Great question. Use a cut with minimal connective tissue that's not already cut into cubes. Stew meat will NOT work for this, too much connection tissue to cook down. We want cuts from around the loin area of the cow with less muscle tissue, which means it's more tender to eat when cooked. These are our sirloin steaks, strip steaks, ribeyes, and tenderloins. Steak bites are all about searing. Great practice for those who want to learn how to sear steak properly. High heat, heavy-bottomed pan, and dry meat are the most important factors in searing. Get comfy with some tongs, 1 min per side, and let those steak bites get crispy.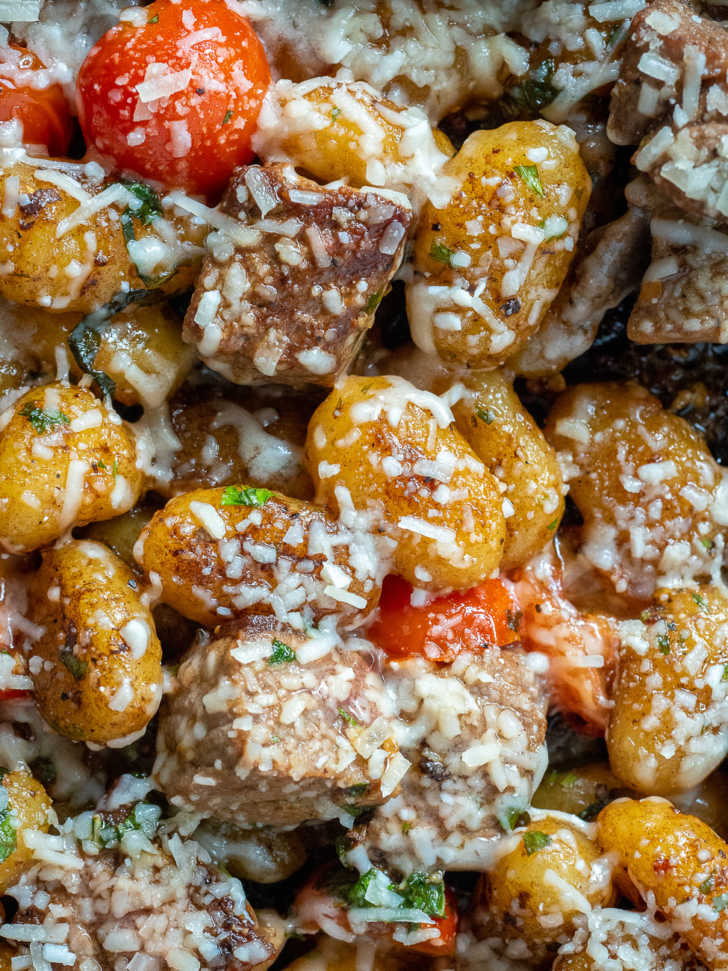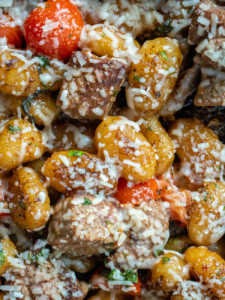 Crispy Gnocchi & Steak Bites
Serves 4
15m prep time
15m cook time
Ingredients:
1 lb. store-bought gnocchi
8 oz. sirloin steak, cut into 1 in. cubes
2 tablespoons butter
2 tablespoon olive oil
4 garlic cloves, minced
1/4 teaspoon crushed red pepper flakes
1 cup cherry tomatoes, halved
2 tablespoon fresh basil, julienned
1 tablespoon fresh parsley, minced
1 lemon, juiced
1/2 cup Parmigiano cheese, grated
Kosher salt and freshly cracked black pepper, to taste
Directions:
Boil gnocchi in salted water for 2 - 3 minutes or until they float.
Heat up a cast iron pan over high heat with olive oil and butter.
Season steak with salt and pepper and brown each side in the cast iron pan. About 1 minute per side. Remove cooked steak to a plate.
Add cooked gnocchi to the cast iron and toast gnocchi for 2 - 3 minutes over medium high heat until the pasta starts to brown.
Add garlic cloves and crushed red pepper to gnocchi until garlic starts to brown. Add cherry tomatoes and cooked steak pieces.
Toss pasta with basil, parsley and lemon. Taste for seasoning.
Garnish with cheese and serve.
Mangia!
Recipe adapted from Best Beef Recipes and The Stay at Home Chef.
SKM: below-content placeholder
Whizzco for 12T