This simple dish of skillet fried crispy potatoes is a Swiss national favorite.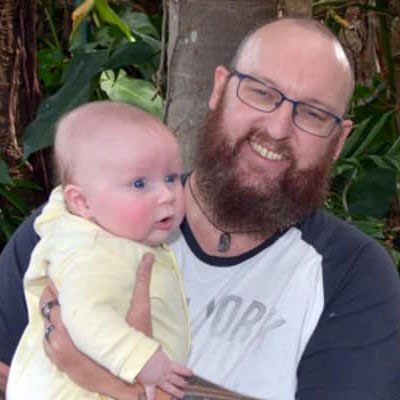 Jono Elderton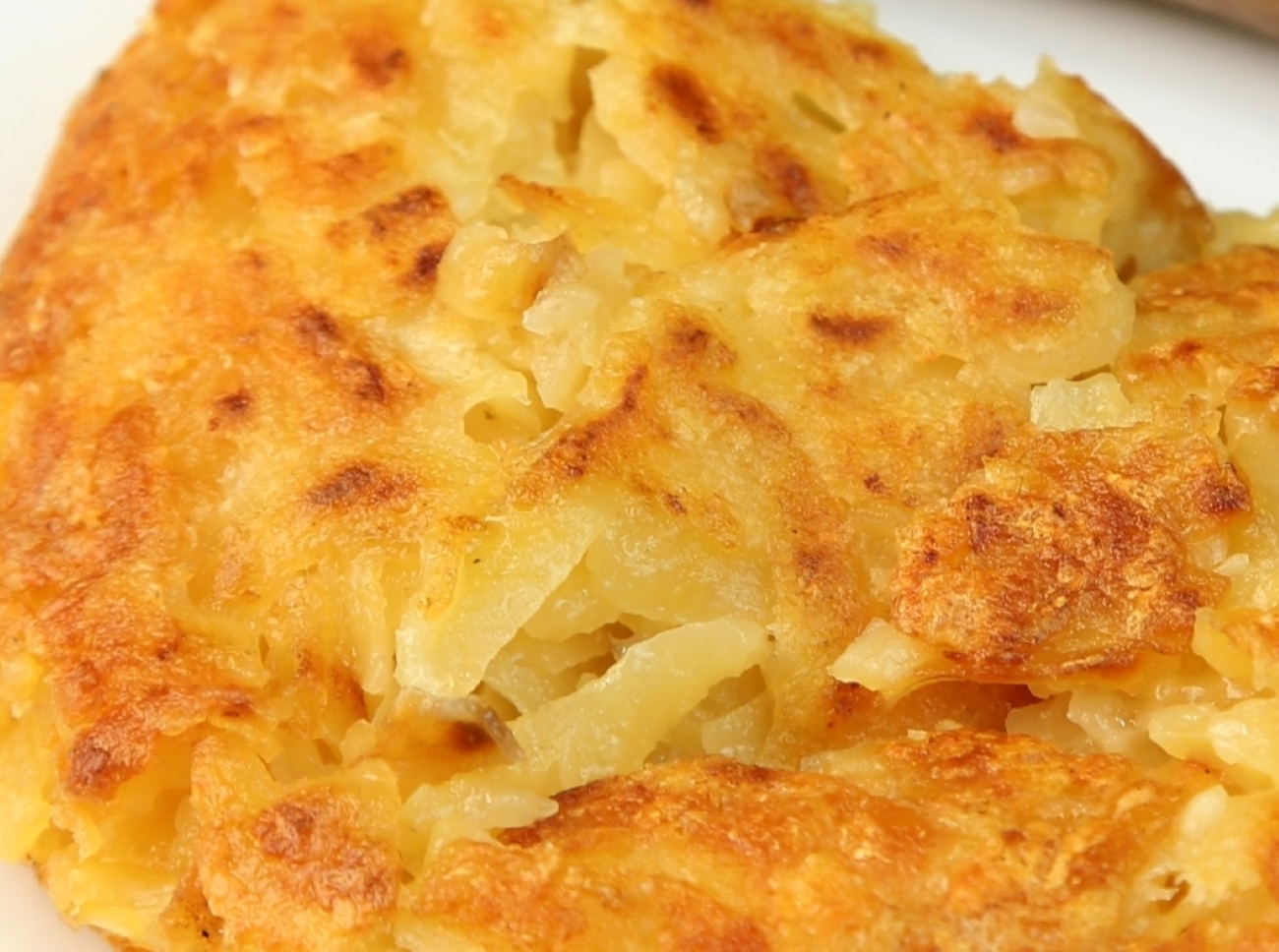 Skillet crisp potato rosti is a Swiss national treasure, and a truly great side dish you can enjoy with just about any meat or poultry. While it's typically associated with beery dining (thanks to the perfect pairing with schnitzel), rosti is traditionally deployed as a breakfast side dish cooked in a single skillet.
This potato rosti recipe below is plenty for 4-6 people and has only a few ingredients; potatoes, onion, and ghee. It is cooked in the traditional one-skillet method, that's then divided into portions during serving. Preparing and cooking rosti in this manner is the simplest method, and provides a beautiful texture contrasting the crispy layer outside with a fluffy middle.
The options are endless for adding ingredients to the crisp and golden potatoes, however I've found that simplicity often works the best in creating a deliciously flavorful side. I can even do away with the onion, however it goes wonderfully with the fat and starch, adding a tremendously earthy, rustic flourish of flavor.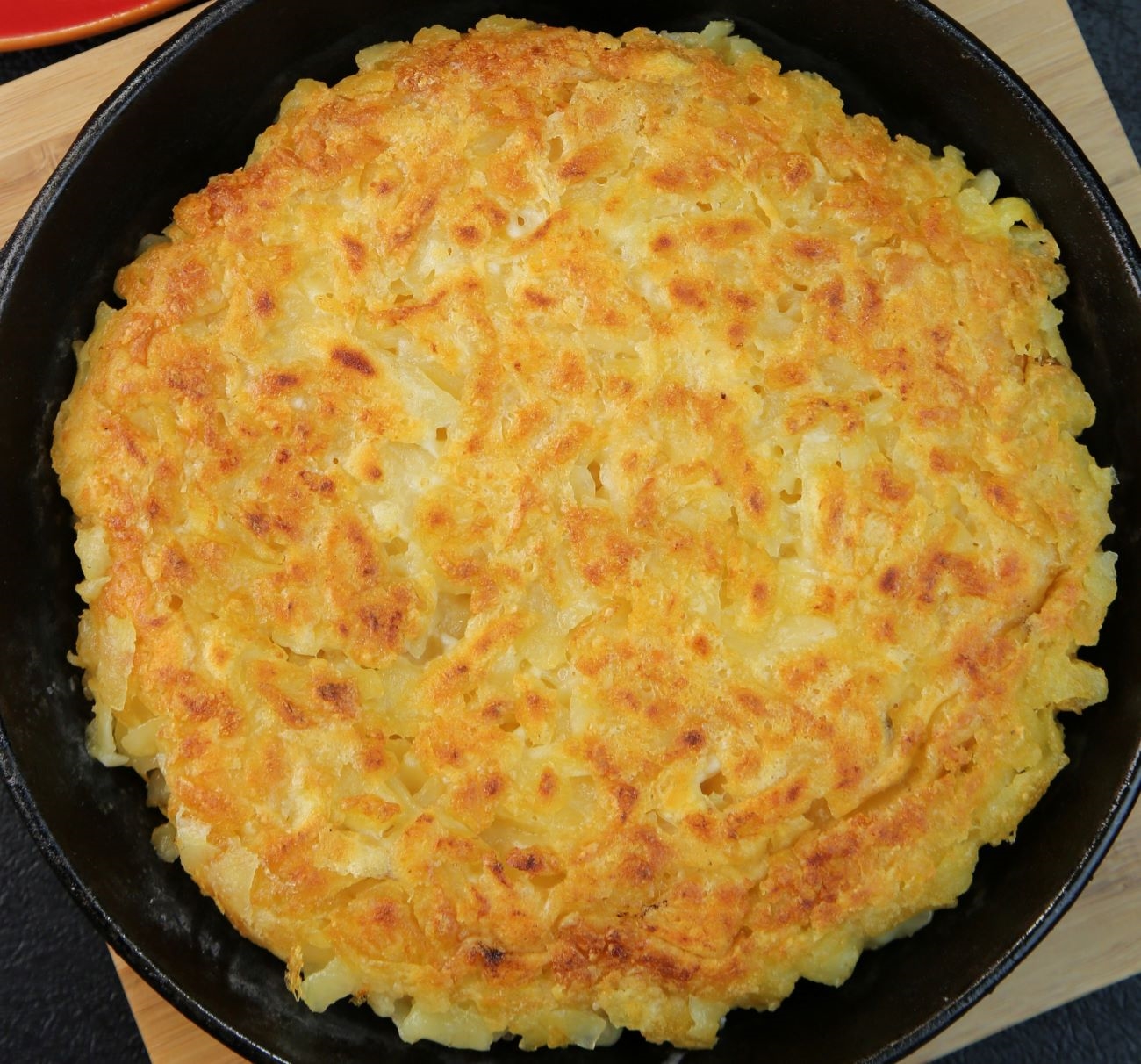 There are a couple of important steps that should be taken when creating the perfect potato rosti. First, the crispness factor is determined by the fat content and how it binds with the starch, which is why using ghee (or other types of clarified butter) works the best at creating the beautiful golden color and crisp outside layer. As an alternative, you can use a similar combination of butter and vegetable oil (on a 3:1 ratio), however ghee makes a huge difference to the end result and carries a better, more intensely buttery overall flavor.
Second, I also like to make sure that I've wrung excess water from the potatoes, after grating and prior to mixing the spuds with other ingredients. There's no need to go overboard and put the potatoes through cheesecloth, however getting rid of moisture helps maintain the crispness while the rosti is cooking, and there's still plenty of water inside the potato strings to help cook through the middle while staying fluffy.
And third, there's the temptation to speed up the process of frying the rosti, however pre-heating the skillet and maintaining a low-medium temperature ensures everything cooks without burning while allowing the potato inside to cook through evenly. Trust me, it's worth the wait to take your time and create these decadently golden potatoes!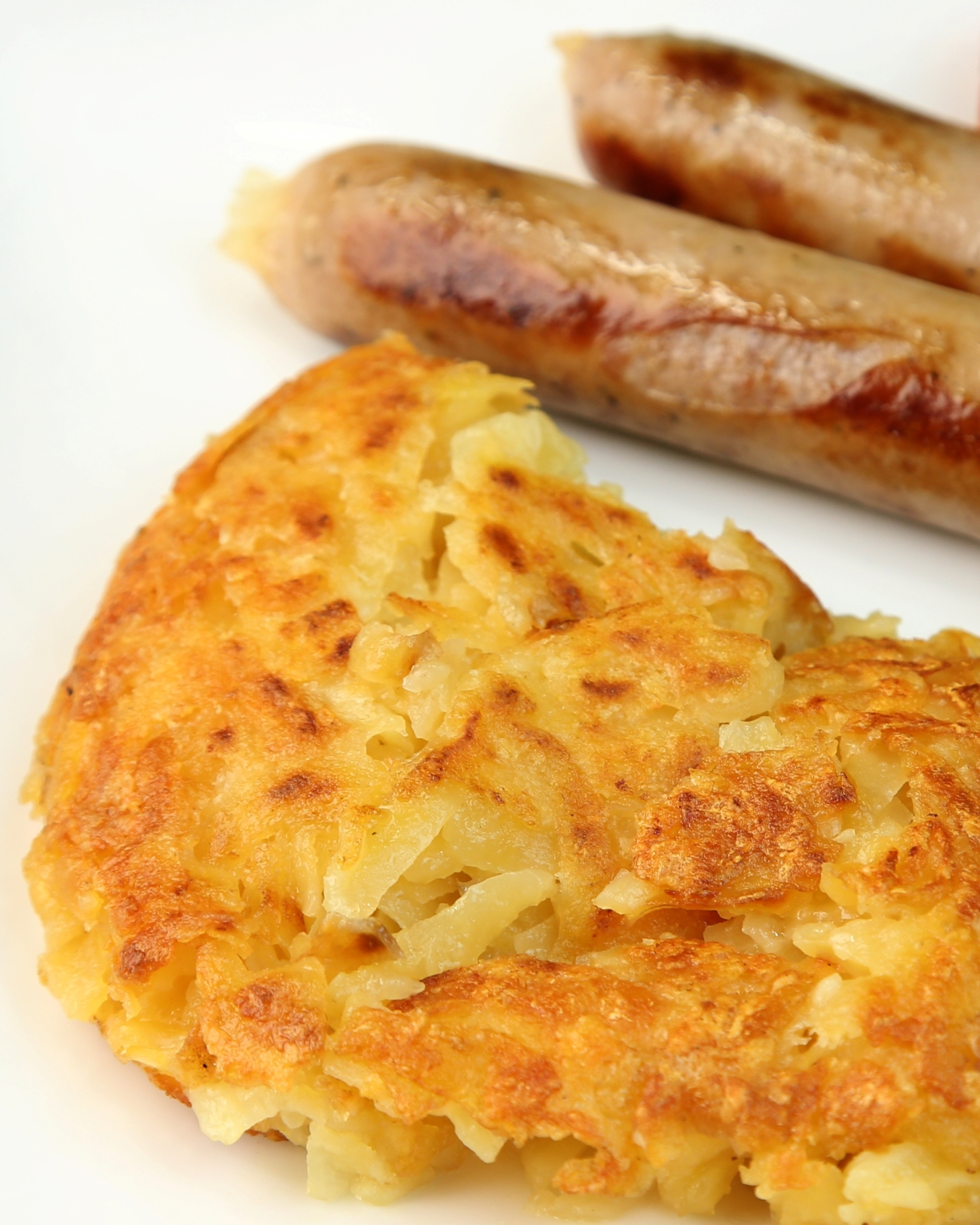 Skillet Crisp Potato Rosti
Serves 4-6
10m prep time
25m cook time
Ingredients
4-5 medium Yukon Gold potatoes, peeled
1 medium-large yellow onion, peeled
4 tablespoons ghee
Optional: 1-2 tablespoons fresh parsley, finely chopped
Kosher salt and black pepper, to taste
Preparation
Grate the peeled potatoes lengthwise into a mixing bowl with a box grater.
Squeeze out excess water from the potatoes, then grate onion and add to the bowl. Add salt, pepper, and ghee, then mix together thoroughly.
Place mixture loosely into the base of a pre-heated skillet to a depth of 1.5 inches. Cook for 13-15 minutes at a low to medium temperature.
With the help of a wooden chopping board, flip the rosti over. Cook for another 13-15 minutes.
Slice rosti into 4-6 sections as required. Sprinkle with salt and pepper, and serve immediately.
Recipe adapted from Recipe Tin Eats
SKM: below-content placeholder
Whizzco for 12T