An easy DIY answer to a common cookie craving.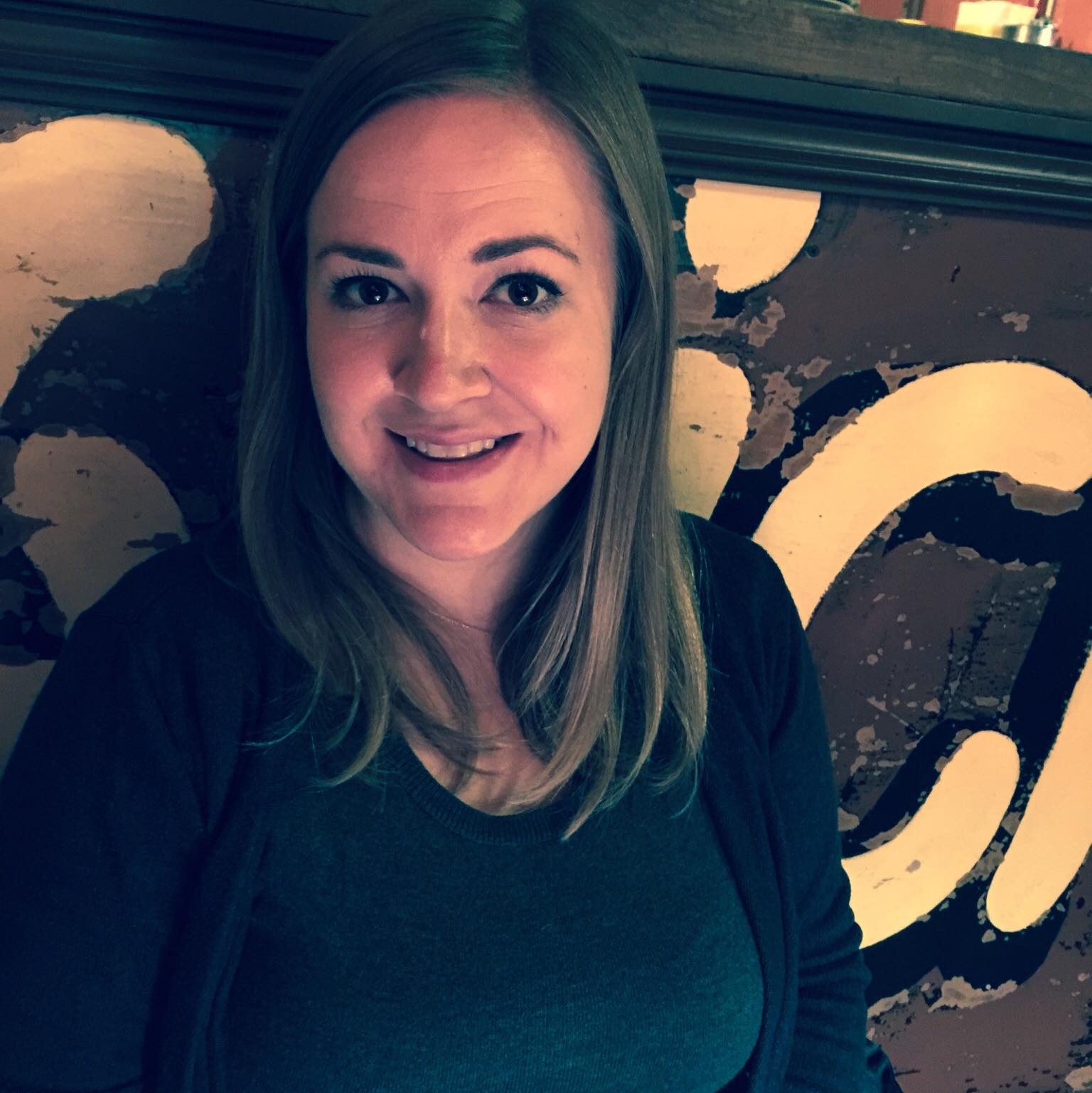 Kristy Norrell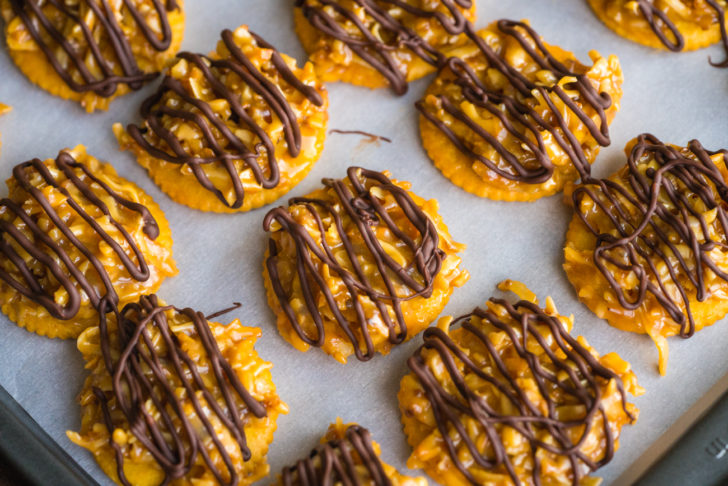 We all have a favorite Girl Scout cookie, and so we all know that it can be a long and sad wait for cookie season to roll around if you didn't stock up on enough boxes of your beloved while you had the chance. It's happened to the best of us, but never fear! If you didn't catch the girls in the green vests in front of the grocery store this year, you can always make your own. If Samoas happen to be your favorite (and how could they not be? …what with the salty cookie crunch, chewy caramel, and sweet bite of chocolate and coconut), we've got you covered with a no-bake option that will satisfy that cookie craving in just twenty minutes.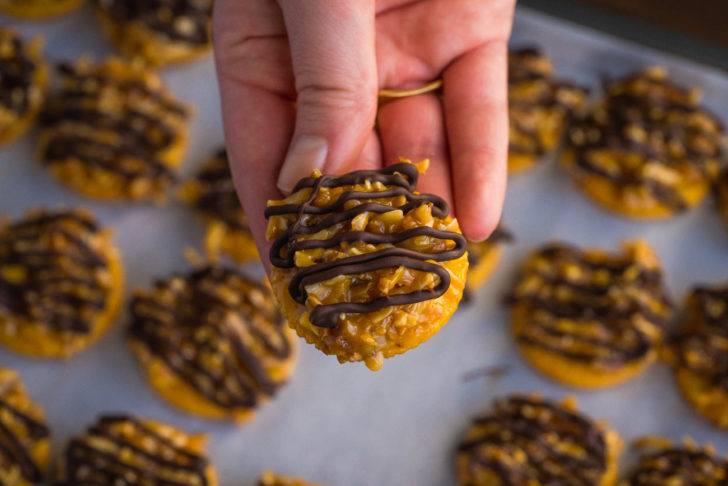 Our version requires a little bit of stove-time but no oven-time whatsoever, and that's thanks to the base we've chosen to use, which isn't really a cookie at all – it's a Ritz cracker! The cracker offers the same buttery and slightly salty crunch of the original cookie and maintains its crispness even though it's topped with soooo much goodness. While our version might not be a perfect twin to the original cookie in appearance, we can promise that it hits all the right flavor notes.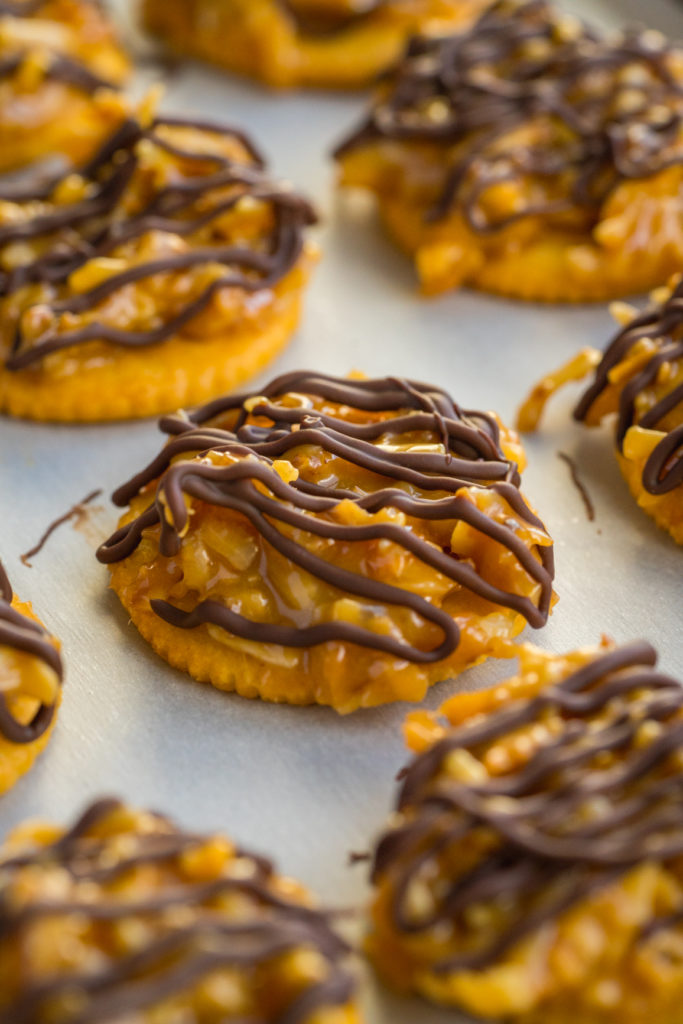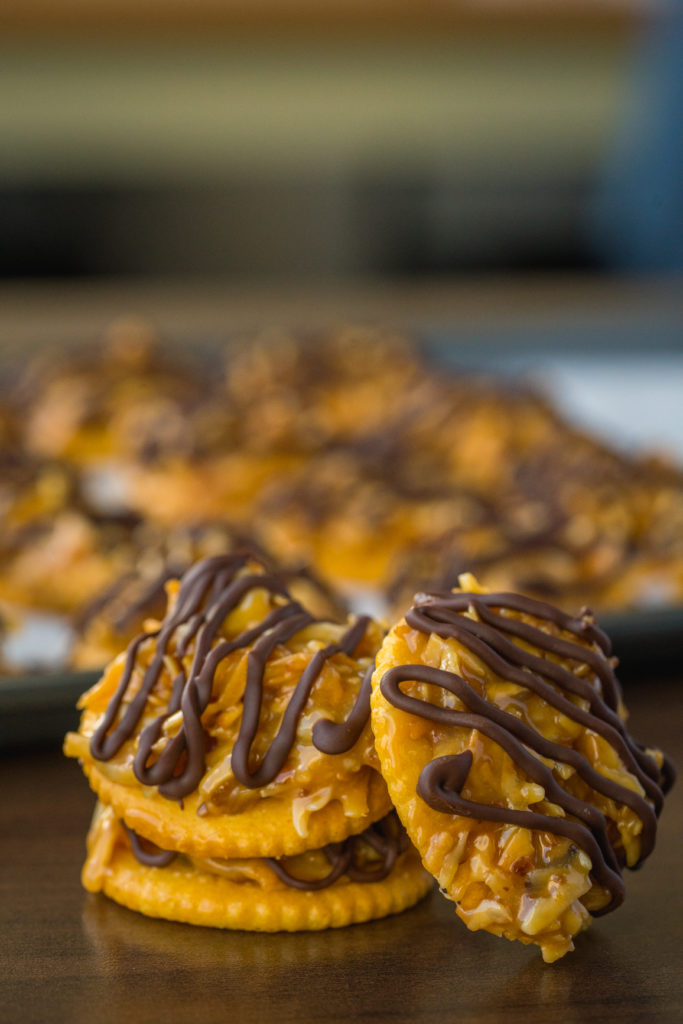 The buttery cracker is topped with a layer of chewy caramel and toasted coconut and the final flourish is a zig-zag drizzle of melted chocolate, just like the cookie you know and love. They say if something seems too good to be true, it probably is, but these DIY Samoas are as real as it gets. They're so quick, so easy, and just so good. They're just the thing to satisfy that all too common Girl Scout cookie craving, whenever it may hit.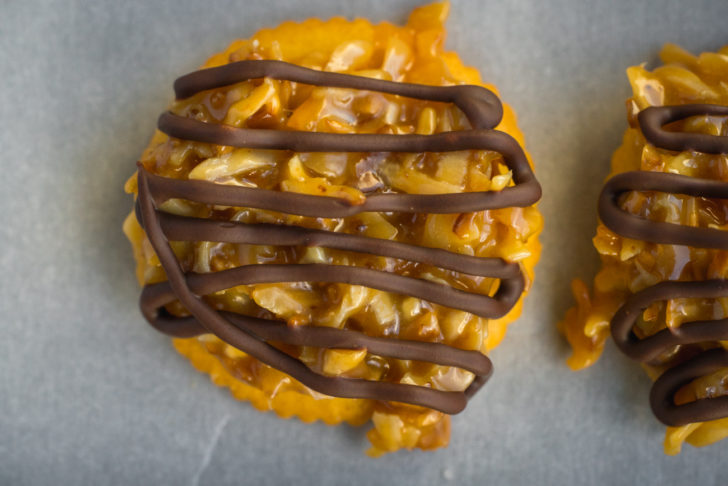 No-Bake Samoa Cookies
Ingredients
1 sleeve Ritz crackers (or 24 crackers)
1 (11 oz.) package caramel bits
3 tablespoons heavy cream
2 cups shredded coconut, toasted*
2 squares chocolate candiquik (melting chocolate) or 1/2 cup semi-sweet chocolate chips
Preparation
*Place toasted coconut in a large pan and cook over low heat for 3-5 minutes, stirring frequently, until coconut is lightly browned.
Line a baking sheet with parchment paper and spread Ritz cracker 2 inches apart. Set aside until ready to use.
Combine caramel candies and heavy cream in a large, microwaveable bowl, and microwave in 30-second increments, stirring in between, until melted and smooth.
Fold in toasted coconut until fully incorporated, then drop coconut caramel mixture onto Ritz crackers and spread into an even layer that covers the cracker.
In a (completely dry) microwaveable bowl, microwave chocolate in 30-second increments, stirring in between, until melted and smooth. Let cool 5-10 minutes.
Optional: transfer melted chocolate to a resealable plastic bag and snip off corner.
Use a spoon or sandwich bag to drizzle (cooled) melted chocolate over cookies.
Let set before serving or store in an air-tight container. Enjoy!
Recipe adapted from The Domestic Rebel.
SKM: below-content placeholder
Whizzco for 12T