Because nothing beats fresh bread out of the oven.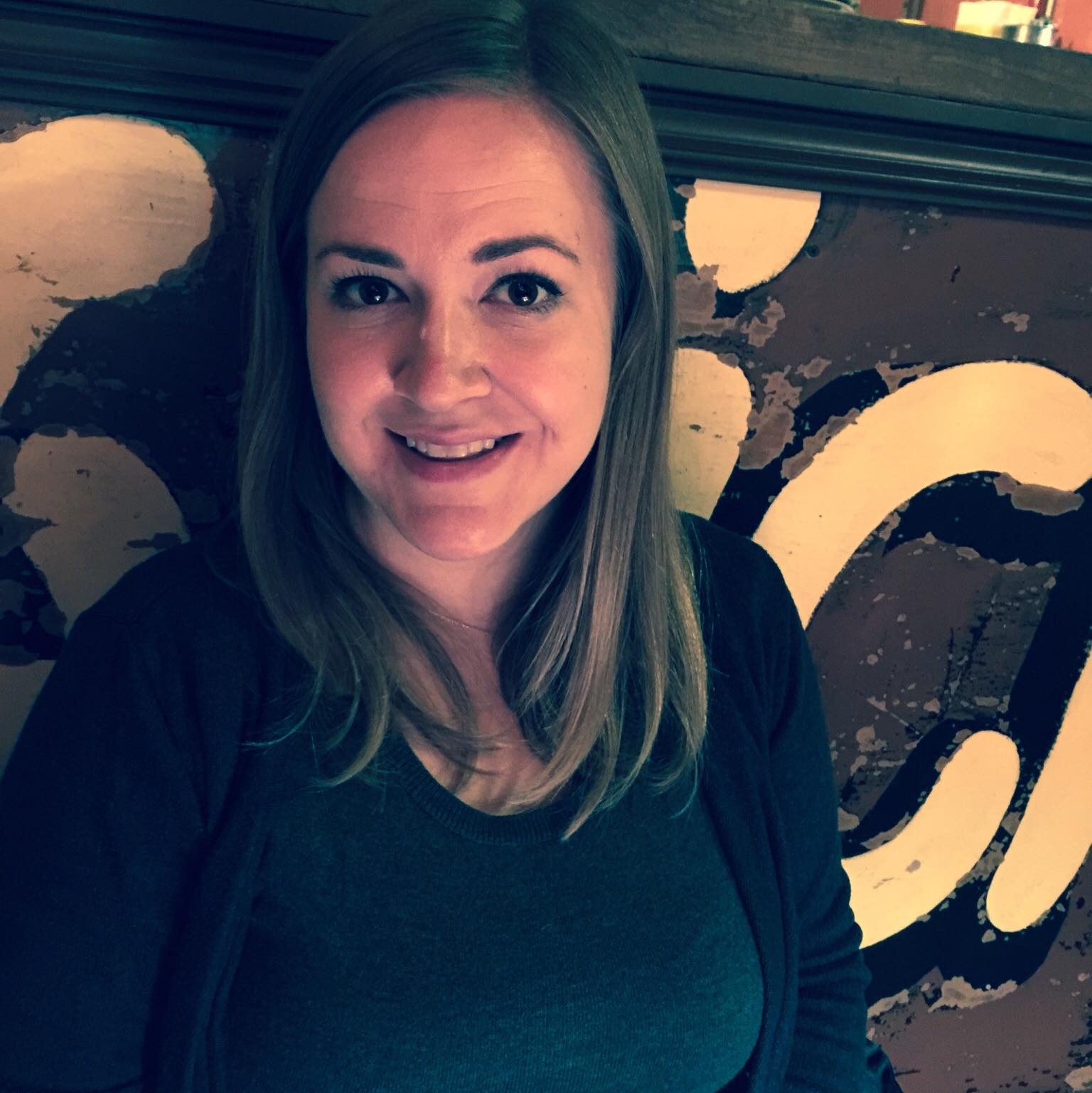 Kristy Norrell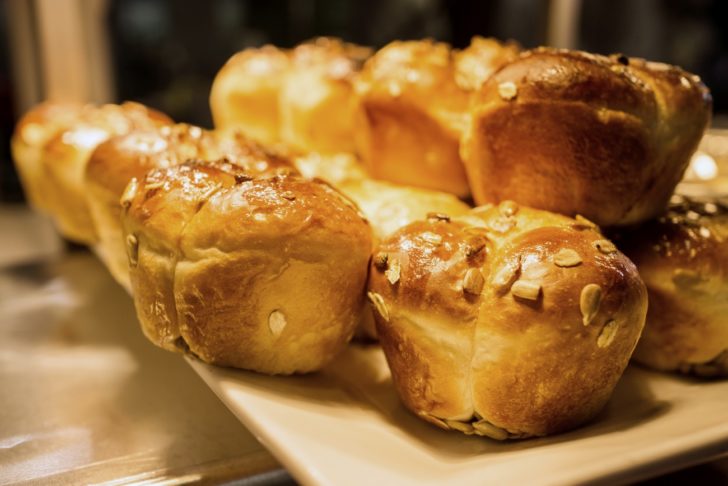 What's better than fresh, hot, buttery rolls to go along with dinner? Not much, friends, not much. But since rolls can be kind of an intimidating venture to take on at home, we often find ourselves turning to that familiar refrigerated tube. Or the bagged brown-and-serve variety. And those are both serviceable dinner accompaniments, sure. But we all know there's nothing quite like homemade… and with this easy roll recipe, there's just no reason to resort to storebought! Because these are done in just an hour. That's it! They're the perfect roll for beginning bread makers. They're simple to make and buttery and soft and pretty much heaven-sent.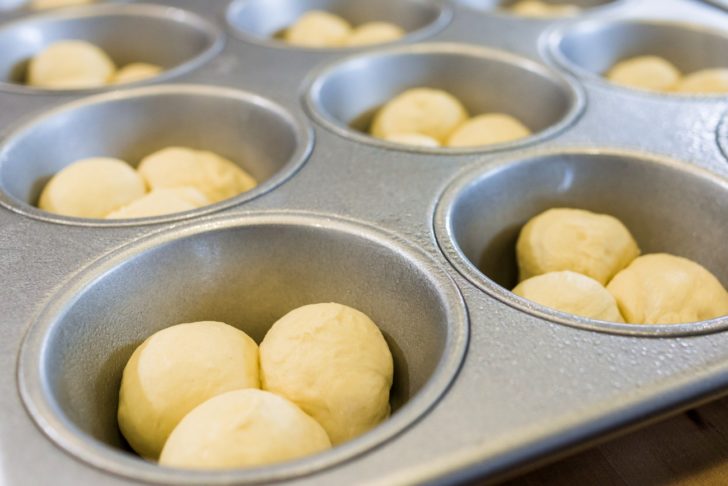 You warm some milk, butter, and sugar on the stove, and let it cool a bit before adding in the yeast and water. Once that has become foamy, you add the flour and mix until the dough holds together well. If you have a stand mixer and a dough hook, it just takes a couple of minutes to knead the dough. But even if you're taking this on by hand, the kneading isn't a chore at all. It just needs a couple of minutes of attention, so little that you can even go ahead and knead it in the bowl. Then you set aside the dough to rest, just for 15 minutes, before you start dividing it into rolls.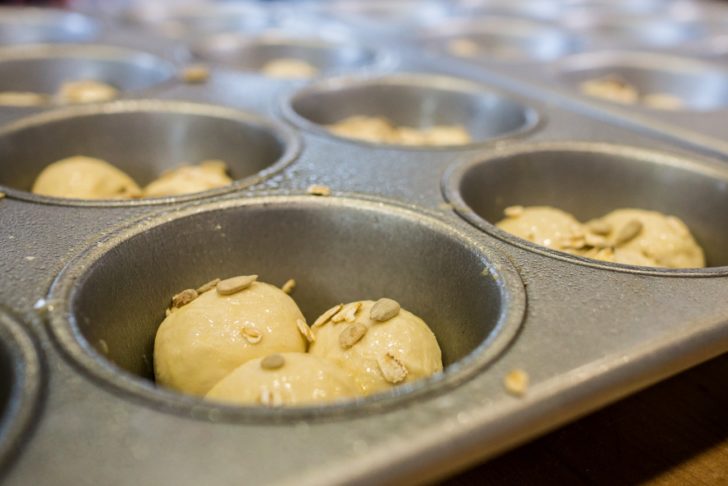 And we can't help saying that we love the little cloverleaf design of these rolls, which you achieve by placing three little balls of dough in each muffin cup. You just roll the dough into 1-inch balls and place them in the muffin tin before brushing them with a little extra butter. You can also sprinkle them with some seeds and oats. Or not. Up to you. We like the little extra bite it gives, but there would be absolutely nothing wrong with leaving these soft and doughy rolls simple.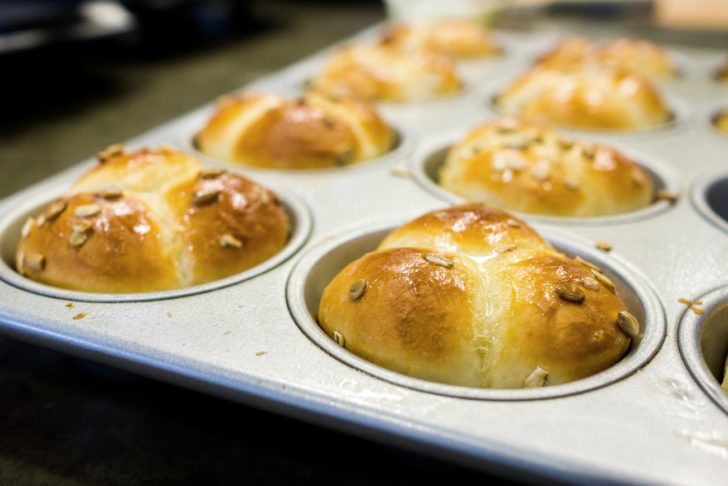 They get irresistibly golden in the oven and emerge hot and fluffy and cute enough that it would be easy to convince anyone that these came straight from the bakery. But luckily they're easy enough that you can whip them up in your own kitchen any night of the week!
Cloverleaf Dinner Rolls
Ingredients
3 cups all-purpose flour, plus more as needed
3/4 cup warm water
1/4 cup milk
1/4 cup unsalted butter, divided
1 packet (2 1/4 teaspoons) active dry yeast
2 tablespoons granulated sugar
1 teaspoon salt
Sunflower seeds and oats, for topping (optional)
Preparation
When ready to bake, preheat oven to 425°F. Grease a muffin tin with butter, set aside.
Add milk, sugar, and 2 tablespoons of the butter to a small saucepan and set over low heat. Heat just until butter melts and sugar has dissolved. Remove from heat and let cool to lukewarm (between 90° and 110°F).
Pour mixture into the bowl of a stand mixer and add warm water and yeast. Let sit until yeast becomes foamy, about 5-10 minutes.
Add 2 cups of the flour to the yeast mixture and mix on low for 1 minute using a dough hook. With mixer on low, gradually add remaining flour in 1/2 cup increments. Mix until dough starts to hold together, about 2 minutes. Continue kneading on low until dough is smooth and elastic, about 2 minutes. (If you don't have a stand mixer and dough hook, simply mix ingredients together by with a wooden spoon until dough holds together and sides of bowl are clean, and knead dough in bowl for 2-3 minutes.)
Grease a large bowl with nonstick spray or oil, and place the dough in it, turning dough over to grease top. Cover with a dry, clean towel and set to rise in a warm place for 15 minutes.
Turn dough out onto a lightly floured surface and pinch off small pieces of dough and roll them into balls, about 1 inch big. Place three balls in each muffin cup.
Cover pan with a clean dish towel and set in a warm place to rise for 15 minutes. Meanwhile, melt remaining butter and set aside.
Brush rolls with melted butter and sprinkle with oats and seeds, if using. Bake until golden brown, about 9-12 minutes. Enjoy!
Adapted from I Heart Eating.
SKM: below-content placeholder
Whizzco for 12T