It's a one-of-a-kind cake!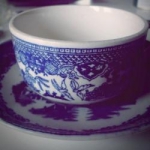 Rose Heichelbech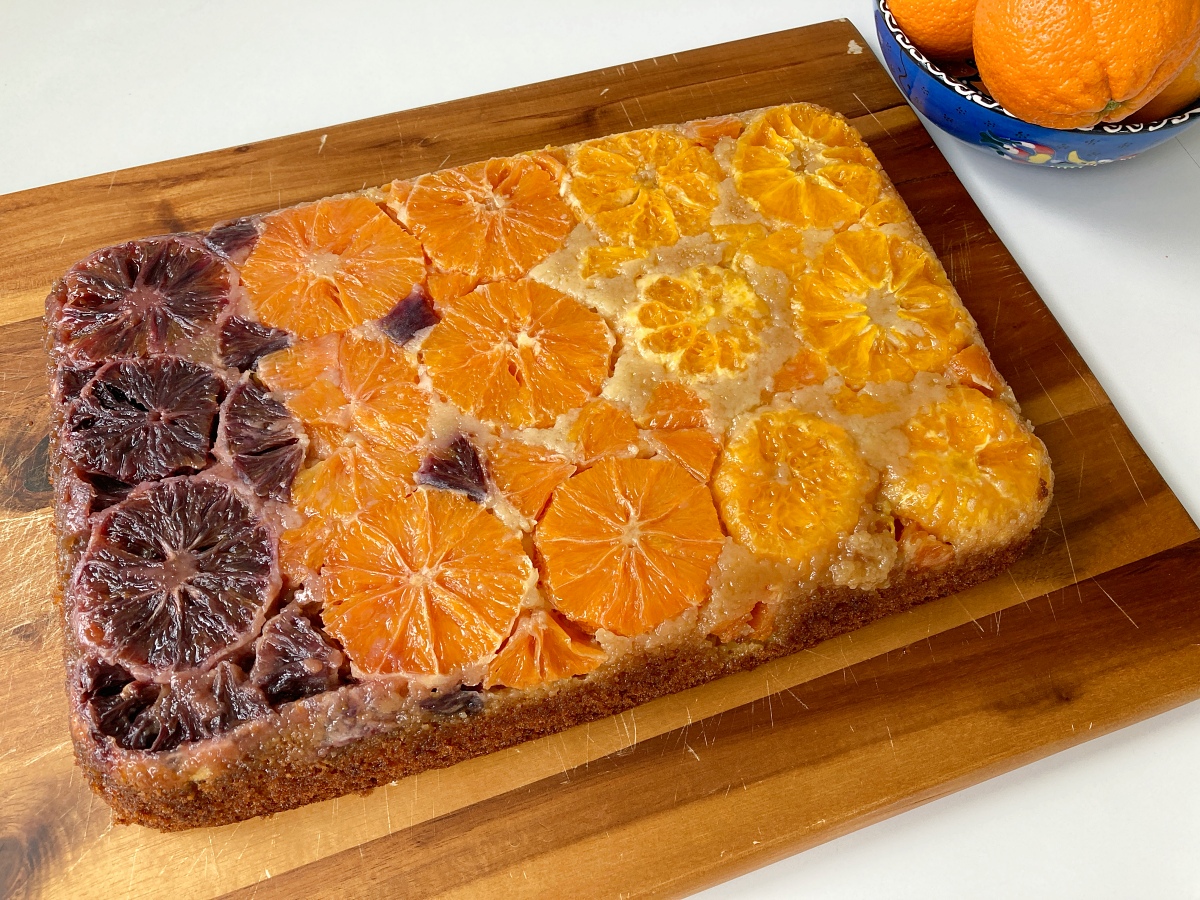 We all know and love a good pineapple upside down cake. But, did you know that you can make this style of cake with other fruits? This citrus ombré cake uses 3 different kinds of oranges – each in a different hue – to create an impactful presentation and bright flavor. Topped with a buttery sauce, this cake is a tasty (and beautiful) way to make an orange cake.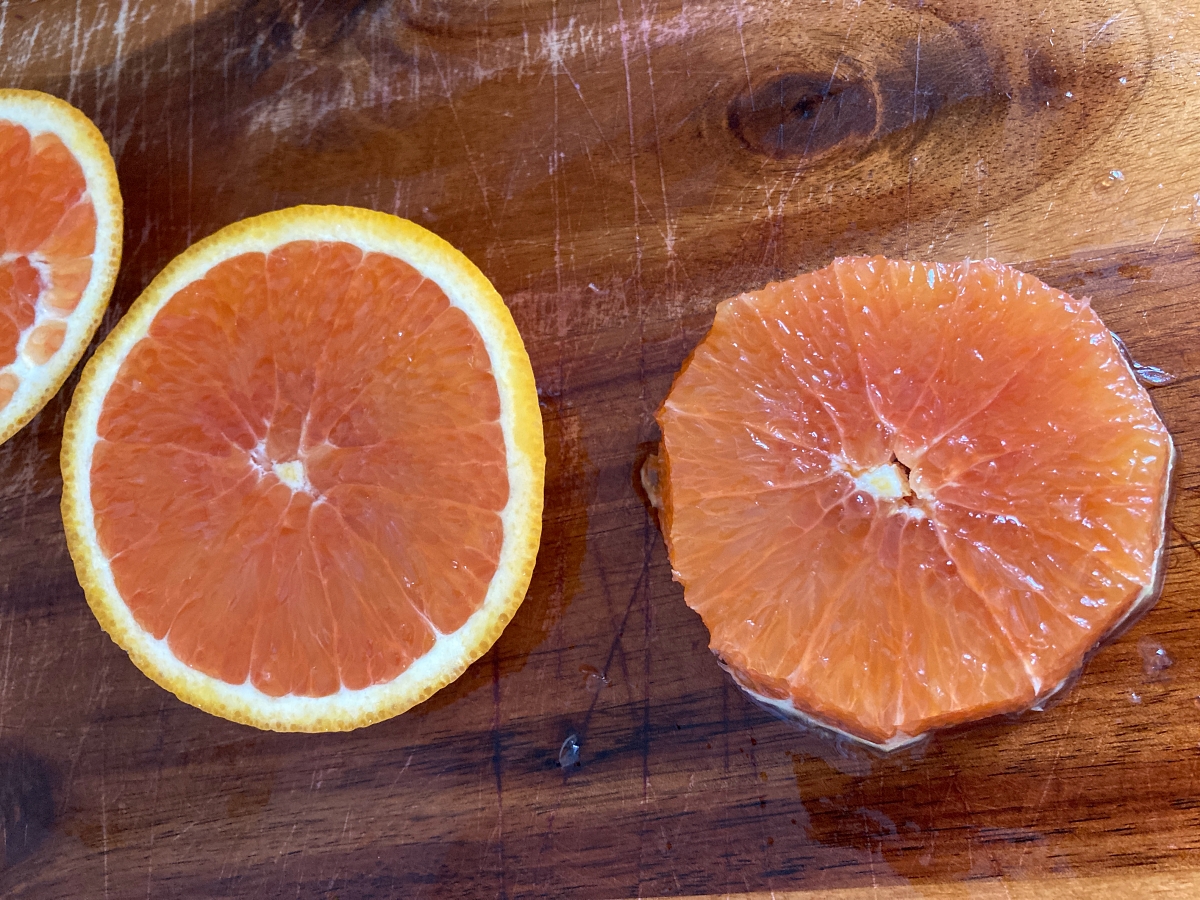 This recipe requires 4 of each blood oranges, cara cara oranges, and tangerines. You want a variety of colors here, even if you witch up some of the varieties.
Some recipes for similar cakes call for lemons or grapefruits, but the general rule of thumb is that if you can't eat the fruit comfortably without sugar, it shouldn't top a cake unless it's been preserved in sugar somehow. Even then the tart flavors can overwhelm the comparatively mild cake. For this reason only use oranges for this recipe- unless you just really love sour things!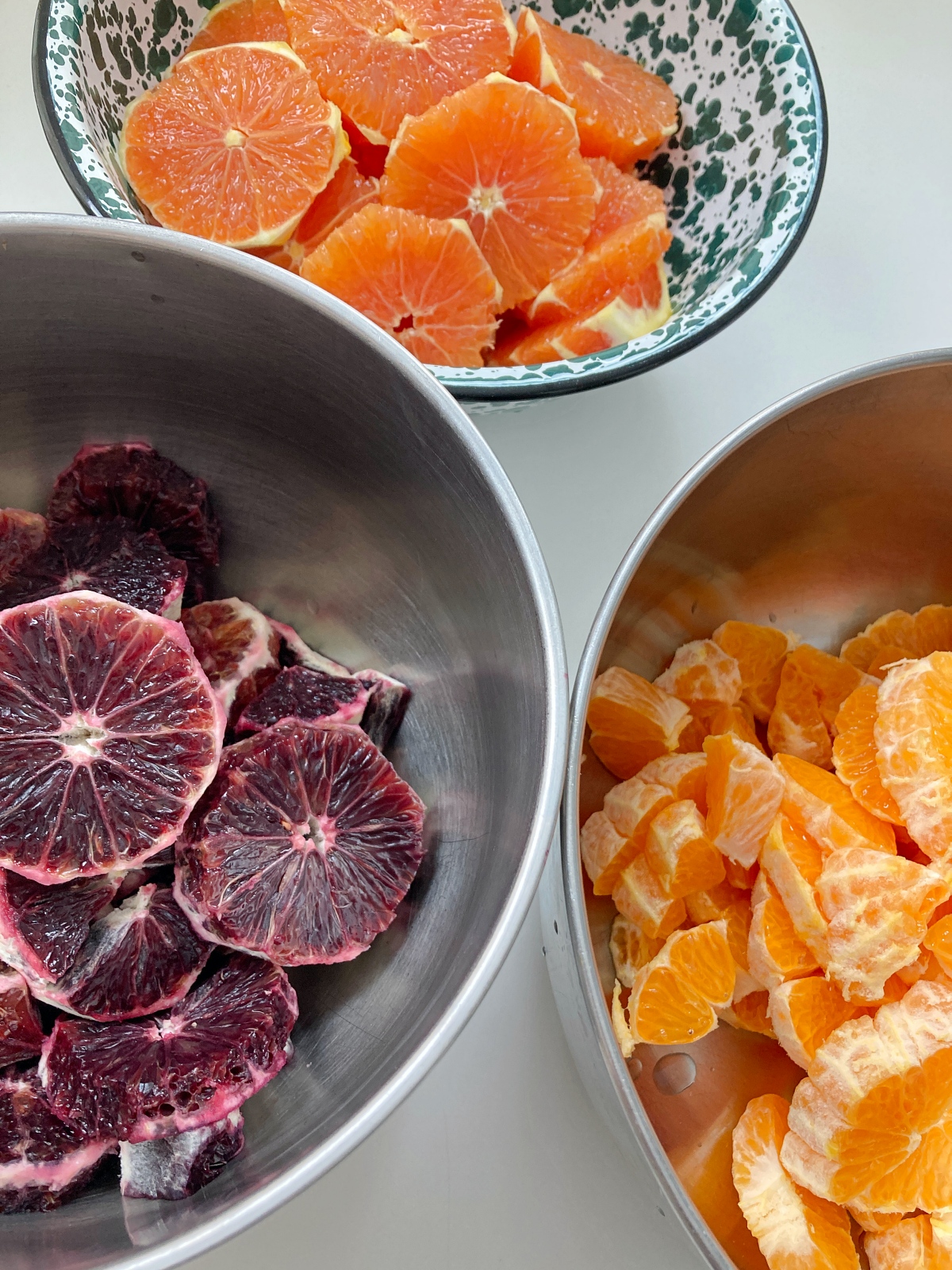 You'll need to cut the fruit into slices across the segments and then trim the peels off. Doing it this way you will likely only get 2-4 slices per fruit, as the ends are usually too small to make good slices from.
Keep all the fruit in separate bowls since blood oranges can stain whatever they touch. Then spread some of the glaze in the pan and line the bottom with the orange slices, going from darkest to lightest. Some of the slices I cut fell apart and I used those little triangular pieces to fill in the spaces between the circles. Wherever there is no fruit the glaze with settle and change the appearance, so fill in as many gaps as you can.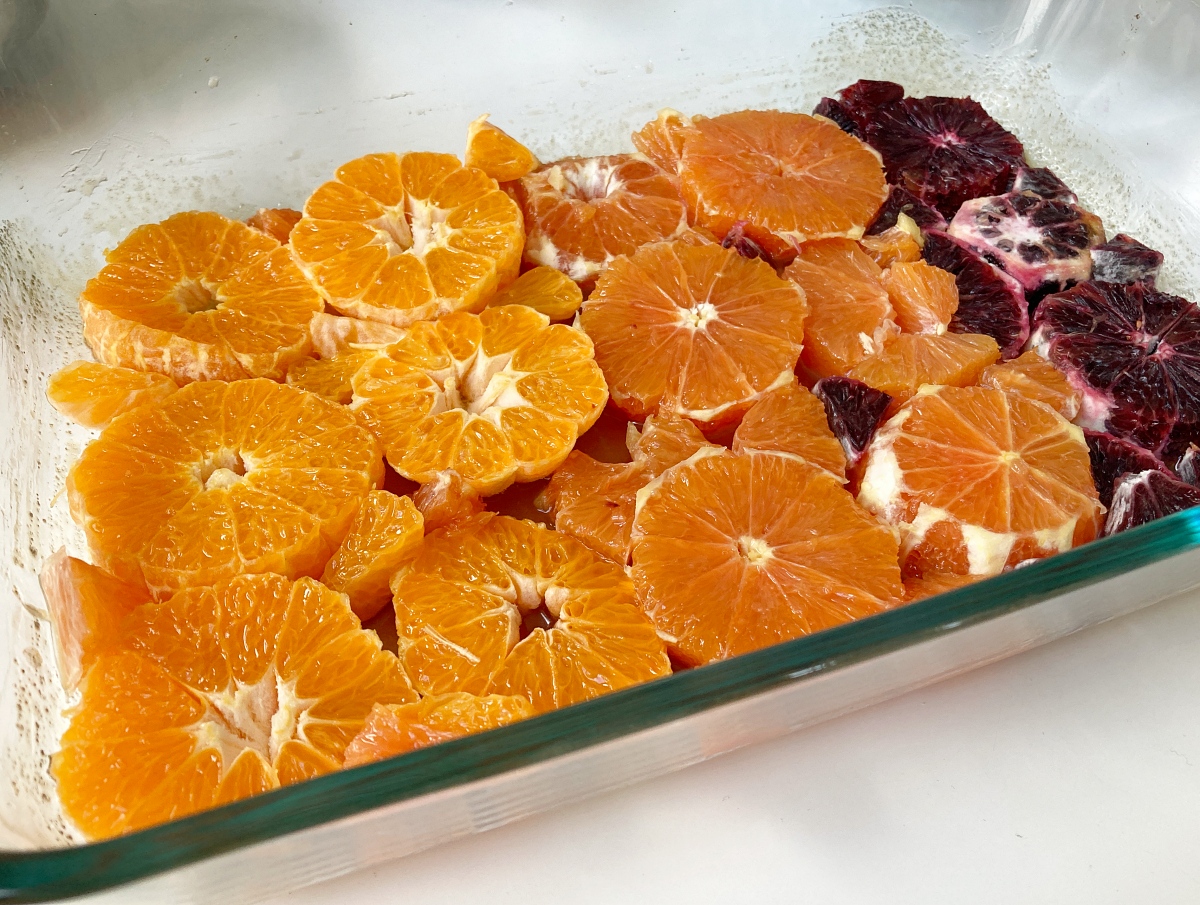 For a more precise look you can cut squares of uniform sizes from the center of each fruit. This will make more of a grid pattern, but it will also use twice as many oranges in the process. I personally like the look of the round shapes, but a square fruit shape with a rectangular pan may be more to visually satisfying to some.
The round shapes also look really nice if you want to halve the recipe and make one 9″ cake pan's worth instead of the larger 9″x13″ pan.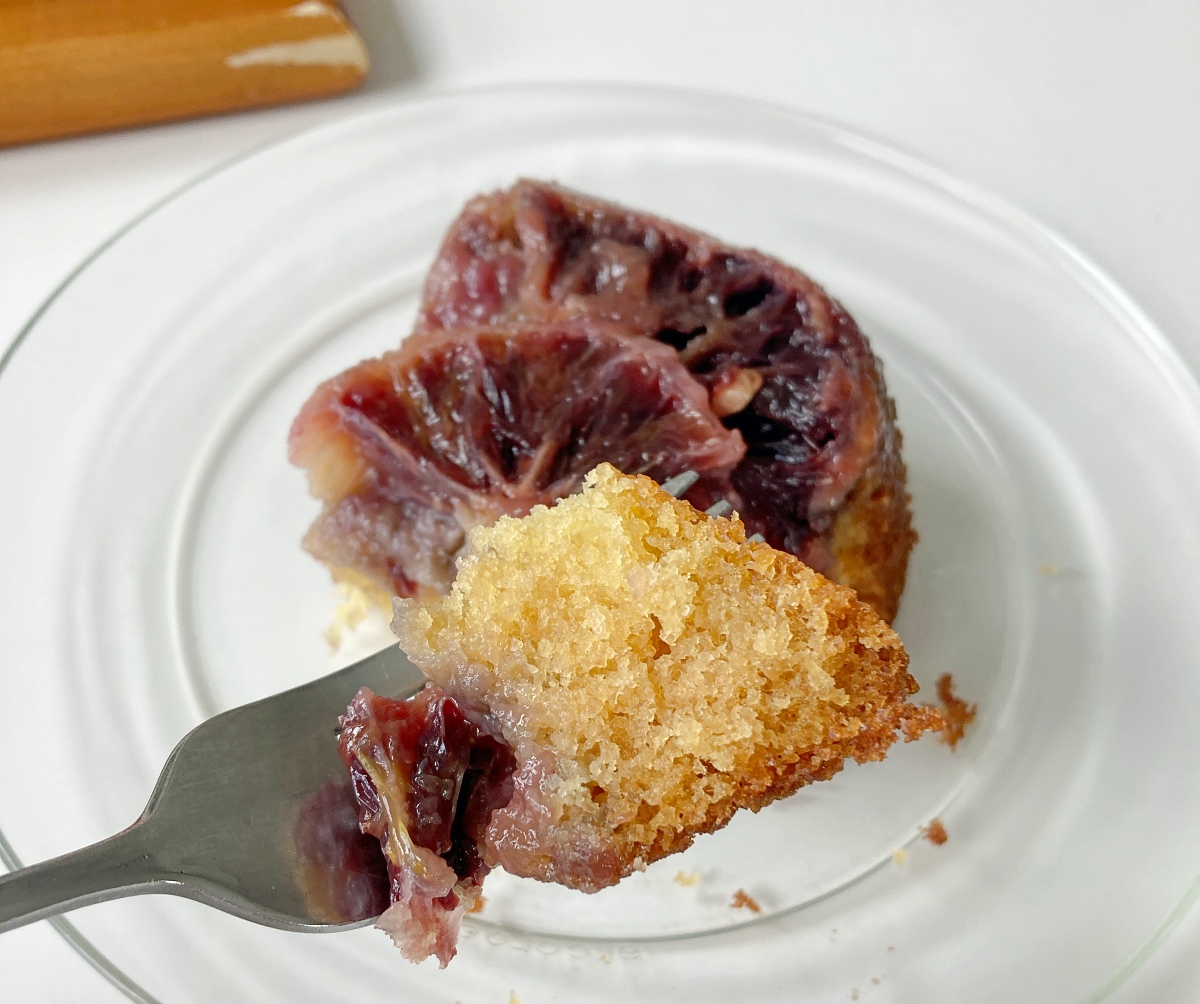 Carefully add a cutting board or platter on top of the cooled cake and gently (but quickly) flip it over. Reserve some of the glaze for an optional sauce and you've got a delightful, show-stopping citrus dessert that's an impressive way to end a meal.
Citrus Ombré Cake
Makes 16 slices of cake
1h 55m prep time
45m cook time
257 calories
For the topping:
4 cara cara oranges
4 tangerines
4 blood oranges
1/2 cup granulated sugar
4 tablespoons brown sugar
2 tablespoons unsalted butter
2 tablespoons water
For the cake:
2 cups all-purpose flour
2 teaspoons baking powder
1 teaspoon baking soda
1/4 teaspoon salt
3/4 cup (12 tablespoons) unsalted butter, softened
1 1/4 cups granulated sugar
3 eggs, room temperature
1 1/4 cups buttermilk
2 teaspoons vanilla extract
zest from 1 lemon
Preparation
Cut the skin from naval oranges and cut crosswise into disks, removing any seeds as you go. Place in a bowl. Repeat for tangerines and blood oranges, keeping fruits separate. Set aside.
In a small saucepan combine the rest of the topping ingredients and cook over medium-low heat until sugars are melted, stirring little. Pour half of glaze into a 9"x13" baking dish and spread evenly using a pastry or basting brush. Reserve remaining glaze.
Preheat oven to 350˚F. Lay citrus circles in baking pan, lightest at the top and darkest at the bottom. Medium-color slices go in the middle. Take any extra pieces of citrus and cut into smaller pieces to completely cover the bottom of pan, taking care to maintain color scheme.
In a medium bowl combine dry ingredients for cake. Set aside. In a large bowl cream sugar and butter together using electric mixer. Then add in eggs one at a time, mixing between each addition.
Add flour to wet ingredients in thirds, mixing each time flour is added. Then stir in buttermilk and vanilla extract and combine until uniform in color. Stir in lemon zest and gently pour over fruit, careful to not disturb the ombré pattern.
Bake for 25 minutes, then cover with foil and bake for another 15-20 minutes or until golden brown on top. Toothpick inserted into top half of cake should come out clean when done.
Allow to cool for at least 1 hour before running a knife along the edges of cake. Place a platter or cutting board on top of pan. Gently press and flip pan and board over together. Lift baking pan from board carefully. Cut into squares and enjoy. Serve with remaining glaze drizzled over the top of each piece.
Recipe adapted from Food Network.
SKM: below-content placeholder
Whizzco for 12T