Chocolate and peanut butter in a fun new form.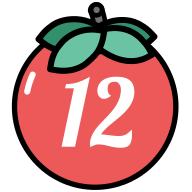 Victoria Brittain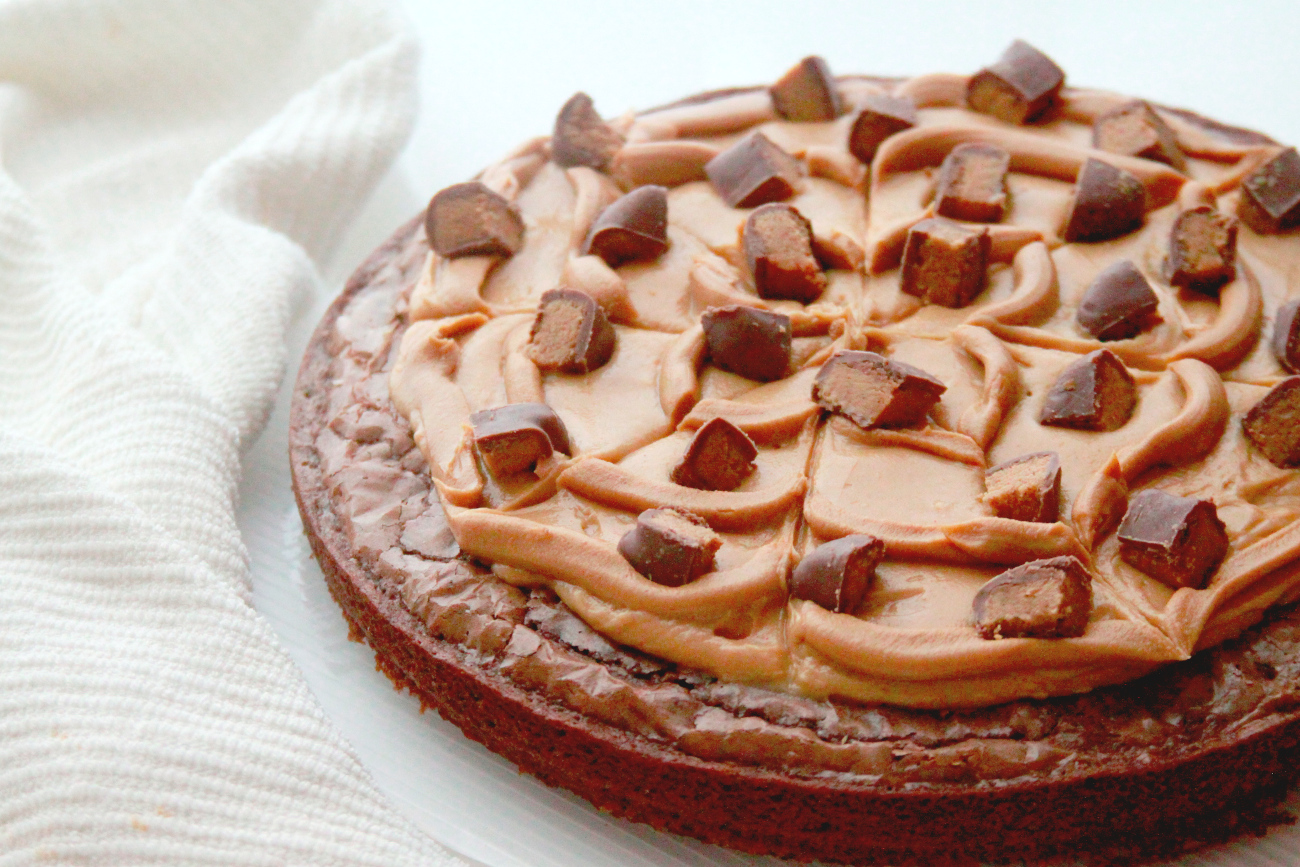 When school days pressed steadily on a path of monotonous rhythm, there was a breath of levity on one day and one day only — Friday. It was then that parents let loose from the no-fat, no-salt restrictions of the 1990s. After school, with the smell of no homework in the air, families went to the pizza parlor to eat greasy forearm-length slices and allowed kids to have silly sleepovers with stove-top-made popcorn and box mix desserts. And it is this dessert — this Chocolate Peanut Butter Brownie Pizza — is the love ballad for every child of that era. A brownie dessert combines the classic chocolate peanut butter candy with everyone's favorite go-to brownie mix, remixing the presentation with a whimsical chocolatey peanut butter treat in a sliceable pizza form.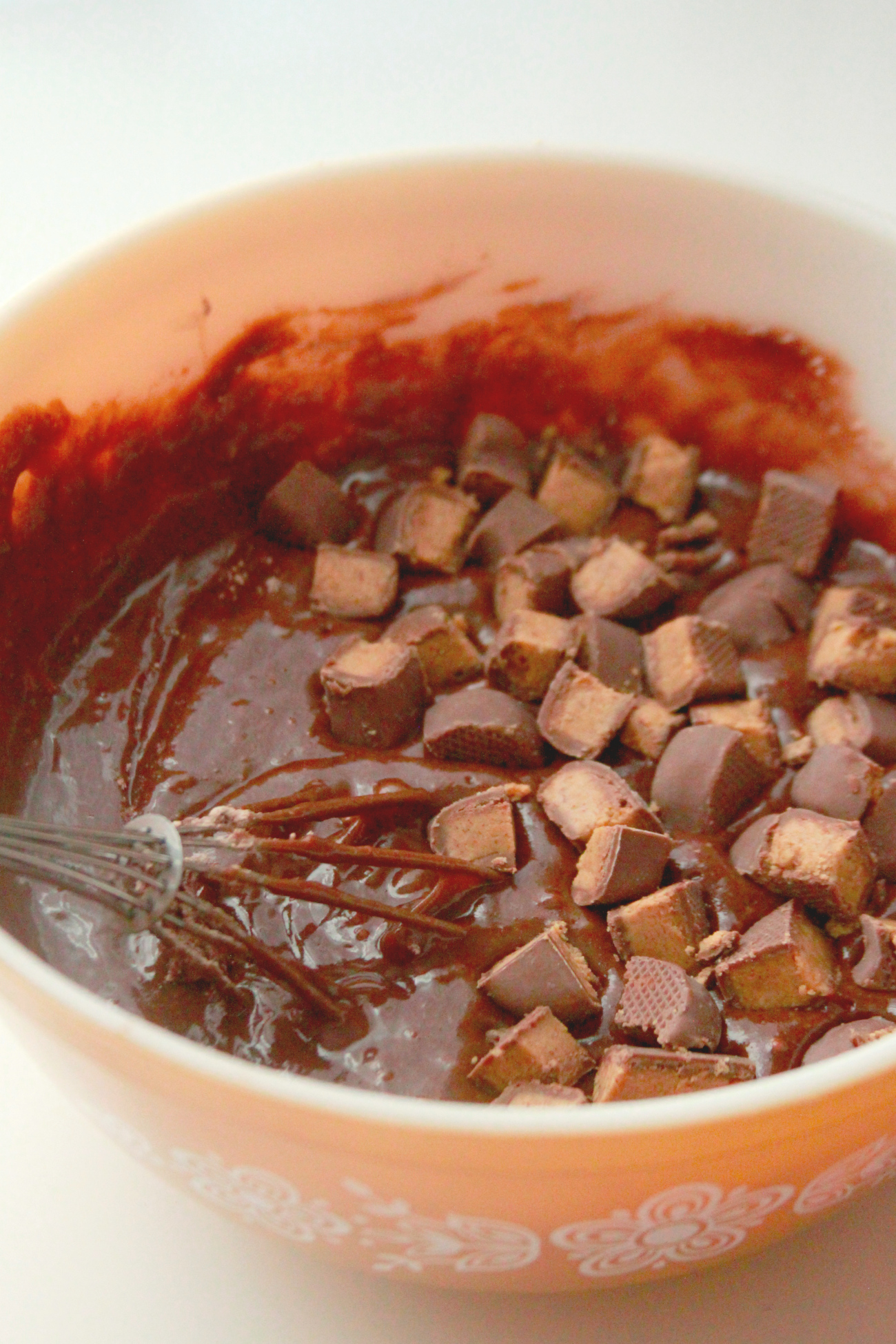 Chocolate Peanut Butter Brownie Pizza is not just for children, it's for anyone who wants to have a classic brownie in a nonclassic way. A simple store-bought brownie mix gets an upgrade with a hefty dose of chopped-up peanut butter cups. Once baked, it gets a double coating of peanut butter frosting and (of course) more peanut butter cups.
Start by prepping your brownie batter. Any mix is fine, but I went with our test-approved brownie mix winner, which is more of the fudgy and chewy kind of brownie. After using and mixing in the recommended amounts of water, oil, and eggs, for the brownie batter, a hefty portion of chopped peanut butter cups gets folded into the batter. You can use mini peanut butter cups or chop up any big ones you have lying around. This recipe is a great way to use leftover candy from Halloween, Valentine's Day, or parties.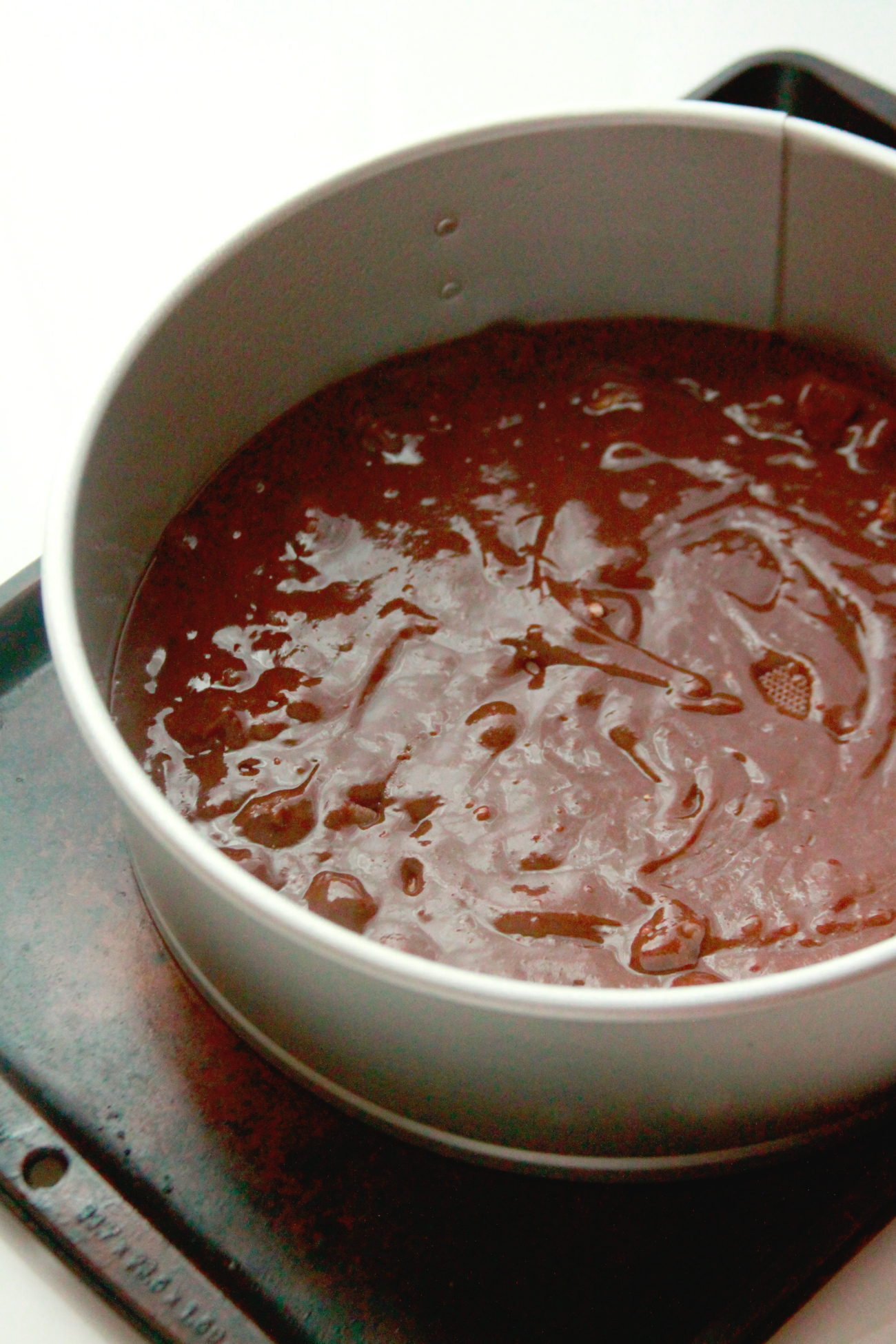 Once mixed, the batter gets poured into a 9-inch springform pan (like the ones used to make cheesecakes). With a bit of caution, I baked the brownie on a cookie sheet, as the springform pan doesn't always have a tight seal meaning the batter could leak out.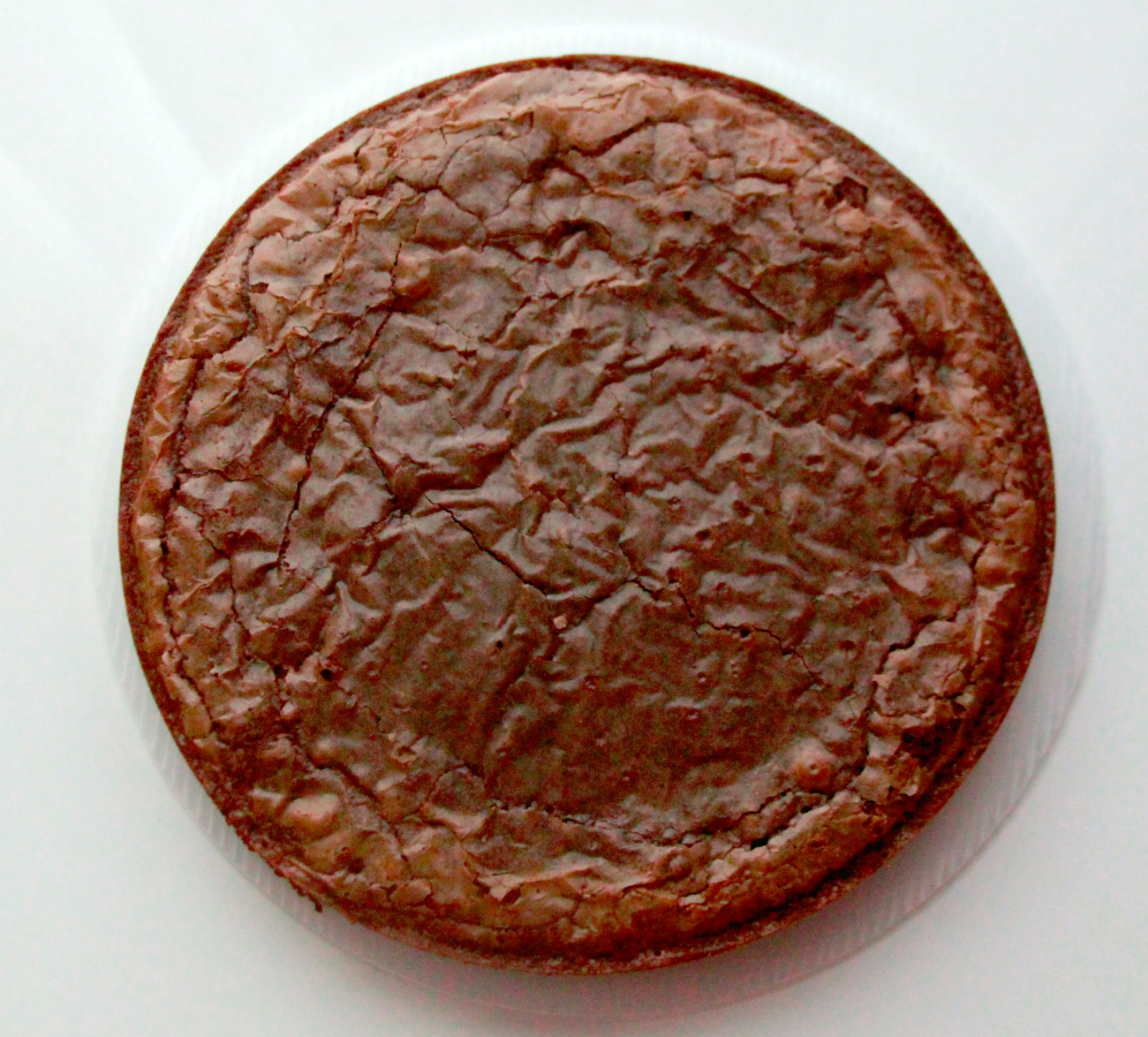 After it cooled down, I transferred the brownie to a cake board and went about the best part — decorating.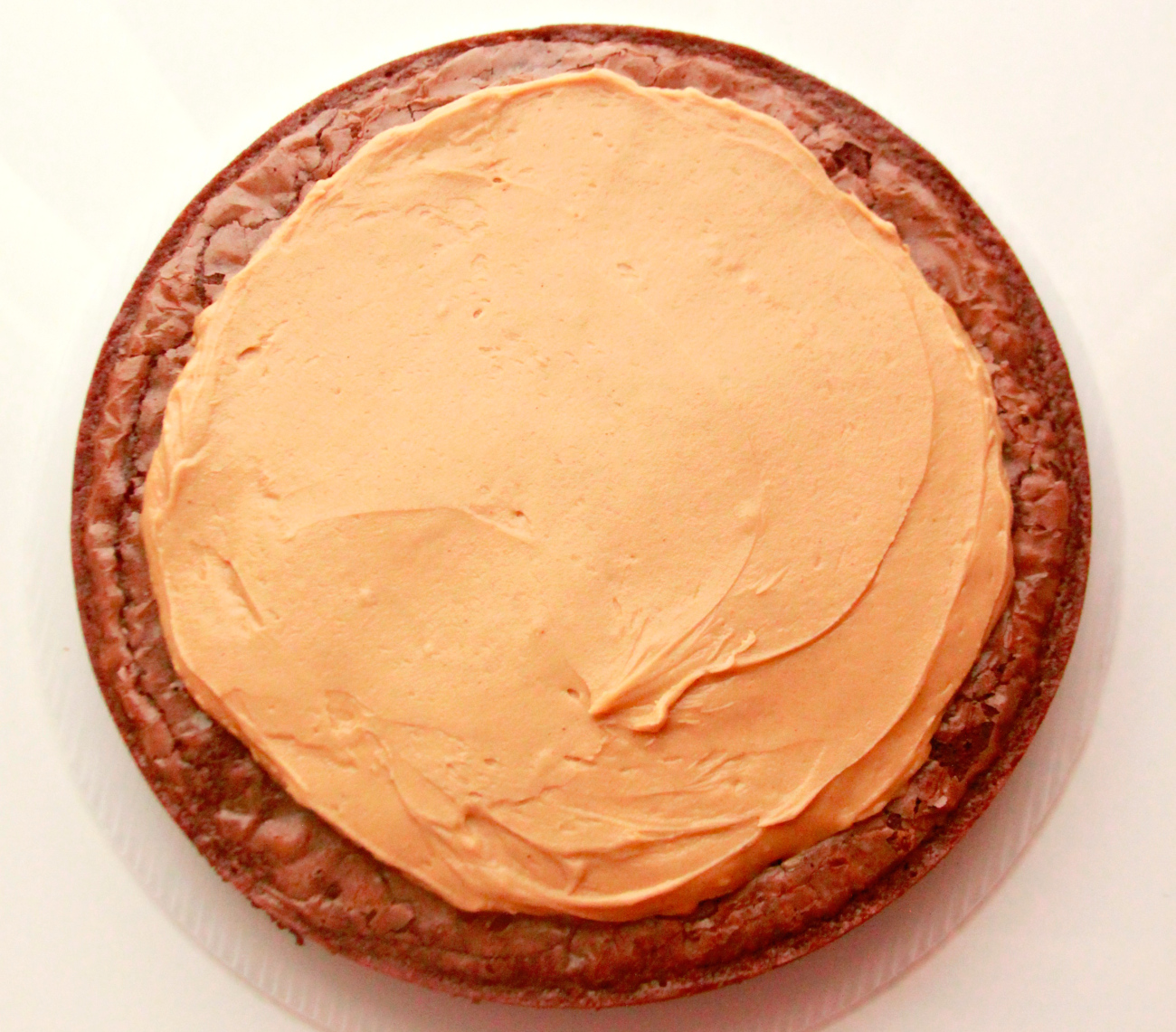 The frosting is a simple trio of peanut butter, butter, and powdered sugar.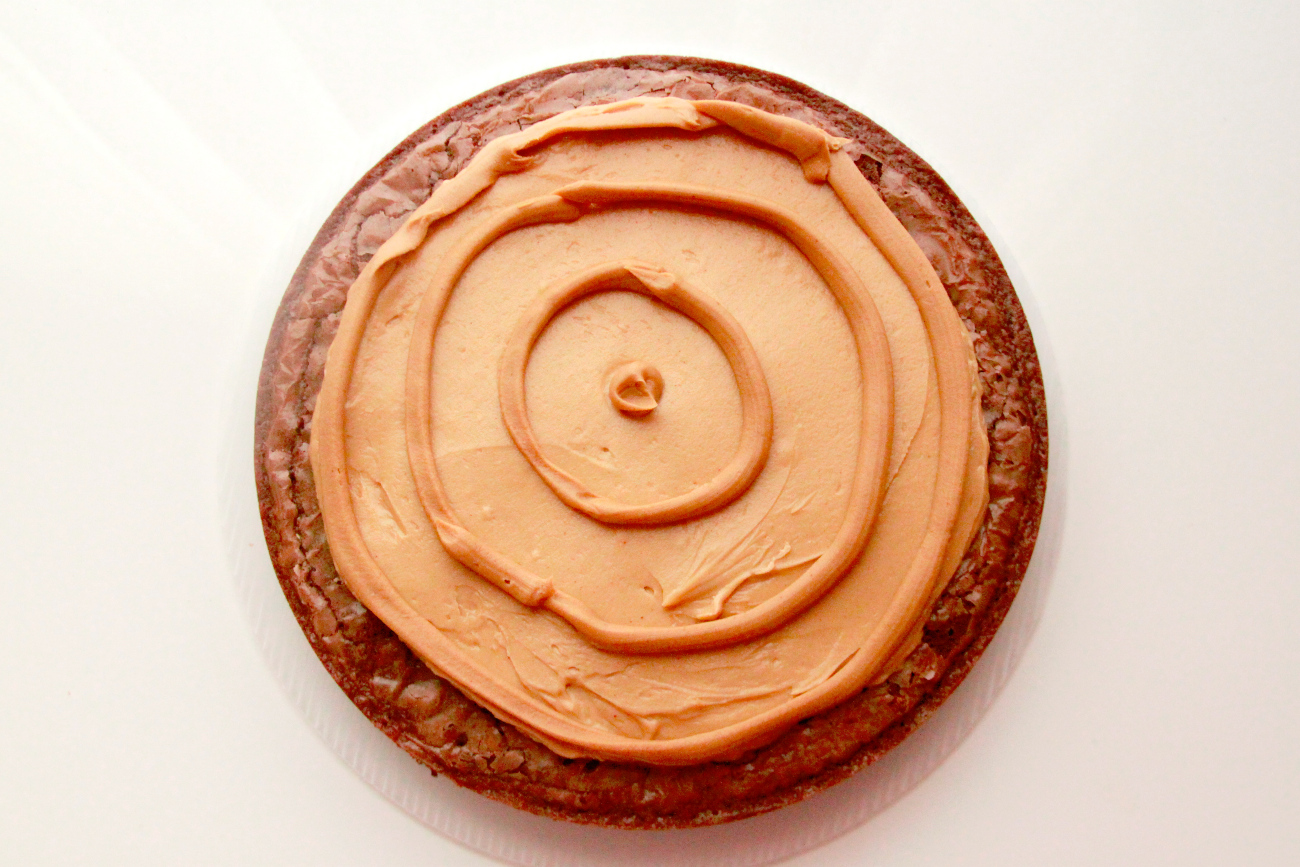 After it gets spread on top of the brownie, you go ahead with the second dose of peanut butter. This step is a hundred percent optional, but it definitely adds some visual appeal. Fill a zip-top bag with creamy peanut butter and cut the corner of one side, this will become your frosting tip. Draw three to four concentric circles and then use a simple butter knife to create lines going through the circles.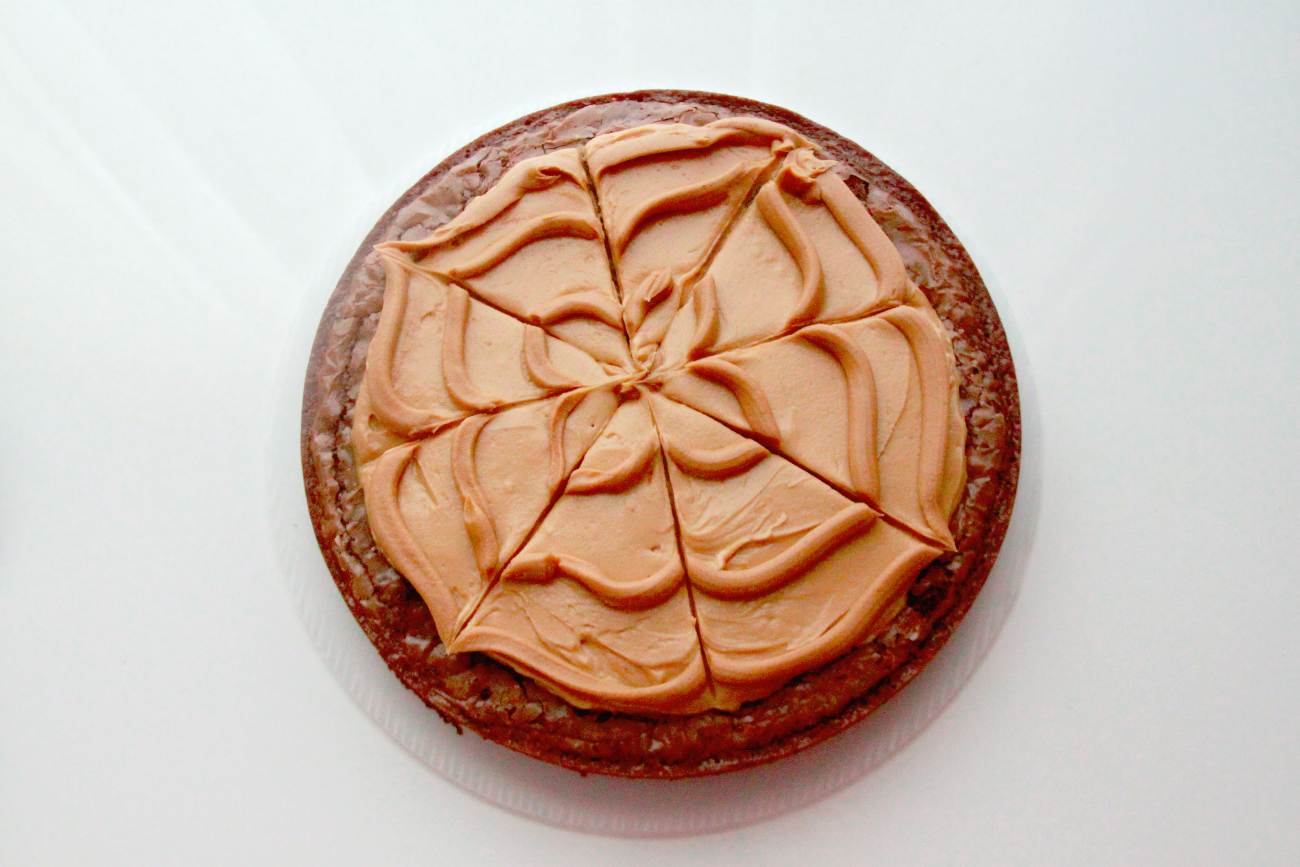 This will create a marbled spider web, chevron pattern on the top of the brownie.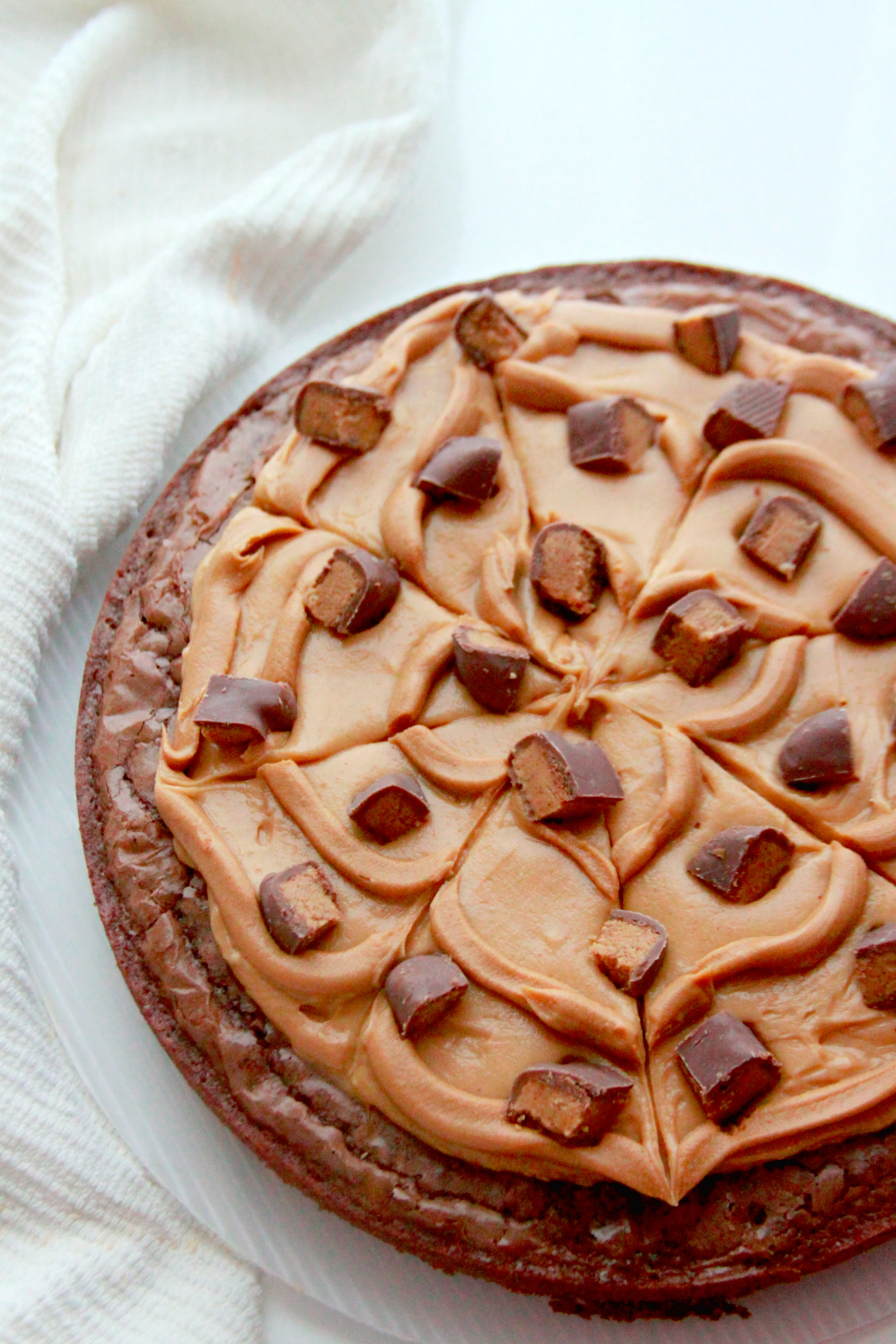 A healthy portion of more chocolate peanut butter on top of the frostings guarantees you won't forget the flavors it houses.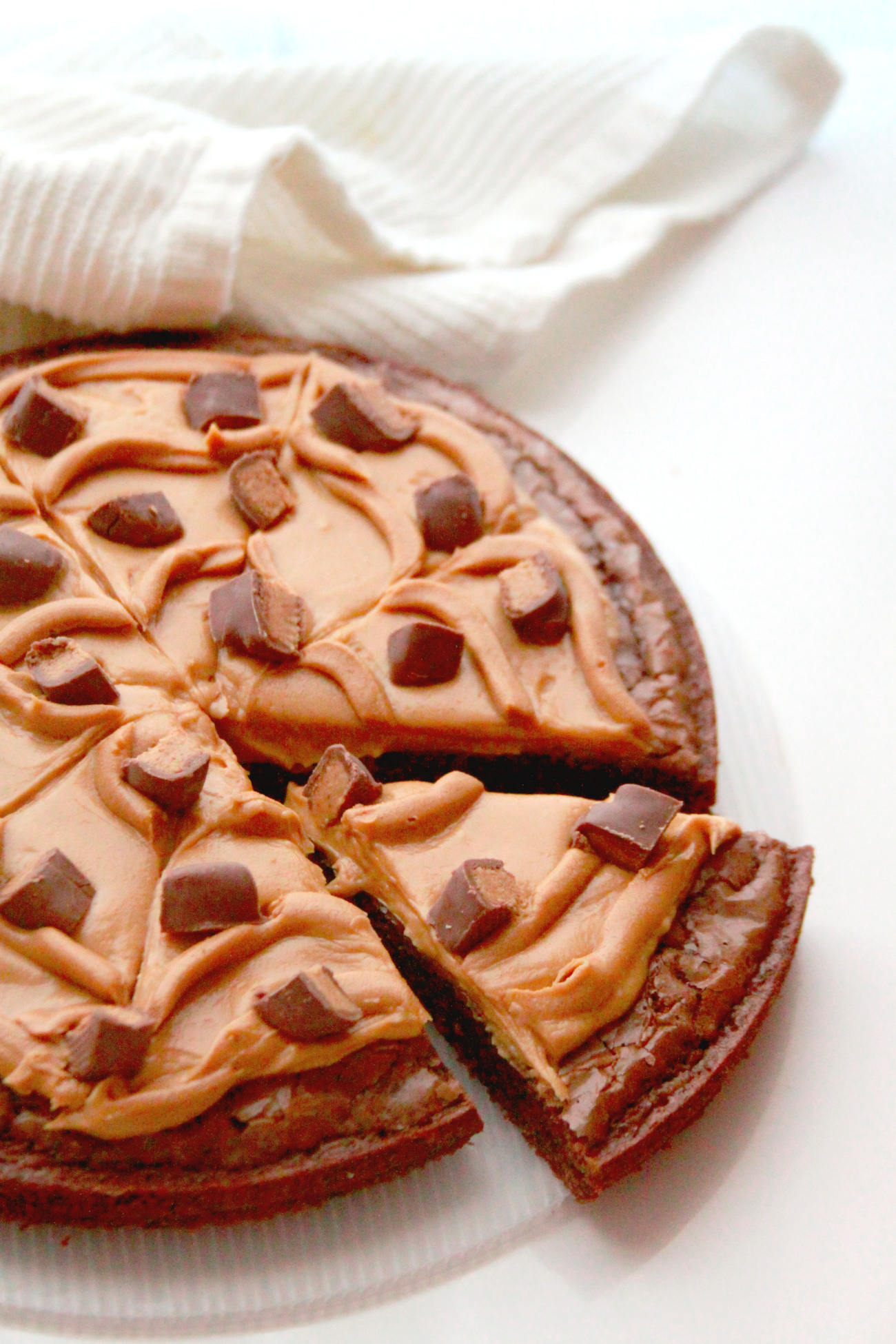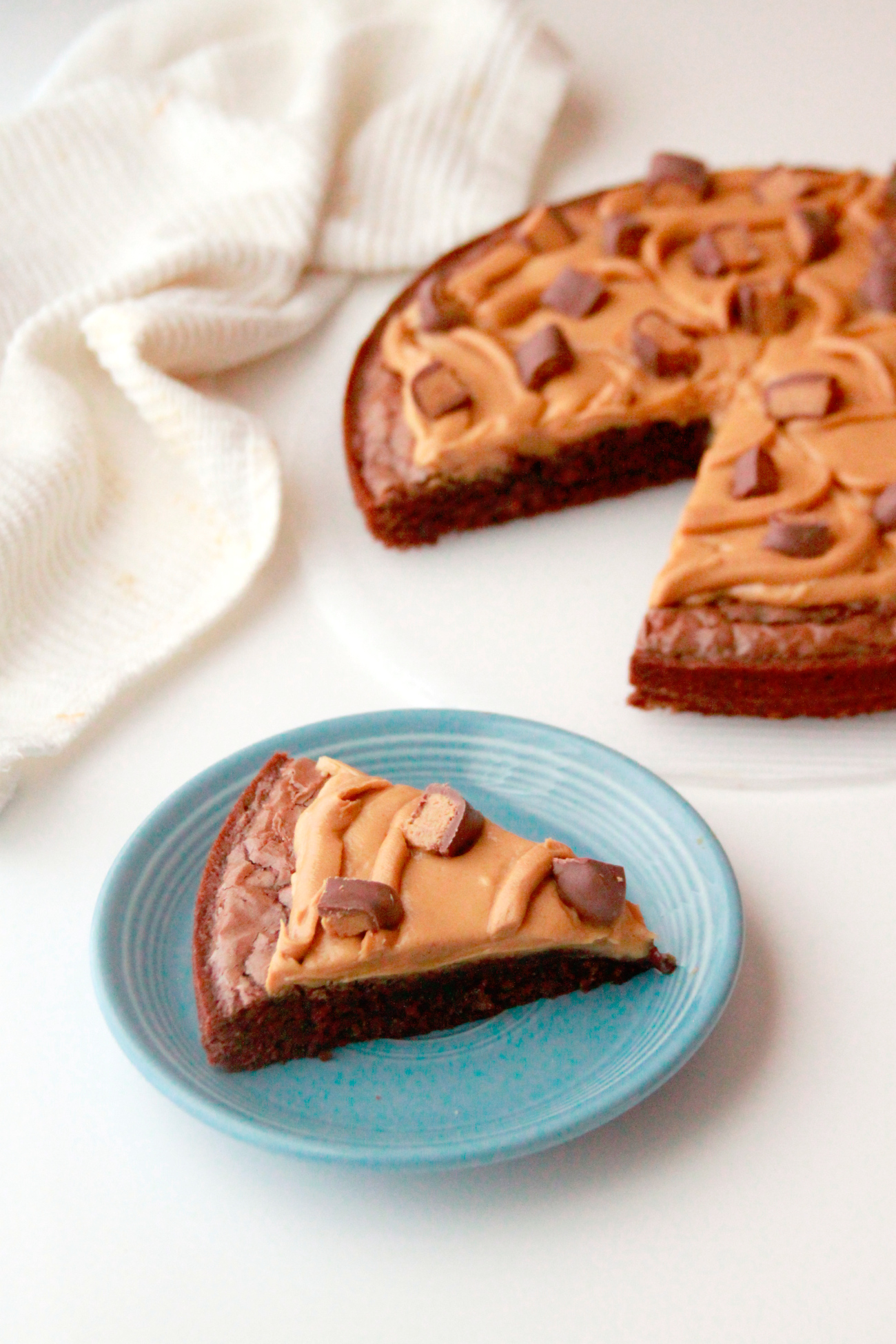 Again, you can use any mix-ins you have on hand. You can even add chopped peanuts to the batter as well. It's a vessel to capture all of your leftover candy and consolidate it into one dessert!
Chocolate Peanut Butter Brownie Pizza
Serves 8 to 10
16m prep time
20m cook time
40m inactive
For the Brownie Base:
1 box brownie mix, plus ingredients needed in package directions
8 regular or 12 mini peanut butter cups, chopped into pieces
For the Frosting:
1 cup creamy peanut butter
4 tablespoons unsalted butter, room temperature
3/4 cup powdered sugar
For the Garnish:
1/4 cup creamy peanut butter
6 to 8 peanut butter cups, chopped into small pieces
To Make the Brownie Base:
Preheat oven to 350°F. Spray a 9-inch springform pan with baking spray. Line with parchment paper, set aside on top of a baking pan.
Prepare the brownie mix according to package directions. Once smooth, fold in chopped peanut butter cups.
Pour into prepared pan, baking until a toothpick is inserted some out with moist crumbs, about 15 to 20 minutes.
Let cool for 10 minutes before removing from the pan. Cool completely.
To make the Frosting:
In a large bowl whip the peanut butter and butter until thoroughly combined and lump free, about 3 to 4 minutes. Scrape the sides and bottom of the bowl. On a low speed add in powdered sugar.
Spread on the top of the brownie.
To Garnish:
Fill a plastic zip top bag with peanut butter and cut the corner out of the bag. Pipe concentric circles on top of the frosting.
Use a knife to drag the peanut butter through the frosting, creating a geometric pattern. Garnish with chopped peanut butter cups. Slice into triangles, serve, and enjoy!
SKM: below-content placeholder
Whizzco for 12T