Try this easy, delicious, slow cooker dessert today!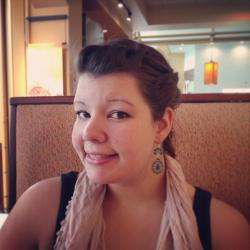 Jessica Griggs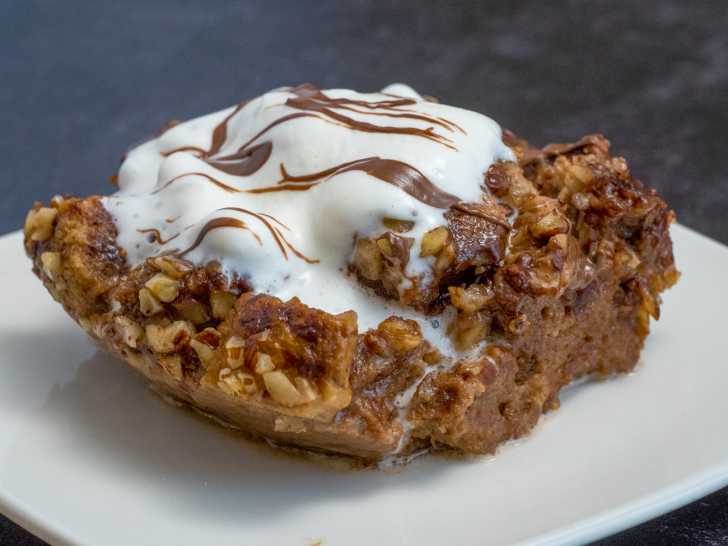 If you've ever had the magical combination of hazelnut and chocolate, then I really don't need to sell you on this recipe. It's everything a Nutella lover could ever want, plus bread. What's not to love about that? In case you've never experienced the rich, nutty, earthy flavor of hazelnut combined with the creamy sweetness of chocolate, then this chocolate hazelnut bread pudding is a great place for you to start.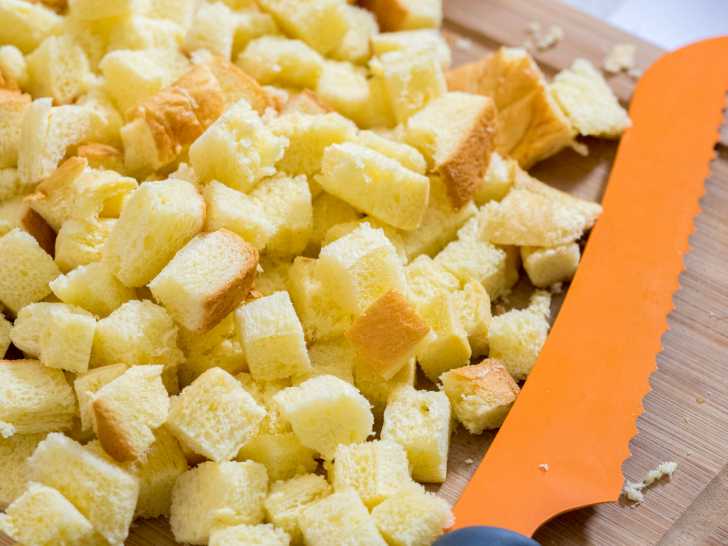 This recipe is so easy to assemble, and it's made even easier thanks to the slow cooker! There are really just two parts to creating this chocolate hazelnut heaven. First, chop up some brioche or challah. You can use another kind of bread, or a combination of different kinds of bread if you have some on hand. We suggest brioche or challah because they are hearty and rich, thus lending the whole dessert a deeper, more decadent flavor. Once you have your bread cubes, coat the slow cooker with some cooking spray and throw the bread in, along with the hazelnuts.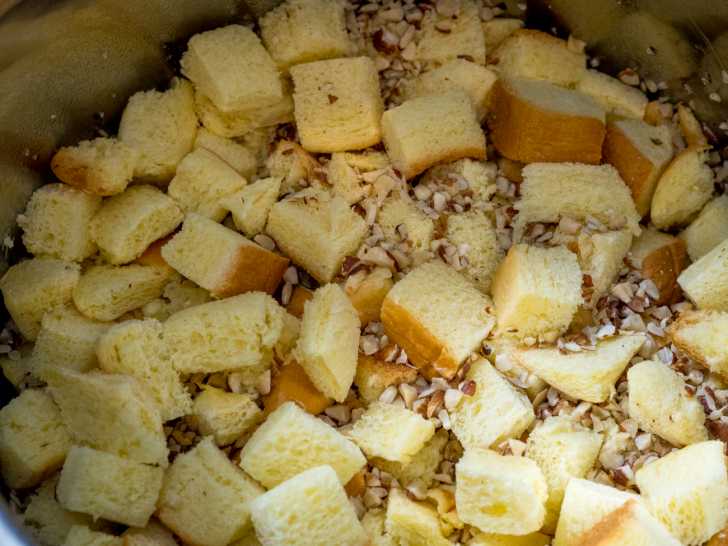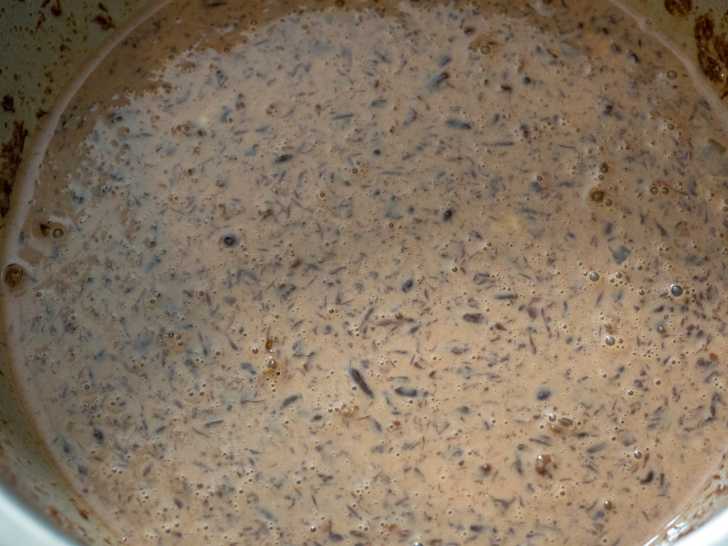 Next, it's time to make the chocolate mixture. With eggs, half and half, butter, vanilla, chocolate chips, and sugar, this chocolate spread is the stuff of dreams. Adding a dash of cinnamon brings out the earthy notes of the hazelnut and balances out the sugary sweetness of the chocolate sauce. Once the chocolate egg mixture is complete, simply pour it over the bread and press down a bit to ensure the mixture soaks into the pieces of bread.
From there, it's just a matter of playing the waiting game. Once the four hours are up, go ahead and help yourself to a plate full of chocolate, hazelnut goodness! Top with whipped cream and chocolate sauce if you want a little extra treat. And really, as long as you're indulging, you might as well go all the way, right? Check out the full recipe below to get your chocolate hazelnut fix!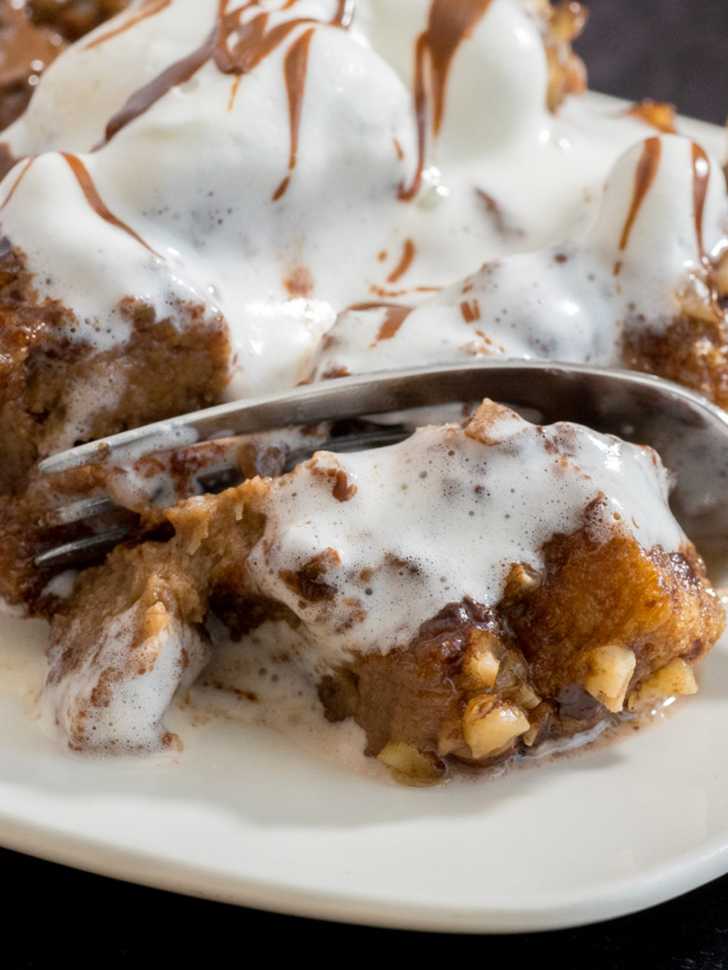 Chocolate Hazelnut Bread Pudding
Serves 12
10 minutes active; 4 hours inactive
Ingredients
1/4 cup unsalted butter
2 tablespoons semisweet chocolate chips
8 cups cubed challah or brioche
1/2 cup chopped hazelnuts
4 large eggs
1 cup milk
1 cup half-and-half
1/2 cup hazelnut spread
1/4 cup sugar
1 teaspoon vanilla extract
1/4 teaspoon salt
1/2 teaspoon cinnamon
Sweetened whipped cream, optional
Preparation
Place butter and chocolate chips in a microwave-safe bowl and microwave for 30-45 seconds. Stir until creamy, set aside to cool.
Coat the slow cooker with cooking spray and pour in bread cubes and hazelnuts.
In a large bowl, combine eggs, milk, half and half, hazelnut spread, sugar, vanilla extract, salt, and cinnamon, stirring to combine.
Add chocolate mixture and mix until smooth.
Pour the egg/chocolate mixture into the slow cooker, making sure all the bread cubes are covered. Press on the cubes to help them soak up the mixture.
Cover and cook on low for about 4 hours. The bread pudding is done when a knife is inserted and comes out clean.
Recipe adapted from Taste of Home
SKM: below-content placeholder
Whizzco for 12T