You'll probably need to double this recipe – it's really that good!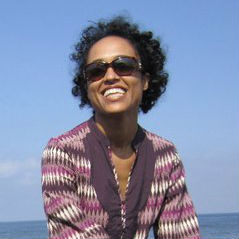 Sarah Cool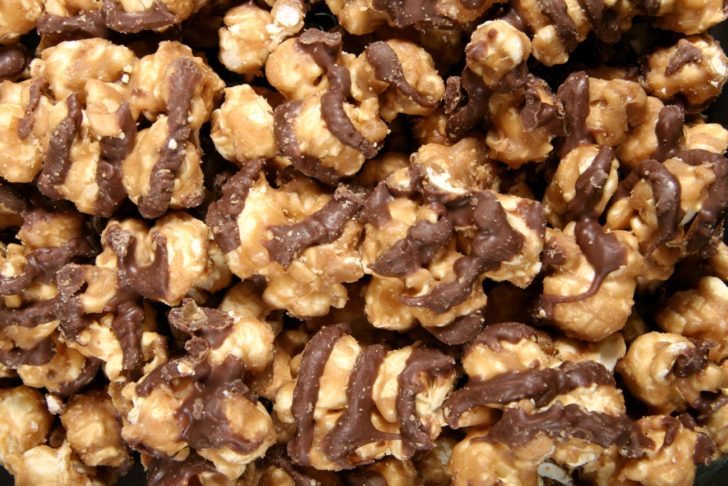 Whether you're watching the big game, enjoying a movie night, or at a book club meeting, we've got the perfect snack to serve up – caramel popcorn with a chocolate drizzle is impossibly irresistible and fairly easy to make. This recipe is so good, you'll probably need to double it! Caramel popcorn barely lasts a few hours in our house, and for good reason – it's grabbed by the fistful and everyone always comes back for more.
Microwave popcorn is a great shortcut to this recipe, but making popcorn on the stove is actually pretty fun, and such a classic way to pop up corn kernels. Truly, the hardest part here is waiting for everything to set. We love the chocolate drizzle and from time-to-time we like to add sea salt as well. While it is super easy to just grab a bag of ready-made caramel popcorn, we definitely recommend trying the homemade version – it's so fresh and delicious! One word of caution – melted sugar is incredibly hot, so use extra care when making and pouring the caramel. Go ahead and whip up a batch of this sweet snack – it's just too good to pass up!
Chocolate Glazed Caramel Popcorn
Serves 8-10
2 hours, 30 minutes
Ingredients
Popcorn:
¼ cup vegetable oil
⅔ cup popcorn kernels
Caramel Coating:
1 cup brown sugar
½ cup light corn syrup
¼ cup (½ stick) unsalted butter
1 teaspoon vanilla extract
1 teaspoon baking soda
Chocolate Glaze:
1 cup chocolate chips
½ tablespoon vegetable oil
Preparation
Preheat oven to 250°F.
In a large pot on medium-high, heat ¼ cup vegetable oil with ⅔ cup popcorn kernels, then cover with lid, leaving lid slightly open. Once popping begins, shake occasionally to distribute oil and kernels for even cooking. After 2 minutes, popping will slow down; remove pot from heat and give pot a good shake. Carefully remove lid (it will be hot and steamy). Do not overcook kernels in order to avoid burning. Pour popcorn into a separate bowl and set aside. (Optional: use microwave popcorn, unbuttered and unsalted, approximately 2 bags.)
In a heavy bottomed saucepan on medium heat, combine brown sugar, butter, vanilla and corn syrup and bring to a boil. Boil for 2 minutes, then remove from heat and stir in baking soda.
Pour caramel mixture over popcorn and stir to coat. Then spread popcorn onto a nonstick baking sheet and place in oven to bake for 1 hour. Stir every 15 minutes. After 1 hour, remove pan from oven and set aside to cool. Optional: sprinkle with coarse sea salt.
Once the caramel popcorn has cooled, use a microwave-safe bowl to melt chocolate chips with ½ tablespoon of vegetable oil. Use a spoon to drizzle chocolate over the cooled caramel popcorn, then place in refrigerator to set for 1 hour or leave on the countertop for 3 hours until set.
To serve, break popcorn into smaller pieces. Enjoy!
Recipe adapted from Brownie Bites
SKM: below-content placeholder
Whizzco for 12T