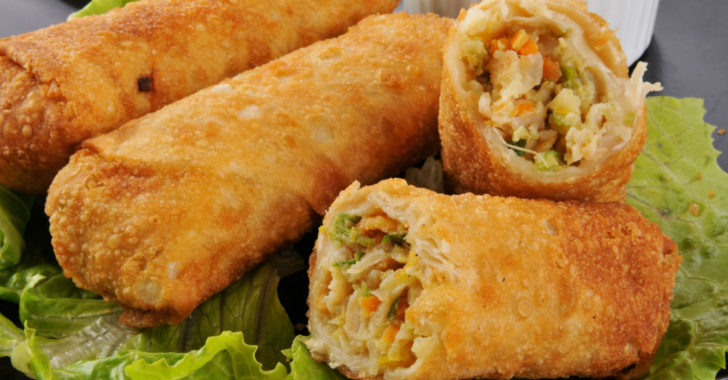 We love our weekly Chinese take-out, but were rather shocked when we added up how much it costs to indulge every 1-2 weeks. In an effort to be a little more economical, we decided to try making one of our favorite appetizers at home – crispy chicken egg rolls – and we were delighted with the results!
While they may look complicated to make, egg rolls are actually pretty easy; you prep your filling ingredients (protein, veggies and seasoning), then wrap your rolls nice and tight, then let them fry away in some hot oil. What you get are perfectly crispy, never soggy, rolls that are filled to bursting with tasty chicken…everyone in our family loves them, so we'll definitely be making them again!
Chicken Egg Rolls
Yield: approx. 2 dozen rolls
Ingredients
20-24 egg roll wrappers (thawed, if frozen)
1 pound ground chicken
1 cup carrot, shredded
1 cup cabbage, shredded
1 stalk green onion, finely chopped
1 clove garlic, minced
1, 1/2-inch piece fresh ginger, grated
3 tablespoons water
2 tablespoons cornstarch
2 tablespoons oyster sauce
1 tablespoon low-sodium soy sauce
1 teaspoon onion powder
1 teaspoon rice wine (or white wine)
kosher salt and freshly ground pepper, to taste
vegetable or peanut oil, for frying, plus 1 tablespoon
Directions
In a large skillet or wok, heat 1 tablespoon vegetable oil over medium-high heat and cook ground chicken until no longer pink.
Season with onion powder and salt and pepper, then transfer cooked chicken to a bowl and set aside.
Return skillet to heat and add green onion, garlic and ginger to the pan.
Stirring frequently so they don't burn, cook for 1-2 minutes, or until fragrant, then add carrot and cabbage to the mix.
Cook until vegetables are just softened, 5-6 minutes, then return chicken to the skillet. Mix in oyster sauce, soy sauce and rice wine and cook for another 1 minute.
Remove skillet from heat and spread chicken and veggie mixture out onto a clean baking sheet to cool. Tilt baking sheet and drain off cooking juices.
In a small bowl, whisk together water and cornstarch to create a slushie mixture.
Preheat 1 1/2 inches of vegetable oil in a deep Dutch oven to 375º F.
On a clean, dry surface, lay out 1 egg roll wrapper like a diamond (keep the others covered so they don't dry out) and spoon 1 1/2 tablespoons chicken mixture into the center of wrapper.
Take the bottom corner and fold it up and away from you, over the filling, then dip your finger into the slushie mixture and dab it on the top corner.
Tightly tuck in both sides of the wrapper and roll away from yourself, over the free top corner. (The slushie acts as a glue to keep the egg roll sealed.)
Transfer completed egg roll to a baking sheet, seam side down, and continue with remaining egg rolls. Cover completed rolls so they don't dry out.
Once rolls are all ready, carefully lower a few into hot oil. Fry, stirring and flipping occasionally, until egg rolls are golden brown.Note: oil is hot enough when it sizzles when you sprinkle water into it.
Repeat with remaining rolls, making sure to not overcrowd the pot.
Use a slotted spoon to remove rolls and transfer to a paper towel-lined plate to drain.
Serve immediately with soy sauce or sweet and sour sauce.
Recipe adapted fromSpend With Pennies
SKM: below-content placeholder
Whizzco for 12T