Travel south of the border with this cheesy Latin-inspired skillet dish!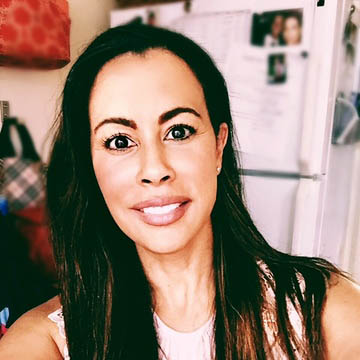 Melissa Maxwell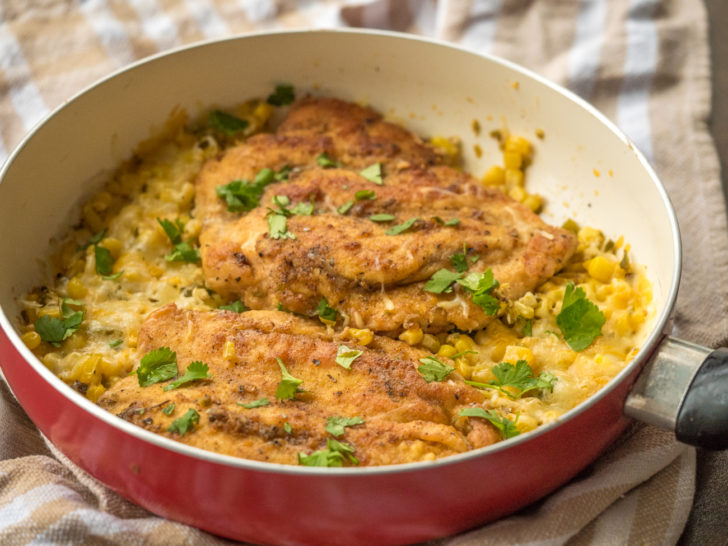 Okay, sometimes even the idea of cooking dinner after a long day just seems…well, hard. The process of planning, shopping and just the potential clean-up alone is enough to make anyone sit down and sigh or, fold and spend too much money on a meal out that is rarely as good as it would have been if made at home. That's why we love that this dish makes things simple with great taste to boot! The combination of chicken and vegetables is both hearty and flavorful, bursting with zesty latin spices, cheese and jalapeños – and it all comes together in only one pan! Sweet corn kernels compliment and calm any spiciness for the perfect balance, but feel free to adjust the spice level to your preference. Trust us, all the flavors in here make this meal taste like you've been cooking in the kitchen all day.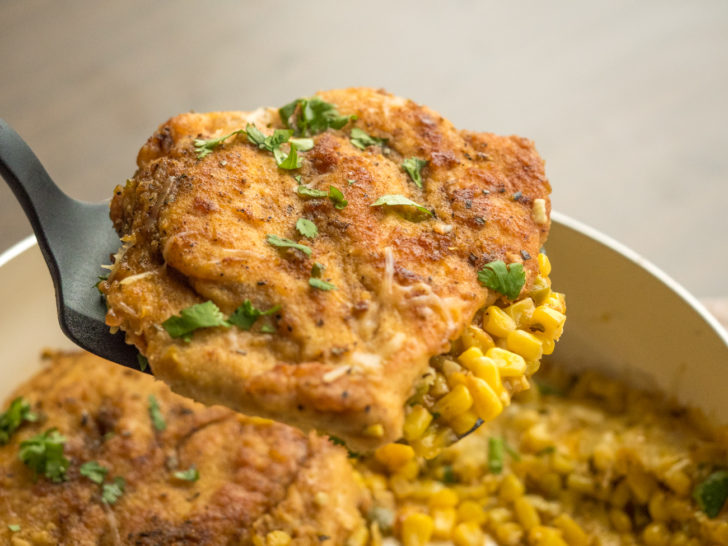 Who doesn't love to look like a kitchen whiz and receive compliments despite spending less than an hour in the kitchen? Hey, if people think we spent hours in there whipping up their dinner, we're okay with that! Another great part of this recipe is that you can prepare the spices all in one zip lock bag the same day or in advance for those times when you really just don't have any. Remember shake and bake? This is a similar, but homemade version that lets you control exactly what you're putting on and in your food. All of that deliciousness inside a resealable bag keeps everything nice and tidy, and then you toss it when you're done. Talk about being easy-breezy.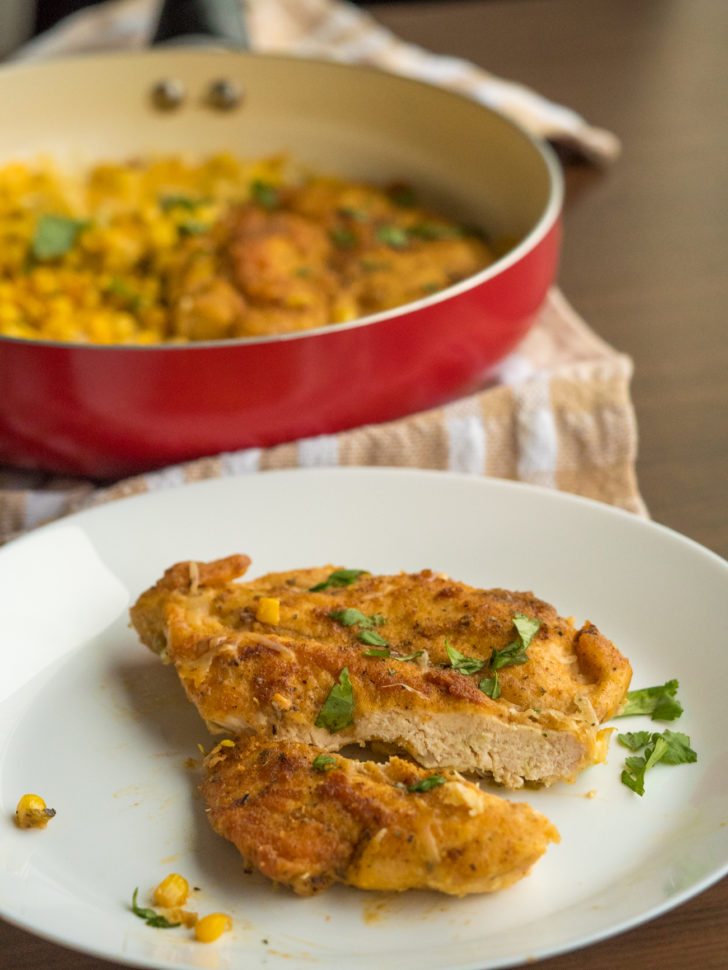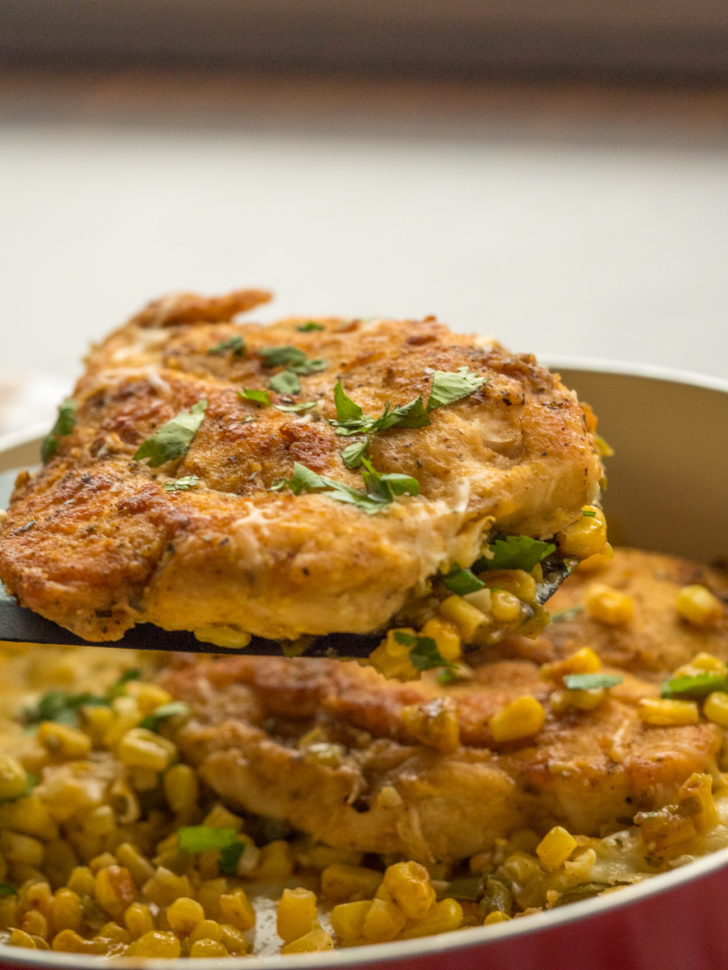 Cook time is miraculously cut in half by butterflying your chicken breast horizontally into thin cutlets or, using a nice and thin, boneless chicken thigh. We personally love the extra flavor that chicken thighs add to any dish, but breasts are always great too with the seasonings of the recipe. After all, that is what this is about – satisfying flavors and convenience in one pan that makes life makes life easier and more delicious every time.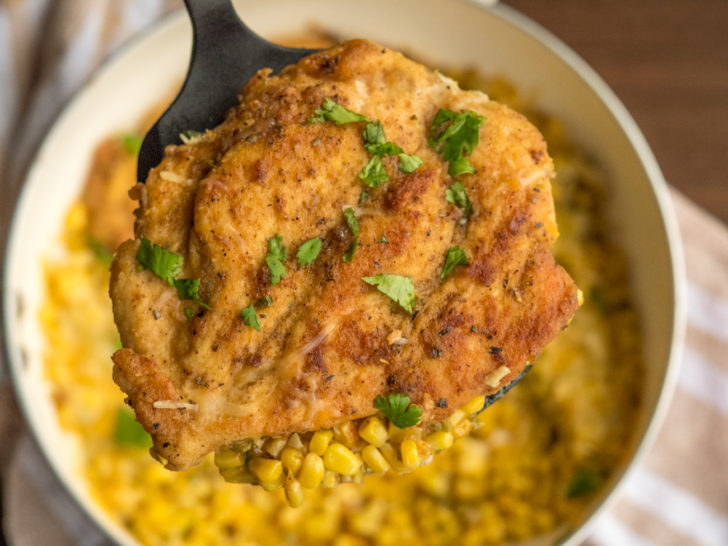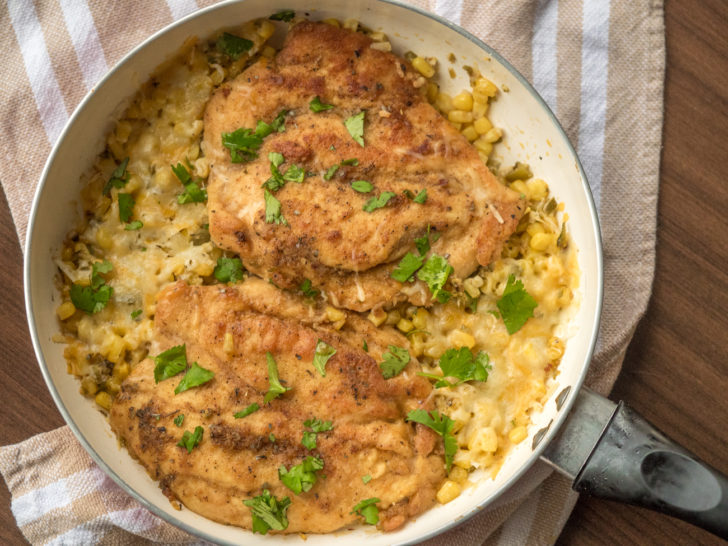 Jalapeño Corn Chicken Skillet
Ingredients
1/4 cup lime juice
4 boneless, skinless chicken breasts or thighs 3 tablespoons extra-virgin olive oil, divided, or as needed
2 cups canned or frozen corn kernels (thawed, if using frozen)
3 clove garlic, minced
2 jalapeños, seeds removed, finely chopped
1/2 cup water
1 cup Mexican cheese blend, grated
Spice Rub:
1/2 cup all-purpose flour
1 teaspoon chili powder
1 teaspoon dried oregano
1/2 teaspoon dried basil
1/2 teaspoon cumin
1/2 teaspoon garlic powder
1/2 teaspoon onion powder
kosher salt and freshly ground pepper, to taste
Preparation
Unseal bag and place chicken inside. Seal again and shake until chicken is thoroughly coated with spice mixture.
Heat 2 tablespoons olive oil in a large pan or skillet over medium-high heat and, working in batches (if necessary), brown chicken on both sides until nicely seared.
Transfer chicken to a separate plate, then heat remaining olive oil in the skillet. Add corn kernels and chopped jalapeño and sauté until browned. 5-6 minutes.
Add garlic and cook for another 1-2 minutes, or until fragrant.
Pour in lime juice and water and return chicken to pan. Cook until liquid is absorbed and chicken is fully cooked through.
Optional: sprinkle cheese over dish and cover with a lid until melted.
Remove from heat and garnish with fresh lime juice or fresh cilantro.
Enjoy!
Recipe adapted from The Chunky Chef
SKM: below-content placeholder
Whizzco for 12T