Piles of veggies, succulent shrimp, and smoky sausage tossed in tons of Cajun flavor.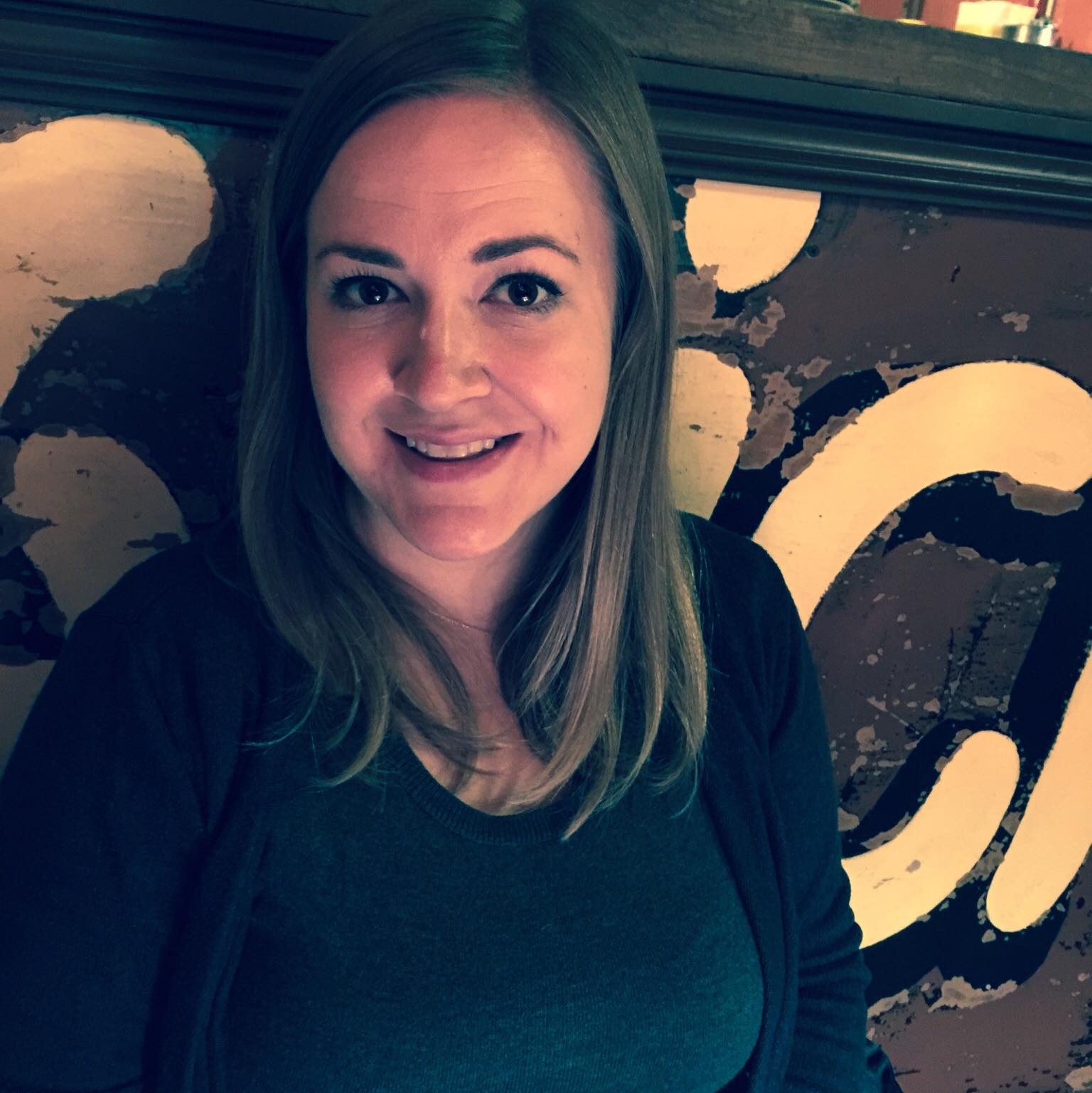 Kristy Norrell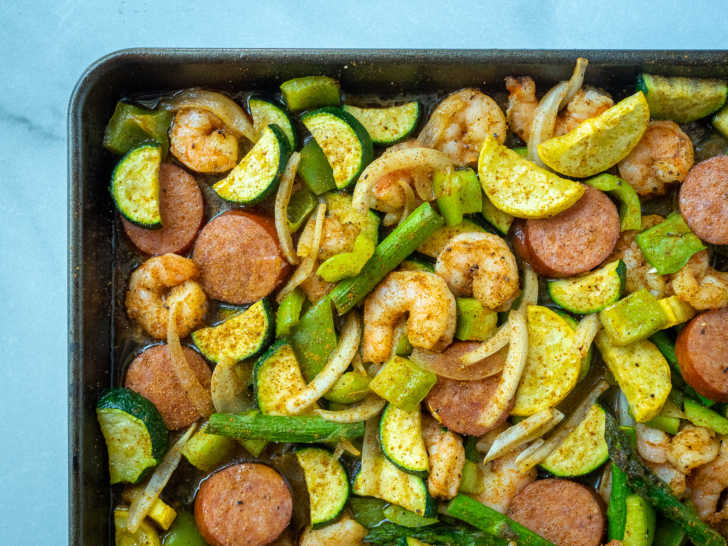 This is probably the seven-hundred-and-thirty-second time I've told you how much I love a sheet pan meal, but I'm not about to stop now. I still really do, after all this time and all those recipes. A full meal on one baking pan and only one dish to wash! It's the ideal dinner situation. And this one… ohhhhh this one is one for the record books. With both succulent shrimp and smoky sausage and piles and piles of veggies all tucked into a smoky Cajun seasoning blend, it's the stuff dinner dreams are made of.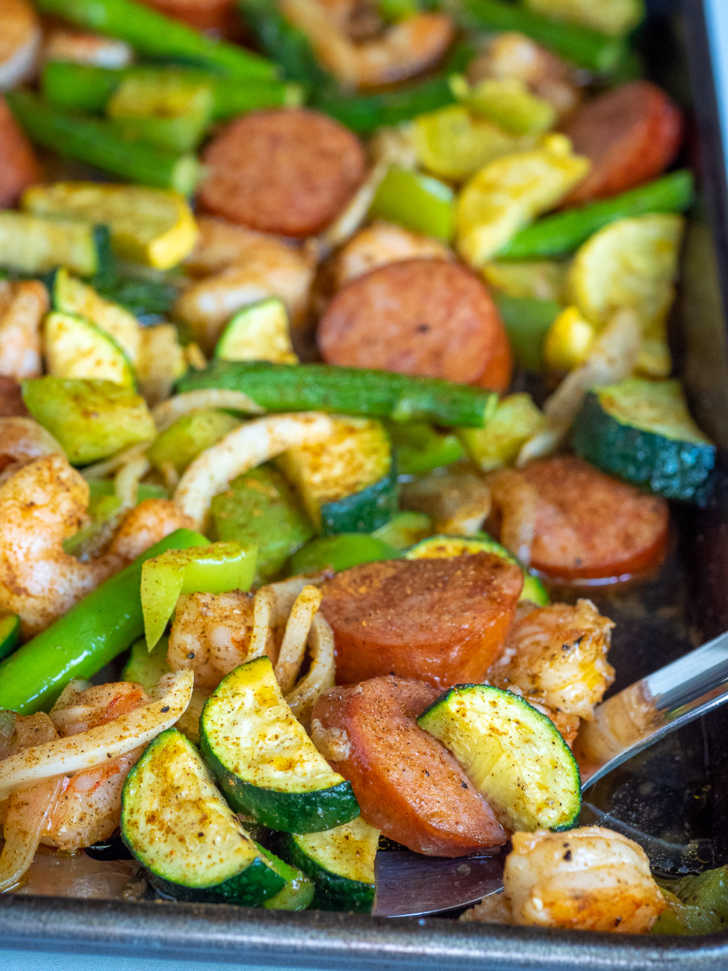 Here's the cast of characters:
Zucchini, green bell pepper, onion, yellow squash, asparagus. (I told you there were piles of veggies). Shrimp. Andouille sausage. A generous dose of smoky Cajun seasoning. Sounds like heaven, right? It's pretty close.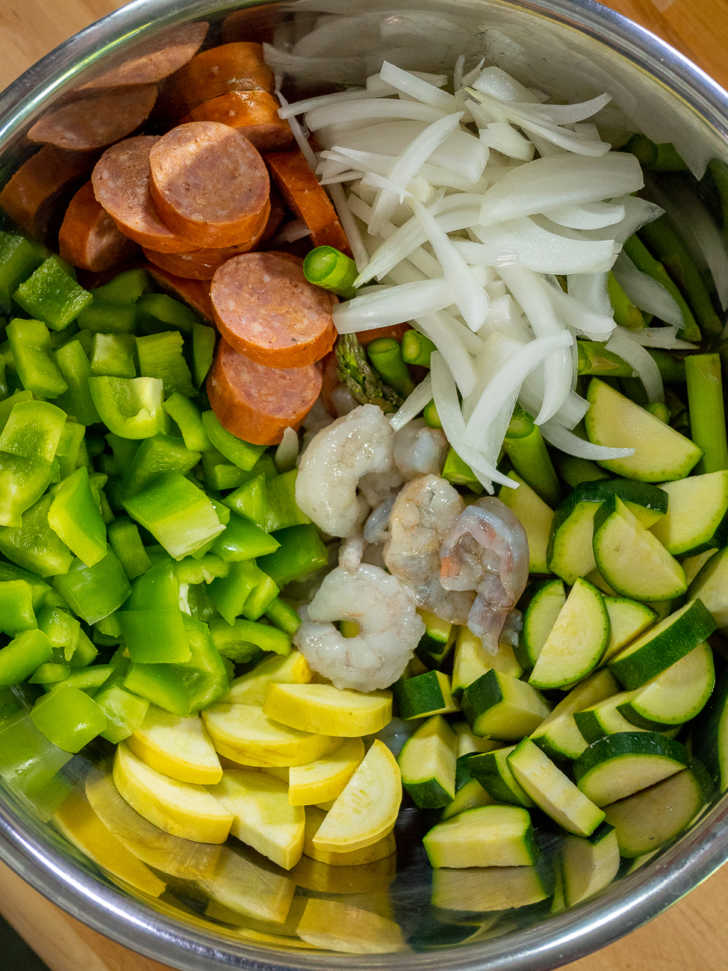 You toss that allll together (with some olive oil too) and spread it out on a sheet pan to bake. That's it! That's dinner!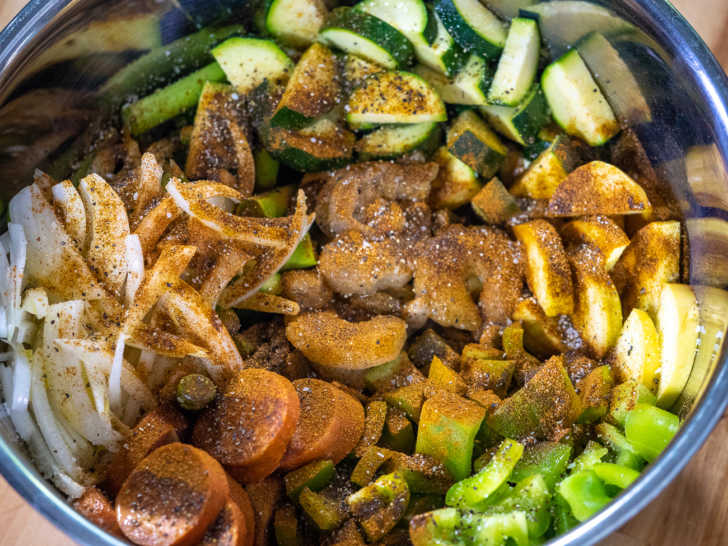 But Kristy, won't that get too crowded? Won't that steam everything instead of roasting it?
So, this is a concern with sheet pan meals. When you pack everything in on a single sheet pan, the more liquidy ingredients release their juice and if things are too crowded on that sheet pan, things tend to steam since air doesn't have room to circulate. That can mean that every ingredient doesn't get the tippity-top most ideal cooking method it could, but it also means you get your entire dinner done with no fuss. It's a bit of a trade off.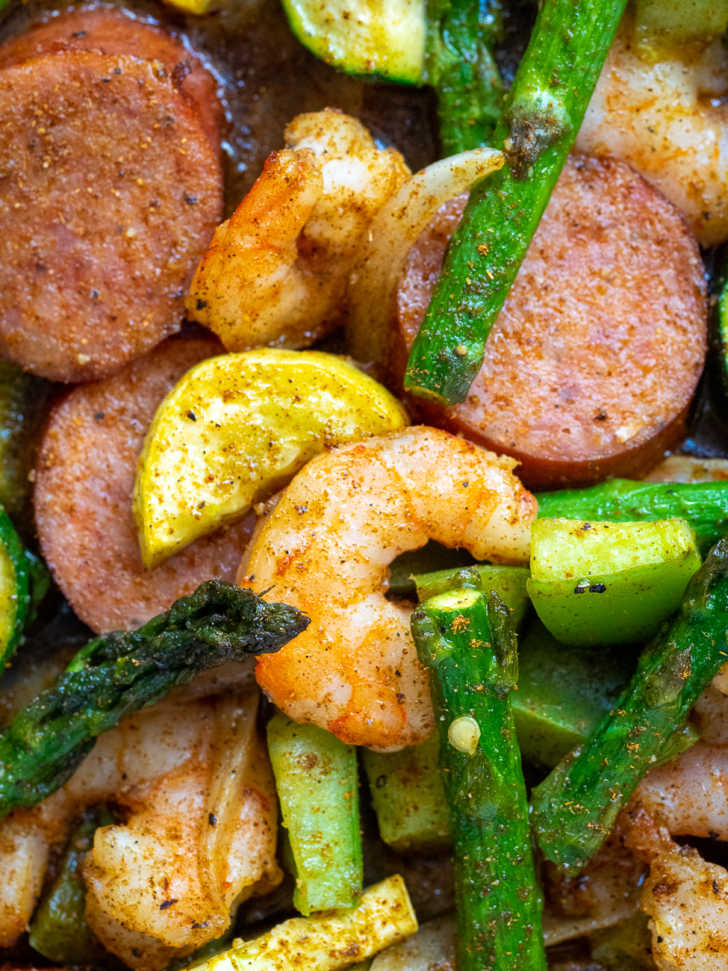 BUT, there's an easy workaround. You can always use two sheet pans and bake like ingredients together. Pile your watery veggies on one — like your yellow squash and zucchini — and your proteins on the other. Just divide the seasonings and the aromatics between the two — you can keep the baking time the same — and you'll give your ingredients a little more room to reach their full potential.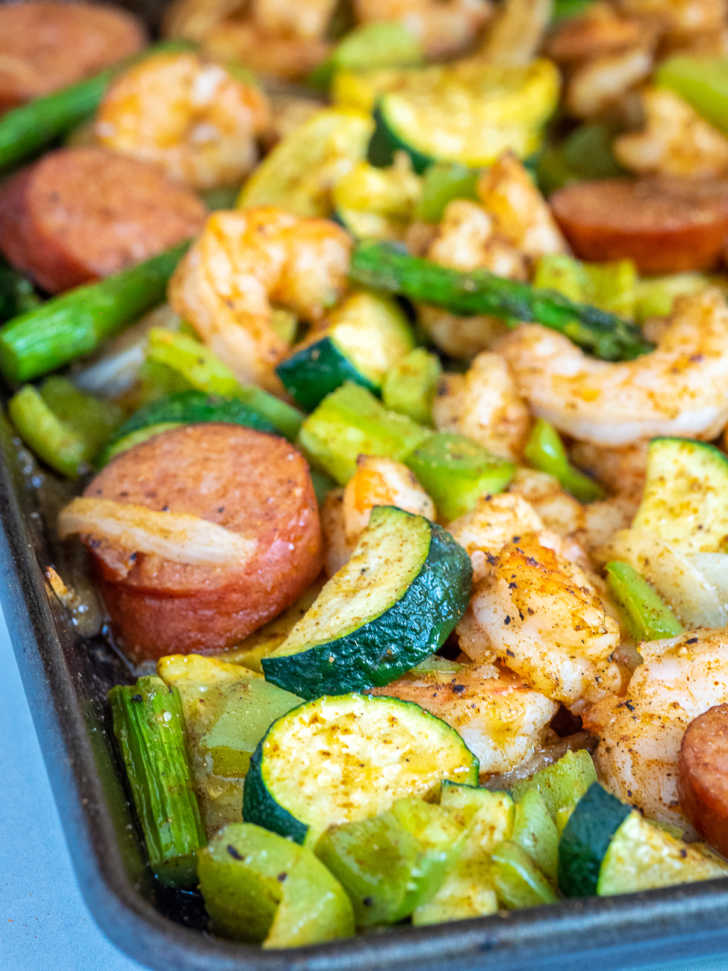 You don't have to do that here, by any means. You can use a single sheet pan, toss everything together, pop it in your oven, walk away, and come back to a dinner that's so filling and has so much flavor it'll seem like you spent hours toiling over it. But really it's done in under thirty minutes!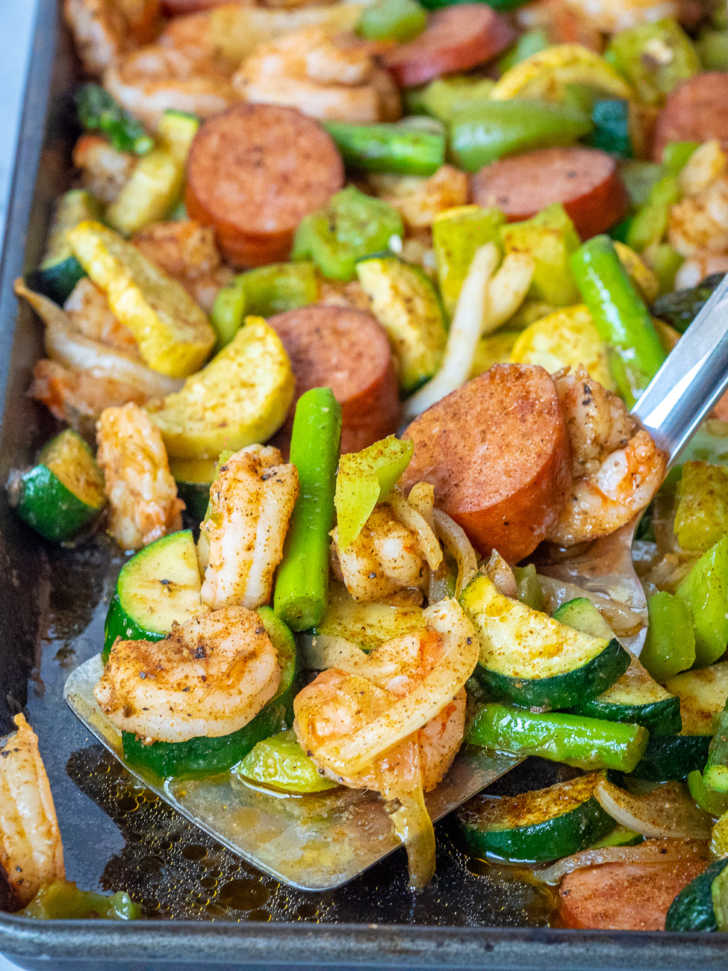 Cajun Shrimp and Veggie Sheet Pan Dinner
Serves 4
10m prep time
15m cook time
Ingredients
1 1/2 lbs large shrimp, peeled and deveined
1/2 lb andouille or other smoked sausage, sliced
2 medium zucchini, sliced
1 medium yellow squash, sliced
1/2 bunch asparagus, woody ends trimmed and chopped into 2-inch pieces
2 green bell peppers, chopped
1 small yellow onion, halved and sliced
2 tablespoons olive oil
2 tablespoons Cajun seasoning
Kosher salt and freshly ground black pepper, to taste
Preparation
Preheat oven to 400°F.
To a large bowl, add the shrimp, sausage, zucchini, yellow squash, asparagus, bell pepper, and onion.
Add olive oil, Cajun seasoning, season with salt and pepper and toss until everything is well coated.
Transfer to a rimmed baking sheet and spread ingredients out evenly. Bake until shrimp is cooked through but pink and veggies are fork tender, 15-20 minutes. Enjoy!
Recipe adapted from The Recipe Critic.
SKM: below-content placeholder
Whizzco for 12T