When it comes to comfort food, baked spaghetti is near the top of my list of favorites. Typically made with spaghetti layered with meat sauce and lots of cheese, this hearty dinner is loaded with carbs and comfort. Sometimes you just need a warm, filling dinner, and spaghetti bake certainly fits the bill. While I love traditional spaghetti bake, we've made a few different versions over the years. Let's take a look at a few of my favorites!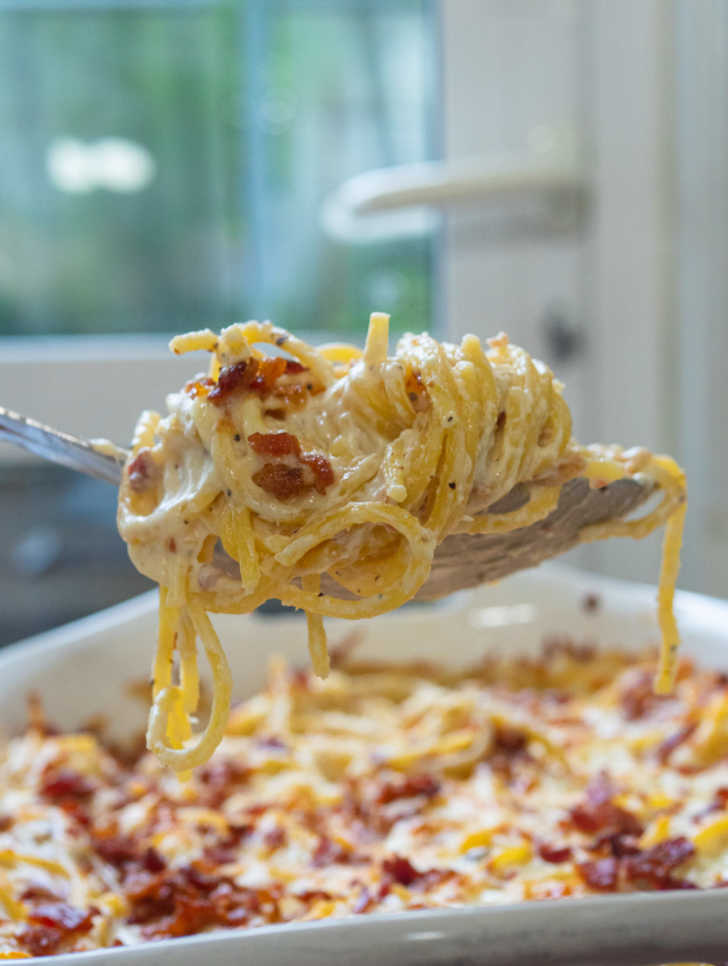 Looking for a healthy weeknight dinner solution? Well keep on lookin'. While this Bacon Cream Cheese Baked Spaghetti is certainly easy enough for a busy weeknight, it most definitely is not health food. No, this is indulgent comfort food that's unapologetic in its creamy-cheesiness. (There's bacon too!) It's simple, it's rich, and it's utterly delicious. Get the recipe here!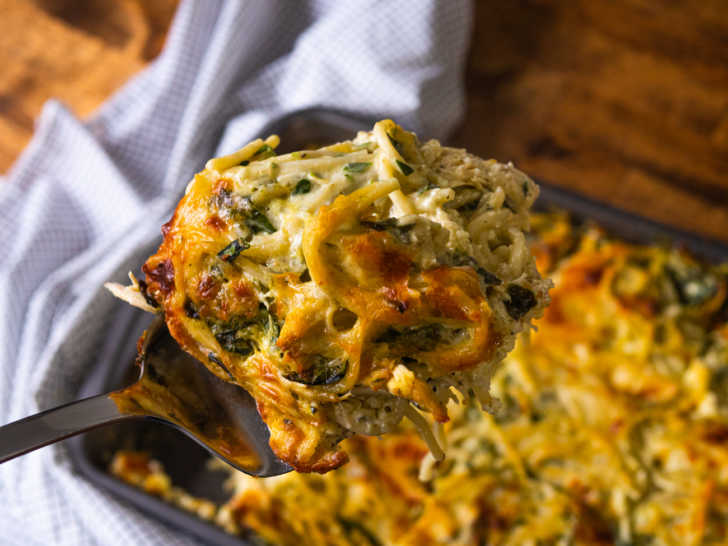 I tend to turn to spaghetti when I need a quick, last-minute meal that I know the whole family will love, and honestly, that usually only consists of browning some meat, opening a jar of sauce, and boiling some noodles. Not so exciting, right? Well this spaghetti dinner is a little more inspired and yet it only takes just over a half-hour from start to finish. It's a creamy, comforting bake full of healthy spinach, hearty chicken, and plenty of garlicky alfredo flavor. It's spaghetti night done different, but I can promise you that it comes with the same guarantee that the whole family will be happy when they sit down to the table. Get the recipe here!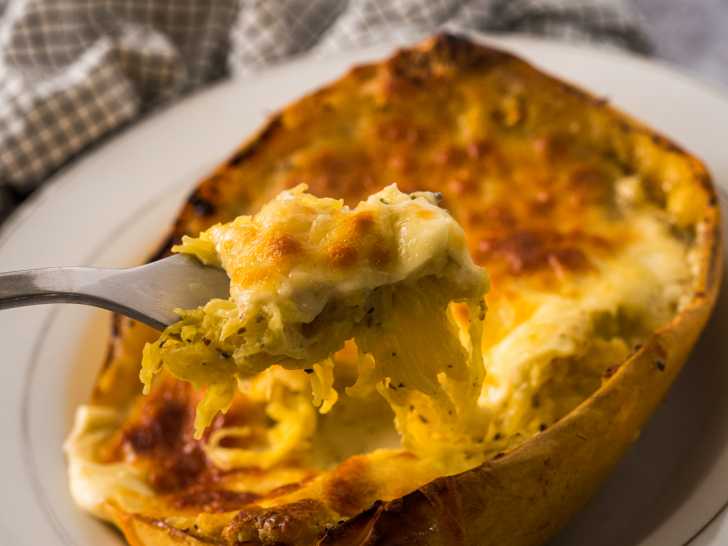 Veggie noodles have become all the rage as folks look for different ways to eat healthier. I can't say that I'll ever give up my pasta entirely, but vegetable alternatives can virtually simulate that beloved pasta experience and still achieve that comfort food feeling. Spaghetti squash is a fantastic vegetable alternative to pasta that's super easy to cook and it still has that pasta-like experience that we all love. But the goodness isn't done yet! This is a garlic parmesan dish, after all. This is the part that isn't so healthy but it sure is tasty. I've got a rich, creamy mixture that's made with heavy cream, parmesan cheese, and fresh garlic. Get the recipe here!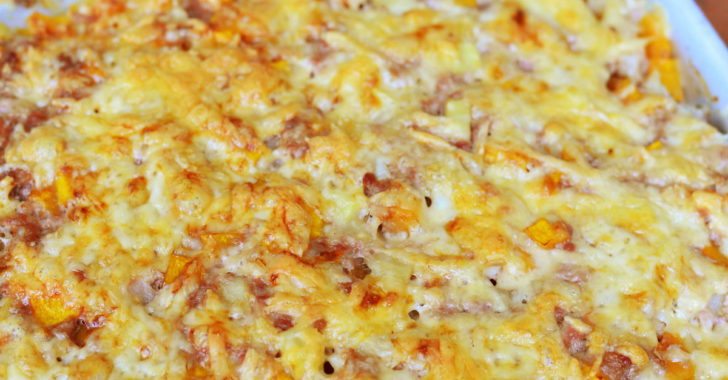 While we love all different types of food, pasta is quite possibly our favorite, just because there are so many different ways to make it! We've tried a lot of different versions, but this baked pasta casserole – with rich cream cheese cooked into it – is definitely a new fave and we hope you like it as much as we do. Our family has requested it on several occasions since the first time we made it, so we'll take that as a sign that we're not the only ones loving it! Get the recipe here!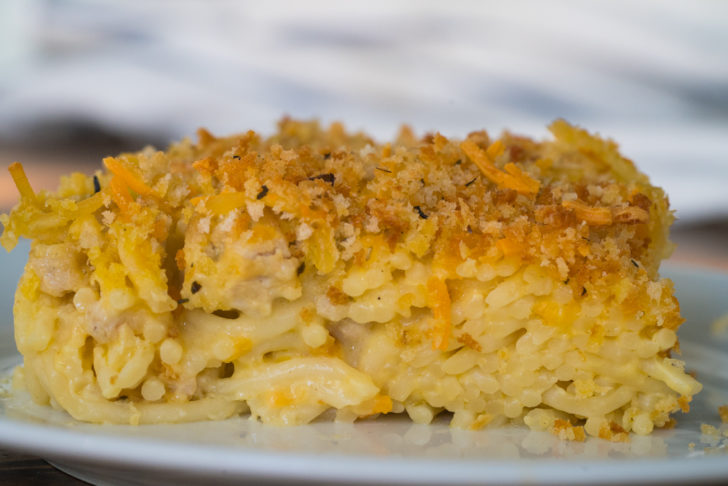 Spaghetti, casserole, and a good chicken dish are all meals that make frequent appearances on busy weeknights around here. And for good reason. They're all quick and crowd-pleasing options that are easy to turn to when you're short on time but still want a nice, home-cooked meal. So imagine if you borrowed a little bit of the best from all of those options – the comfort of a creamy casserole, the satisfying chew of spaghetti noodles, the sensible protein punch from chicken – you could say you then have the ultimate weeknight dinner. Well, that's just what our Chicken Little Spaghetti Bake is. It borrows the best traits of some of our favorite comfort classics for one irresistible and easy meal. Get the recipe here!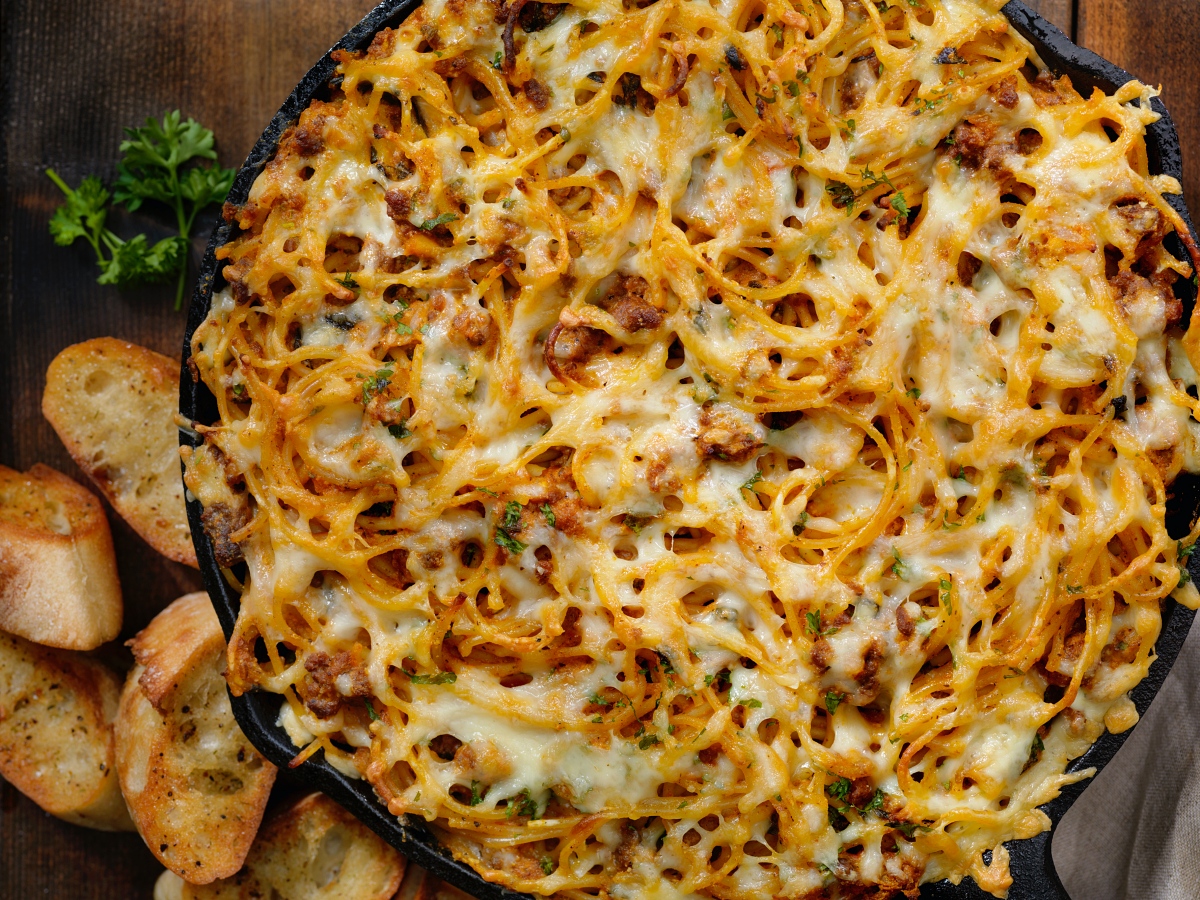 Pasta is one of those foods that's always comforting, and always welcome at the dinner table. And, of all the pastas spaghetti is probably the most beloved. While it's hard not to occasionally have some fun eating it there's no denying that it can be a bit messy.
It's one of the reasons that I love baked spaghetti so much. This wonderful dish is baked in the oven and then you slice it like a pie, meaning that instead of long and hard-to-manage noodles you end up with these short pieces that have been baked to perfection in a tasty sauce of San Marzano tomatoes. Get the recipe here!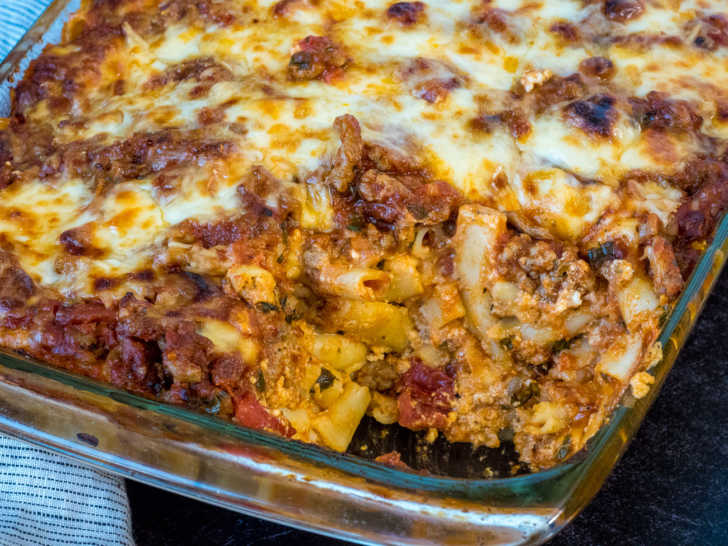 The secret of million dollar anything (Million Dollar Spaghetti, Million Dollar Ravioli, etc) is that it uses cream cheese to make for an extra indulgent, creamy recipe. And that's just what's happening here with our Million Dollar Baked Ziti… It has everything wonderful that a traditional baked ziti does, but it also brings an irresistibly creamy layer to the party. And bonus? It's just as easy to make as the original. Get the recipe here!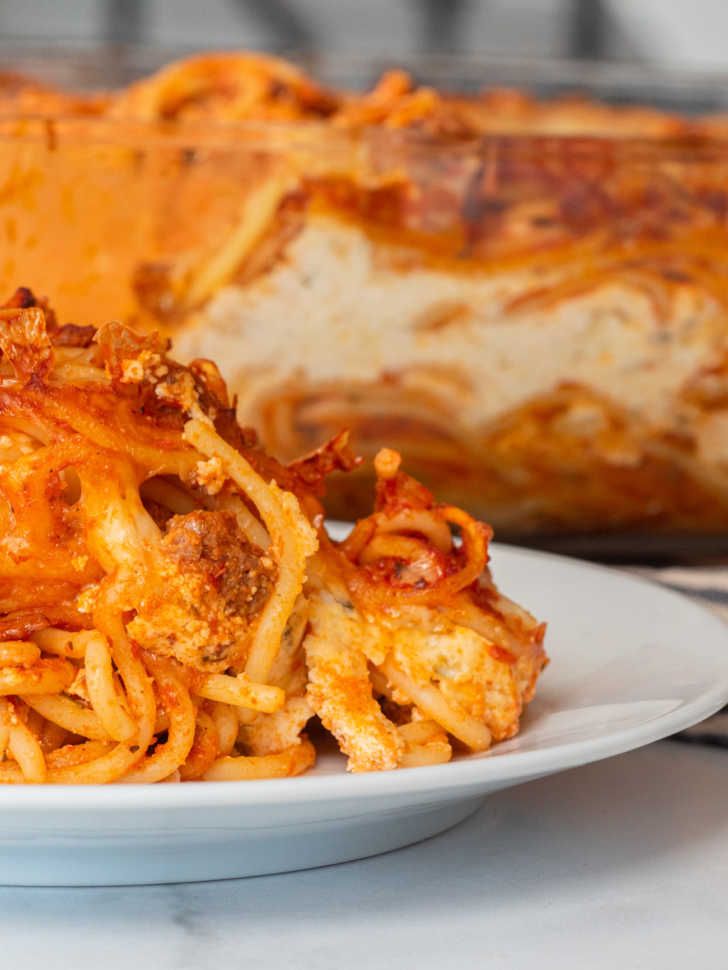 When you're craving Italian, choosing between some of the greats can feel like an awfully difficult choice. Should we do a meaty spaghetti tonight? Or maybe a cheesy layered lasagna sounds better? But why not go ahead and have them both! Our Baked Spaghetti Lasagna lets you do that in just one dish. It's a layered, bubbly oven-baked affair complete with tender strands of red-sauced spaghetti and layers of creamy (and cheesy!) ricotta goodness. My family thinks it's truly the best of both worlds and I think yours will too. Get the recipe here!
SKM: below-content placeholder
Whizzco for 12T