Two things we love come together at last.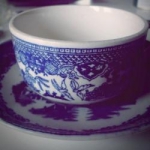 Rose Heichelbech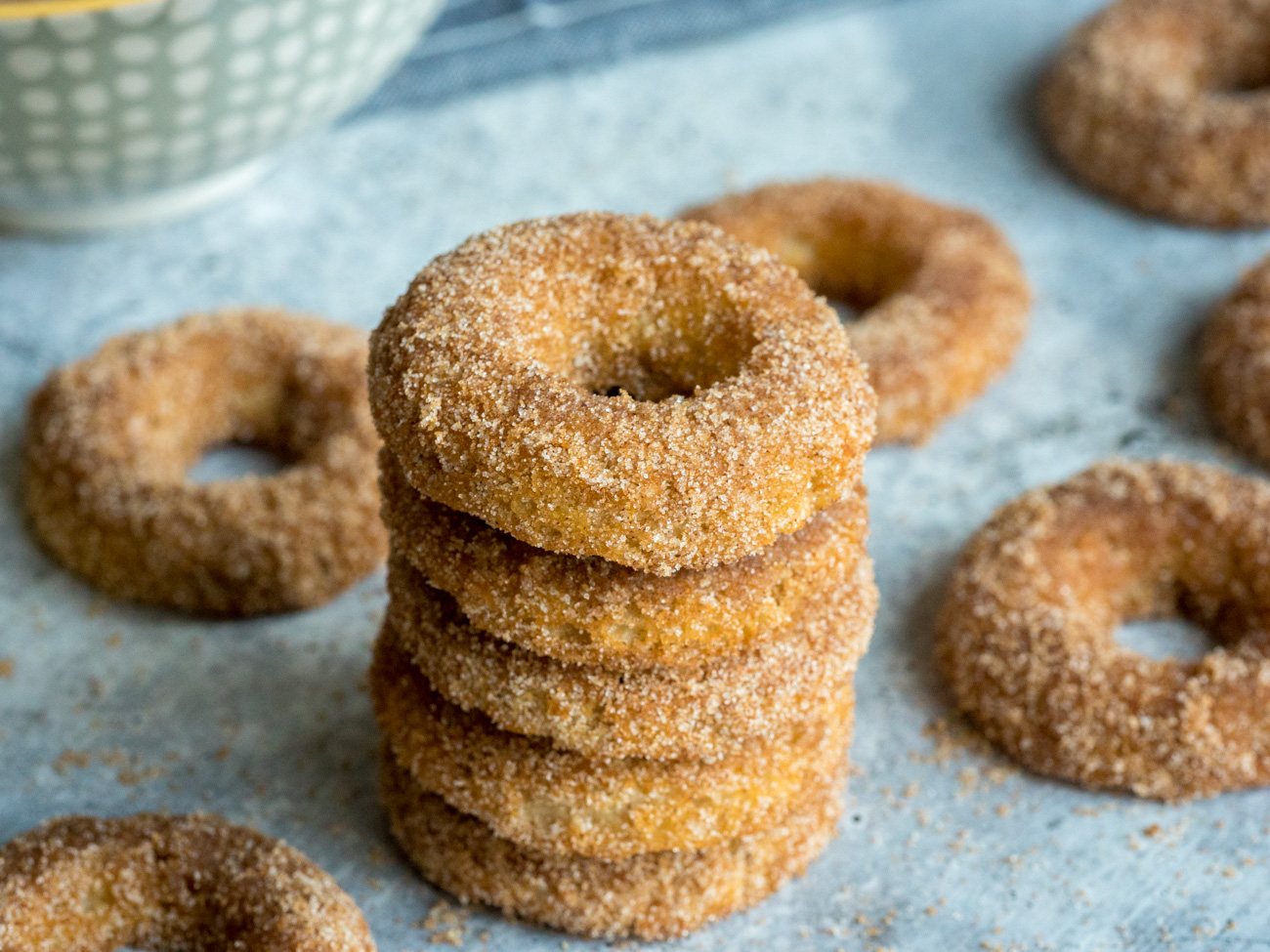 The warm delicacy that is churros cannot be understated as far as flavor and texture. The sweet treat is both rich and light at the same time. Perhaps this is why it's a favorite snack at Disney parks, fairs, and even at home for those who are willing to go to the trouble of heating the oil and frying each churro to perfection. But, there is a way to get some of the signature flavor and texture without deep frying.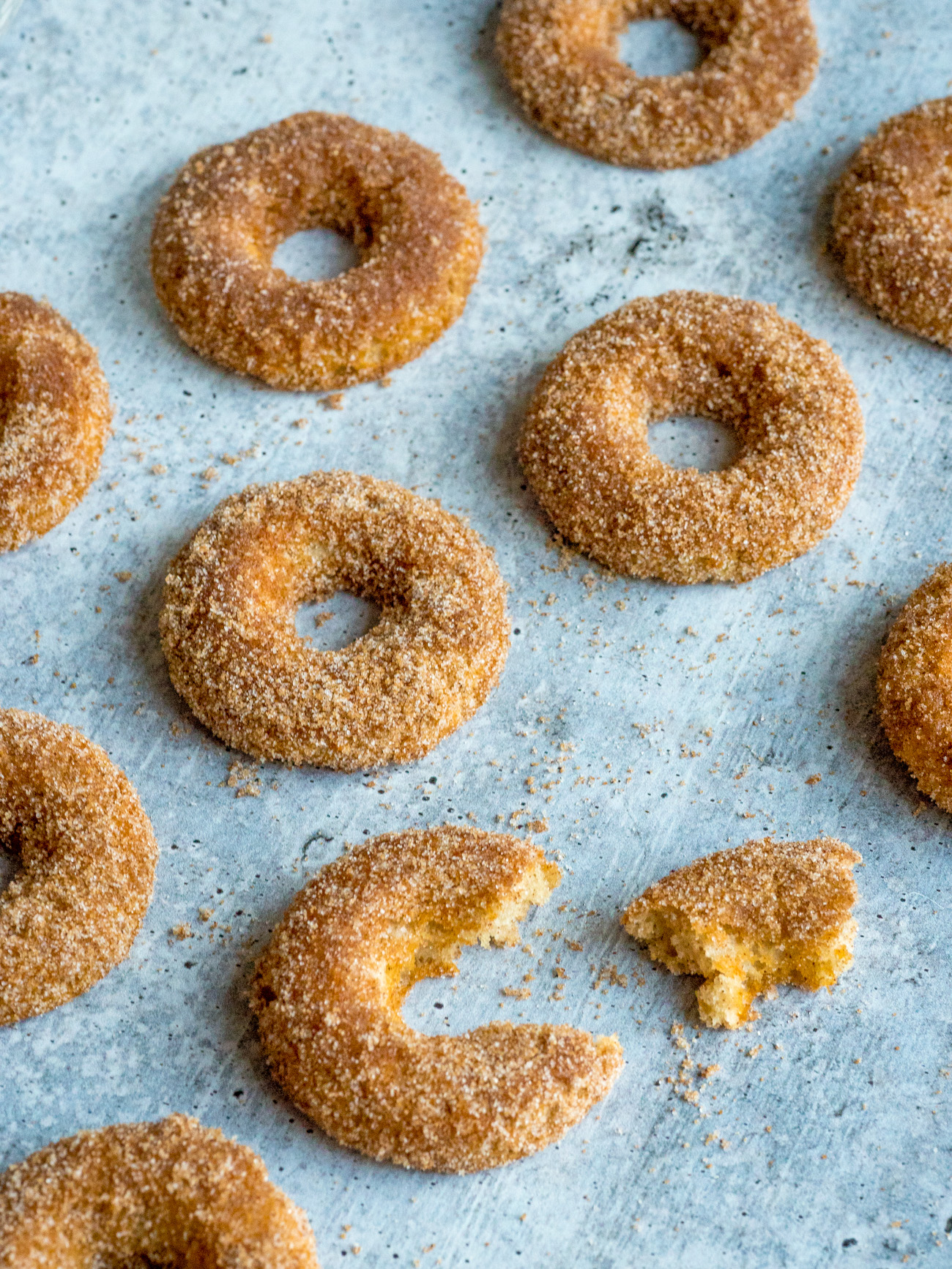 These baked churro donuts have a wonderful texture and don't require any frying at all. But, what you will need is a donut pan for these treats, which can be found at most grocery and department stores. They come in high-temp silicone and metal and in varying sizes.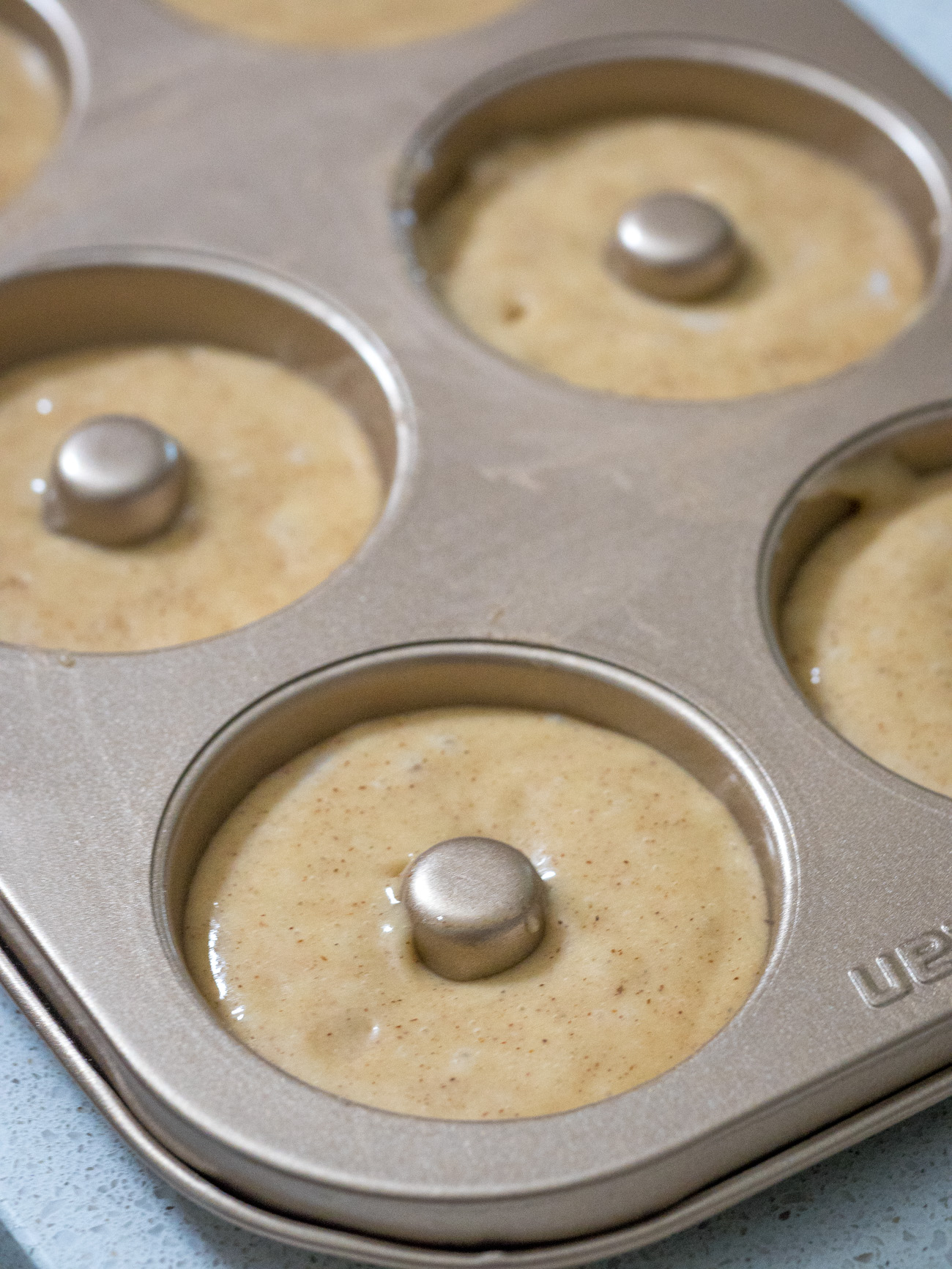 One thing to note is that you will need to grease the pan well before the batter goes in. We learned the hard way that to miss this step is end up with donut crumbles. They're still delicious, but not quite the effect we were going for!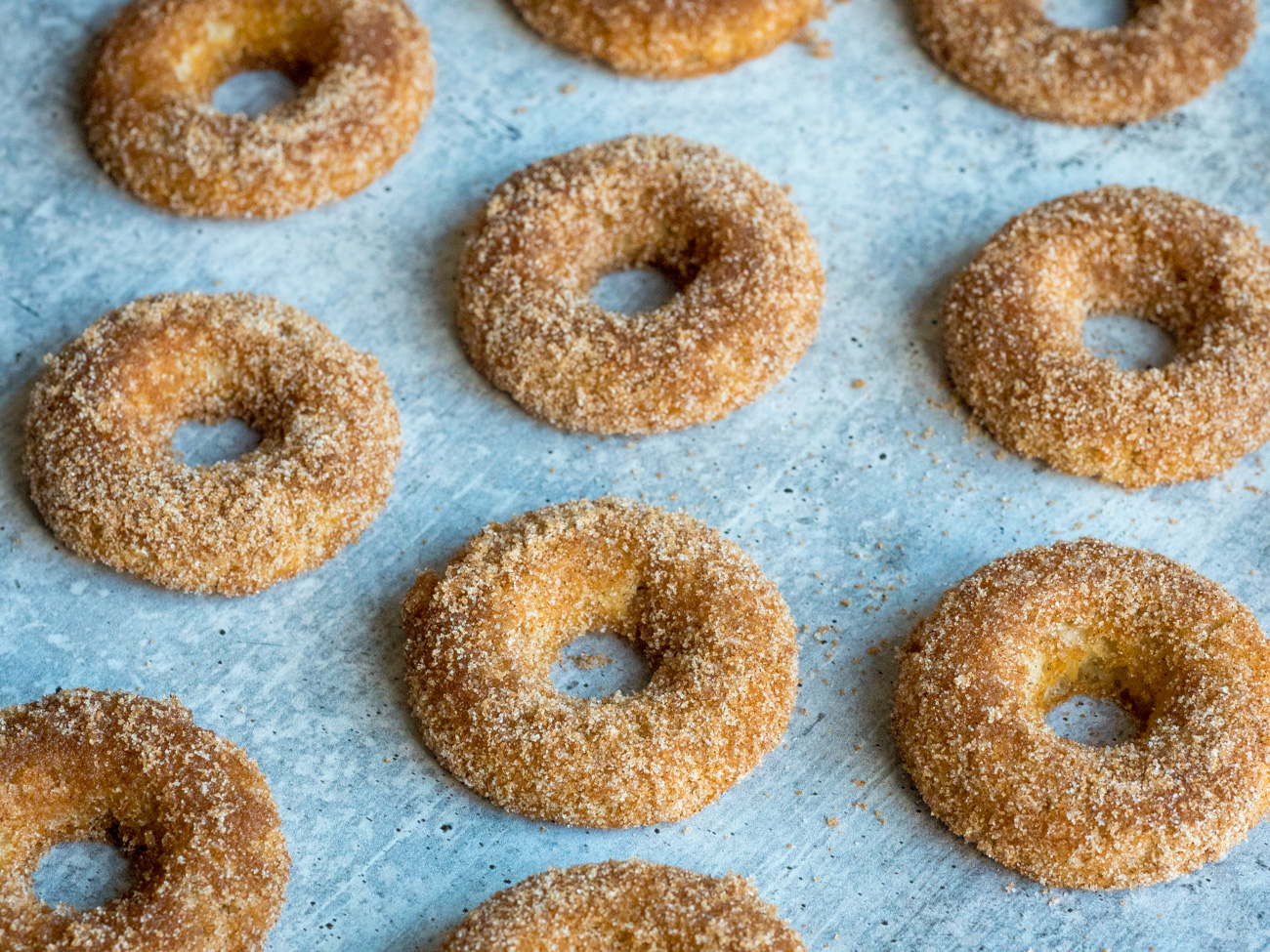 The batter for these donuts gets plenty of lift from various leavening agents, including baking powder, baking soda, and buttermilk. If you don't have buttermilk on hand you can make a substitute by combining cow's milk and white vinegar at a ratio of 1/2 cup plus 1 1/2 tablespoons milk to 1/2 tablespoon vinegar. This adds flavor and lift to the donuts.
Once the batter is ready and the pan greased, pour the batter into the donut molds, but do not fill them up all the way. You want to leave a 1/4 of depth unfilled so that the donuts can expand in the oven without losing their shape.
Once a toothpick inserted in the donuts comes out clean (about 10-13 minutes) they're ready to take out of the oven. Allow them to cool most of the way before removing them from the pan and then let the donuts cool completely. Once cooled it's time to add the coating.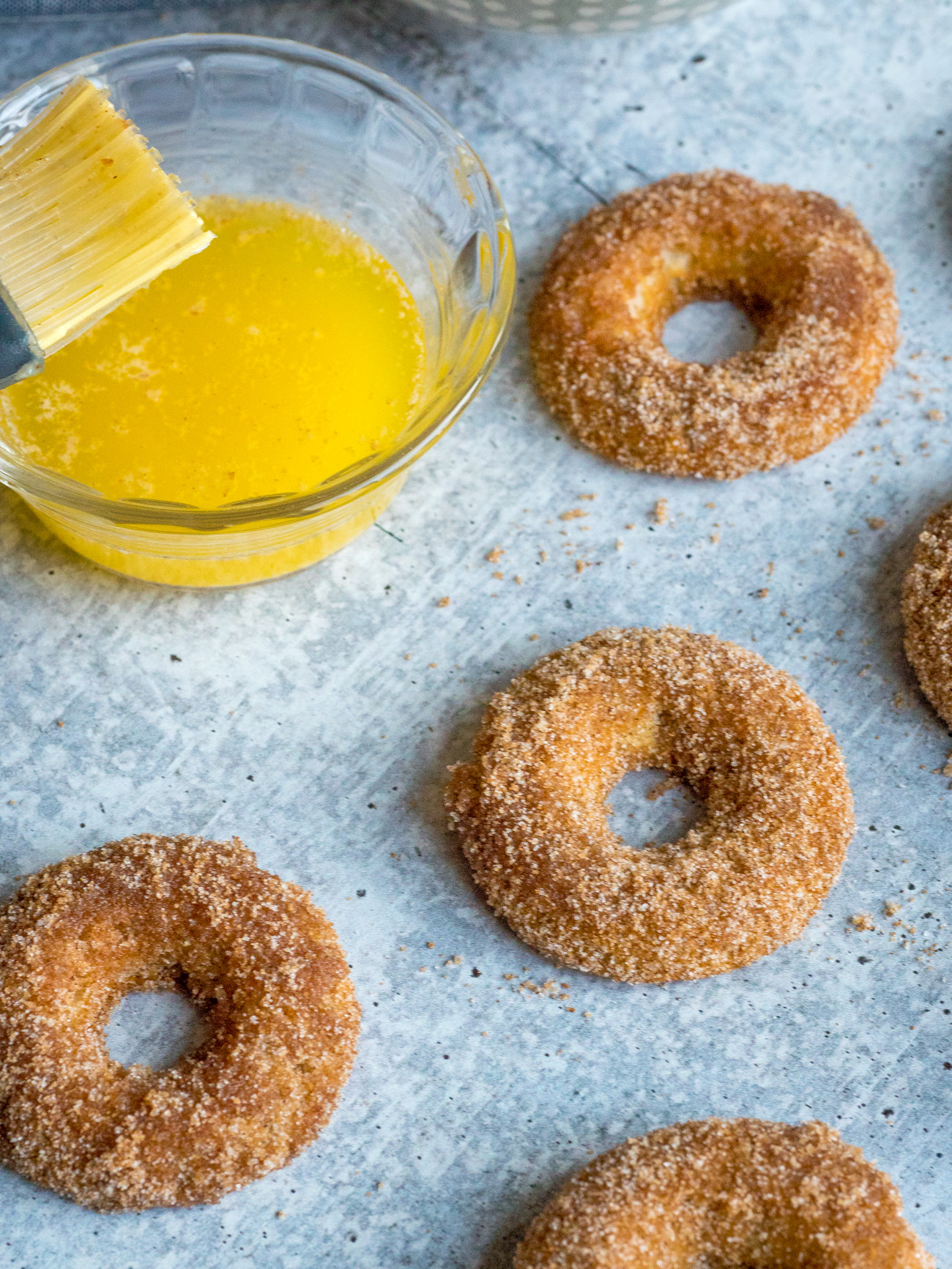 This last step is where a lot of the magic in this recipe happens. A combination of brown sugar, white sugar, and cinnamon, the sweet mixture is adhered to the donuts using melted butter. Brush the melted butter on and then coat with the cinnamon sugar.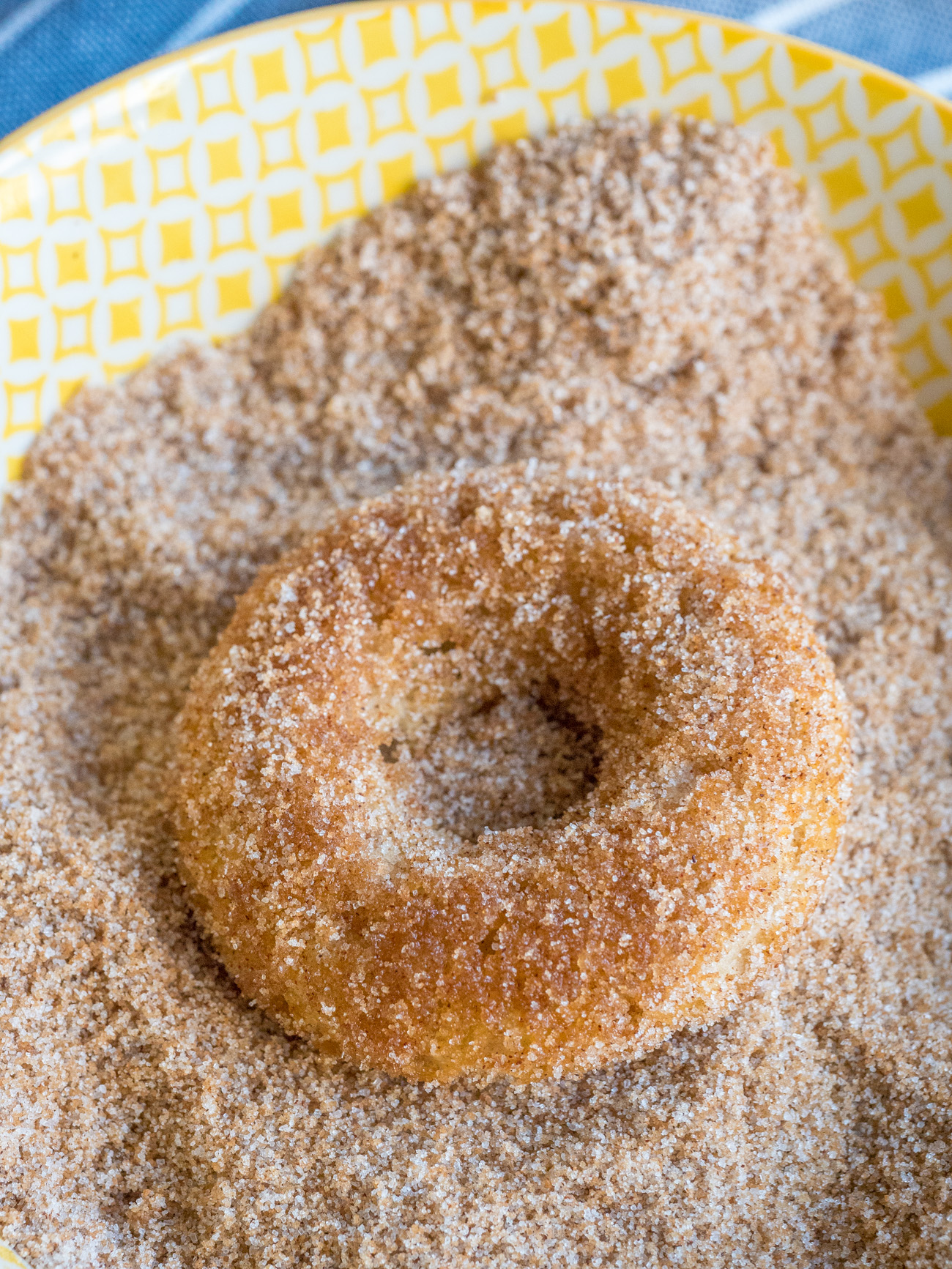 These donuts are pretty easy to make with ingredients you probably already have in your kitchen. They are perfect with a cup of coffee or tea, but they also make a really wonderful dessert after dinner for those nights when you're really craving churros.
Baked Churro Donuts
Makes 6 donuts
15m prep time
13m cook time
For the donuts:
3 tablespoons unsalted butter
1 cup all-purpose flour
3/4 cup sugar
3/4 teaspoon baking powder
1/4 teaspoon baking soda
1/2 teaspoon salt
1/2 teaspoon cinnamon
1 egg
1/2 cup plus 2 tablespoons buttermilk
1 1/2 teaspoons vanilla extract
For the topping:
1/2 cup sugar
1/2 cup brown sugar
1 tablespoon cinnamon
3 tablespoons unsalted butter
Preparation
Preheat oven to 350°F. Grease a doughnut pan with nonstick cooking spray.
Melt 3 tablespoons butter over medium-low heat in a small saucepan over medium-low heat until lightly browned and nutty smelling. Transfer to a small bowl. Do not overcook the butter.
In a large bowl, whisk together flour, sugar, baking powder, baking soda, salt, and cinnamon.

In a small bowl, whisk together egg, buttermilk, and vanilla extract. Add 2 tablespoons of the brown butter and stir into the wet ingredients.
Add wet ingredients to dry ingredients. Stir until blended, but do not overmix.
Spoon batter into an icing piping bag or a zippered plastic bag with the end cut off for ease in filling donut form pan. Fill each section of donut pan about 75% full with batter.

Bake for 10-13 minutes or until a toothpick inserted in the middle of donuts comes out clean. Allow to cool slightly before inverting to a wire rack to cool completely.
Melt 3 tablespoons butter. Once melted pour into a small bowl. Mix together sugar, cinnamon, and brown sugar. Brush each donut in melted butter and then coat completely in the cinnamon sugar mix.
Recipe adapted from Shared Appetite.
SKM: below-content placeholder
Whizzco for 12T