Once you have a baby, everything changes in your household. Take it from us. We can scarcely remember what our lives were like before we had a baby to call our own. What did we use to do with all of that free time? Anyways, now that Christmas is upon us, we cannot wait to start decorating the house. It will be fun to see the baby's reactions to all of the decor that is commonly associated with this time of year.
All new parents dream about having the chance to share this big day with their baby. It's one of the most important days of the year. Everyone wants the adorable photo ops with their baby playing by the Christmas tree. It's not as easy as you may think, though. Anyone who has ever tried to take a picture of a baby before can tell you this.
They are not fans of sitting still and that's an understatement. Kids have a way of taking your best-laid plans and tossing them in the trash. Babies may also act differently during the Christmas season. Mom and Dad could be acting differently, which contributes to their change in demeanor. They love to see all of the shiny things that have just arrived.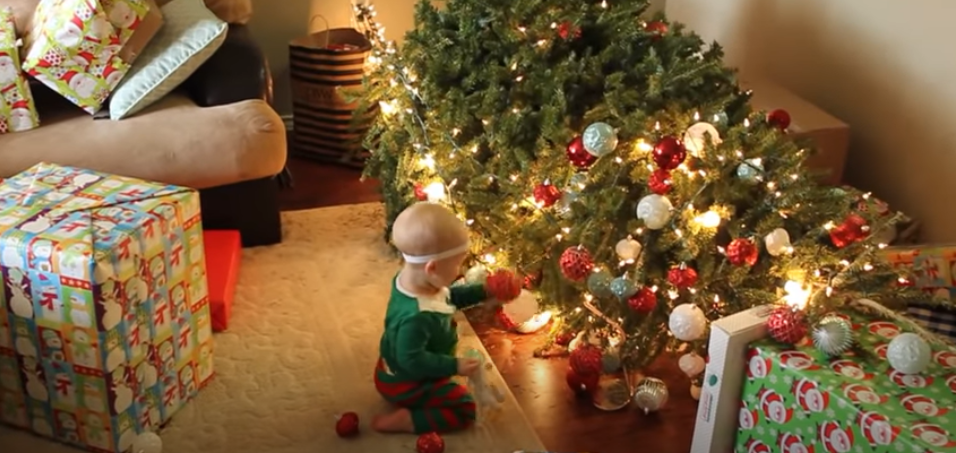 Story of This Life is here to provide you with a closer look at this baby's first Christmas. Parents everywhere are sure to love this one, but you don't need kids to have a good time. This is a clip that is sure to make everyone laugh, regardless of whether they have little ones at home or not. These antics are well worth a watch!
While the objects that you have at home might seem rather festive to you, the baby is not going to see it that way. In their mind, all of these shiny things are just toys or snacks for them to play with. If you decide not to baby proof the tree, you are going to have a number of unforeseen issues.
SKM: below-content placeholder
Whizzco for 12T