This recipe is for all the gnocchi lovers out there! For those who haven't tried gnocchi yet, it's essentially a potato dumpling that is treated as a type of pasta, accompanied by a variety of sauces and copious amounts of cheese. Trust us, you can never go wrong with copious amounts of cheese!
Gnocchi may seem like a complicated and time-consuming meal to make, but it's actually not that difficult; it does take a little time, but since you'll be rewarded with sweet pumpkin dumplings, we think it's well worth the time!<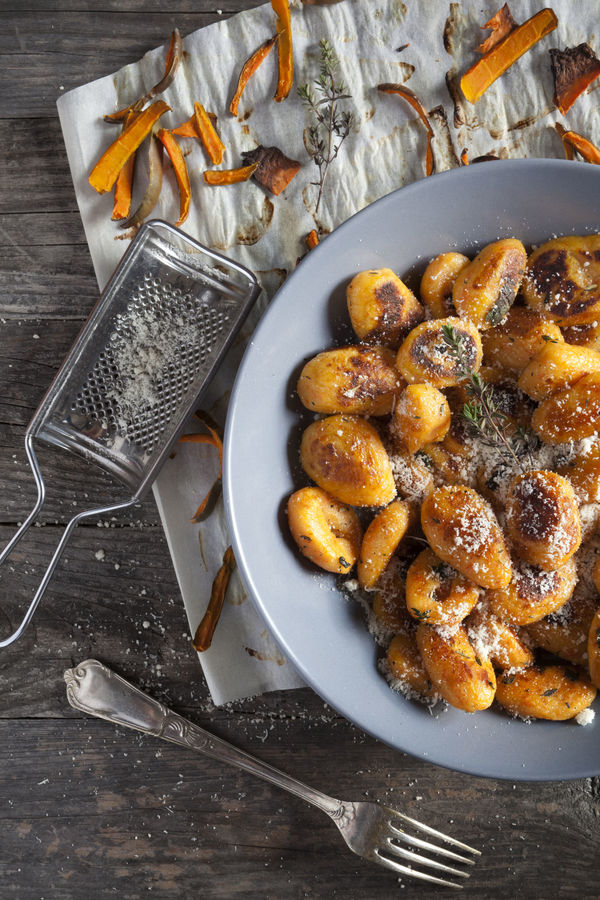 Pumpkin Sage Gnocchi
(Serves 4)
Ingredients
2 large Idaho potatoes, peeled and boiled until tender
1 cup pumpkin purée
1 large egg
1 1/2-2 cups all-purpose flour
2 sticks unsalted butter
1/4 cup Parmesan cheese, grated; plus more for garnish
2 tablespoons sage leaves, minced
1/4 teaspoon cinnamon
1/8 teaspoon nutmeg
1/8 teaspoon allspice
salt and pepper, to taste
water, for boiling
Directions
Take peeled and boiled potatoes and put them through a ricer to purée them. Place in a bowl and set aside until completely cool.
Combine pureed potatoes with pumpkin, egg, cheese, cinnamon, nutmeg, allspice, salt and pepper, and mix well. Bit by bit, add in flour until you've formed a sticky dough.
Divide dough up into 4-6 balls and place on a lightly floured surface. Roll each section into a long, 1/2-inch thick rope. Begin cutting ropes into 1/2-inch pieces. Dust pieces with flour so they don't stick together and press the tines of a fork into the pieces to give gnocchi the traditional indentation.
Once you've finished forming your gnocchi, cook them in salted, boiling water for 2-4 minutes. Once they start floating, they're finished. Extract gnocchi from water using a slotted spoon.
Place a large pan over high heat. Once hot, add in butter and wait for it to caramelize around the edges. Once it begins to brown (2-4 minutes), swirl the butter around and add in minced sage, salt and pepper. Cook for 20-30 seconds.
Then toss in your cooked gnocchi and coat thoroughly with browned butter and sage. Adjust seasoning if needed and garnish with more Parmesan. Serve hot.
Recipe adapted fromRachael Ray
SKM: below-content placeholder
Whizzco for 12T