The delightful Puerto Rican favorite marries juicy adobo chicken pieces with subtly flavored rice.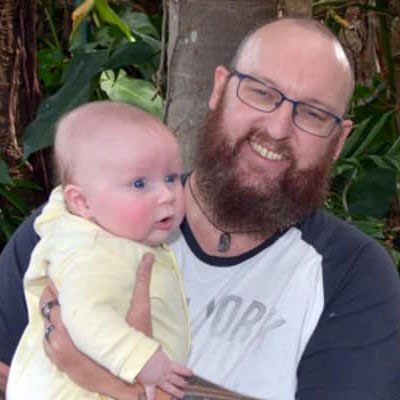 Jono Elderton
Arroz con Pollo (which translates to rice with chicken) is a delicious Latin comfort food featuring beautifully balanced herb spiced rice along with velvety chicken. It's a one pot dish brimming with delicious flavors that layer together into the almost perfect inexpensive home meal.
As with most popular dishes with Spanish roots, each country or region has their own version of Arroz con Pollo. I like the Puerto Rican version of this meal for its Sofrito – a flavor boosting mix that can take many forms – and liberal use of Adobo spices to enliven the inexpensive chicken pieces (skin on thighs and legs). The recipe below includes an option to make your own Adobo seasoning, however you can go with a store bought version that is just as effective.
Arroz con Pollo has a few steps, but they're logical and simple, designed to layer the flavor of the chicken and rice as it cooks into a subtle build up of quality tastes. It's easy once you get rolling, and the time taken to cook this meal is much less than a lot of one pan dinners which require lengthy time simmering.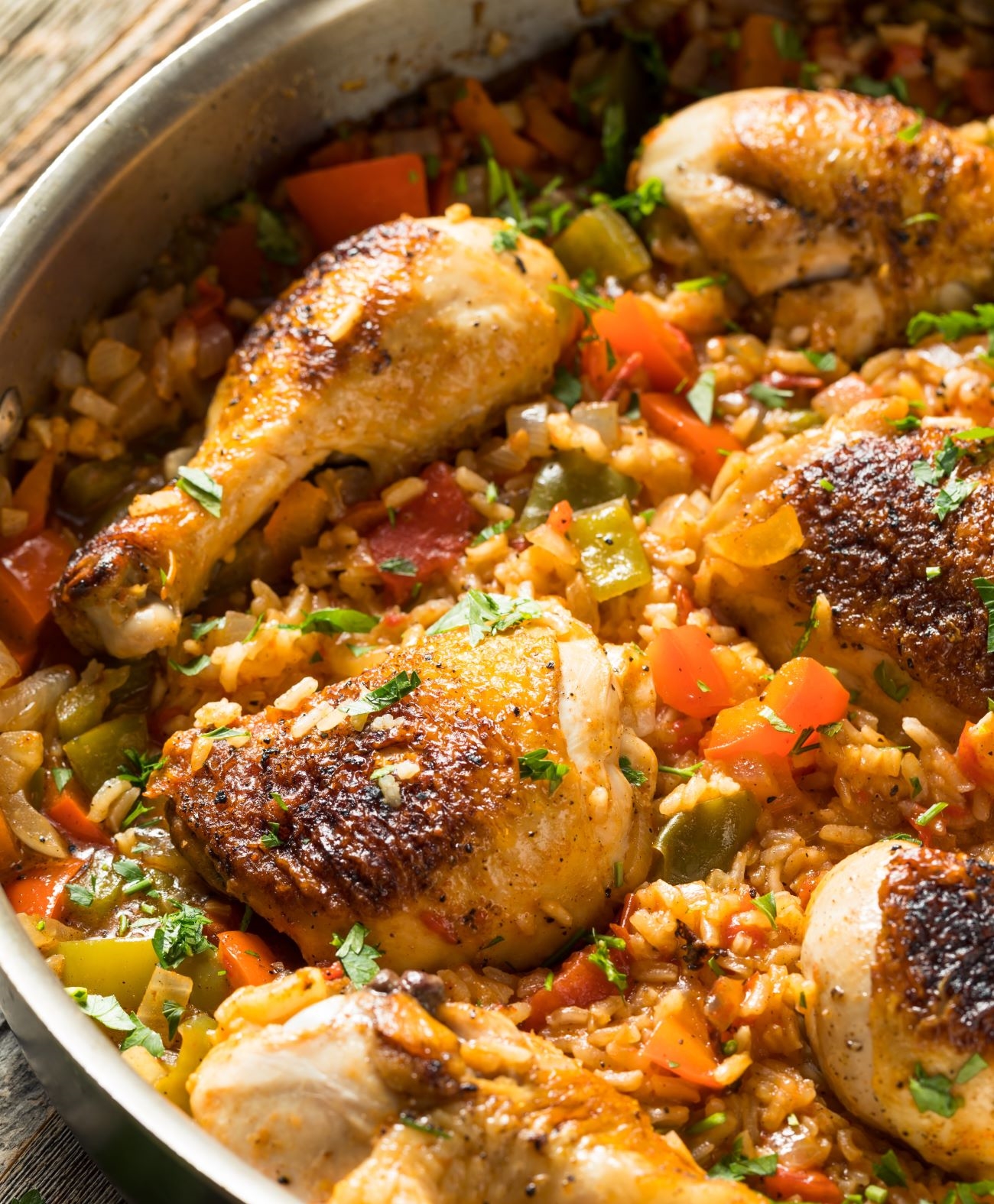 The dish is versatile. There are many variations you can attempt, especially with the rice's flavor, that can either give your Arroz con Pollo a smokier or spicier edge. The rice too can be switched to make a subtle adjustment to the look and texture of the meal. I love long grain rice because it soaks up flavor while still keeping a good texture that keeps Arroz con Pollo from being a risotto or paella type of dish.
There's also plenty of scope to add vegetables. I've made the recipe a few times now, and have included jalapenos, peas, corn, and even pitted green olives to brighten the dish and add veggies that are adept at taking on flavor. You can also include celery into the sofrito for this reason!
This is a great tasting, hearty weeknight meal for the family that is good for your budget and easy to clean up. If you like herbs, spices, and beautifully seasoned chicken than it will definitely hit the spot!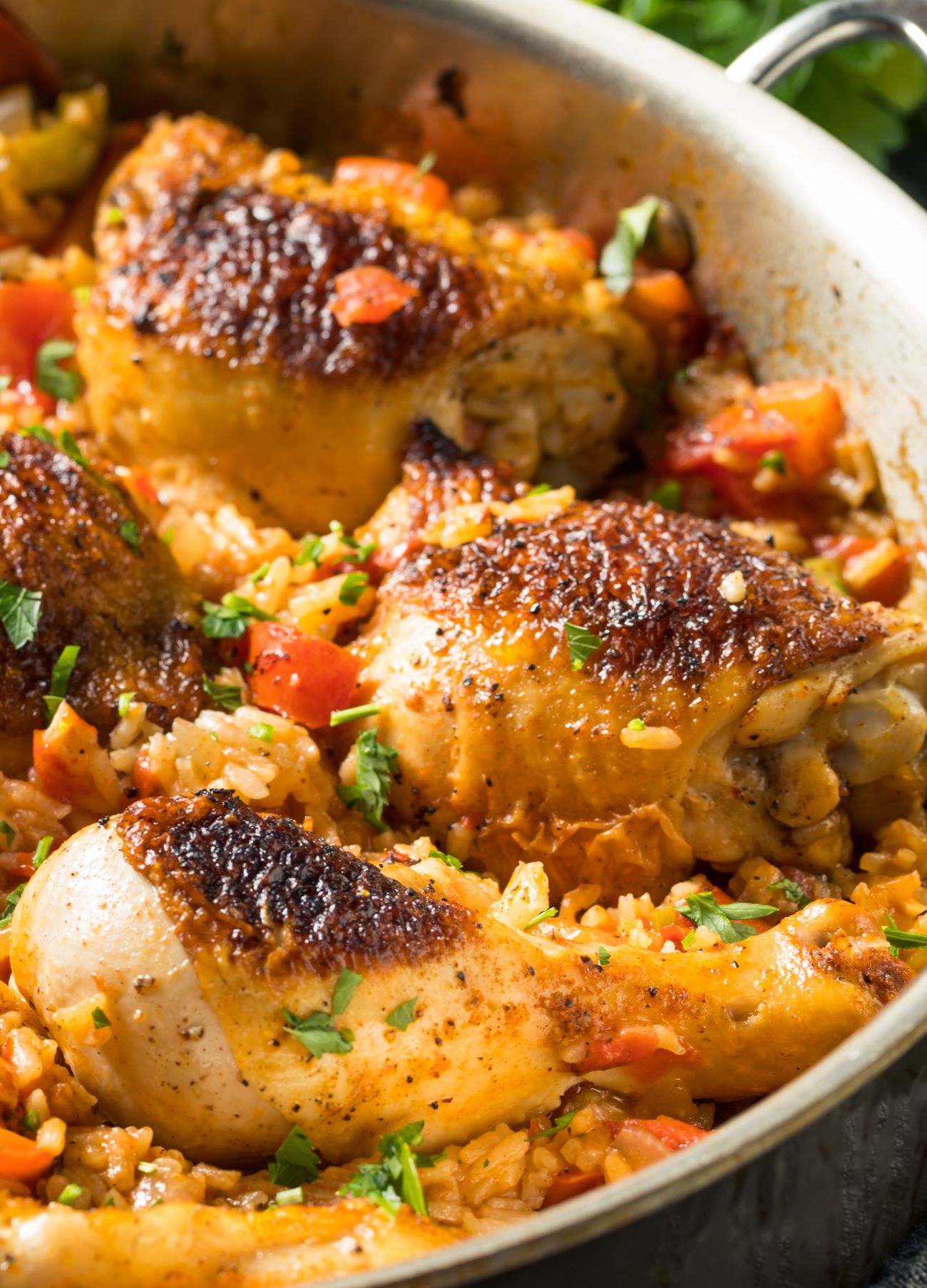 Arroz con Pollo (Chicken and Rice)
Serves 4
10m prep time
40m cook time
For the Adobo Seasoning
1 teaspoon cumin
3/4 teaspoon paprika
1/2 teaspoon chili powder
1/2 teaspoon red cayenne pepper
1/2 teaspoon onion powder
1/2 teaspoon garlic powder
1/4 teaspoon coriander
Kosher salt and black pepper, to taste
For the Sofrito
1/4 cup green pepper (finely chopped)
2 stalks celery, finely chopped
1/2 yellow onion finely chopped
1/4 cup cilantro finely chopped
Optional: 1 Jalapeno finely chopped
For the Chicken and Rice
3 tablespoons olive oil
1.5 lbs chicken thighs and legs (skin on)
2 cups long grain rice
1 red bell pepper, diced
1/2 yellow onion, diced
3 teaspoons minced garlic
2 tablespoons tomato sauce
2 1/2 cups chicken stock
2 teaspoons sazón seasoning
1/2 cup frozen green peas
1/2 cup pitted green olives
Kosher salt and black pepper
Garnish: 1/4 cup fresh cilantro (finely chopped)
Preparation
Preparation
In a small mixing bowl combine spices to make the Adobo seasoning, then set aside.
Combine the sofrito ingredients in a mixing bowl. Heat 1 tablespoon of olive oil in a large covered pan or Dutch oven on medium-high heat. Add sofrito and cook for 2-3 minutes, until veggies are softened and onion is translucent. Remove from the pan and set aside.
Heat 1 tablespoon of olive oil in the pan. Generously sprinkle the chicken pieces with adobo seasoning and cook for a few minutes on each side, until the chicken is browned. Remove from the pan and set aside.
Add the uncooked rice to the pan to brown. Stir to coat the rice with olive oil in the pan, adding a little more if necessary. Let the rice brown, stirring occasionally.
Add the sofrito mixture, red bell pepper, onion and garlic to the pan and cook the rice mixture for 4-5 minutes, stirring frequently until the onions have softened. Place the chicken pieces, skin side up, on top of the rice.
In a mixing bowl combine chicken stock, tomato sauce, salt and pepper, and sazón seasoning, then pour the stock mixture over the rice and chicken.
Bring to a simmer, reduce the heat to low, and cook covered for 20-25 minutes, until the rice and chicken have finished cooking.
Add peas and pitted olives, then cook for a further 5 minutes, making sure the rice is fluffy. Sprinkle the arroz con pollo with cilantro, salt, and pepper, then serve immediately.
Recipe adapted from Ambitious Kitchen
SKM: below-content placeholder
Whizzco for 12T