The fall dessert you've been waiting for.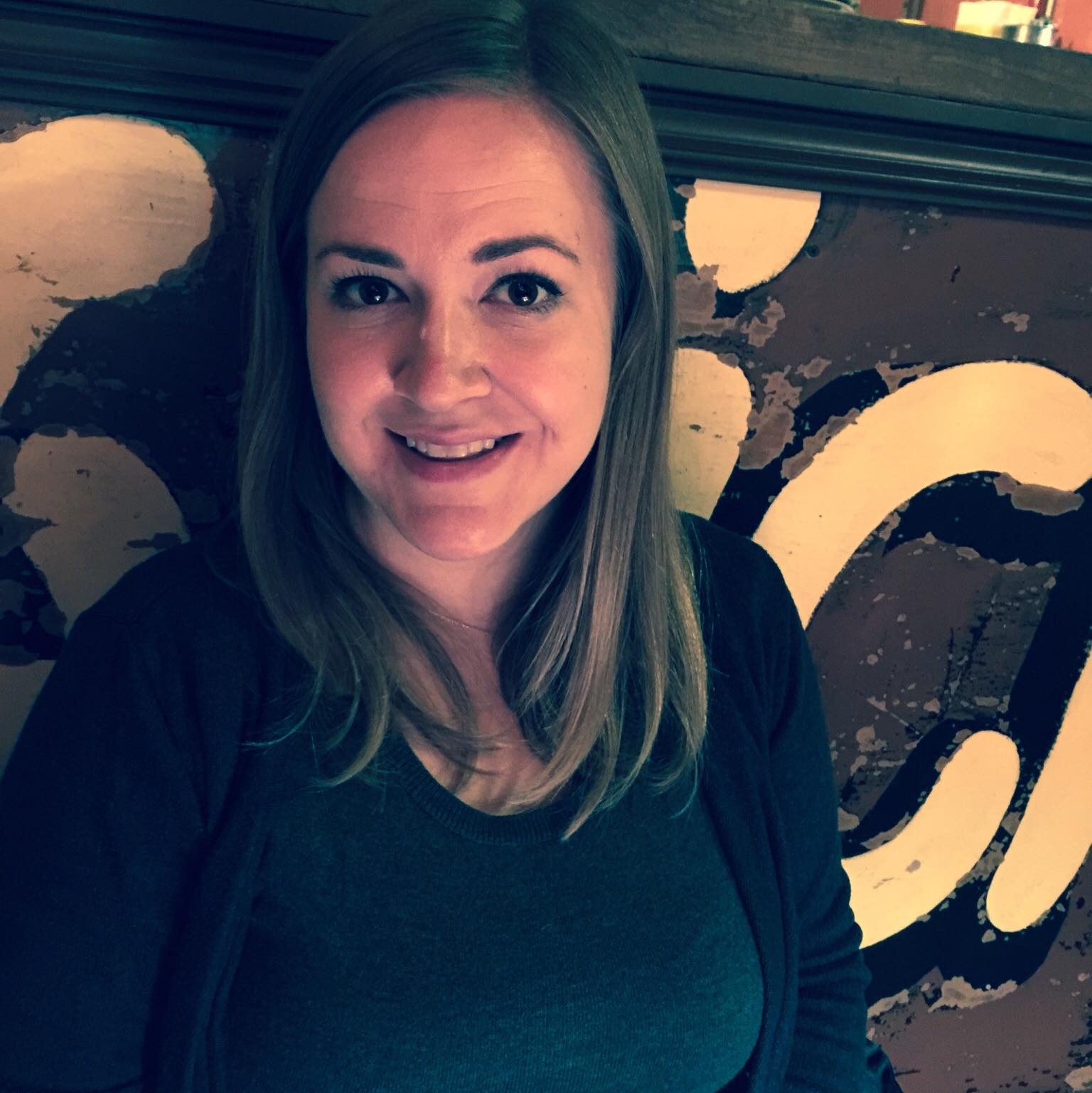 Kristy Norrell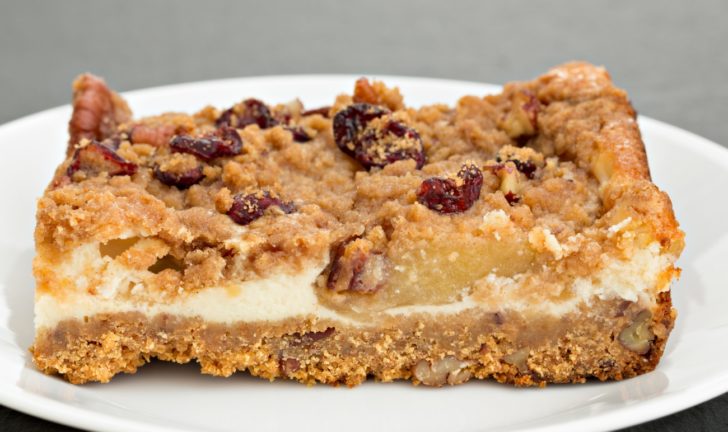 Apple pie is the quintessential American dessert (as well it should be) but that doesn't mean we can't try to gussy it up once in a while. Basic old apple pie will always have its place, but a kitchen experiment often leads to great new things, and that's just what happened with these irresistible Apple Pie Cheesecake Bars. One part cheesecake, one part apple pie, they're everything you could want out of a dessert.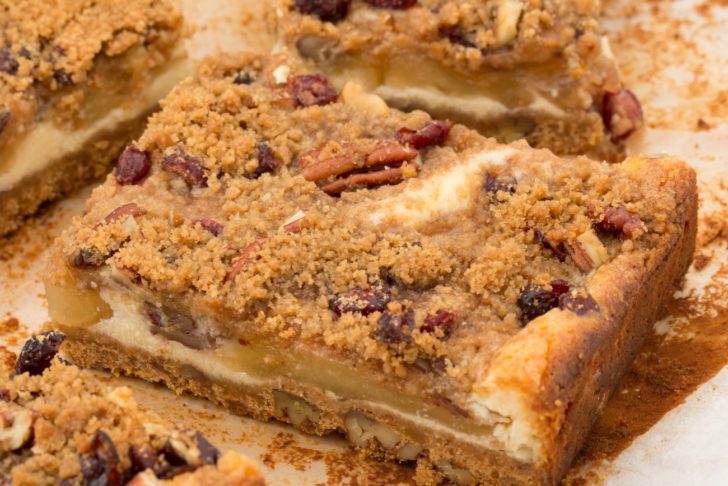 They start with a crunchy graham cracker and pecan base, that's then layered with sweet cheesecake, tender spiced apples, and a streusel topping that will make you forget all the streusel toppings that have come before it. They're simple enough to make, but you do have to exercise some patience while they chill in the refrigerator before serving. But that's okay, all the best things in life are worth waiting for.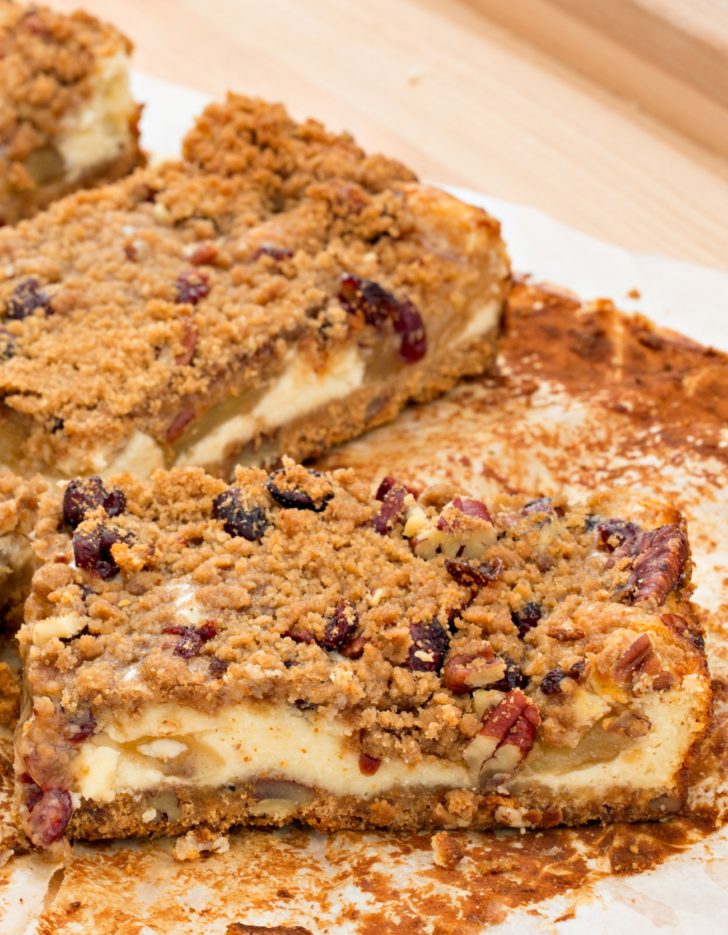 We love the graham cracker base here. It's punctuated with crunchy pecans which add a nuttiness that you might not know you were missing in a graham cracker crust. (But you have been missing it, we promise. It's worth trying with pumpkin pie or any other autumnal dessert.) The cheesecake layer is simple and sweet, a subtle creamy backing to the nutmeg and cinnamon spiced apples above it. They're soft and sweet and have all the apple pie flavor you know and love.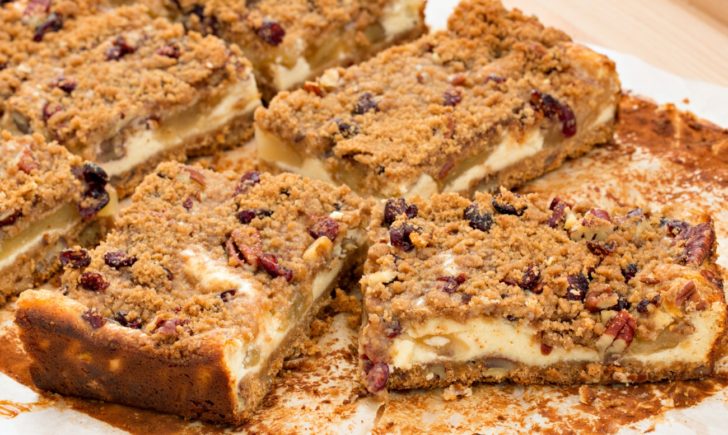 And then there's the streusel topping, which is neither a signature of apple pie nor of cheesecake, but still absolutely belongs as the finishing touch on these squares. It has the classics – butter, flour, sugar – but also some dried cranberries and a few more pecans. The pecans echo the nuttiness in the crust so there are layers of texture (soft apples, creamy cheesecake, crisp crust and the soft crunch of streusel) running throughout the entire thing. The cranberries add their unique tart and sweet note to all of the flavors below, creating a delicious dessert that knows a thing or two about synergy.
Apple Cheesecake Bars
Serves 8-10
30 minutes active, 3 hours inactive
Ingredients
For the crust:
1 1/2 cups graham cracker crumbs (about 10 graham crackers)
1/2 cup pecans, finely chopped
1/4 cup brown sugar, packed
7 tablespoons unsalted butter, melted
For the cheesecake layer:
2 8-oz packages cream cheese, softened
1/2 cup granulated sugar
1 teaspoon vanilla extract
2 eggs
For the apple layer:
2 large apples, peeled, cored, and thinly sliced
2 tablespoons granulated sugar
1/2 teaspoon cinnamon
1/4 teaspoon nutmeg
For the topping:
1 cup flour
1 cup brown sugar
1 stick butter, softened
3/4 cup dried cranberries, chopped
3/4 cup pecans, chopped
Preparation
Preheat the oven to 350°F and line an 8x8-inch baking pan with parchment paper, leaving an overhang. Set aside.
In a medium bowl, mix together the graham cracker crumbs, pecans, and brown sugar. Pour melted butter over and mix until well combined. Press into the bottom of prepared pan.
In a clean medium bowl, beat together the cream cheese, sugar, and vanilla with an electric mixer until smooth and creamy. Add eggs, one at a time, and beat until well combined. Pour over prepared crust.
In a separate bowl, toss together the apples, sugar, cinnamon, and nutmeg until apples are well coated. Arrange evenly over the cheesecake layer.
In a small bowl, make the streusel topping. Stir together the flour, brown sugar, cranberries, and pecans. Add the butter and mix in until crumbly. Sprinkle topping evenly over the apples.
Bake bars for 45-50 minutes, or until cheesecake layer has set. Allow to cool to room temperature, then chill for 2 hours before slicing and serving. Enjoy!
Adapted from The Baked Been.
SKM: below-content placeholder
Whizzco for 12T